NAME:
Cataract Creek Pass
GENERAL OVERVIEW:
Allows access between Amphitheater Basin and Dumbbell Basin
CLASS/DIFFICULTY:
Class 2
LOCATION:
Kings Canyon NP.
HST Map
ELEVATION:
11520 ft
USGS TOPO MAP (7.5'):
North Palisade, CA
ROUTE DESCRIPTION:
From the Dumbbell side it is an easy approach up a
grassy, sandy hillside (see photo). The Amphitheater side is more challenging. If
ascending from Amphitheater, there are at least a couple of routes with cairns
that lead along and above the north rim of the lake. Once one reaches 11,000 ft
there is a nice little plateau with snowmelt running through it (even into late
summer). At this point, it is easy to decide how far one wants to go on snow
(if snow is still present, but even late in summer, I've always hit snow). There
are several spots in the last 500 ft to the ridge where one can leave the snow and
climb on rock/gravel/sand to the right (north) of the chute.
PHOTO'S:
Photo's and description courtesy of CGundersen:
CCP begins with a traverse around the north rim of Amph Lake (furthest lake) and
up to a small plateau from which much of the final descent can be made on snow
Observation Peak is just left of center: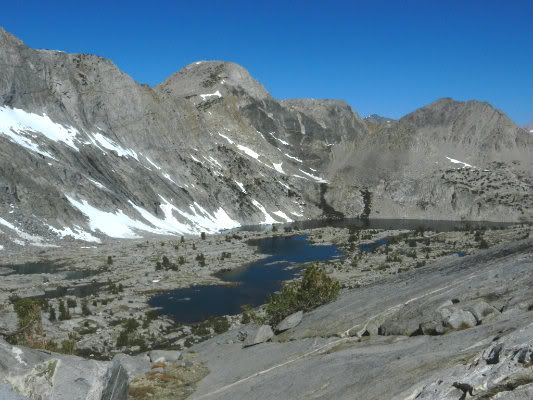 View of CCP across Amphitheater Lake:
The final 500 ft of CCP. Notice the cornice at the top: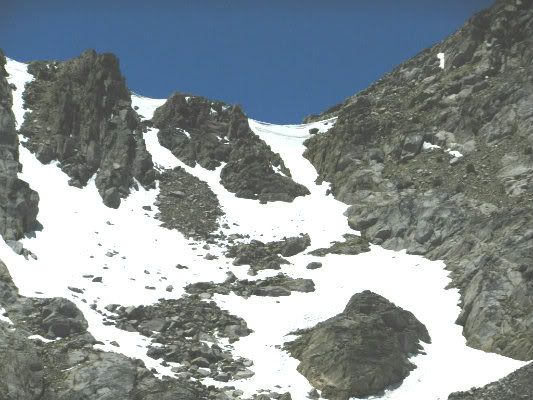 View back at the lake and Palisade crest from 2/3 of the way up CCP: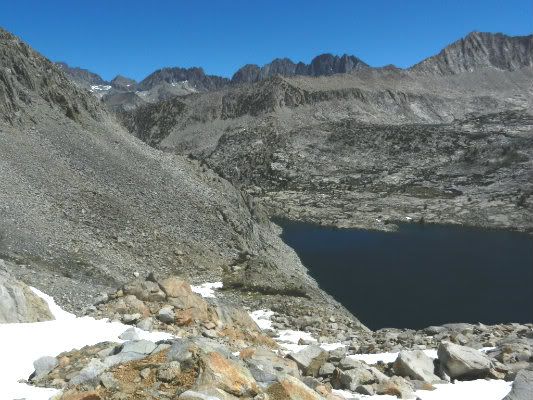 Same as above picture, but view across at Upper Basin Crossing: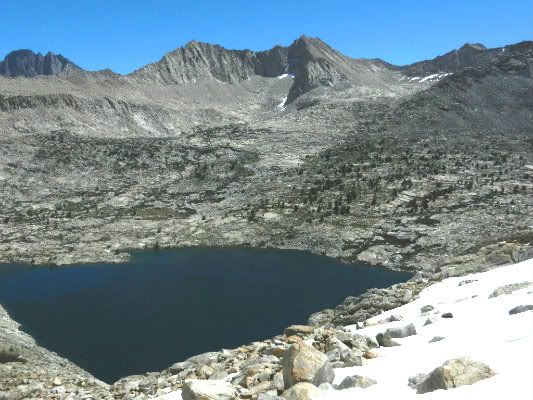 View back down the the final ascent of CCP:
View from CCP with Upper Basin Crossing in view, low saddle on the right:
CCP from the Dumbbell Lakes side: