High Sierra Topix (HST) is a not-for-profit community resource dedicated to outdoor activities in the Sierra Nevada. This resource was created by its members, for its members, as a place to share knowledge, experience and opinion. With over 10,000 community members (and growing) contributing articles, trip reports, photos, and much more, it is managed by a committed team of experts responsible for the ongoing upkeep and development of this unique online guide for our Sierra Nevada.
Meet the Team
We are a dedicated group of Sierraphiles™ who are eager to make your experience here a pleasant one. If you have questions or are having difficulties navigating this site, please contact us directly or join us in the forums. We strive to make your time here easy, worthwhile and memorable.  Please reach out if you have any suggestions for how we can make it even better.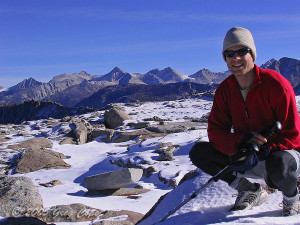 "copeg"
Administrator
Greg (a.k.a. "copeg") serves as an Administrator for the High Sierra Topix Community. Greg began exploring the High Sierra as a child - hiking, camping, skiing, and fishing the sierra from Tahoe north to Walker Pass south. Greg was later introduced to backpacking as a teenager, and has since been exploring and photographing remote areas of the High Sierra in all seasons. In addition to exploring the Sierra Greg enjoys photography, computer programming, traveling, and a wide range of other hobbies. Greg currently lives and works in the San Francisco Bay Area.
High Sierra Topix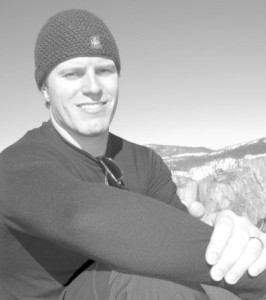 "ERIC"
Owner / Administrator
Eric (a.k.a. "ERIC") serves as an Administrator and is the founder / proprietor of High Sierra Topix. HST has evolved with time, and so too have Eric's life responsibilities. He unfortunately doesn't backpack as much as he used to. He's married with two young children, and in his career life is a California water management professional. When not at home wrangling his little ones, or at work facilitating solutions to California's never ending water challenges, Eric dedicates time and resources to keeping this website going while attempting to also get away now and then to explore primarily the western slope of the Sierra Nevada.
High Sierra Topix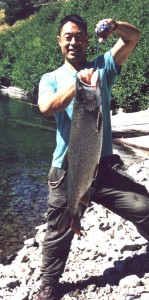 "giantbrookie"
Moderator
John (a.k.a. "giantbrookie") serves as a Moderator for the High Sierra Topix Community. John and his wife Judy have fished hundreds of the wilderness lakes of the High Sierra, as well as enjoying and brewing beer, and gardening, with special emphasis on bulbs. John's professional life as a geology professor includes research on the geology of the Sierra Nevada.
High Sierra Topix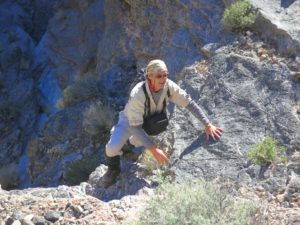 "Jimr"
Moderator
Jim (a.k.a. "Jimr") serves as a Moderator for the High Sierra Topix Community. He was introduced to fishing in 1966 and was introduced to catching in 1974 during his first backpacking trip to the Sierra. He's been hooked ever since. Jimr went on his first trans-Sierra trip in 1985 and has sought to be off the beaten path ever since. He loves to hang around off trail in the high country as much as possible. Some other hobbies he enjoys are tying flies, playing guitar and photography.
High Sierra Topix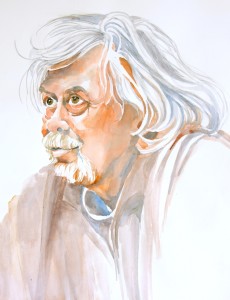 "markskor"
Administrator
Mark, (a.k.a. "markskor") - serves as an Administrator for the High Sierra Topix Community.
Artist, fisherman/ backpacker, back-country chef...a true Renaissance man - possesses both art and science degrees from UCLA.
He first completed the JMT in 1969 and Sierra-hooked ever since. Today Mark teaches high school art, making his winter home in Mammoth Lakes. Come summers though, he can't be easily found as usually off-trail somewhere, fishing...high and deep Sierra.
High Sierra Topix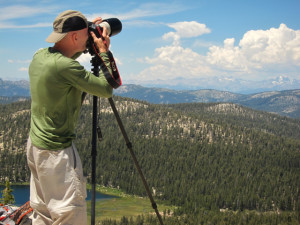 "maverick"
Moderator
Peter (a.k.a. "maverick") serves as a Moderator for the High Sierra Topix Community and is a landscape photographer working out of Fremont, California. Living in the Bay Area most of his life has given him decades to experience and become passionate about his landscape photography. His interest in nature started out as a boy scout in his younger years and continued to develop into an intense passion which continues to this day with muti-day backpacking trips each year.
High Sierra Topix
The Evolution of High Sierra Topix
The earliest version of what you see today as High Sierra Topix (HST) was launched in mid 2000 when its founder "ERIC" was searching online for Sierra Nevada trip planning beta and discovered there really wasn't much out there (yet). So, in an effort to connect with people who shared his interest in exploring The Range of Light, ERIC decided to bring the people to him by creating what we believed to be the first ever Sierra Nevada-specific message board on the internet (today the options are somewhat overwhelming).  HST's first version was the original, single forum thread-style bulletin board format hosted for free by ezboard, Inc.  HST version 1.0 was fairly successful, but it was basic, and ezboard offered few options to modify or customize.
In early 2003, the board and its members were moved to a new home at ProBoards.  With a layout similar to the forums architecture HST utilizes today, ProBoards offered the first opportunity to create multiple forums, stylize the layout and customize some features.  It was leading up to the launching of the ProBoards message board that the name "High Sierra Topix" was first branded.  (To anyone who cares, we're sometimes asked if our domain name was lifted from Topix.com, and the simple answer is "no, we were first!")
While hosted at ProBoards the forums were loosely affiliated with another website ERIC was developing at the time for a family friend's pack animal business out of Florence Lake/Blayney Meadows. Those who were online during the early years may be familiar with that website, sierrapacktrip.com, which lives on to this day.  The old ProBoards HST was still online until 2013 when the company removed it due to no activity. When ERIC locked it from posting and member registrations in 2003 HST had approximately 350 members, 500 topics, and 5,000 posts.
It was in late 2003, following a relatively successful ProBoards experiment, that ERIC decided to register the domain highsierratopix.com and move to an independently hosted phpBB framework.
After accumulating more than 1.000 members and nearly 20,000 posts, in 2005 HST was hacked and nearly everything was lost. Backups of the database were stored on the server but were deleted by the hacker.  It took more than six months before HST was relaunched with a fresh forums software and database install.