I just got back from an 8 day trip, attempting to replicate most of the route CGunderson took in June. He was kind enough to provide me with detailed information and photos on two passes and, ingrate that I am, I ended up taking neither of them.
[
Note: for some reasons the pictures were getting cut off on the right side, but I think I fixed it. You can (hopefully) view them in full on Photobucket, although they are in completely jumbled order, so they should call it Slopbucket
:
]
I'd always avoided the Taboose Creek trail, assuming it was just miserable. It
is
somewhat miserable, since half of it is covered in rubble, but it also travels up a stunning canyon, with terrain on both sides of the pass unlike anything I've seen in the Sierra. Even the "desert" part of the trail is pretty attractive: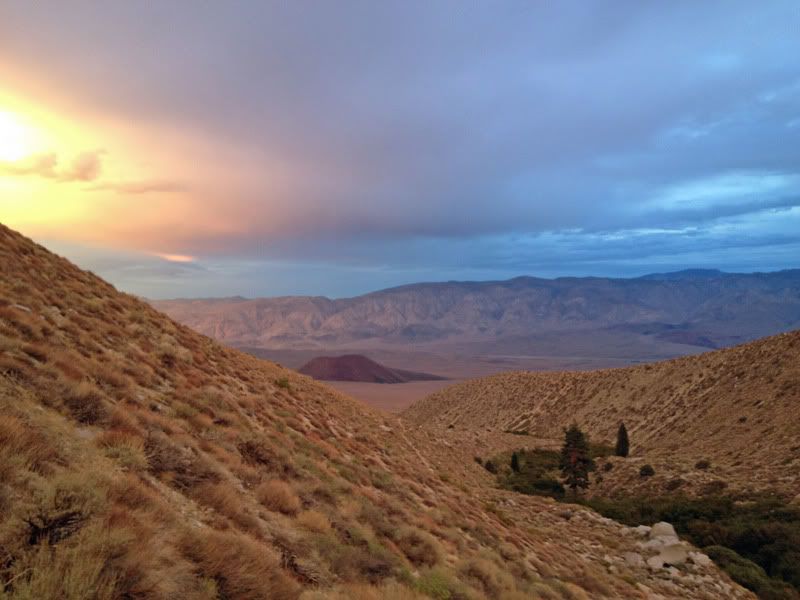 But things really take off near the top of the trail: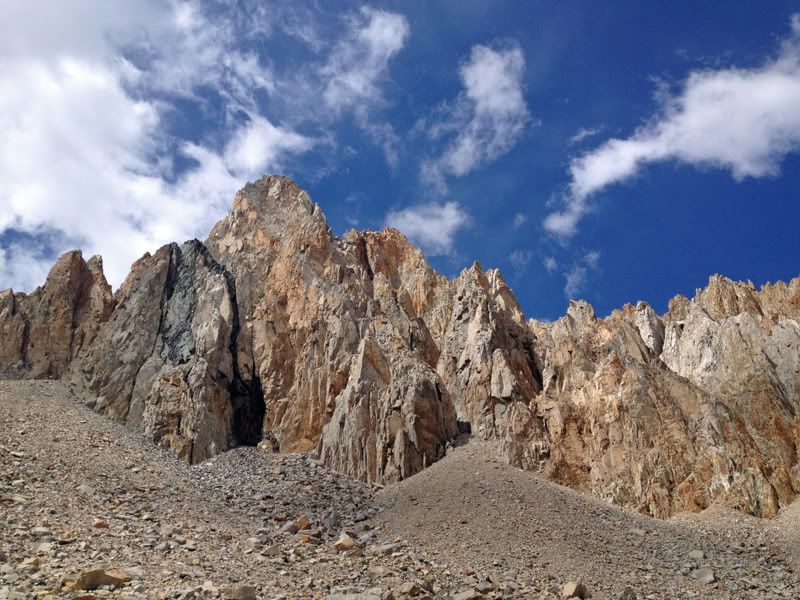 West of the pass resembles a beautiful velvety meadow, even though it's late season in a dry year: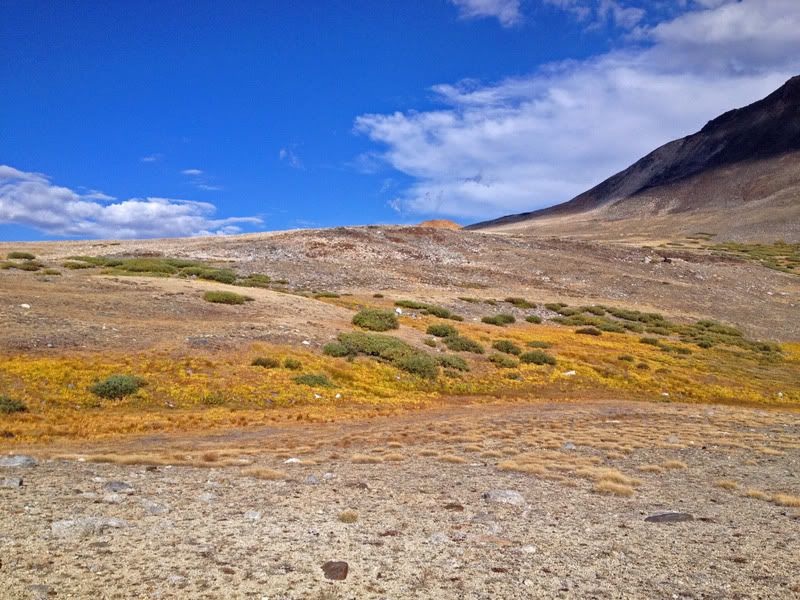 Day 2 was on the JMT. Here was the first detour. I had been considering taking CG's suggested route of Upper Basin Crossing (UBC), to get into Amphitheater Lakes basin, but the weather looked very iffy. I also had hoped to climb Split Mountain, but also passed on that because of the weather. Exploring later in my trip, I found out this is what I missed out on, on the west side of UBC:
Uh...maybe next time (maybe not!).
I realized it had been at least 15 years since I had been on the JMT through Upper Basin and Mather Pass, so it was nice to revisit. The view north from Mather Pass (North Pal, middle, Middle Pal on right):
On day 3, the hike up Cataract Creek into Amp Basin is a grunt, especially since I followed Secor's ever-unreliable advice to start going up on the west side of the creek. It was steep, crumbly and miserable. The east side of the creek (which I eventually crossed over to) looked much better. Amphitheater Lake is nice, but the real magic is in upper Amp Basin: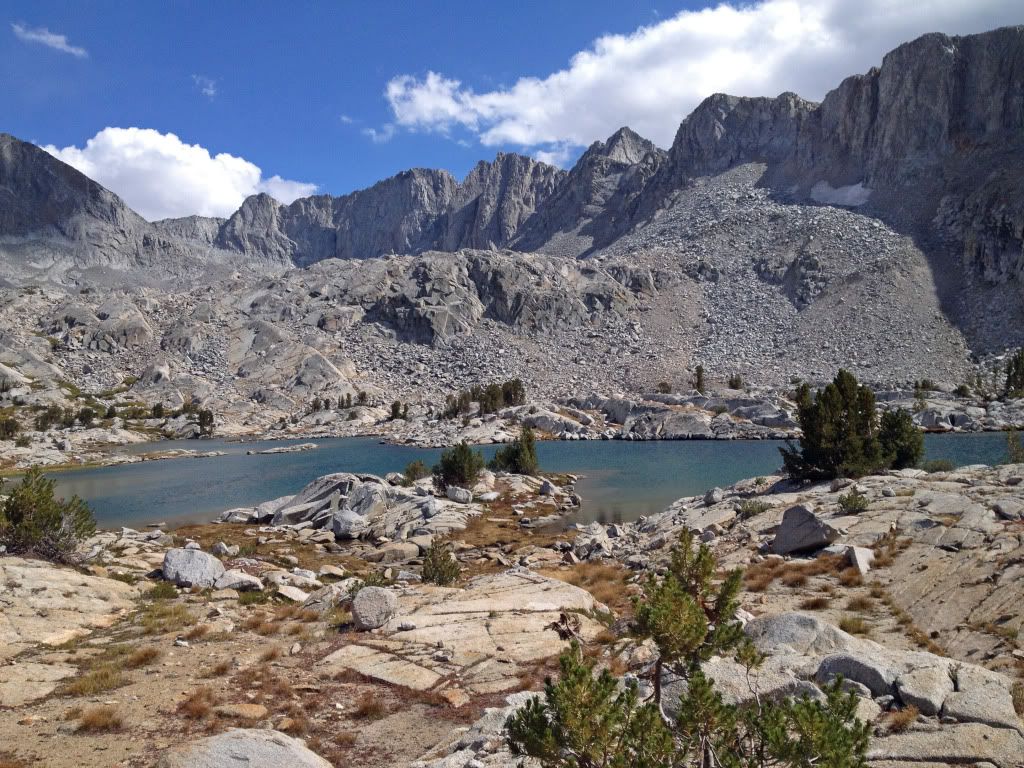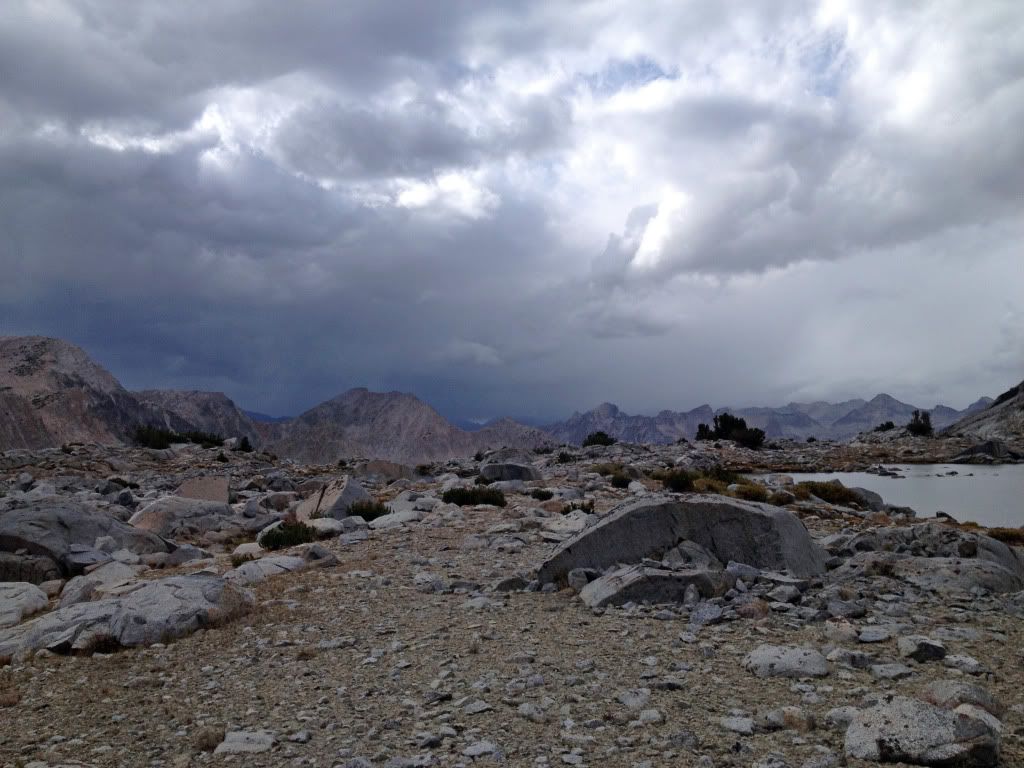 The next day, the hike over Cataract Creek Pass wasn't bad at all. From the pass, it's only 800 feet to the top of Observation Peak, which has to have the best view of any 12,000 foot peak in the Sierra. Judging from the register, not many people climb it, although I did see Rogue Photonic's signature back from July. This is looking west, with Devils Crags in the middle: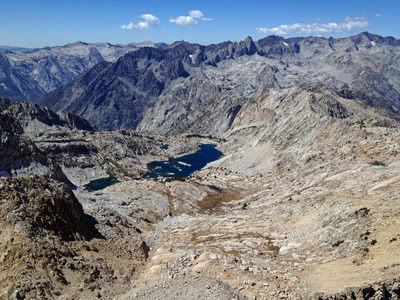 All of the lakes in Dumbbell Basin are gems: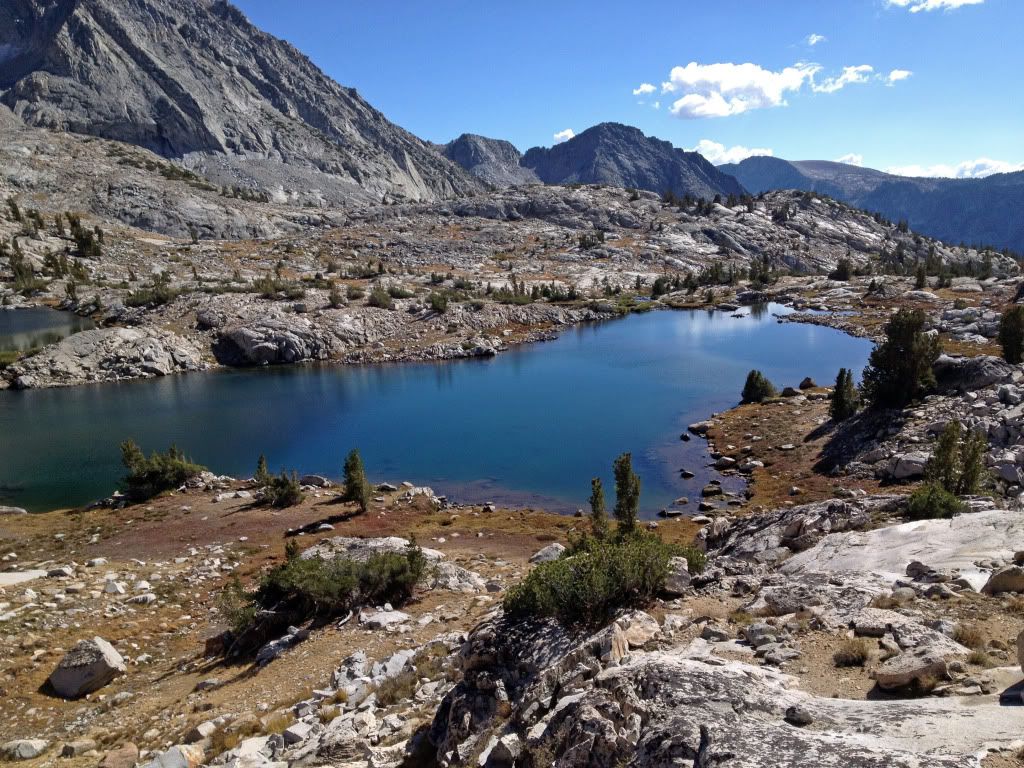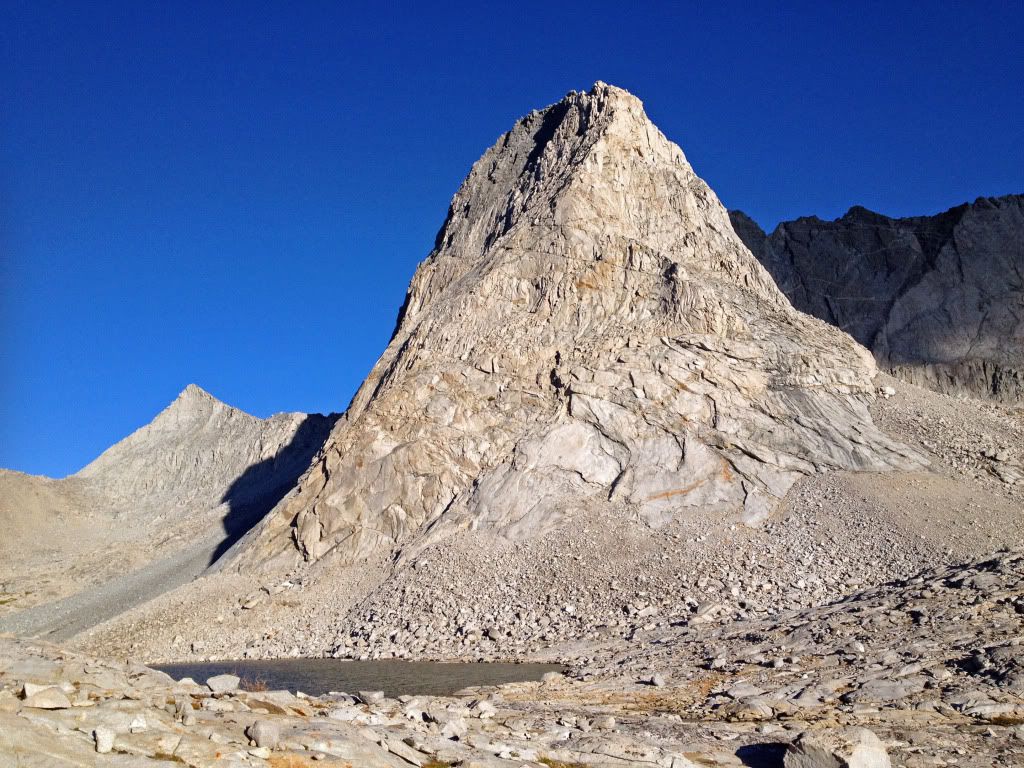 On day 5, I began the trek to Dumbbell Pass with trepidation:
I had run into a guy on the Taboose trail who had just done it, and he seemed thoroughly traumatized by the experience. However, keeping to the right (west) shoulder of the main chute rendered the climb quite harmless. There was very little loose rock, so it was a straight-forward if somewhat strenuous class 2 climb.
Lake Basin deserves all the accolades it gets:
But then came my first disappointment -- the vastly overrated Marion Lake. It's rather a chore to get to, and then quite ordinary, and rather overrun with hardened campsites. My theory is that people tell themselves it's incredibly beautiful to justify the effort it took to get there (aka "cognitive dissonance"). But no matter how much they tell themselves it's worth the effort, it isn't.
Upper Lake Basin is even nicer, but my camera (actually iPhone, since my point & shoots keep breaking) battery was getting low so I don't have many photos. Anyway, on day 6 my plan was to go out over Vennacher Col. Unfortunately, the western ridge of Lake Basin is rather convoluted and confusing, so I ended up going up something that looked right and was tolerable class 2 - 3, featuring a nice notch at the top. However, I peered over to the other side, and I did not like what I saw. I know I'm not heading to heaven, but I wasn't exactly expecting this: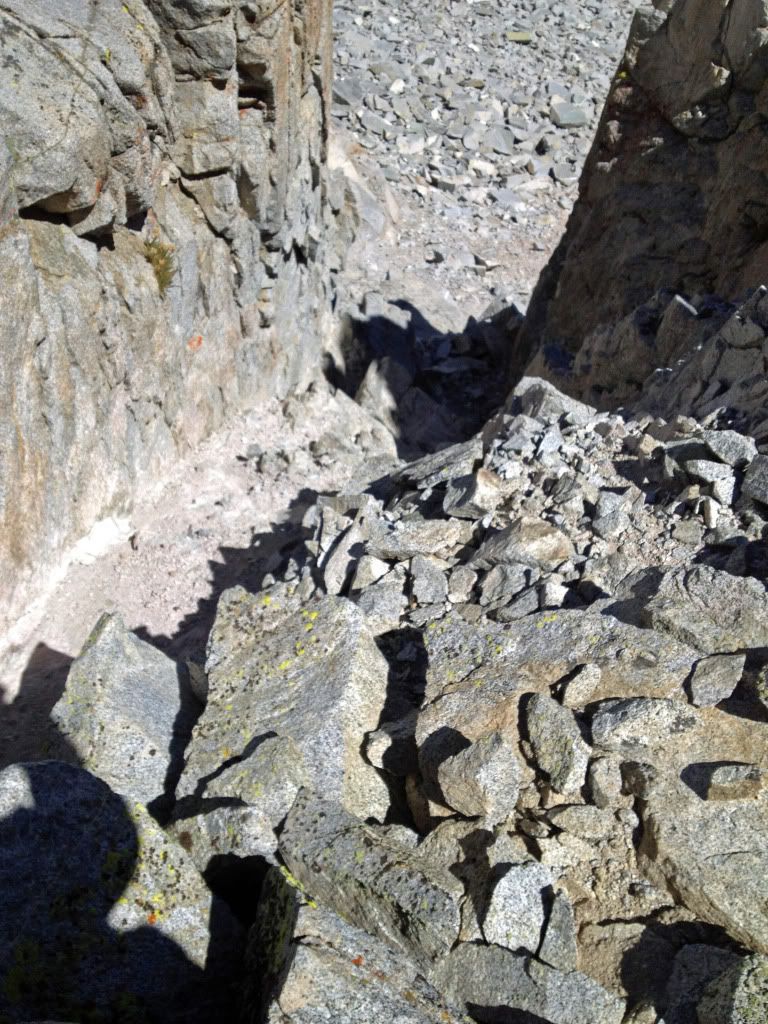 (Gosh, you can even see the bloodstains on the rocks below.)
Something told me that this wasn't really Vennacher Col after all. I later did find VC, but I was already pretty tuckered out from climbing the Horn of H*ll, and got discouraged by the mile of talus in front of VC. So I took the easy way out (I thought), and did Cartridge Pass instead. It actually looks awfully steep from a distance, but turns out, miraculously, to have a class 1 trail snaking the whole way up.
In fact, it was an almost Zen-like experience winding my way up -- the most pleasant pass (on or off-trail) I think I've ever been over; I was actually disappointed when I got to the top. To make up for its previous direct steepness, the trail then becomes comically meandering -- I mean, to the point of absurdity. And the wandering trail features some of the most elaborate ducks I have ever seen. If the structures were any larger, they could rent them out for the summer. But that is simply to prepare you for the dust-plunge down to the South Fork Kings River that follows. I found it thoroughly miserable and I was going
down
. I simply cannot imagine going
up
that trail (which used to be the JMT, unbelievably). And then you have to fight your way through the Kings River valley, enjoying talus fields, fallen trees and mule s**t to get back to the JMT. I now understand why people risk their lives on Frozen Lake Pass instead.

[to be continued]