Back in the day, always keen for new route ideas, I visited the San Francisco Public Library and happened on its collection of vintage Sierra Club Bulletins. This was well before the internet, GPS, MP3 players and Secor. (We did have Roper and our collection of 15 minute U.S. Geological Survey maps, which I still use today.) One of the articles (from the 1930s, I think) was an account of a trek and swim through the Muir Gorge during a low water year. That got my attention, since we were in the middle of a string of low precipitation years. So I resolved to give it a try.
In late August, 1976, my brother Van (all of 17 years old) and I ventured into the gorge and tried our luck. We started out at White Wolf, camping the first night at a nice little site above the canyon rim, where the trail intersects Morrison Creek.
http://mapper.acme.com/?ll=37.91201,-119.63232&z=15&t=T
Van at deluxe Morrison Creek campsite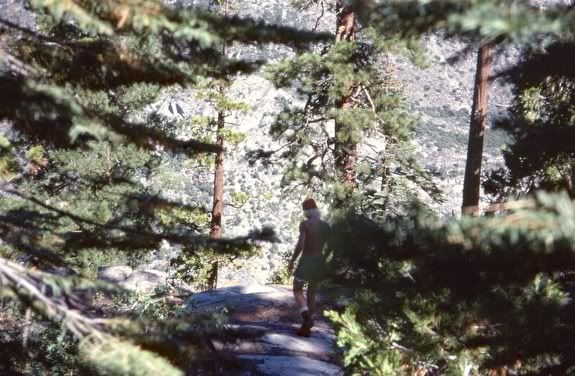 The next day, we hiked down to Pate Valley and then up the trail, where we found a gorgeous place to camp nestled in a lush grove of oak trees, about a mile below the upper end of Muir Gorge.
Dry leaves carpet the ground and add a special flavor of laziness to this delightful camp.
This camp was near where we expected to emerge after our rock hop and swim through the gorge. We spent the day scouting out the lower portion of the gorge and identifying landmarks, so we would know where and how to to exit before reaching an impassible waterfall.
http://mapper.acme.com/?ll=37.93465,-119.52726&z=15&t=T
Wyler's break at the Pate Valley bridge
Pate Valley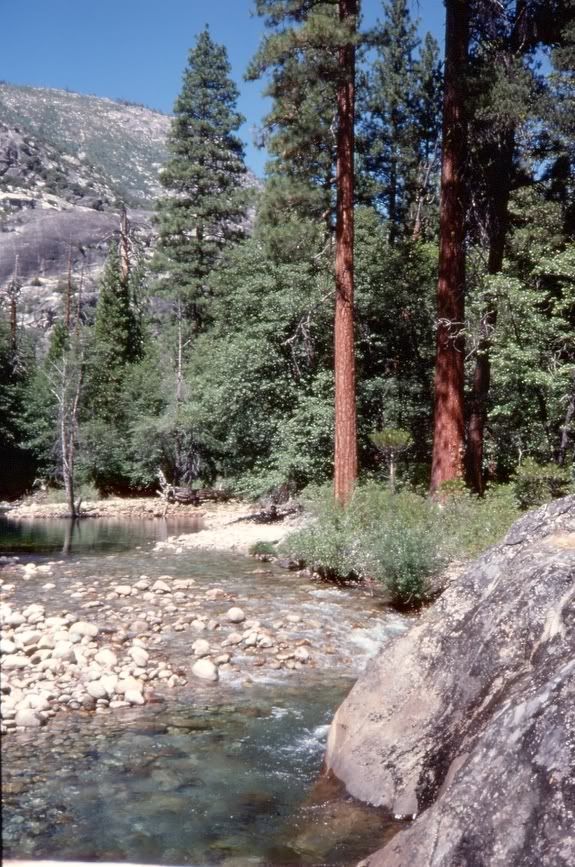 Our plan was to hike/swim in tennis shoes and shorts, with daypacks on our backs. I had a tupperware container to keep my camera dry; our munchies were sealed tight in plastic bags. We also brought along a nylon cord.
So the next morning, August 27th, we followed the trail up to the upper end of Muir Gorge, left the trail, and picked our way down to the river.
The water level was quite low and the mouth of the gorge is relatively broad. We lazily made our way down river, rock hopping on the shore and occasionally in the stream bed itself. We stopped and had a snack.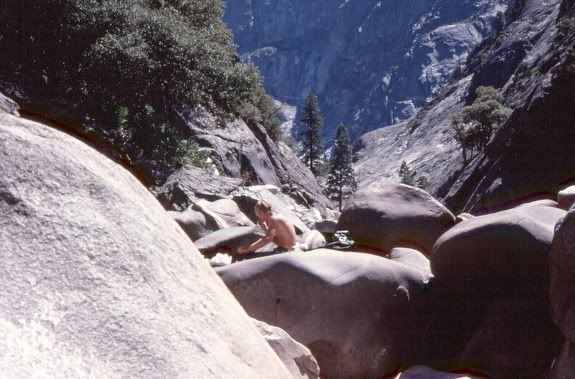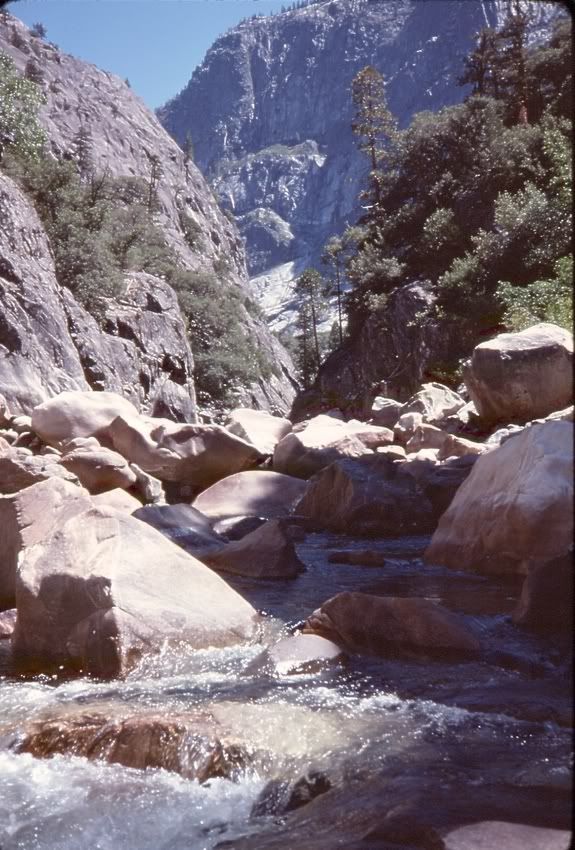 As the gorge narrowed, we encountered beautifully polished boulders and deep, pristine pools. More and more, we were forced into the river, swimming from pool to pool and rock hopping where possible.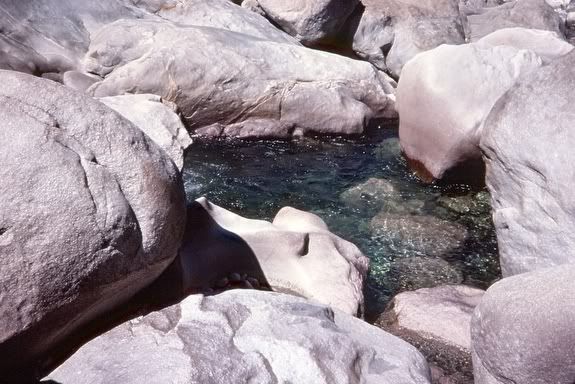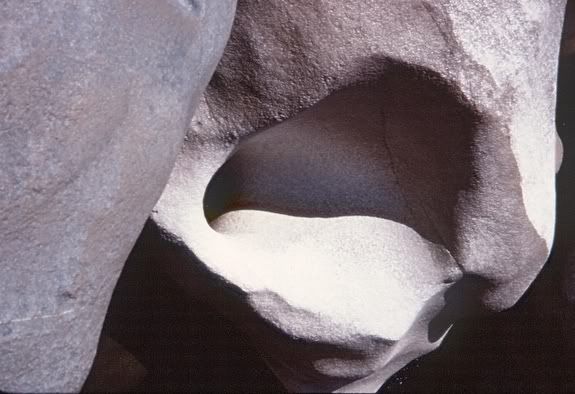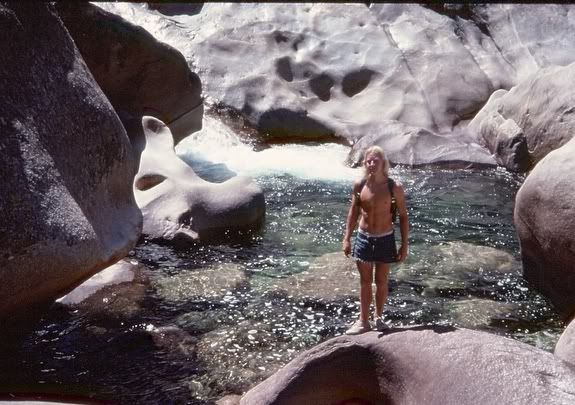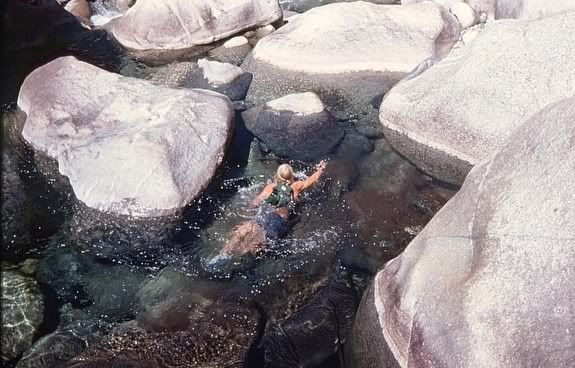 The accounts I had read of the gorge led me to believe that we would have to descend from a steep cliff near the beginning of our way down the gorge, and that the only safe way to do this was with ropes. (A few daring souls had plunged in the water, disregarding the need for ropes.) As it turned out, we did not encounter this cliff, although, towards the end of our journey, we had to drop about 15 feet from a huge boulder into a deep pool. This was the highlight of the trip.
From this point, the river runs through a very narrow gorge, with high walls on each side, where it forms a deep channel for about 100 yards, maybe longer. We judged the water depth to be about 20 feet here, probably deeper as you move further into the steep walled gorge. What an amazing spot!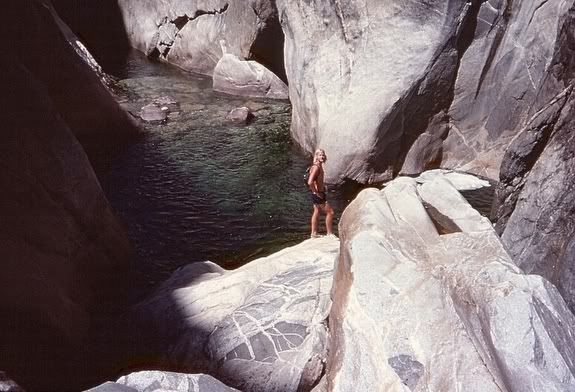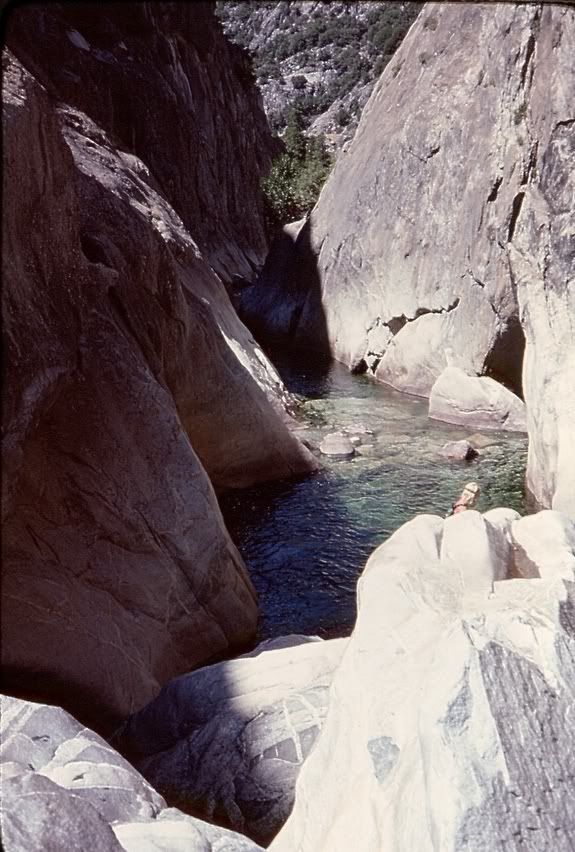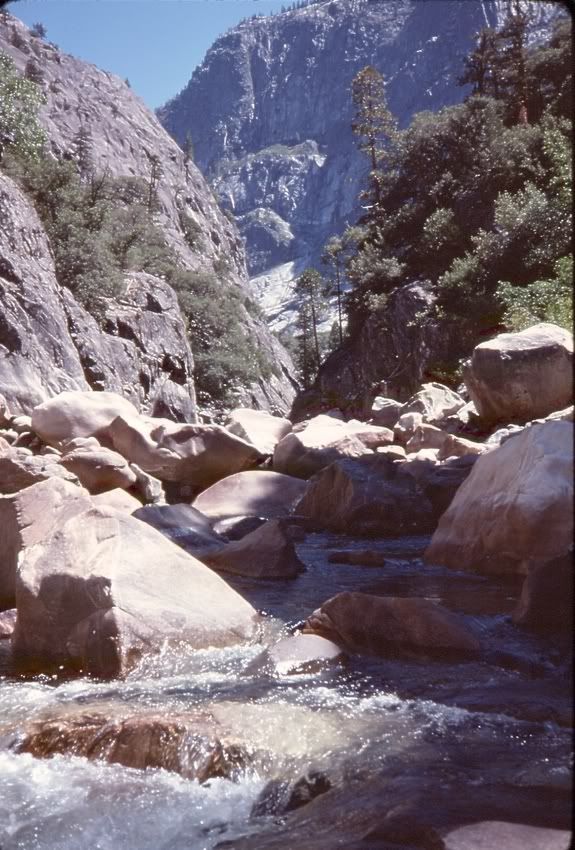 We checked our gear to make sure everything was water tight, then jumped, with huge smiles on our faces. No more rest spots here, and only one way out. We floated down the river for about ten minutes before emerging, via a series of pretty waterfalls and water plunges, to our exit point only about 200 yards from our camp, above the rim of a series of impassable falls. We found a convenient polished granite perch to spread out on, and a deep pool to swim in, and spent the next couple of hours enjoying the sun and drying our clothes out.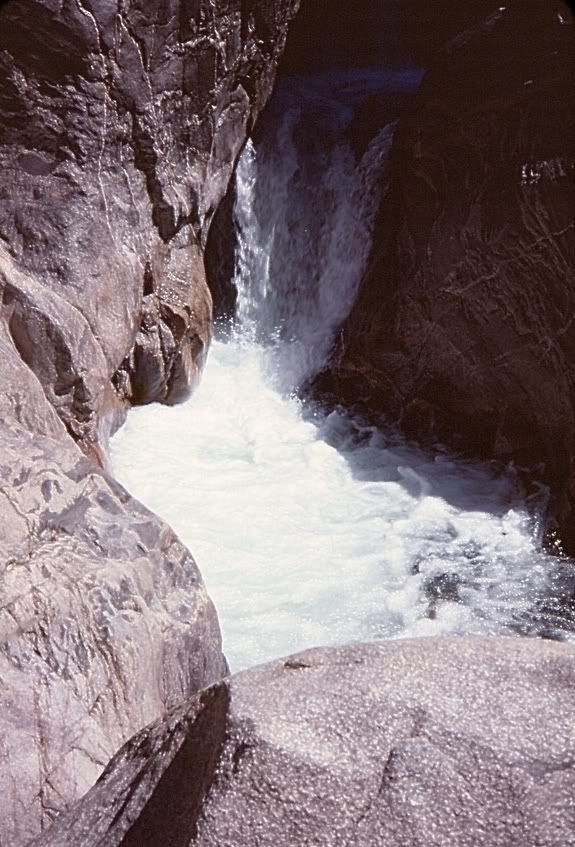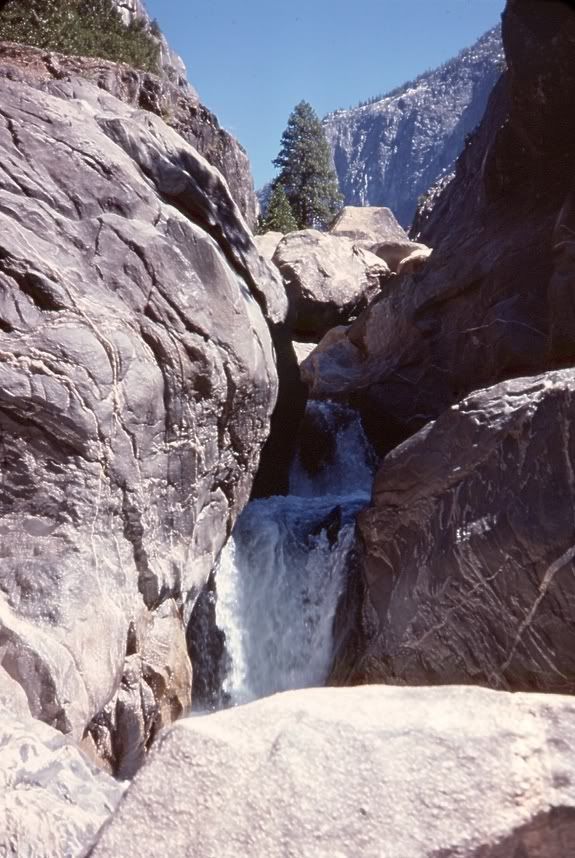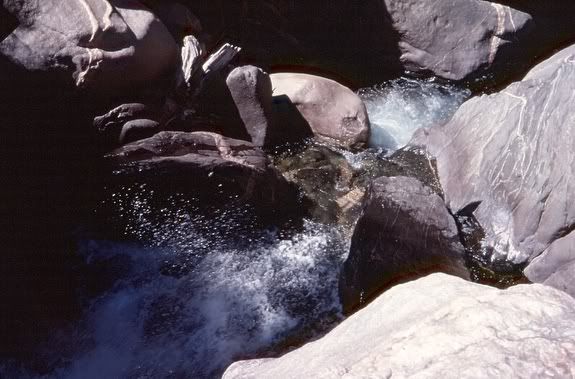 I noted in my trail diary:
I should add that from our one experience with Muir Gorge, it looks like during any normal year the gorge would be easily passable during late season.
I think I still agree with that assessment. Be sure to scout the route and survey the water level!
Mike