This year's hike was made all the more colorful by the El Nino weather pattern that has pestered the Sierras all season. Andrew (my sixteen-year-old son) and I were joined by his buddy Michael and Michael's dad Steve. We're from Portland, Oregon, where crystal clear days and nights are rare, so the El Nino weather we encountered on this trip wasn't all that welcome; it forced us to alter our ambitious itinerary. Our plan was to enter King's Canyon National Park via Lamarck Col, head down to Sapphire Lake via Darwin Basin, then head over into the Davis Lake Basin and circumnavigate Mt. Goddard via Martha Lake, Ionian Basin, and Black Giant Pass, then head over to the Palisades area via the Muir Trail, where we would do a cross country loop over Cirque, Potluck, and Thunderbolt passes, then out to South Lake via Bishop Pass.
Andrew, Michael and Steve are all in excellent shape; I'm the old fart who knows where he's going but moves a lot slower than those three. Steve is a rock climber, with most of his experience being in the Cascades. He siege climbed Denali last year, but most of his hikes have been shorter (two to four day) affairs, so a two week adventure was a change of pace for him. This was Michael's first experience with multi-day hiking. Like Andrew, Michael is a dedicated rower -- Rose City Rowing Club; 2009 Junior National Pairs Champion (as a sophomore!) -- and he eats like a horse. Steve was worried about keeping him properly fed. Together, they packed a a prodigious amount of food, carrying far more weight than Andrew and me. (The added weight didn't seem to faze them.) Still, Michael spent a lot of time obsessing about food. That boy can eat!
We took two days to drive from Portland to Bishop, the boys watching movies on the PC in the back seat and wondering aloud every few minutes if it was time to stop for the next meal. We rolled into Bishop around 3:00 PM on August 18 and stopped to pick up our wilderness permit and get a weather update. Forecast: clear and hot, no rain in sight. (We had read that a monsoon system moving up from the SW might bring high temperatures and moisture, but there was no mention of that at the ranger station.) After grabbing a late lunch and buying burritos to go for dinner, we headed up to North Lake, camping at the campground there in a spot very near the trailhead, where we assembled our gear.
Day 1 (August 19th) was a short hike to Upper Lamarck Lake, allowing us to get used to the heavy packs and altitude. Lower Lamarck Lake is beautiful:
But campsites are hard to find at Upper Lamarck Lake and open views of the lake are scarce. We did find a comfortable site on a plateau above the outlet stream, with a nice view to the east and a great view of the switchbacks leading up to the sandy approach to Lamarck Col.
Day 2 was bright and clear and very warm. We broke camp early and were on top of the switchbacks by 9:00. Steve and the boys virtually galloped ahead (I trudged). By the time I made it to the little tarn just below the pass, Steve was already on the snowfield, well to the right of the true pass. I waved him to safer (and more direct) ground, took a breather, then made my way through the icy snowfield (very slippery) to the pass above.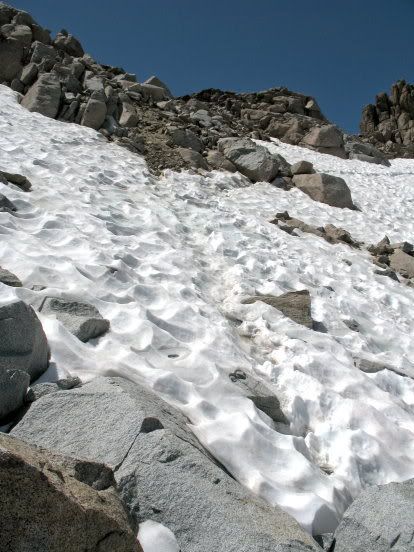 Andrew was waiting for me there, but Steve and Michael had taken off for Mt. Lamarck. If you look real closely, you can see them on the summit.
Here are a few more photos from Lamarck Col: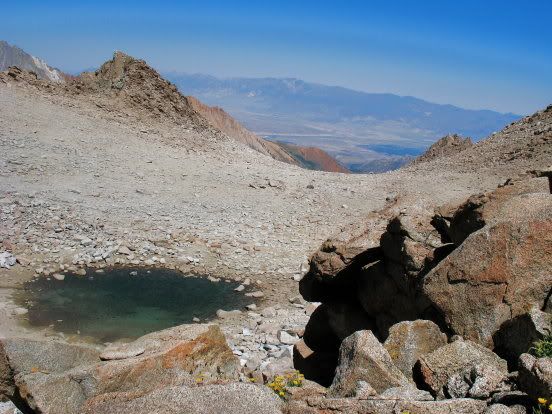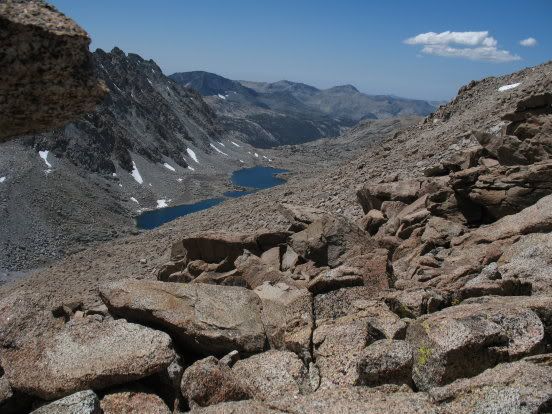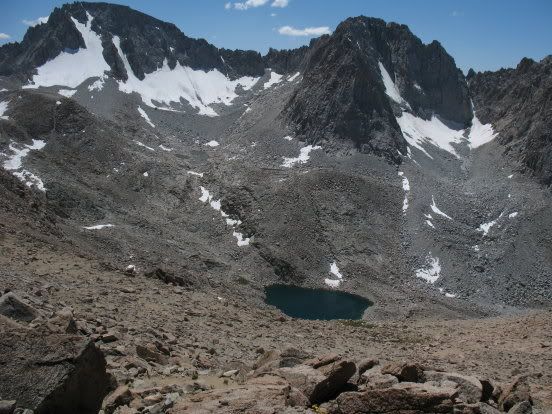 We camped at the second highest lake in Darwin Canyon, on a lovely meadow, with a small sandy beach and a stream emptying into the lake. There was a steady afternoon breeze, with water lapping against the beach. Magically beautiful -- but the boys were listening to a different sort of music....
As usual, we slept out in the open, under the stars, which were abundant on this moonless night. The breeze died out during the night and the lake was mirror-like the next morning: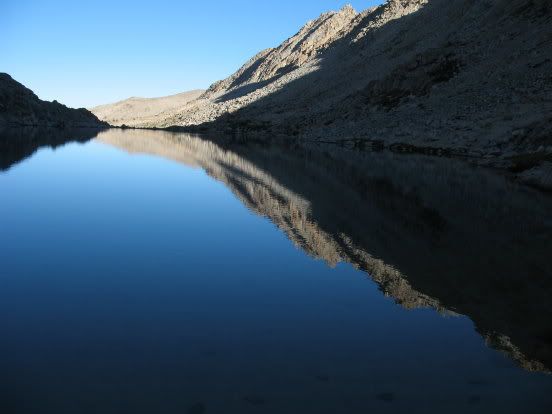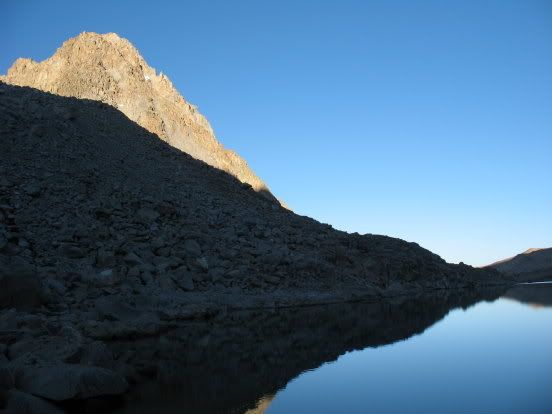 We got a late start this day, not breaking camp until almost 10:30. Our destination: Sapphire Lake. We picked our way through the lakes basin, then followed the outlet stream as it turned west and started down toward's Evolution Valley. We lost the use trail for a moment, then found it again and followed it all the way to the JMT, which we jumped on, heading south.
Evolution Lake was stunning, as usual. Notice the large cloud build up.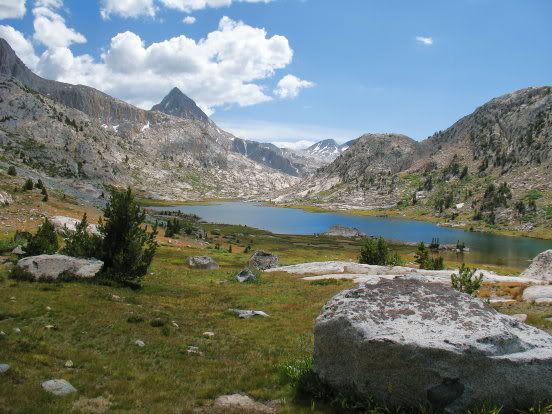 Rain was threatening by the time we got to Sapphire Lake (our camp was near the northern outlet to the lake, in a nice sheltered spot on the east side of the outlet stream). It sprinkled a bit, but the clouds produced a colorful sunset and finally lifted. We slept out under the stars once again.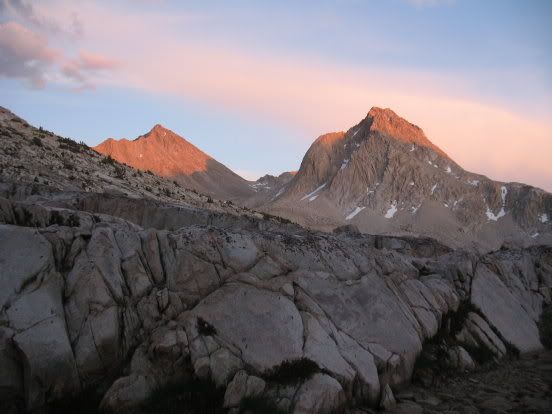 We awakened on the 22nd to a cruddy, ominous sky. Clouds had moved in during the night and it looked like we were in for a big (but warm) storm. (I was in the same area two years ago and got caught in a whopper of a storm, hiking all day through a driving rain, which continued throughout that night). Our plan was to hike up to Wanda Lake and go over Davis Lake Pass to Davis Lake, but we were concerned about the exposure and general lack of shelter there and in Ionian Basin, where we were to camp on Day 5. So we decided to layover that day and see what the weather brought us.
We set up our tube tents.
There was a steady cloud build up all day, with a few light showers. I put on my pancho and read, while the others retired to the confines of their tents. Andrew and Michael were sharing a tent (much too crowded for two grown boys) and took some colorful photos.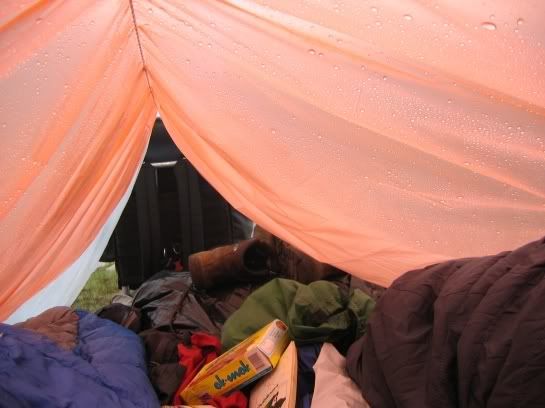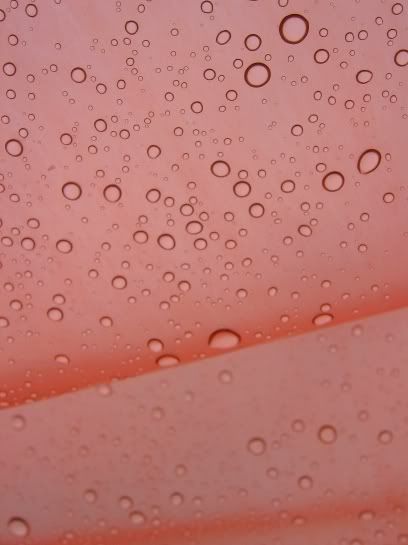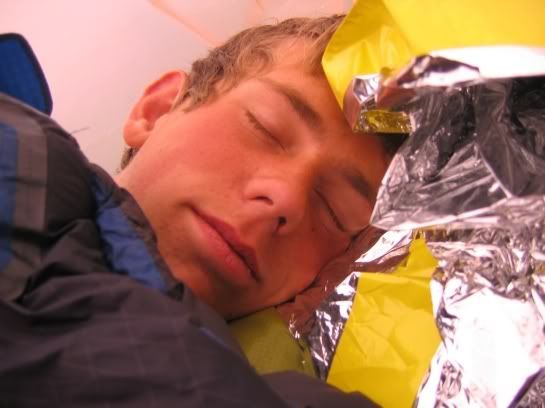 Andrew's book (a hand me down from my college days) didn't survive the day in the tent.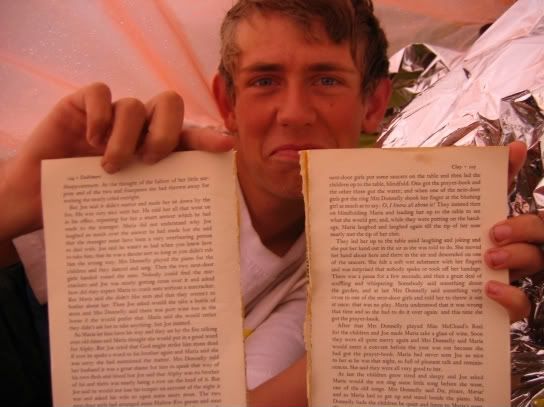 Then the sky broke right about dusk and it rained hard all night.
Day 5 brought more of the same -- another cruddy sky and the promise of more rain. Andrew's bag and sleeping pad were wet, as was mine. Worse, two of my books got totally waterlogged (it took the remainder of the trip for them to completely dry out). We dried our sleeping bags and pads in the faint sunlight and talked about our options.
We decided to retreat to Colby Meadow, to a favorite campsite at the base of the switchbacks, where the stream from Darwin Basin comes gurgling down to Evolution Valley. The new plan was to hole up here until the storm blew over, then work our way cross country through McGee Lakes Basin, over McGee Pass, and into Davis Lake Basin.
The kids were excited to build a fire, but couldn't get the wet wood to burn and finally gave up.
Once again, we set our tube tents up and prepared for more rain. Shortly it came; Steve and the kids retreated to their tube tents, while I donned my pancho and read my soggy book under cover of a well canopied Lodgepole pine. The rain let up just enough to allow us to cook and eat dinner, then started up again. It rained half the night.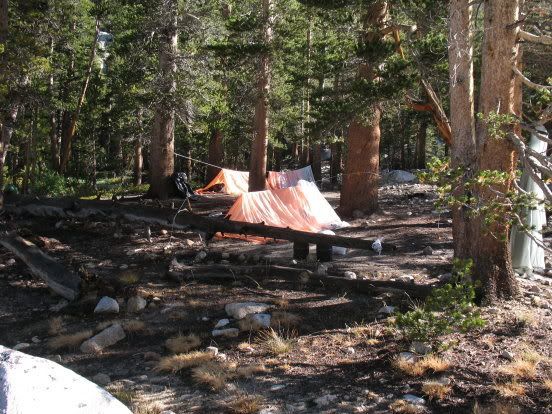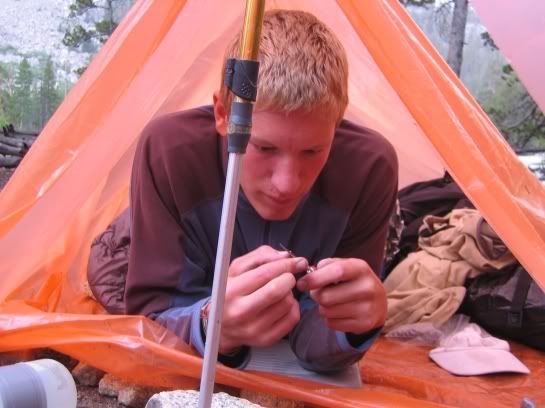 It was a humid night. The next morning, I crawled anxiously out of my poorly set up tube tent, wet with condensation, but very happy to see a bright blue sky. I walked down to the meadow before sunrise and took some photos of the wintery landscape. Then the sun made its way over the ridge and we luxuriated in its warm embrace.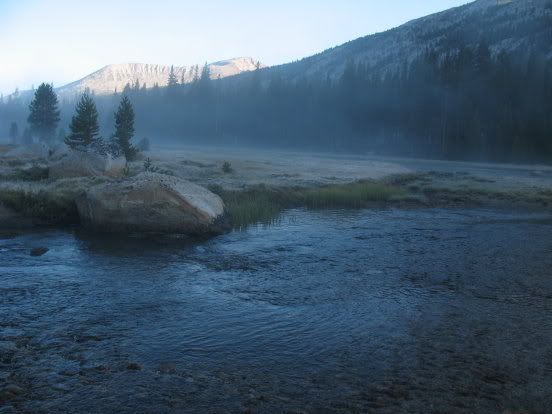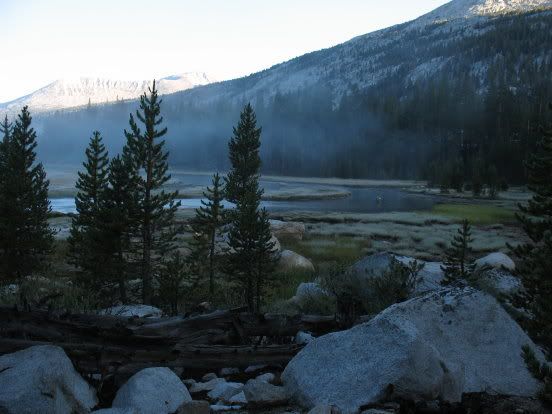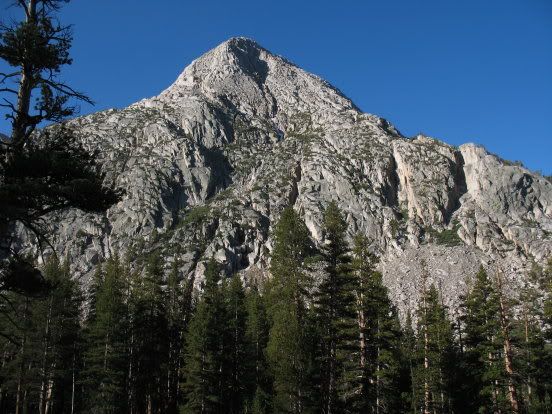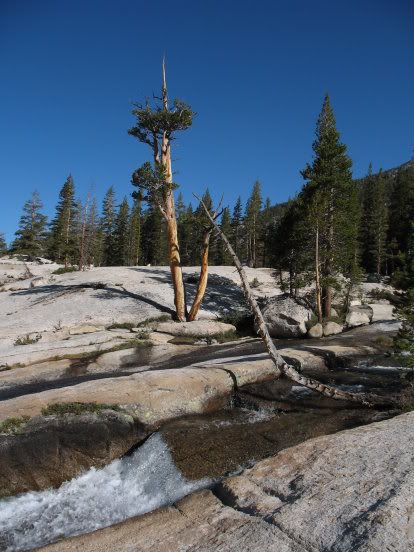 We dried our things out, taking our time breaking camp. Finally, we followed the JMT down about a quarter of a mile, then cut through the meadow and crossed the creek. Steve and the boys raced ahead into lower McGee Basin, looking for the use trail. I followed, much more slowly, but managed to blunder into the trail.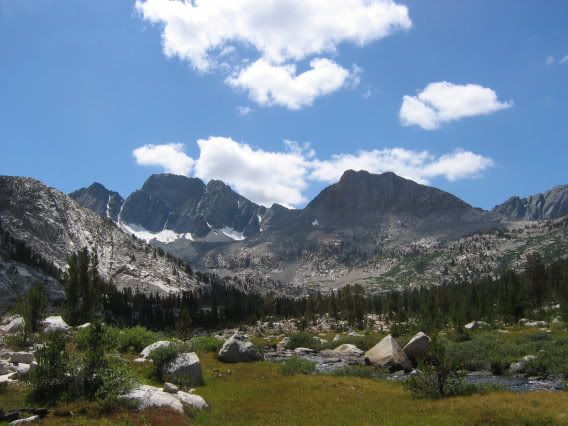 Soon we all met up again, at a spot not far from the steep use trail up to the first of the lakes. At this point, Steve and I headed up the use trail, while Andrew and Michael tried another, much steeper route. We all met up at the first lake, then made our way to a terrific campsite on the peninsula of the large middle lake.
The boys fished.
Andrew and his catch:
Michael's first trout ever:
Dinner: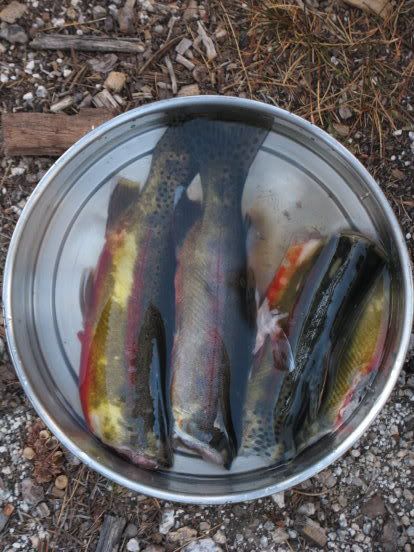 We watched a gorgeous sunset . . .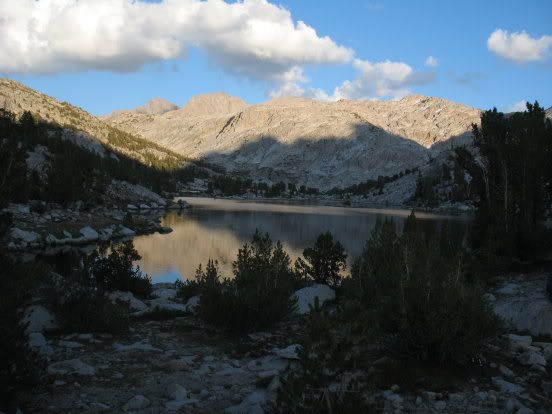 . . . and slept out under the stars, glad to see a return to the normal forgiving Sierra weather pattern. A beautiful sunrise -- lots of frost on the bags this morning.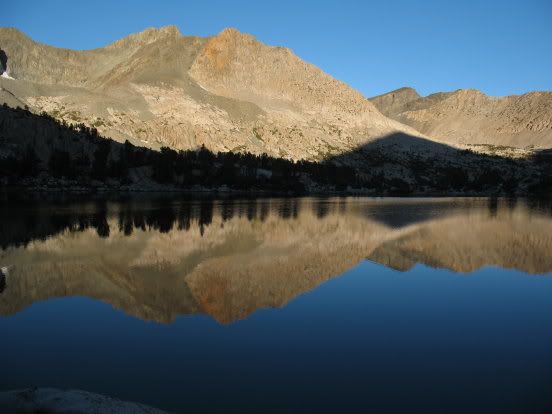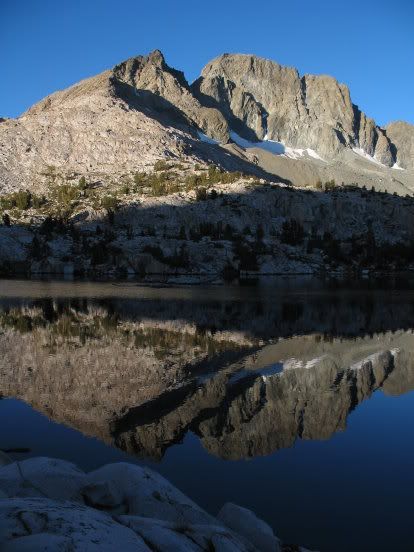 Mt. McGee from our campsite.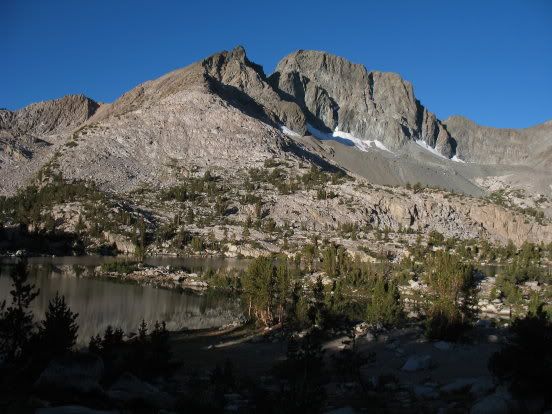 We enjoyed the sun, then broke camp and headed up the high pass that leads to Wanda Lake -- I have always referred to this as McGee Pass, but Secor uses that name for a lower pass that leads to Sapphire Lake.
Here is the view about half way up from the pass, looking back the way we came.
Wanda Lake, with Muir Pass in the distance.
Looking towards Davis Lake Pass, our next destination.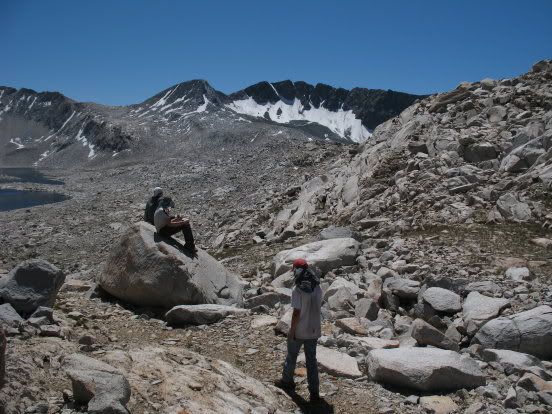 We did a descending traverse towards Davis Lake Pass, giving us an awesome view of the vastness of Wanda Lake.
Views east and west from Davis Lake Pass: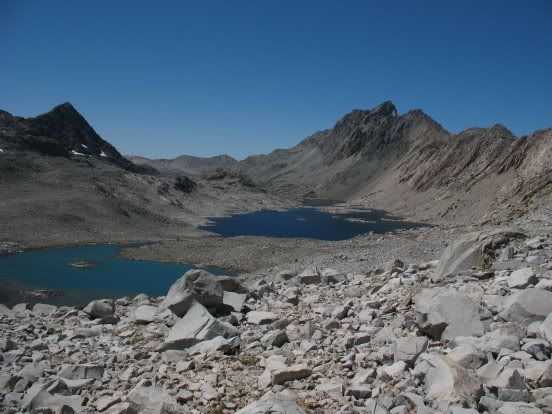 We camped at the eastern edge of the lake. We had hoped to find a level, sandy spot close to the lake, but the ground was either uniformly rocky (smaller rocks) or spongy meadow. We settled on a flat, rocky area and found that it was surprisingly comfortable to sleep on -- I slept like a log that night.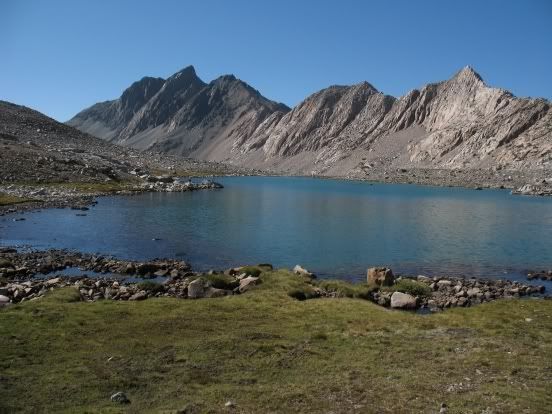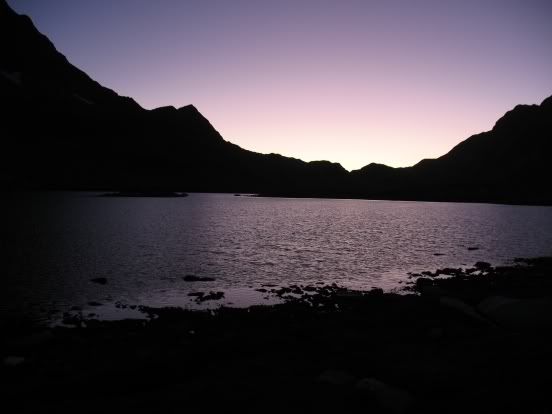 . . . Part 2 to follow shortly