Hitchhiking, Bus Connections and Ride-Sharing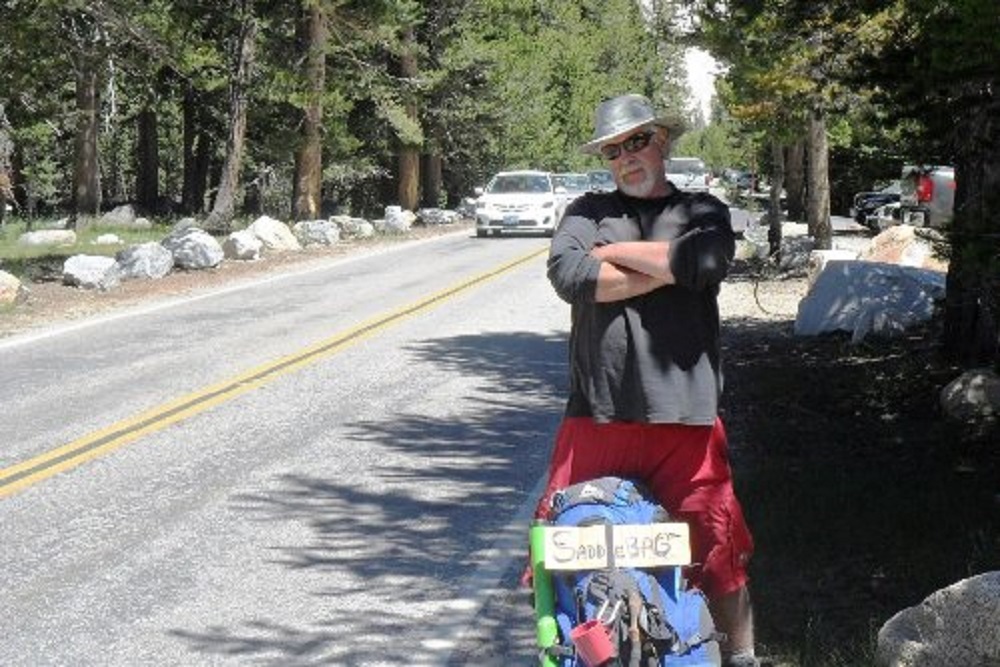 1
Look confident.
Well fed. And not like some inner city bum.
2
A good sign is helpful.
It's also old school and anyway they're fun to make.
By: markskor
Other HST members also contributed to this article
Last updated April 9, 2016
There are problems and solutions (idiosyncrasies?) – specifically concerning hitchhiking, bus connections, and ride-sharing…all entailing differing strategies and varying methods of travel for nomadic Sierra Nevada backpackers. Here is a discussion concerning some of those problems faced, and some of the time-proven answers/ successful solutions to many of the situations generally encountered when attempting to navigate to and from High Sierra trailheads sans vehicle. In short, how to get there and back without having a car readily available.
Hitchhiking – 
Given enough time backpacking the Sierra Nevada, sooner or later you will invariably find yourself standing on the side of a road, somewhere Sierra, needing to get somewhere else, and having no car. Some might think when thumbing, a full backpack and a disheveled appearance would be detrimental…but not necessarily so (especially if you possess that certain backpacker persona). Maybe in the city, problematic…however not in the Sierra. In the high country of the Sierra Nevada, much honor is bestowed upon legitimate backpackers. Possession of well-used, quality gear seems indicative of past grand adventures, and proudly-worn trail-dirt points to the individual's dedication and determination. Even after washing up, a real backpacker's trail-aura is relatively easy to recognize regardless – even though dirty, always welcoming… envied actually. Be that person. And whatever you do, try not to reek.
Following are some basic Sierra hitchhiking strategies I and my comrades in Sierran hitching have learned over the years which hopefully, will increase your odds of getting a ride, safer and faster. These include:
1) The Sign – Always better to announce your intended target (Saddlebag, North Lake?) by displaying a large sign, a clearly written sign, announcing your destination. Be prepared and ready… (You can always ask nicely at any convenient market/ burger stand for cardboard and a pen…Tuolumne Meadows Post Office is good too.)
2) The Backpack – Put your gear, your tight, well-packed backpack in the foreground. Never hidden, always visible…no surprises. Make certain your potential ride (Lone Pine, Independence) easily recognizes you as a real backpacker…not some inner city bum (even if you are).
3) Keep it legal – If there is a curb, stay out of the street…and behind of any yellow road lines. In California, hitchhiking, standing in the street (IE, on 140, 395) is illegal; thumbing while on the curb is considered loitering (Groveland, Bridgeport). BTW, as long as you have a dollar in your pocket, you are not considered loitering.
4) Intersecting roads – Get past any immediate fork in the road ahead. Even if you have to hike a mile or so, situate yourself after the Y, not before…
5) Money – Never make mention of money ($$) on your destination sign – this invariably invites trouble. You could mention (or prominently display) your park pass though when hitching into parks like Yosemite…could easily save someone $30…indeed, a worthwhile incentive.
6) Demeanor – Smile and be friendly; wave to all passing cars… Amazingly, some will respond favorably, actually turn their car around, and give you that ride (Oakhurst, Wawona). Lose the gangster look…letting others see your eyes is better than wearing sunglasses. Look like that big-ol' friendly mountain man/woman that you are. Additionally, relax…desperation always shows badly. To add, a nonchalant attitude can work to your advantage when thumbing through the Sierra. Use it. Even consider sitting down roadside, (backpack and sign always clearly visible)… this works better than standing and flailing your arms about frantically. Drivers will still be able to see you, your sign, and your pack – obviously you are an interesting individual and non-threatening.
7) Where to stand – Give your intended ride somewhere easily and safely to slow down and pull over, a wide spot just behind where you are thumbing. Many a ride has been lost because the potential ride could not pull over safely (Highways 49, 140, 120). By the way, positioning yourself just past any busy store/gas station/stop light is always a good idea too. Additionally, being outside of any major community/ past the town (not in Mammoth but out on 395, past Bishop for example) is better than being stuck in the center of town. Sometimes you do have to walk some.
8) 420 – Even though you may possess a legal medical card, if you are in a national park, federal laws apply. My suggestion is to take advantage of ubiquitous road trash…In Yosemite, stash anything in a crumpled paper bag roadside about 20 feet up the road, a little behind where you are standing. Just don't forget it's there.
9) Carry water – you could get a ride in 5 minutes or two hours, depending… – one liter minimum.
10) Group size – A single (is best) or a couple (works too) will be more productive than any larger group. Always better to slightly distance yourself from any other individuals standing closeby too.
11) Be patient – Allow ample time to get anywhere…Never despair. There are much worse places to be stuck than Highway 395/120 outside Lee Vining, or at Crane Flat.
12) Warning – Never leave your backpack in the ride's car if you happen to pull over for anything…lunch, restroom, Jolly Kone, etc…make up any excuse to take your pack out of the car…an expensive lesson once learned.
13) Instincts – If anything feels hinky, especially in crowded places like Fresno or along 395, refuse the ride.
14) Ride demographics – Surprisingly, in California, solo drivers in empty pick-up trucks seldom will stop, even on 395, (who knows why). Rides do come though, from almost anybody else, even from family units in Winnabagos (South Lake Tahoe). Additionally, most of your rides will come from foreign travelers and of course, other fellow backpackers. Always be gracious and offer thanks.
15) Hitchhiking at night – Not a good idea, better to find a hidden, shady hole somewhere and just settle in for the night. You already have water and the gear. BTW, Mornings are much better than evenings.
16) Asking others for rides at trailheads  – (The Portal, North Lake, Onion Valley) – Some do; I usually don't, unless they are also fellow backpackers and/or are already somewhat trail acquainted.
Buses Connections –
If travelling without a car, various bus systems make Sierra connections relatively easy. As the times and routes vary as to specific months of the year, always check/call before planning. I strongly suggest using these various bus connecting systems whenever possible. I do.
Here is the 411 on most of the routes 395 east side and those going into Yosemite. There are other west side (Mineral King routes, etc), but as I have never taken these, maybe someone else can do a write up on any missing route information.
YARTS – connects many California cities to Yosemite Valley. In addition, YARTS buses will stop anywhere on route (anywhere the driver deems safe to pull over). www.yarts.com
Fresno – Highway 41 – Fresno Yosemite International Airport (FAT) –  YARTS will begin serving FAT in Summer 2015. Ride the Amtrak San Joaquin line into Fresno from the North or South to connect with YARTS service beginning Summer 2015. Fresno's extensive public transit system will also help you connect directly with YARTS stops in the city coming Summer 2015.
Merced – Highway 140 – Amtrak Railroad Passenger Service – Ride the Amtrak San Joaquin Line into Merced from the North or South to connect with YARTS service leaving from the station 4 times daily and returning 5 times daily. The San Joaquin Line connects with the San Francisco Bay Area (international airports: SFO and Oakland) and Sacramento (Sacramento International Airport).
Greyhound buses reach Merced from San Francisco, Stockton, and Madera 4 or more times daily, and YARTS picks you up at the station 4 times daily.
Sonora – Highway 108 – Service connecting Sonora – Jamestown – Groveland – Buck Meadows – Yosemite Valley  – May 16 – Sept 20
Mammoth Lakes –  Highway 120E/395 – Yosemite Valley. In the summer, the route goes from Mammoth Ski area – Mammoth Lakes Park and Ride – north on 395 – June Lake Loop – Lee Vining visitor center – up 120 to Tuolumne Meadows – Yosemite Valley and returns daily. During July and August, 3 YARTS trips daily leave from Yosemite Valley and return to Mammoth Lakes. In June and September, YARTS operates 1 daily round-trip.
Mammoth Lakes Airport – 760-934-3813 Mammoth Lakes Airport offers direct flights from Denver, San Francisco, Las Vegas, Los Angeles, and San Diego.
Yosemite Shuttles – If arriving in Yosemite Valley by public transportation, access to other areas of the park is possible, as follows:
Yosemite Valley – (free shuttle service – 20 stops – around eastern Yosemite Valley)
El Capitan Shuttle – (This bus stops at El Capitan, Four Mile trailhead, and the Valley Visitor Center. This shuttle operates from mid June through early October from 9 am to 6 pm.)
Mariposa Grove – (free shuttle between Wawona and Mariposa Grove, weekends only through April 23; daily beginning April 24)
Glacier Point – (late May/June through October via fee-based tour)
Badger Pass – (mid December through March via free shuttle)
Tioga Road/Tuolumne Meadows – (free Hiker bus – Olmsted Point to Tioga Pass – 7:30 AM – 6:00 PM (June ? – store closes August/September ?), connections further on via fee-based tour and YARTS Highway 120 East bus)
Hetch Hetchy Valley – (no public transportation)
Hodgdon Meadow – (summer only; very limited fee-based public transportation via YARTS Highway 120 North bus)
Wawona – There is no public transportation to or from Wawona.
Yosemite Shuttles Info – www.nps.gov/yose/planyourvisit/publictransportation.htm
Eastern Sierra Transit Authority (ESTA) – ESTA operates year-round bus service along Highway 14 and 395 into Mammoth Lakes from Lancaster via Bishop and town trolleys within Mammoth Lakes itself. ESTA also offers service from Reno into Lee Vining, where YARTS stops on the way into Yosemite from Mammoth Lakes. www.estransit.com

Eastern Sierra Transit Routes on 395 – The Northbound 395 Route bus stops at Reno Tahoe International Airport and Reno Greyhound Station. The Amtrak Station at 280 North Center Street in Reno is approximately 5 miles from the Greyhound Station.
The Southbound 395 Route bus connects with Ridgecrest Transit at the Inyo Kern 76 Gas Station for passengers wanting to go to Ridgecrest. The Southbound CREST continues on to the Lancaster Metrolink Station making connections into the Los Angeles area. Reservations are encouraged on the 395 Routes in order to assure a seat if the bus is full. Call (800.922.1930  M-F 8-5) The buses providing the 395 Routes service are equipped with bike racks.
Connecting Agencies –
Greyhound 800-229-9424
Ridgecrest Area Transit 760-499-5040
Metrolink 800-371-5465
Amtrak – 1-800-AMTRAK-2   http://www.amtrak.com/san-joaquin-train
Kern Regional Transit 800-323-2396
Lone Pine Express – Lone Pine to Bishop – Monday – Friday   760-872-1901
Eastern Sierra Transit  –  Bridgeport to Carson City….530-402-6832
Eastern Sierra Transit – Benton to Bishop – Tuesday and Friday 1-800-922-1930
Mammoth to Bishop – daily – www.estransit.com
Mammoth Lakes – free town buses running daily… Mammoth Mountain Main Lodge – Town (Vons) – Lakes Basin – www.estransit.com
Reds Meadow/Devils Postpile Shuttle –
Mammoth Mountain Main Lodge – Reds Meadow – $7
http://www.nps.gov/depo/planyourvisit/reds-meadow-and-devils-postpile-shuttle-information.htm
Ride Sharing/ Key Swaps –
A good option if one can be coordinated. Check in with folks at the High Sierra Topix forums and other similar websites.
Additional Reading –
Sierra Nevada Hitchhiking Stories/Experiences:
http://www.highsierratopix.com/community/viewtopic.php?f=9&t=9140
HitchWiki – The Hitchhiker's Guide to California Hitchhiking Laws:
http://hitchwiki.org/en/California