Many people don't realize there are moose in California. But there are. They are very secretive and tend to be nocturnal, but with patience and determination and knowing the right spots, one can eventually see them. If you do, consider yourself unlucky. They can be vicious.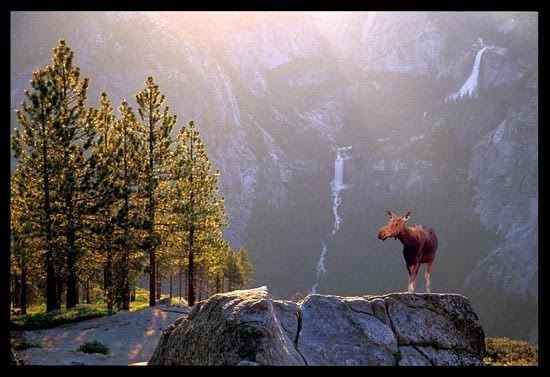 Out of necessity, the moose in the Sierra are excellent rock climbers. They climb like mountain goats yet retain their moose-like appearance. This one had just topped out over a cliff and she never saw me there with my camera. Some get spooked very easily so you gotta be careful and veddy veddy sneaky if you want shots like these. I refuse to disclose the location of this image for fear it may become overrun with sightseers.
I found this Sierran Moose in a secret spot in the Sierra as it crossed a remote river that shall remain nameless. I've been told less than 18 people have ever seen this magical place, much less a moose crossing here (not including Native Americans).
I shot this image at 14,000' up on Mt. Whitney. This is an extreeeemely rare habituated moose that the NPS will not talk about in public. It is very agressive. It charges hikers on the trail in hopes they'll drop their packs and run. It's best to go fetal and roll down the mountain, your odds of survival are greater than standing your ground. Notice the Sierran Moose all look oddly similar. These Sierran Moose are great for the bighorn sheep populations because they chase down and attack mountain lions and have become their chief food source. There ain't much grass up there.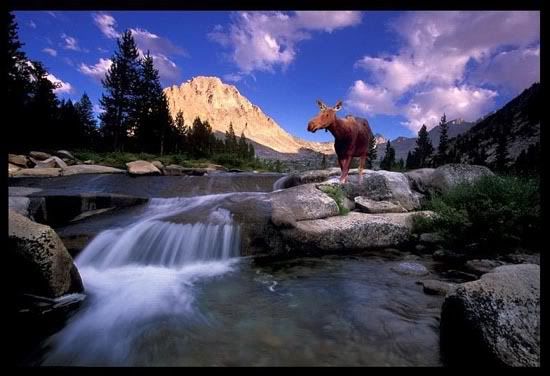 Here's one hanging out at upper Bubbs Creek in Kings Canyon Nat'l Park. You can easily spot them because they look eerily identical. This one came down the creek as I had my camera on the tripod... I snapped this shot and it snarled at me. You should see the teeth on these things. I ran for my life, all the way back over Kearsarge Pass without stopping to rest. It wasn't until three weeks later that I had the nerve to go back and retrieve my gear.
Under the Minarets, Ansel Adams Wilderness. This guy nipped at my heels all the way to Ediza Lake, where I jumped in and spent two frigid days and nights treading water until I saw him climb up the steep ridge to Mt. Ritter. These guys have the temperments of grizzlies... you don't know how they'll react to an encounter.
My weirdest encounter was paddling Mono Lake and it was wading in the shallows off of Paoha Island. This guy false charged me twice but I was able to calm his nerves by throwing Triscuits at him.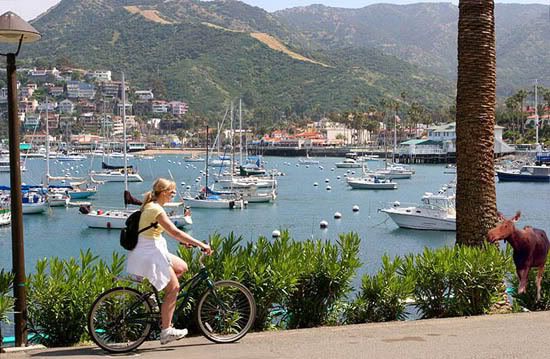 Some California moose go predatory and once they get a taste of human flesh, there's no turning back. This moose was waiting for Lauri on Catalina Island during our honeymoon. I yelled for her to STOP! and threw rocks at the moose and she was saved just in time. Later that day I saw this same moose trotting down the beach with a baby in its mouth.
Lauri and I picked up a pigmy moose as a pet while in Mexico. They make wonderful pets and they mind very well. Plus they're really really cheap over there. We were so excited we brought her along for the remainder of our honeymooon and rarely needed our moose leash.
All the weird people here, please raise your hand.