Here is a report for a recent hike to Corral Mountain in the John Muir Wilderness.
Corral Mountain 9-11 August 2020
Recovering from a hip replacement done on June 5, my wife told me it was time to get off my lazy butt and hit the trail or I wouldn't get in any hiking at all this year. My daughter, Jane, got wind of the trip and talked her way into going along.
The purpose of the hike was to try to find Lewisia leeana on Corral Mountain near Courtright Reservoir. Our destination was Long Meadow, just a few miles from the Maxson Trailhead. I had never stayed there, but I had seen many parties camping there when passing through the meadow while going to and from the Red Mountain Basin. Our pace was slow. I had not been walking enough since surgery to develop strength and endurance. We reached first water in Long Meadow and I was whipped. I told Jane to find us a camp spot and within less than five minutes she had found one with a fire ring, a great rock kitchen table, and several nice flat spots to choose from for our tents.
After a leisurely breakfast, we packed our knapsacks with emergency gear, water, and lunch and headed toward the base of Corral Mountain. The cross country route up the mountain was slowed by numerous deadfalls, dead branches, and thickets of stunted trees. Finally, as the grade of the slope increased and the forest thinned, we saw our first Lewisia leeana.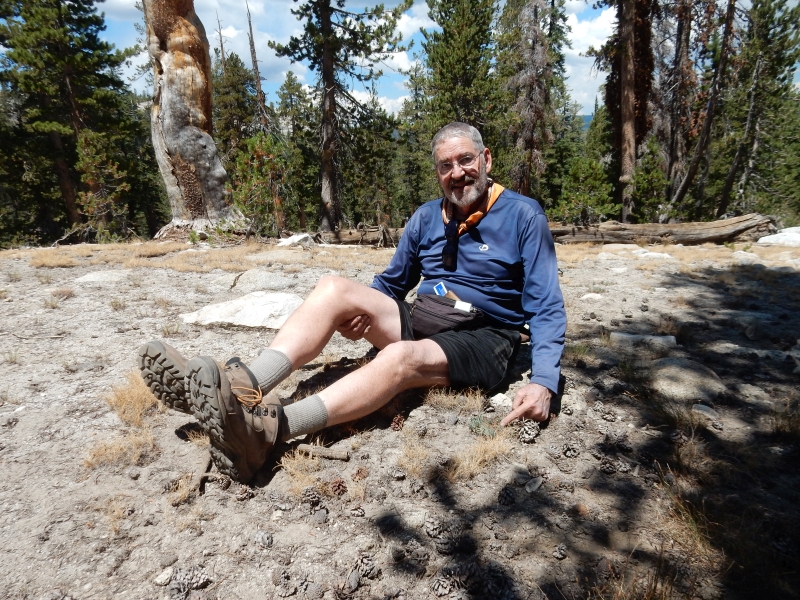 It and all subsequent plants were pitiful in this pitifully dry year. Some had dried stems but others looked like they had never bloomed. Nonetheless, some of the quill-shaped leaves of L leeana had been cropped off. Animals have been desperate, too.
It inspired me to taste one myself. They shouldn't be called bitteroot. They are bitterplant. Of course, Jane made me taste the root, too. I'll never have to do those taste tests again. We walked toward the summit until the views opened up and Jane could see the surrounding country.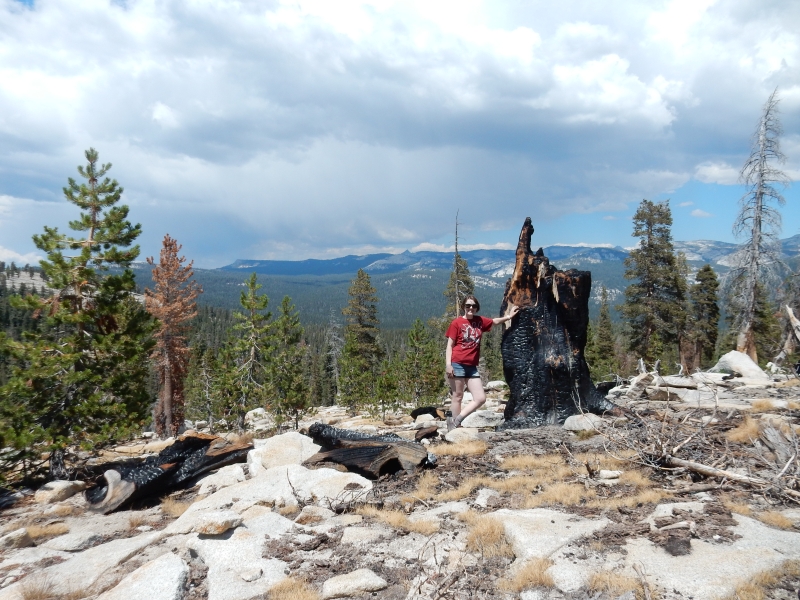 We made a few more botany observations for iNaturalist and decided it probably wasn't worth the effort to get to the summit.
On the way down the mountain, it started to rain and continued the rest of the afternoon. We reached camp and Jane started a fire in the rain. She found dry kindling and larger sticks and had a good fire going by the time the rain stopped. That night, Jane slept warmer in just about all our extra layers. While filling our water bottles for the trip back, we discovered a large patch of alpine gentian.
The hike out seemed to take forever. We got to the trialhead and agreed that it had been a good trip.
For a slightly longer report, go to:
http://www.sierrahiker.com/Hiking2020/index.html