Spent Sunday hiking up Twin Peaks (just west of Tahoe). Ended up starting from Barker Pass hiking North along the PCT/TRT. In earlier scouting, I had been unable to find the additional (shorter) trail mentioned by SummitPost. The total distance listed from Barker Pass to the peaks is 5 miles (which may be a bit of an overestimate?) but has less than 2k elevation change. All in all this is a really pleasant, well-graded trail all the way up to the junction where the Pacific Crest Trail and the Tahoe Rim Trail split off from each other at a bit over 4 miles from the pass.
Once you hit the junction, leave the PCT and keep hiking the TRT to the northeast. After about 1,000' you'll pass by an obvious drainage running through a large talus field to your left. We started off trail here climbing through a bit of brush to obtain the saddle between the two Twin Peaks. This spot was marked with a small cairn when we were there.
After reaching the obvious saddle between the two peaks, the true summit (right) is just a few minutes class 2 scramble. We found a small summit register with entries dating back to 2006 and note that the register was placed by Pete Yamagata. We spent a bit of time sightseeing and napping on the top before heading back down which took right about 2hrs from summit to car. Right as we were finishing up, you could REALLY see the smoke from the Pollack Pines fire. Any sunlight making it through the pines was turned a beautiful dark red color and lit up the forest like I have never seen before.
First clear views of the peak from the PCT
Short scramble to the top
False Summit Block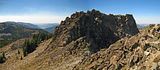 Heading down from the shoulder between the two peaks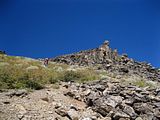 The fire near Pollack Pines blowing up in the afternoon wind