On short notice, my brother was able to persuade me to add another trip to our annual backpacking events for this summer. We had been angling to add our third brother and his son to the trip by going to the Three Sisters, which is an easier hike, but no bites on that one. Undeterred, I found a flight up to Portland, and the adventure was on with just the two of us circumnavigating the Three Sisters. We are native Oregonians and it was nice to be hiking at home.
I realize that many of you are not familiar with the Three Sisters Wilderness. I will try to fill you in where we are as I go along. I hope that you someday have a chance to hike here.
On July 27 we drove down on I-5 from his house in the greater Portland area to Albany, then headed east up the South Santiam on Highway 20 to Lebanon and Sweet Home, then down Highway 126, then up Highway 242, to the McKenzie Pass where the PCT crosses the road. Just past the McKenzie Pass a mile was our TH, Lava Lake. We arrived around 2:00.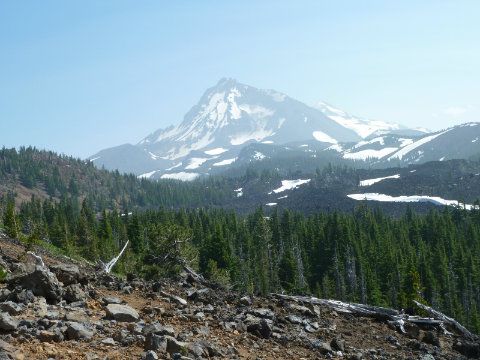 North Sister Approaching Matthieu Lake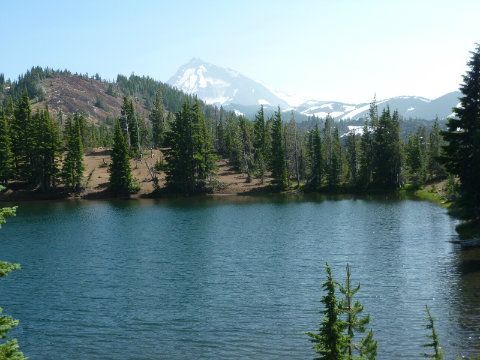 Matthieu Lake and North Sister
We worked our way up to South Matthieu Lake on the PCT, and then headed east on the Scott Trail and south on the Green Lakes Trail to Alder Creek, our first nights camp, about 7.4 miles in. After South Matthieu Lake, our trail took us through an immense stand of Lodgepole Pine that had been beetle attached, leaving many dead. This scenery was to continue until we reached Park Meadows and was a bit tedious, given the lack of any views.
Day 2 we hiked the ten miles down to Park Meadows, where the trees finally opened up enough to enjoy views of the South Sister and Brokentop. This was the only spot on this trip where I was able to fish and we enjoyed a couple of Brookies for dinner that night.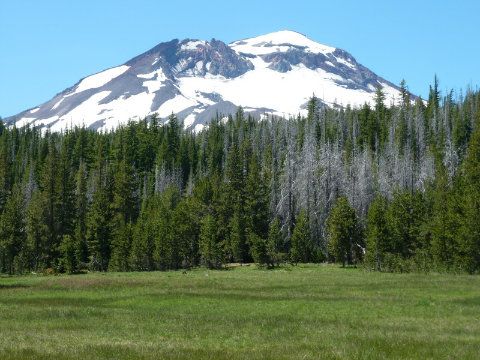 South Sister at Park Meadows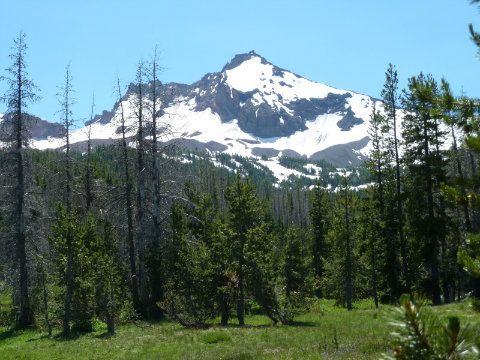 Brokentop at Park Meadows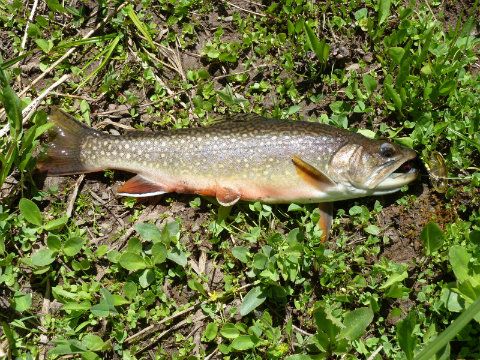 Park Meadows Brookie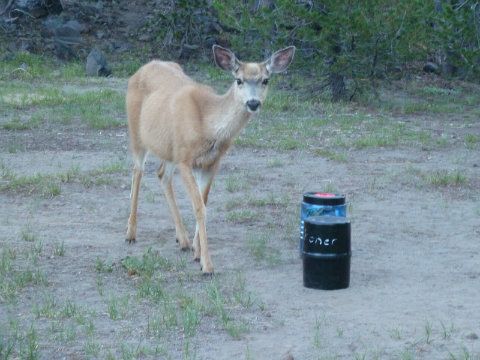 Apparently Bear Canisters work on deer as well!
Day 3 we hiked over the saddle between Park Meadows and Green Lakes and down into the Green Lakes Basin.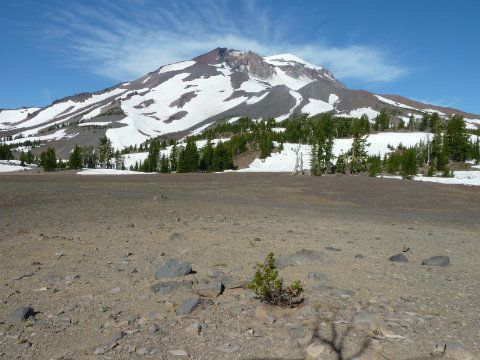 South Sister at Saddle between Park Meadows and Green Lakes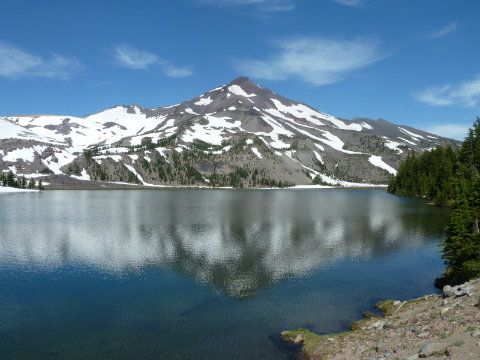 South Sister at Green Lakes
Ice had broken up on the lakes, but I was unable to raise any indication of fish in either the Green Lakes or the outlet stream, Fall Creek. We continued on to Moraine Lake, which is fishless, and made our camp there, enjoying good views of the South Sister and Brokentop. We hiked about 8 miles that day.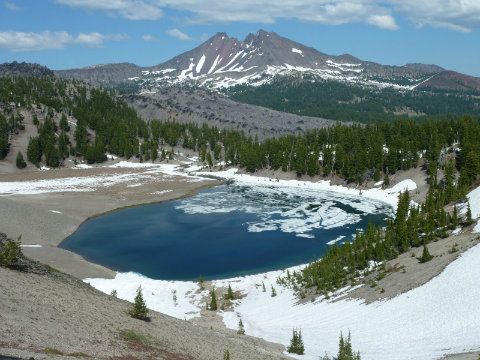 Moraine Lake Day 3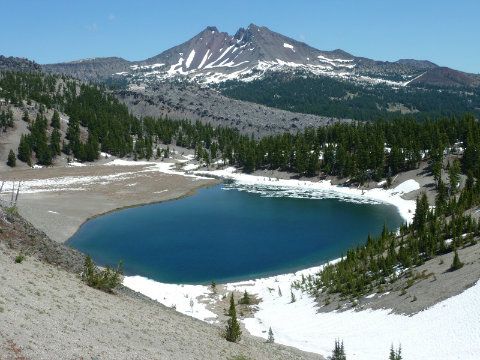 Moraine Lake Day 4
Day 4, we climbed the South Sister. It's a simple walk up, but we could see Adams in Washington and Shasta in CA along with Hood, Washington, Jefferson, Three-Fingered Jack, Diamond Peak Complex, McLoughlin and Thielson. I guess the South Sister is the third highest peak in Oregon after Hood and Jefferson.
Partially Up the South Sister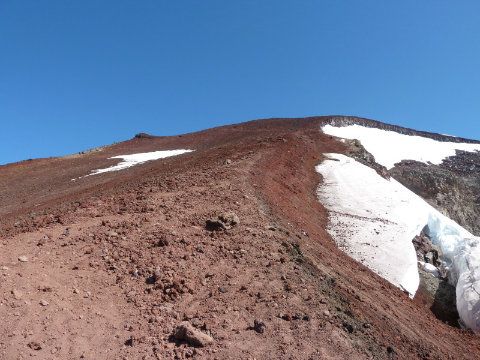 Approaching the Summit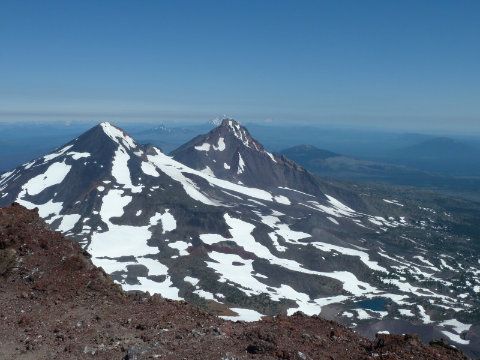 Middle and North Sisters from South Sister Summit
A melt pool partially up the South Sister
I noted that when we came down, there was substantially less ice on Moraine Lake than there was the day before. We spent a second night at Moraine Lake. Climbing the South Sister was about an eight mile hike, round trip, from Moraine Lake.
Day 5 we left Moraine Lake and after a few miles we were on the PCT in the Wikiup Plains, a pumice desert area that gave great views of the South Sister. Apparently we were ahead of the thru hiker crowd on the PCT.
Wikiup Plains and the South Sister
Soon the pumice gave way to forest and meadows. The forest wasn't a problem, but most of the meadows we encountered as we headed north were still covered with 4-5 feet of snow, often making finding the trail more interesting. When I look back and compare our GPS track with the location of the trail, we were off quite a bit at times, but always managed to line back up with the path when we reentered the timber. My brother was disappointed that what he had expected to be green meadows were snowfields, and we kept pushing onwards.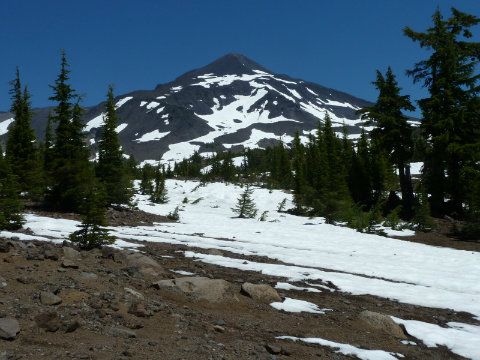 Middle Sister and Snowy Meadows
It was this day we met the "speed hiker," a fellow so intent on hiking fast that way finding went by the wayside. We would come up on a snowy meadow. The speed hiker would take off in an arbitrary direction immediately. My brother and I would put our packs and carefully examine the terrain, perhaps walking around a bit to find the trail. After finding the correct route, we would put our packs back on and continue down the trail. 15 minutes later the speed hiker would catch up with us and zoom by, typically just as we reached another meadow, where the process would repeat itself again. I finally grew tired of this and pointed out to the speed hiker that there was a good chance he was going wander well off the trail and break his leg in a snowy stream crossing, also noting that no one would be there to help him. He didn't get this, but seemed genuinely confused on why he was getting so far off the path. Some people can't be taught. I was glad when he finally disappeared.

The miles of snowy meadows made finding campsites difficult, and it wasn't until we reached Obsidian Falls we were able to find a dry campsite. Here we pitched our tents among the black glass shards from 10,000 years of Indian arrowhead making. One walked very carefully among the chips. Obsidian Falls is a 30-40 foot falls over a cliff of black fractured glass.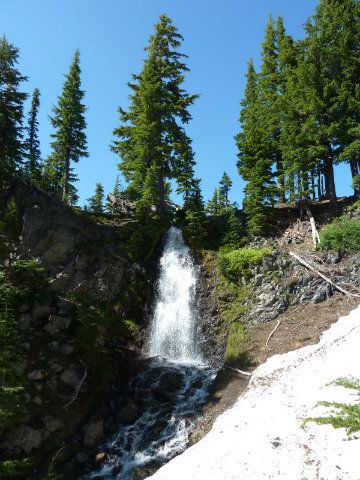 Obsidian Falls
It was a very interesting place and we probably weren't supposed to camp there. However, we had covered 15 miles that day, much of it over snow, and were rather tired. I did not think a FS Ranger would be by to chase us off. I said a prayer to placate the spirit world and we enjoyed a well-earned rest on a hill of obsidian above the snowy meadows, below the Middle Sister.
Day 6 started similar to the previous, more snow meadow crossings. We finally left the snow as we approached the lava flows of Oppie Dilldock Pass.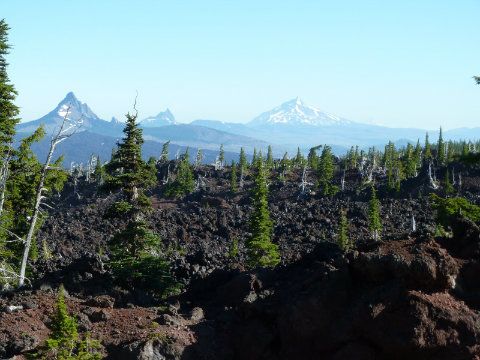 Mt. Washington, Three Fingered Jack, and Mt. Jefferson from near Oppie Dilldock Pass
North Sister Near Oppie Dilldock Pass
Oppie Dilldock was a comic book character that had a habit of escaping from intractable situations. Apparently finding the pass helped some early hikers escape from the intractability of the lava fields. The North and Middle Sister loomed over us as we reached the highest point on the trail (excluding climbing the South Sister) at 7000 feet. We veered off course due to a snow patch and cross-countried to the east of Yapoa Crater rather than the west. We reconnected with the trail and continued our trek north, meeting more people as we neared the trailhead and our car. We did 10 miles that day back to the TH, bringing our total for the trek to 60 miles. It was August 1.
As you can see, this is a much different trek from those in the Sierras. I would recommend doing it a couple weeks later in August to avoid the snow. I brought my Katulas and was glad I did.