And now for something completely different. I travel to Japan for pleasure on occasion, and on my last trip this past summer, I decided to climb Fuji while I was there. This documents what the trip is really like. For those of you that are interested in the trip, I can provide advice. I am very familiar with Japan and if I use terms that you are unfamiliar with, please ask and I will explain. I read some characters and speak some Japanese.
Typically, the way people want to climb Fuji in Japan is to be there for the sunrise. This is common on other mountains in Asia; I did the same thing on Gunung Kinabalu in Borneo. I honestly don't think it's the best way to go, but it's much easier to go with the flow when in Asia.
Fuji is 12,389 feet tall. Tokyo is at sea level. More about that later.
So here's how it works. There is a road up to the 5th station on Fuji. From there you start climbing to the top. To see the sunrise, you catch the last bus that goes there in Shinjuku. This trip was on July 4. The mountain opens July 1 and generally closes August 31.
As you can see it's a bit of a cluster getting on the right bus: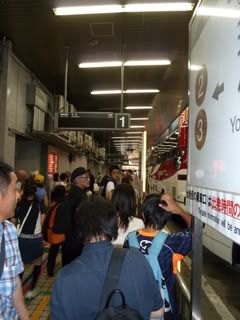 Ah…. here's the right one: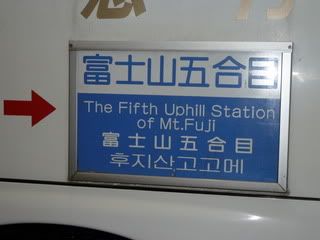 So you take off at 7:30 p.m. for a 3 hour bus ride up from Tokyo to Fuji. The seats are small, don't recline and impossible to sleep in. Most of the people in the bus I rode in were Gaijin (foreigners). Finally you get to the 5th station around 10:00 in the evening. You are at 7560 elevation.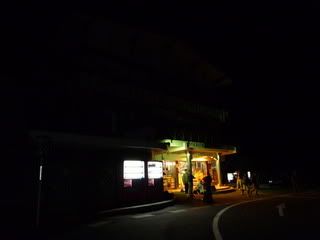 I had a vague idea where the trail started and headed that way. Soon, signs indicated I was on the right path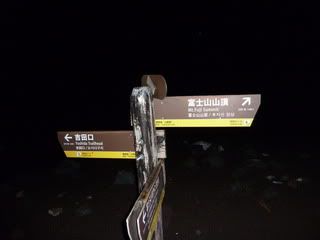 You hike on in the dark. I prefer to hike alone, and this night, being a weekday, I was able to do that. On a weekend, you would be surrounded by people that would want to talk to you. The temperature at the fifth station was about 65 degrees, which is a nice temp to hike at. Along the way at each station there are inns. Here is a shot of what they look like inside: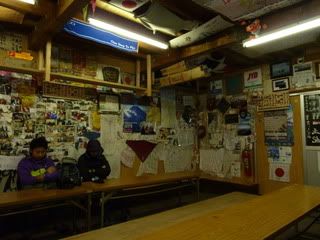 Although I climb and hike a lot, I realized that I had absolutely no time to acclimatize on this trip. Think about it, going from sea level to 12,000 in about 6 hours. That explained the puffing and panting. Well, by the time I get to the top (2:00 a.m.) I'm pretty winded and its darn cold. I had come prepared and put on all four layers. The wind was blowing cinders around and there wasn't much for shelter. There are a number of boarded up buildings around , so I find a convenient porch and try to sleep till the sun comes up, about 4:30 a.m. Well finally the sun comes up: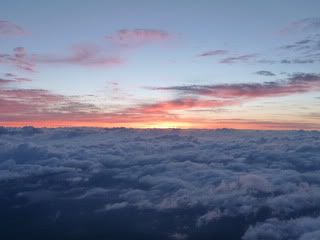 Here's what the top looks like: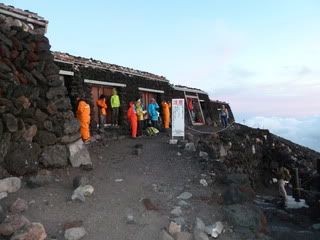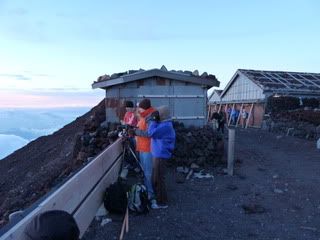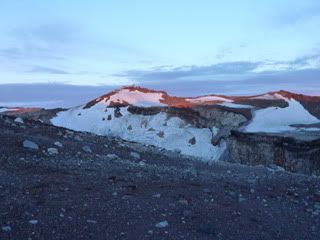 Some were dressed for the occasion: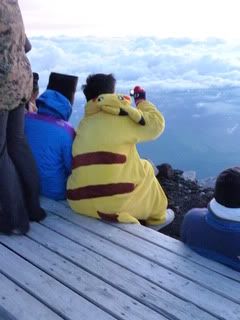 So about 7:00 I had enough and decided to head back down the hill. The sun was up and I could finally see something: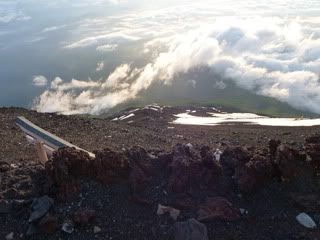 Some were coming up the hill with some other toys: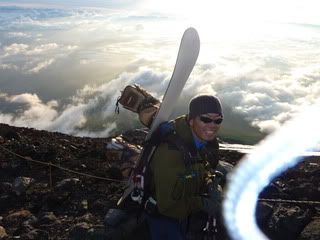 Clouds finally cleared up enough to see down the hill to the Fuji Five Lakes: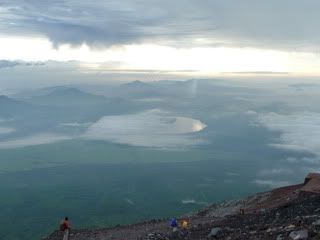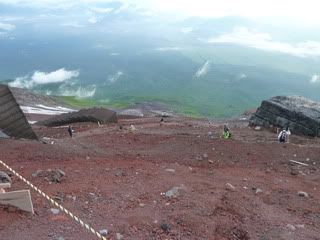 Here's where that guy boarded down the day before: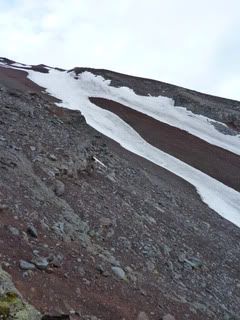 I could finally see how rough the trail actually was: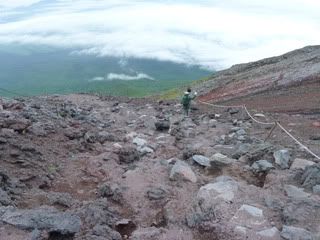 Things finally flattened out for the last mile: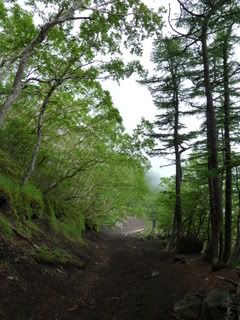 and I finally arrived back at the 5th station.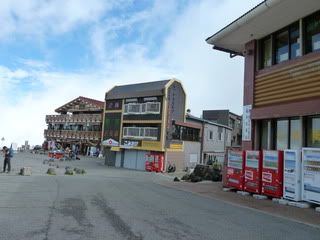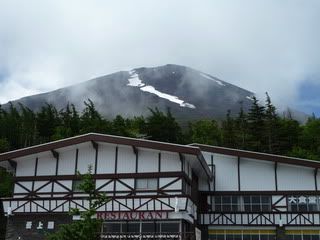 I caught a bus down to Yoshida, the nearest local town. Here the local specialty is Uma Udon: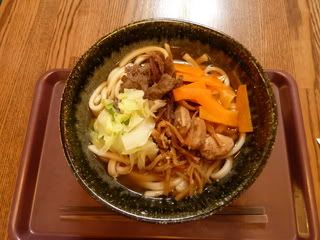 Horse Meat Noodles. Pretty good stuff and a nice way to end the trip.