August 8-13. This trek into the Pasayten Wilderness starts and finishes at Slate Pass, which is about 20 miles up the road (north) from Mazama, Washington. This was my second time into the Pasayten (say Pa-Satan). Got to say, its a pretty cool wilderness, very different from the Sierra. The trek heads north on the Buckskin Ridge Trail, west on the Boundary Trail and then back south to the starting point on the PCT. My brother and I did about 58 miles in this trek. This trek was also a Plan B venture, as there were already fires blocking the PCT in Glacier Peak Wilderness and along Lake Chelan to the south where we had originally planned on going. Little did we know things were only going to get worse in the end.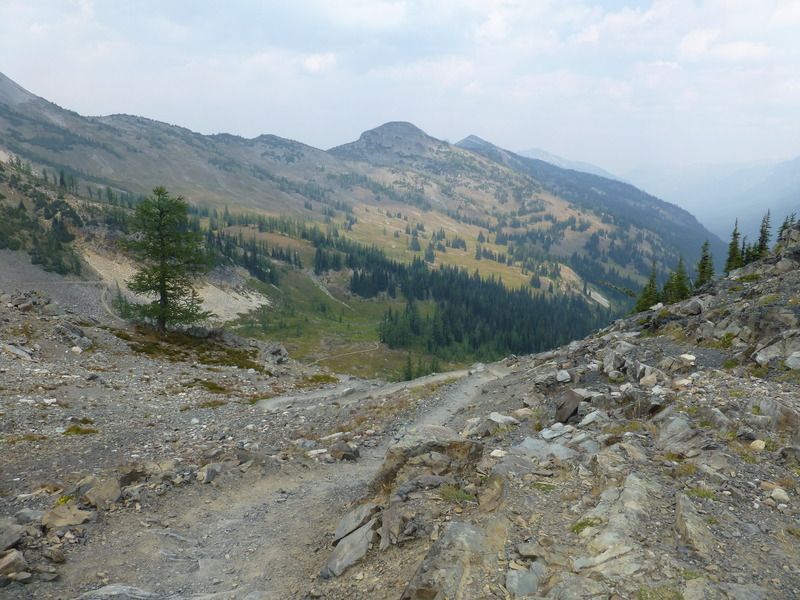 Here is our opening view to the north as we crested Slate Pass. A bit cloudy-smoky, but promising.
Our first night was at Silver Lake, a somewhat shallow, but still fish-friendly lake.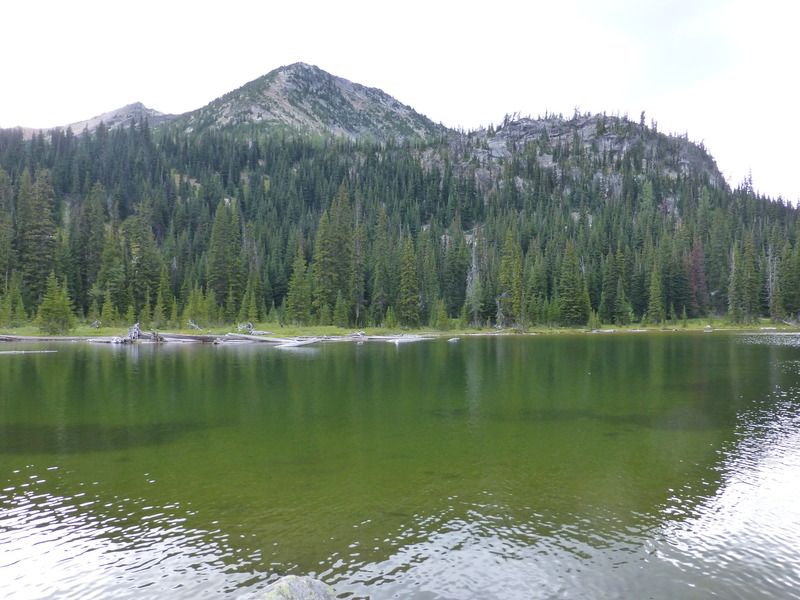 Its just few miles from the TH, so we had lots of company. I caught some tiny rainbows and cutthroats, which was a bit odd, as this is cutty country.
Next morning things had cleared up some.
We continued our hike north, and eventually, somehow came to another lake. It will remain nameless, as the fishing was pretty good.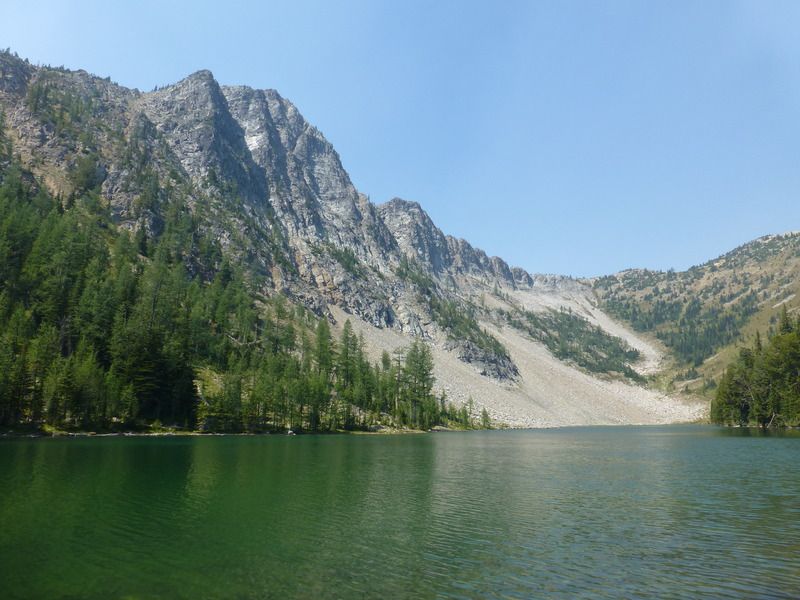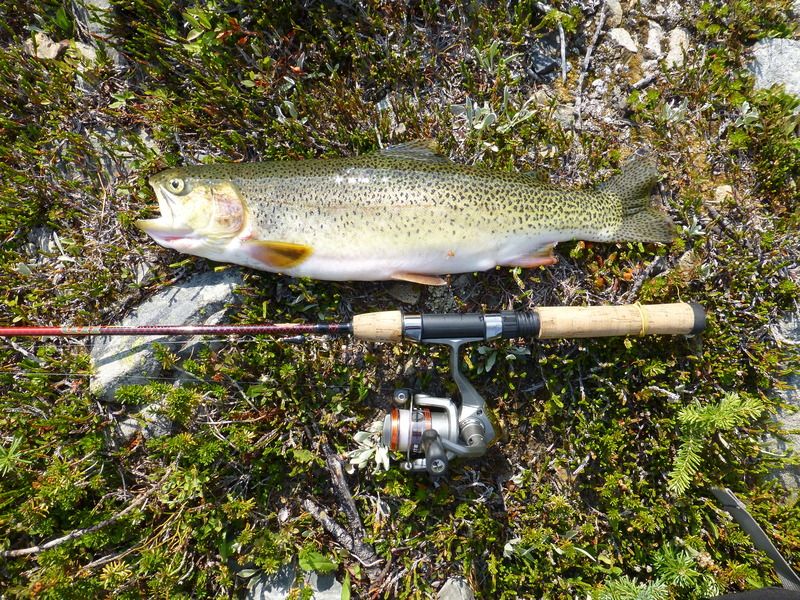 This fish ran a husky 16 inches and around 2.5 pounds. It was the first of three of that size and weight, plus a number of smaller fish. Here's another of these monsters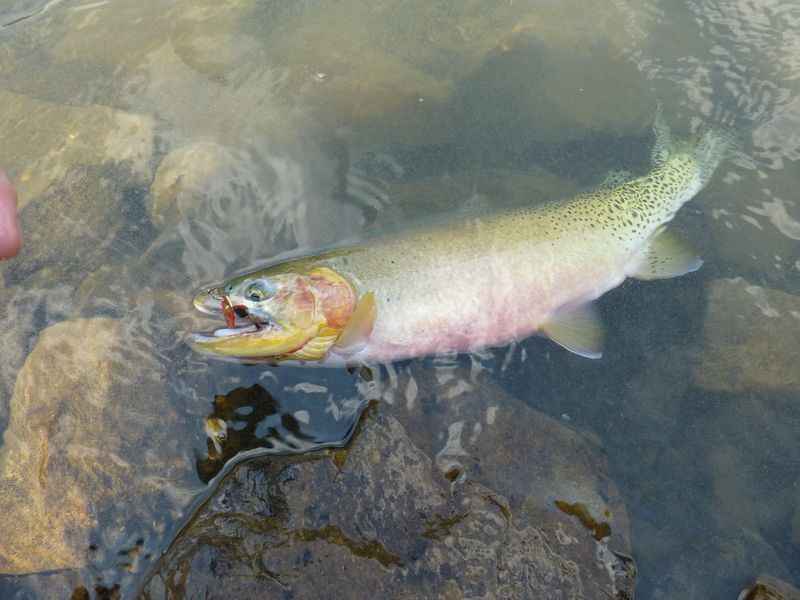 Lure of choice is my favorite cutty killer, Panther Martin, size 9, black body, gold blade with red marks.
We saw a number of grouse on this trip. I'm surprised this bird survives, given its lack of fear of humans.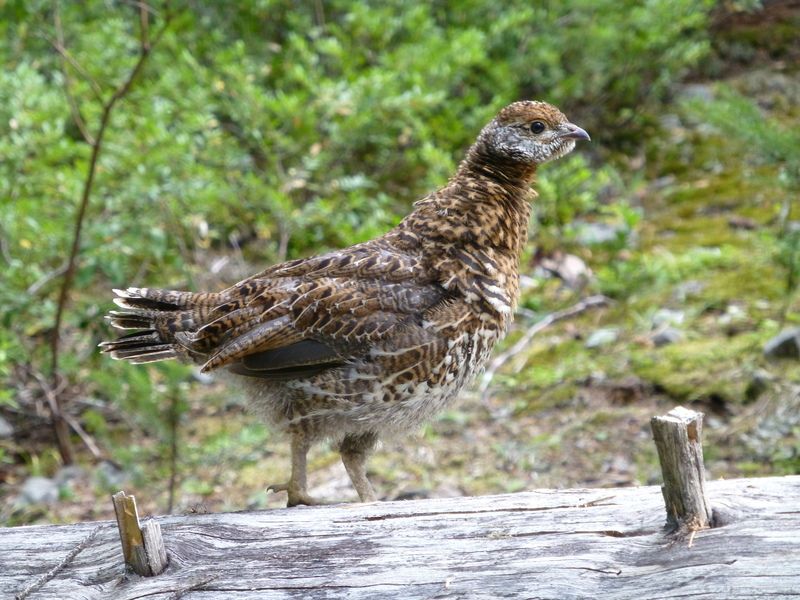 Next morning we continued to next destination, the Pasayten Airport, an airstrip carved out of wilderness.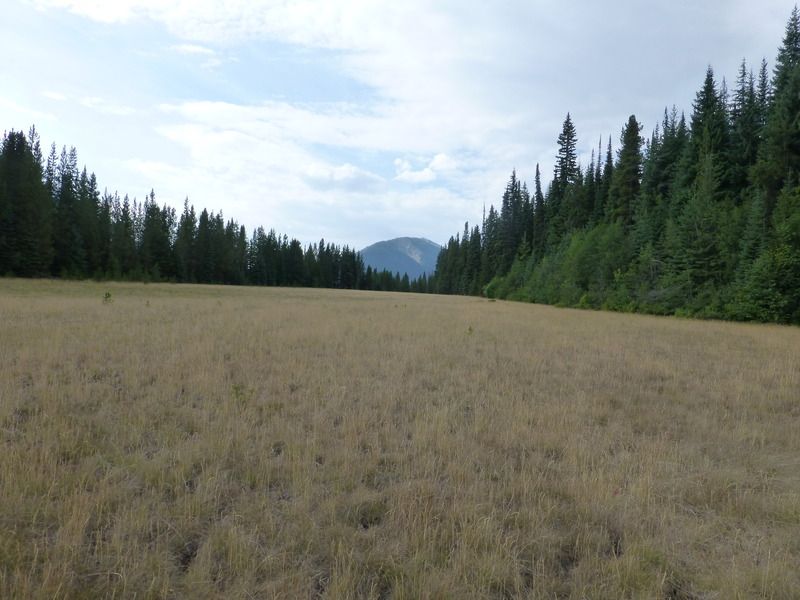 It looked big enough to land a DC-3. There was also a nice cabin there: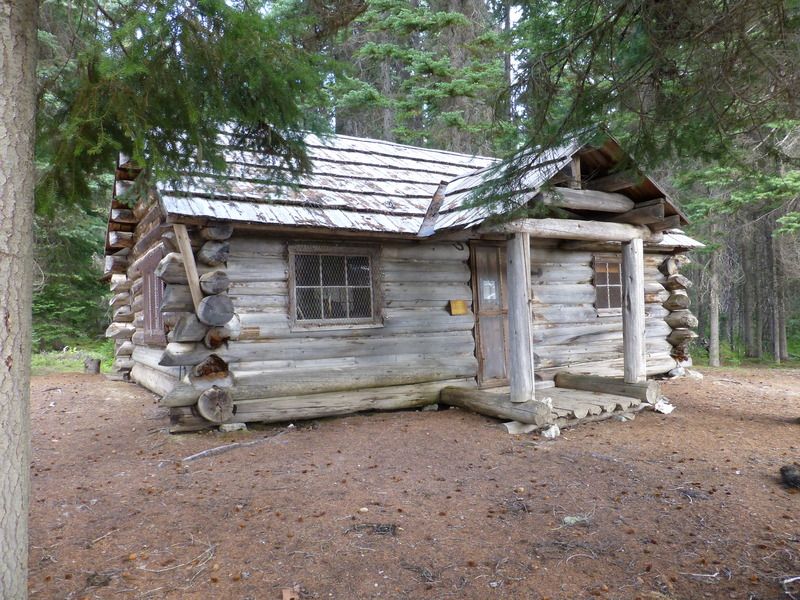 We had planned on staying near the airport, but couldn't find what we were looking for, so we hopped on the Boundary Trail and headed west. This turned out to be an afternoon for frustration, as there were hundreds of downfalls across the trail. Up and over, around, under, on hands and knees, over again, on hands and knees again. There is a big need for some maintenance there. I'm not sure how the people hiking from Montana to Seattle would make it.
We passed Dead Lake on the way to camp. It lived up to its name.
We spent the night at Frosty Lake, which was buried behind an avalanche debris flow. We got halfway up Frosty Pass before we could see this hidden lake and had to trudge back after a good climb.
Next morning we went back up Frosty Pass, seeing a couple of bear hunting marmots. After cresting the pass, we ran into this guy munching on berries: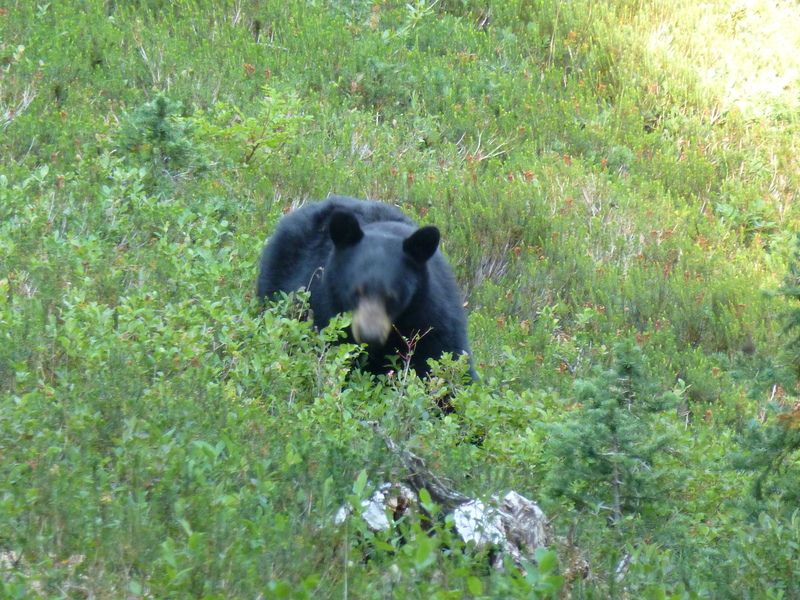 Never have I seen three bears in one morning. Shortly we arrived at the intersection with the PCT. At this point we were only four miles from Canada, but the trail looked uninteresting and we didn't need to add another eight miles to the days hike. We continued on down to Hopkins Lake, which was pretty cool: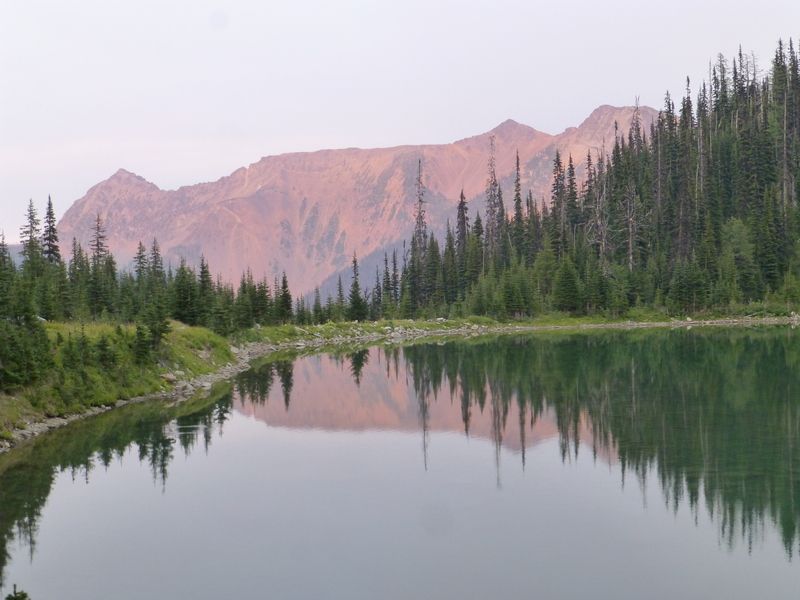 It also had some nice 10 inch cutties: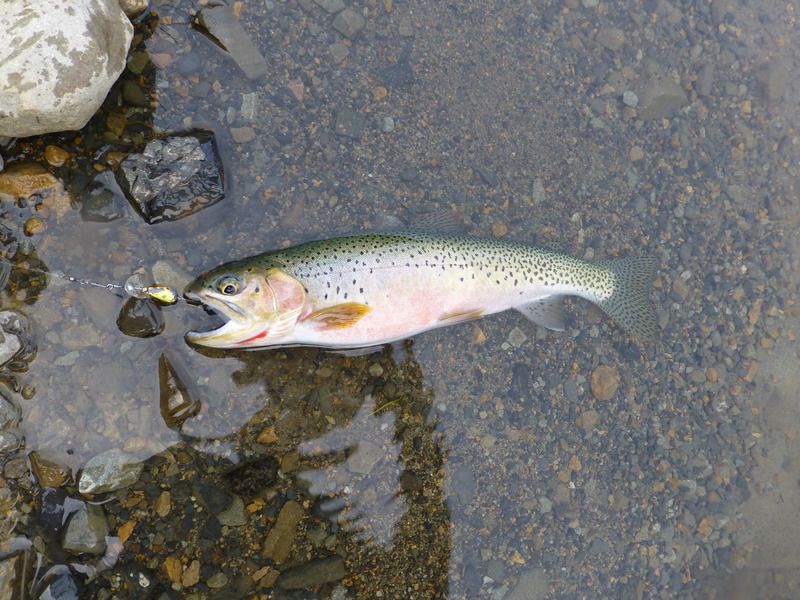 Next morning as we hiked out, I had one final look at Hopkins Lake: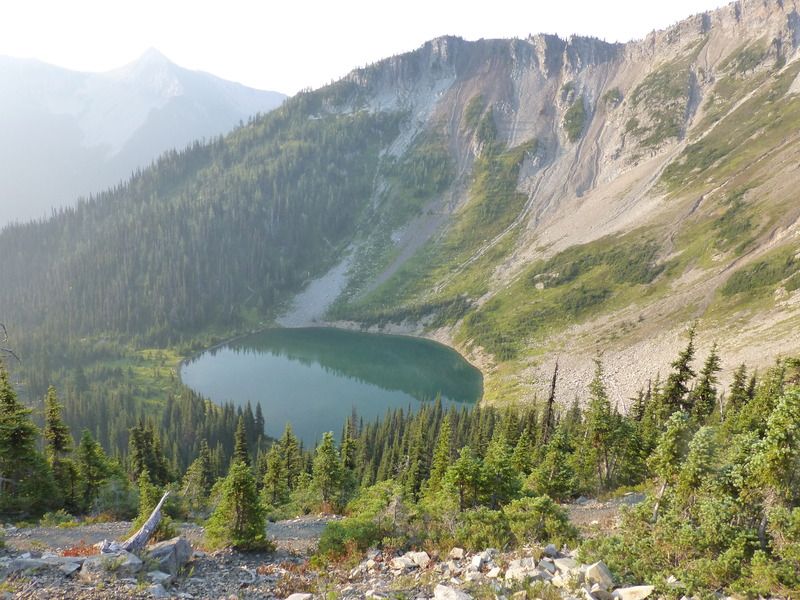 We crossed over Woody and Rock Passes: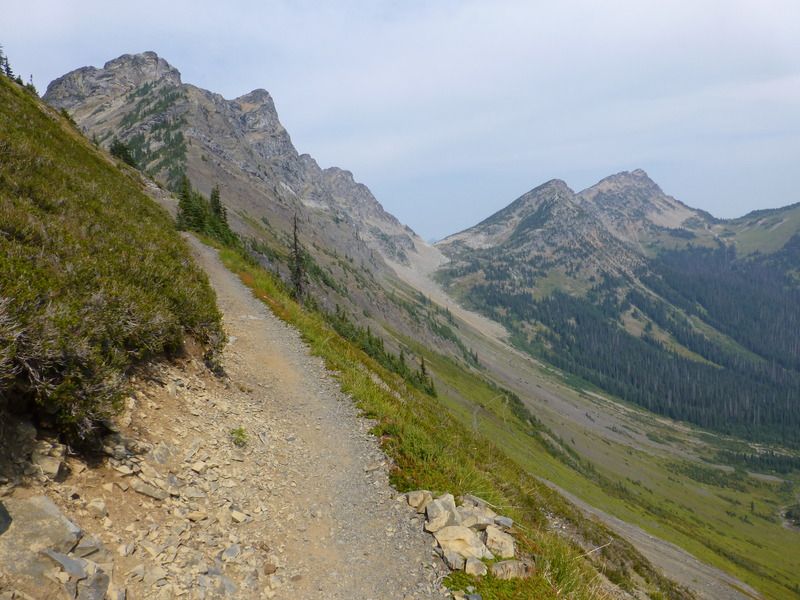 Water was in short supply along the PCT. We wound up staying in a campsite with a trickle of a creek running through it. We had to dig out the gravel in the creek to get a pool big enough to get water out of.
Next morning we thought we would get down the trail as far as we could.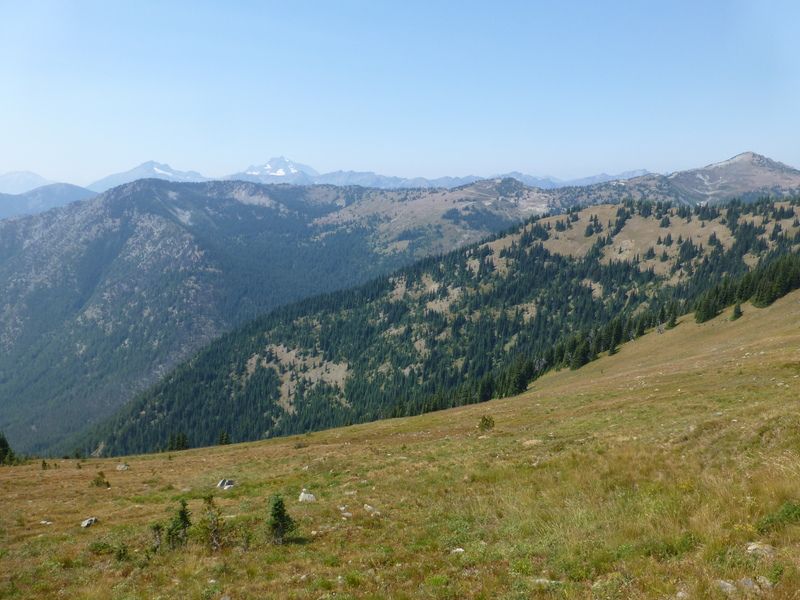 We had some rain and thunder the night before, and, right on cue, we had a fire across the valley.
I told my brother that the Fire Gods wanted us to go home, and all the north-bound hikers were telling us we couldn't go any further south than Slate Pass, the Forest Service had the trail blocked off.
It was 80 degrees at the car, and well over 100 when we got down to smoky Mazama. Given the circumstances, we headed back to the Seattle area. Things were only going to get worse. Sure enough they did. I'm hoping that there will be some Cascades or the Pasayten left after this fire season. Still, a great trip and some interesting country.