TITLE: Kuna Peak
GENERAL OVERVIEW: Kuna Peak is the third highest peak in Yosemite National Park. It lies on the park's southeastern border at the junction between the main crest of Sierra Nevada and Kuna Crest, a high spur ridge which extends west to Mammoth Peak, visible from Tuolumne Meadows. Kuna Peak is the highest point of Kuna Crest, although it is flanked by lesser peaks nearly equal in height (Koip Peak, a half mile to the east is 40 feet lower). Owing to this, Kuna Peak is difficult to see from many vantage points, and is one of the least known, yet relatively accessible high peaks in Yosemite.
CLASS/DIFFICULTY: Class 2 when traversed from Koip Peak (some Class 3 possible, depending on route). The traverse from Peak 12,880 is class 4.
LOCATION: Inyo National Forest, Ansel Adams Wilderness.
ELEVATION: 13,002 ft.
USGS TOPO MAP (7.5'):
HST Map
ROUTE DESCRIPTION: From the Rush Creek trailhead, 11.4 miles to Koip Peak Pass. Via Parker Pass Trail, it's 9.5 miles to Koip Peak Pass. From here, it's cross-country to Koip Peak (12,962ft, class 1). Traverse the North side of Koip Peak to the saddle between the peaks. Kuna Peak is approximately 1/2 mile due West of Koip Peak.
PHOTOS:
Alger Lakes, with Kuna Peak (and Pass) visible in upper right of photo.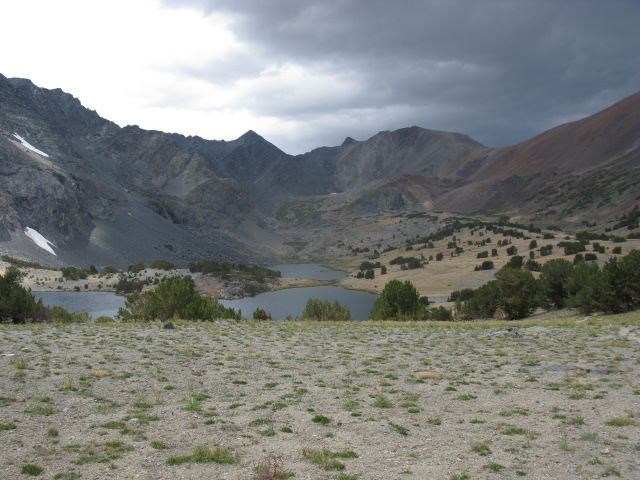 Koip Peak, from Koip Peak Pass
Kuna Peak, from Koip Peak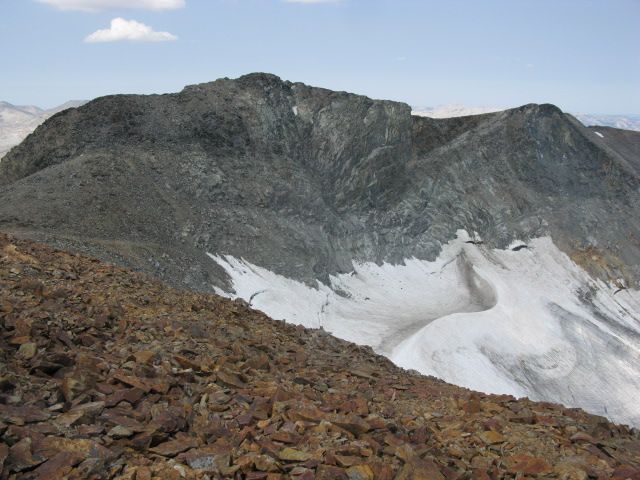 The route to the summit ridge. Up the talus to the right is class 2, the dark rock in the center is class 3.
On the summit ridge, looking Southeast.