Vennacher Col
OVERVIEW:
Vennacher col is an alternative route into (or out of) Marion Lakes basin from the JMT south of Mather Pass.
DIFFICULTY:
Listed as a class 3, but it is no harder than Upper Basin Crossing a bit to the North. A hard 2.
LOCATION:
The col is due south of Vennacher Needle and the ridge is ~12,450 ft.
HST Map
USGS TOPO MAP (7.5'):
Mount Pinchot, Ca
DESCRIPTION:
The East side approach (descent) is straightforward, and one can avoid much of the boulder hopping by picking routes through a mix of sand and gravel. On both passages over this col, the best route has been a little South of the low point on the ridge. There, a series of ramps and ledges allows one to get off the steepest portion before hitting (on the western side) intermittent patches of sand, gravel, talus, boulders and open-faced granite. On the photos facing the west side of the col, we crossed the ridge just to the right of the uppermost patch of snow.
PHOTO'S:
Photo's & Description: Courtesy of CGunderson
View of the col from the west: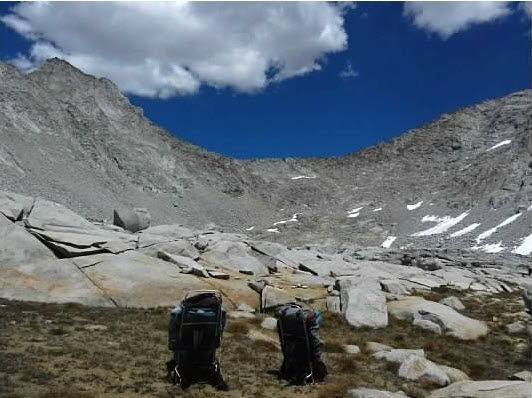 View of the col from the west: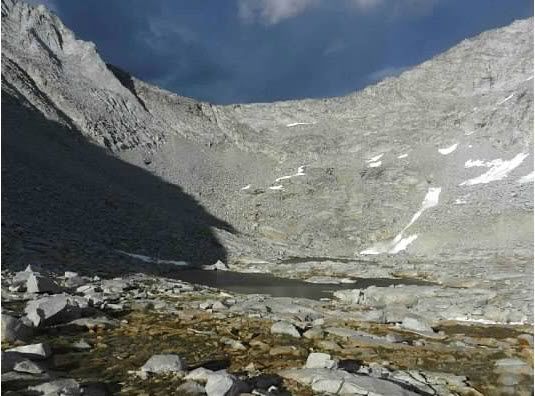 View of the col from the west:
View west from the top of the col:
View of the col from the east: