Just a reference pano for the Whitney area from Thor Peak last Thursday:
The
pano.
And the
anno.
Enjoy.
Topix Novice
Posts: 6
Joined: Tue Mar 14, 2006 12:10 pm
Location: Santa Barbara, CA
Experience: N/A
---
Cool, did you stitch it or do you have a pano camera?
Here's a wide angle I took last year that sort of looks like a pano.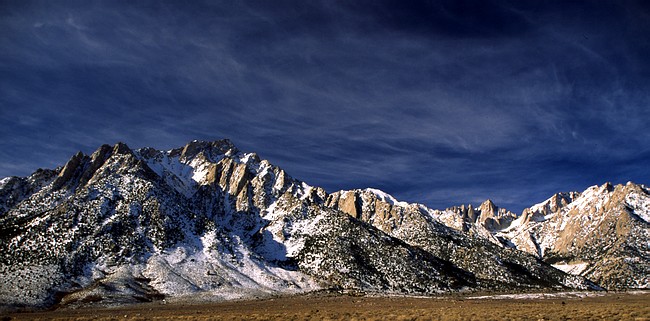 Founding Member
Posts: 651
Joined: Sun Nov 20, 2005 8:35 pm
Experience: N/A
---
Very cool images. Well done! They really give perspective of the area, esp. the annotated one. Simply awesome!
Just a thought, I don't know if the software still does it, but canon photostitch used to have a feature in which you could stitch the pano into a 360 degree quicktime movie. I did this a while back with a pano from the summit of
Baden-Powell
. If your software does it, I'd love to see this too

Founding Member & Forums Administrator

Posts: 2010
Joined: Fri Oct 28, 2005 9:25 pm
Location: Menlo Park, CA
Experience: Level 4 Explorer
---
That is pretty cool. I like how if you hold the cursor further to the right it moves faster and as you move it to the left it slows down or even backs up.

That kind of stuff is beyond my computer abilities!
Founding Member
Posts: 651
Joined: Sun Nov 20, 2005 8:35 pm
Experience: N/A
---
Thanks for the comments. It was a really great day for photos.

Mountaineer: These were 15 vertical shots from my Nikon that I manually masked/stitched in Photoshop so there wouldn't be any artifacts (the auto stitch never works well enough for me).

Trailblazer: Yes, I've got a VR conversion program, but have yet to run it on these pics. (Too many pics and too little time!) Cool Baden-Powel 3d. I'm heading back up to take a friend up Whitney on Monday/Tuesday, but will hopefully get some other panos from Wotan's, Muir and Whitney (and Russell if I have time).
Topix Novice
Posts: 6
Joined: Tue Mar 14, 2006 12:10 pm
Location: Santa Barbara, CA
Experience: N/A
---
---
Return to High Sierra Photography / Videography
Users browsing this forum: No registered users and 1 guest