As winter is approaching, I need to start thinking about what I am going to do for training and exercise. In the past, I have just done low elevation hikes or skied. This year I would like to be a little more adventurous and do some snow hikes in the local mountains and some sierra day hikes. I am planning on getting a set of microspikes and snow shoes.There are many types of snow shoes and microspikes which gets a little overwhelming. Does anyone have any suggestions or recommendations such as small spikes vs crampon style? I am 220# and 6'6" tall and will be hiking in the local hills of Big Bear and Mt. Baldy. I am assuming that I need 30 " or maybe 35" trekking snow shoes.
Last edited by
overheadx2
on Tue Dec 09, 2014 12:37 am, edited 1 time in total.
Topix Expert
Posts: 482
Joined: Tue Mar 22, 2011 6:08 pm
Location: huntington beach
Experience: N/A
---
Professional Sierra Landscape Photographer
I don't give out specific route information, my belief is that it takes away from the whole adventure spirit of a trip, if you need every inch planned out, you'll have to get that from someone else.
Have a safer backcountry experience by using the HST ReConn Form 2.0, named after Larry Conn, a HST member:
http://reconn.org
Forums Moderator

Posts: 9530
Joined: Thu Apr 06, 2006 5:54 pm
Experience: Level 4 Explorer
---
Ditto on the Kahtoola Microspikes - a great product! Easy to put on and take off; once they're on, they stay put; provide very good traction; very durable. Heavier than some other traction devices, but they work a lot better and are much more durable, per my own experience and many reviews I've read. Still a lot lighter than crampons. A tad pricey. They should probably provide a bit more traction under your heels but other than that, they work great.

I love my MSR Evo Ascent snowshoes with removable flotation tails, but they're designed more for mountaineering than general trekking. MSR makes similar snowshoes that are less aggressive though. I've also heard a few good things about Tubbs and Red Feather, but I have no personal experience with those brands and haven't really read up on them.
"I don't deny that there can be an element of escapism in mountaineering, but this should never overshadow its real essence, which is not escape but victory over your own human frailty."

- Walter Bonatti
Topix Acquainted
Posts: 89
Joined: Mon Nov 09, 2009 5:49 pm
Experience: N/A
---
I would vouch for Red Feather snowshoes. I have a pair and have used them many times in various conditions and they have never let me down. I have a buddy that has the MSR kind and they work well, but he always complains about the tail being so wide, it sometimes collects snow on each step and then flips it up onto his back. The Red Feathers I use have a very narrow tail so they don't have the same issue that the MSR ones do.
Topix Expert
Posts: 466
Joined: Sat Jan 07, 2012 9:27 am
Experience: Level 3 Backpacker
---
I used my Kahtoola's on a large snowfield backpack a couple of years ago around the Three Sisters in Oregon. Lots of this stuff: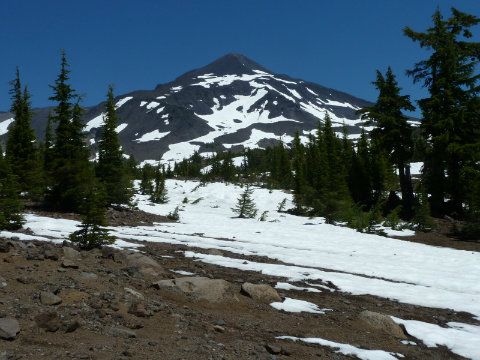 We were a couple of weeks early and the meadows on the west side were all snowy. I probably did 7 of the 14 miles that day with Kahtoolas on. They are relatively light, stayed on my boots, and helped a lot with traction. They also seemed to be pretty durable; no broken straps. No problems with walking on rocks or logs.
Topix Regular
Posts: 345
Joined: Tue Nov 10, 2009 9:43 pm
Experience: N/A
---
Thanks for the input. I got my Kahoolawe micro spikes yesterday, now I just need to get some snow shoes. There seems to be a lot of debate about sizing. I am 6'5" and 220#s and will be carrying about 20 to 30 #s most of the time. theoretically in need 30" shoes, but many articles are saying that is to big and cumbersome. Most recommend some one my size get 25" shoes unless it is fresh powder which I dont think I will be in most of the time. Also, any suggestions on tail type? Wide, narrow? Tail additions?
Topix Expert
Posts: 482
Joined: Tue Mar 22, 2011 6:08 pm
Location: huntington beach
Experience: N/A
---
I used microspikes for two days this weekend in San Gorgonio. Like a others have said they are very useful on ice or snow covered trails. I used them for some moderate climbs but wouldn't use them for anything steep.

For snowshoes I use two different brands depending on the conditions. MSR Lightening Ascent 30" are good when I need excellent traction for side hiking or steep terrain. They have a bar that can be raised to support the rear heel. I find this to be essential for steep uphill climbs. They are easy to raise and lower as needed and provide great uphill support. I am 6' 195-205 lbs and if I could do it again I would just get the 25". They would be fine on the Sierra cement. I did like having the extra size when breaking trail in 1-2 feet of fresh powder last year, but I would rather just use the tails when needed.

For mild terrain I like the Northern Lights snowshoes. They are the lightest functional snowshoes I could find. Amazingly lightweight but they don't have as much traction as the Lightening Ascents. They also don't have the heel lift. I used these on a five day trip in the Sierras last year and my calves were sore for a week from the uphill:)

I hope this helps. Have fun!


Sent from my iPad using Tapatalk
Topix Expert
Posts: 562
Joined: Sun Oct 23, 2011 3:33 pm
Location: Laguna Beach
Experience: Level 4 Explorer
---
I switched from Atlas snowshoes to MSR snowshoes a few years ago and I'll never go back. Now I look at folks who don't have MSR snowshoes slipping around and with tons of snow balled up on their snowshoes and remember what it was like when I was wearing Atlas snowshoes.
I have the MSR Lightning Ascents, but I hear the other models are good too.
http://www.cascadedesigns.com/msr/snows ... s/category
Founding Member
Posts: 351
Joined: Thu Aug 26, 2010 6:19 pm
Experience: N/A
---
Count me as another MSR fan. I have 4 pairs for the family of the original model Denali Ascent (pre-Evo) with televators (heel lift). As described above, the heel lift is AWESOME for steep climbing. Most models of MSRs also have removable tails that clip in to the back to add additional float for fresh powder. Based on your size and weight, you might want to go with this setup. For Sierra cement you won't need the extra float, but for fresh snow like this weekend, you probably will want to add some length. Its nice to have the option. The tails used to come in two lengths, but don't bother with the short tails (if they still make them), if you need a tail, you need the long ones.

The MSR design is bulletproof. The binding system is easy to use even with gloves on, but the rubber straps do wear out after several seasons. No big deal, you can buy replacements, but don't wait until they fail - buy an extra set after about 5 yrs and put it in your pack.

Did I mention the great traction the MSR's have? I think someone else already did.

Kahtoola microspikes are also amazing for Sierra Cement or a hard packed snow trail. Great for getting on the trail early season.

Happy Trails.
Topix Acquainted
Posts: 39
Joined: Sat Jul 16, 2011 4:36 pm
Experience: N/A
---
Thanks for all the help, I bought the wife and I some micro spikes and picked up some very nice Tubbs on sale for 96.00 on STP. Took them to big bear this weekend and hiked a fun XC hike to Gold mountain and then picked up the PCT for a fun 7 mile loop. I was able to use them at times and they seemed to work really well and very comfortable to use.
Topix Expert
Posts: 482
Joined: Tue Mar 22, 2011 6:08 pm
Location: huntington beach
Experience: N/A
---
---
Users browsing this forum: BigTime, Gazelle, Google Adsense [Bot] and 2 guests