Before this trip I had never reached the summit of a mountain in the Sierras. I had been over passes, climbed walls, and visited some pretty high basins, but never summited. A friend of mine invited me to summit Mount Whitney with him a few months ago and I decided "why the hell not?" Although, I have always wanted to do Whitney at the end or beginning of a backpacking trip rather than day hike it. So i decided to spend the earlier part of the week in Mammoth with my wife and some of our friends, day hiking, canoeing, and just hanging out. We left Mammoth on Thursday night to spend the later part of the evening at the trail head. Our plan was to meet up with everyone around 3 am and begin out summit attempt. I woke up...or rolled over..not sure if I ever really fell asleep...around 2:45 and tried to stomach a bagel and some water. We met up with our group and set forth on what would be one of the most pain filled and long days ever.
The switchbacks at the beginning in the dark were nice and breezy and I felt great. We made it to trailcamp a little before 6 am and we took a 15 minute break. The fires in Idylwild had brought some smoke as far up as Lone Pine, so the alpenglow on the Whitney range was very red this morning. The views from trail camp are unreal.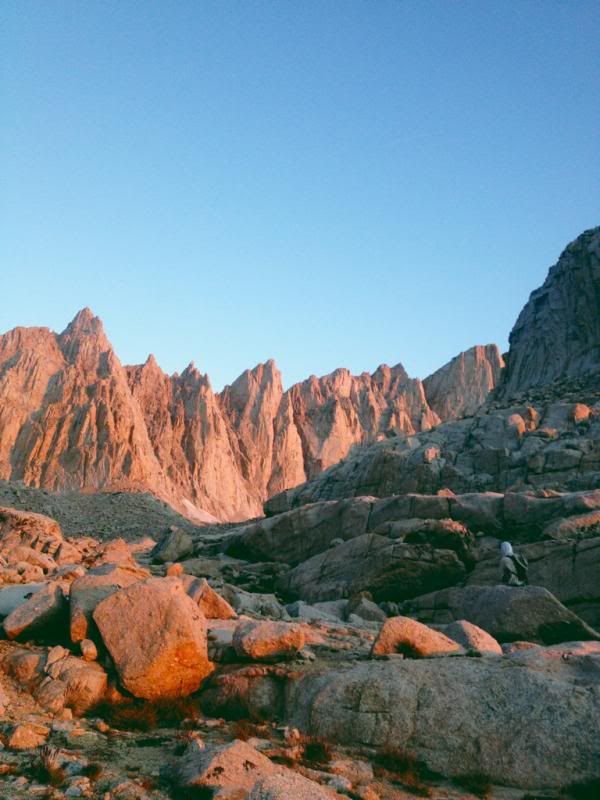 After checking our maps and drinking some water, we were on our way, up the 99 switch backs.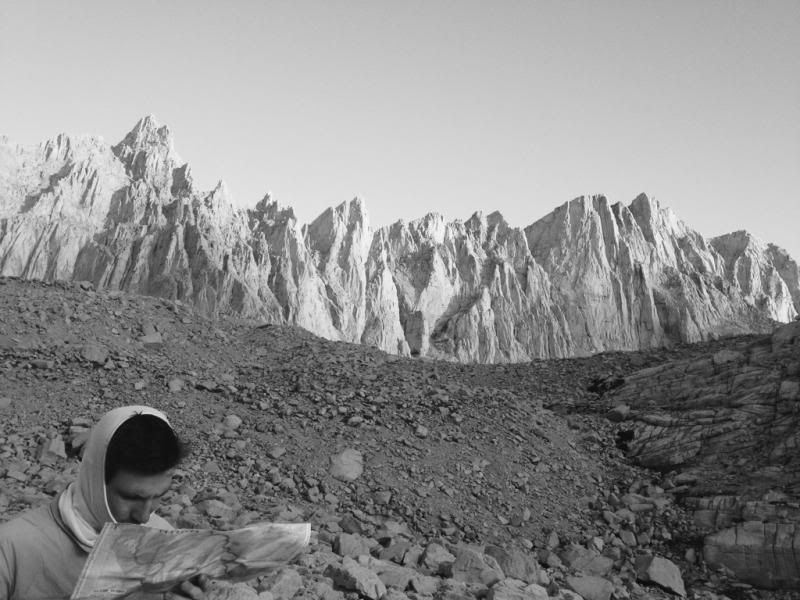 Half way up the switch back i started feeling like crap. All I really wanted to do was take a nap. We made it to the top of trail crest and were blessed with the amazing views. I swear on a clear day you could see half the state of California from up there. We took a quick break and started the traverse to the summit.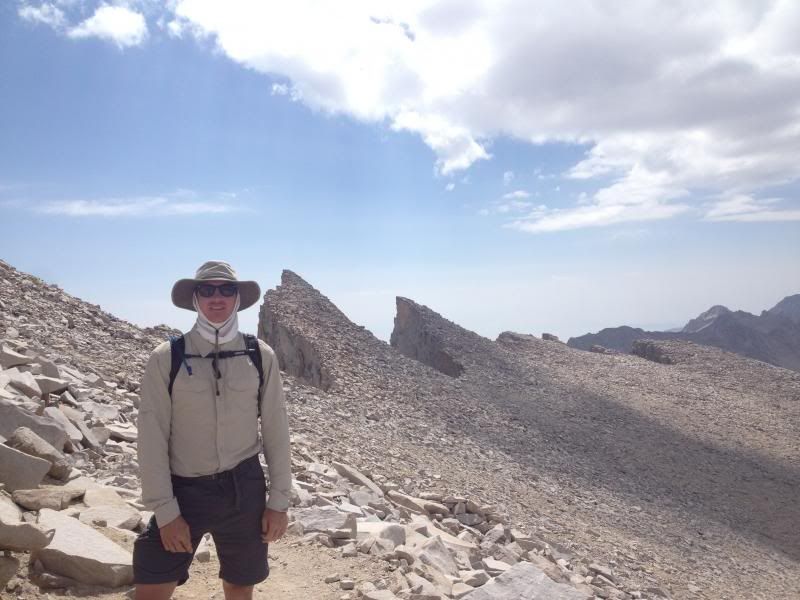 This part of the hike is funny to me because you see some people in pretty bad shape. Heads hanging, taking baby steps, looking like zombies. Craziness. We made it to the summit and man was it overwhelming. I was slightly emotional. I signed the register, dedicated my summit to my wife and headed over to the edge to take some photos.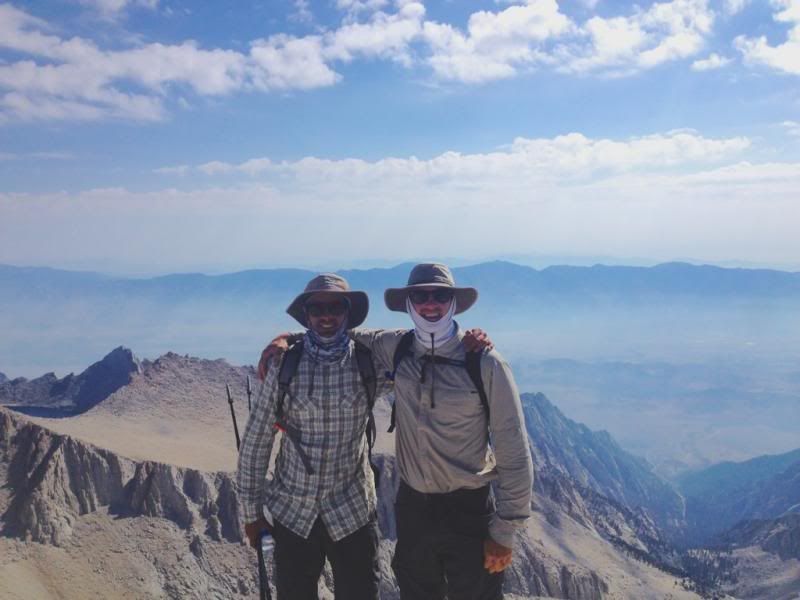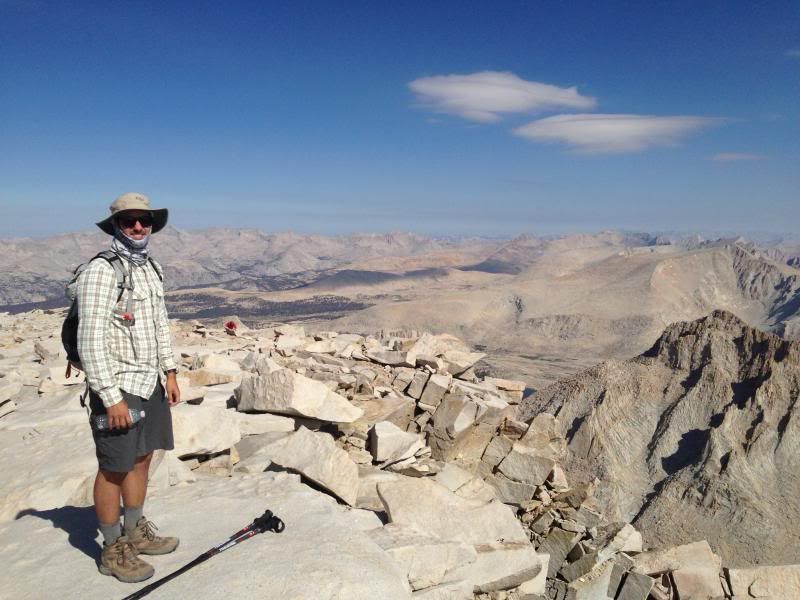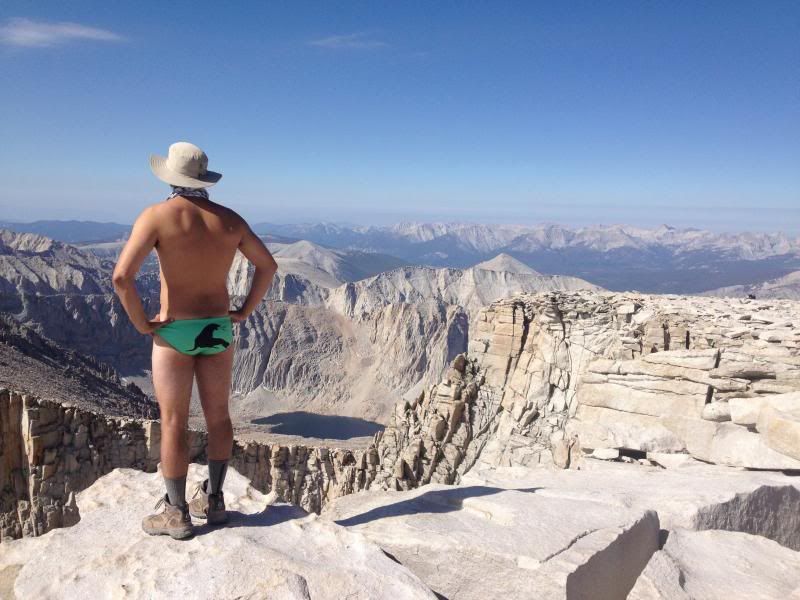 We spent about an hour and a half at the summit, waiting for our group and eating some food. Around 10:30 we started our descent. On the previous night we had discussed climbing Mt. Muir on the way out, depending on how we felt. The moment we left the summit we decided not to do it. 10 minutes later we found ourselves at the off trail turnoff for Mt. Muir and just getting psyched and practically ran up the scree before dropping our packs and hitting the 3rd class last 100 feet or so. We reached the top with out any hiccups or anything, its pretty easy 3rd class. We let out some big hoots, signed the register, and took some photos before heading back down.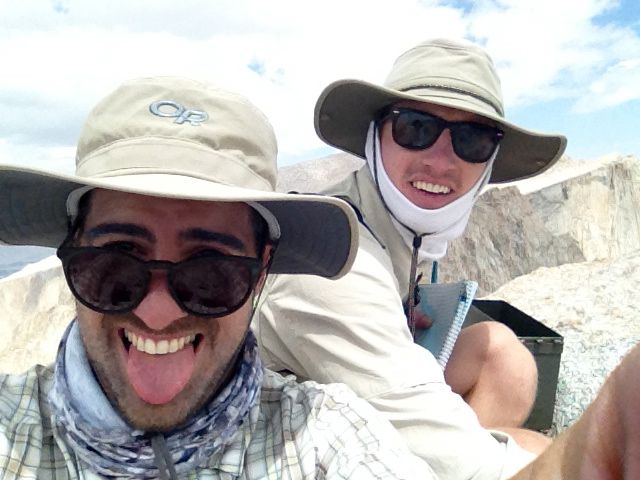 The summit bloc is quite small.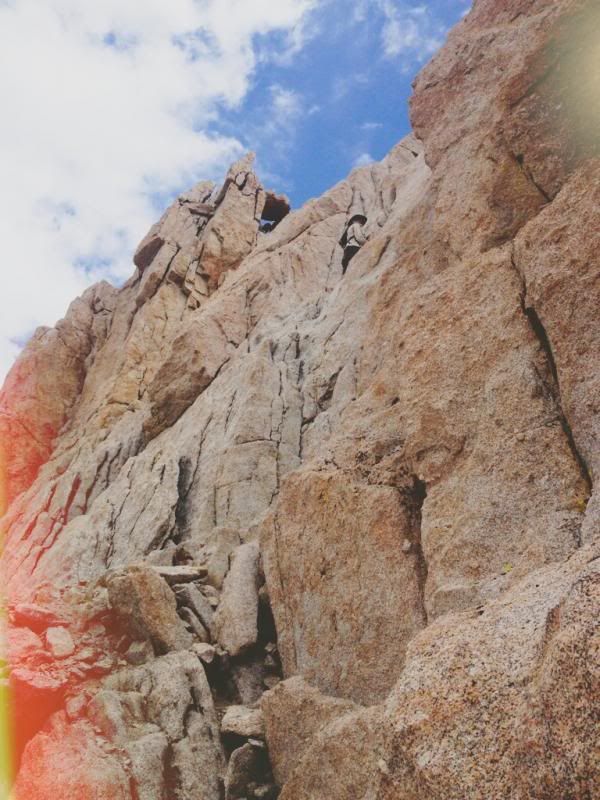 The final move to reach the summit is kind of tricky, but both of us are avid rock climbers so it wasn't too bad. We made it back to the trail and the rest of the hike was pretty uneventful. Just tired feet and ankles. Although we did see a few grouse cruising around the trail which we had never seen up there before. I was actually a bit disappointed that we weren't spending the night at trail camp. It is so beautiful there. We made it back to the car around 3 pm, headed into town. It was an amazing day, and I am so glad we decided to do it. I definitely wont be doing it as a day hike ever again though haha. btw, why do people feel the need to place cairns along the trail to the summit? It's one of the most maintained and easy trails to follow that I have ever been on. I knocked over a few.