I hadn't been out in a few weeks and needed to climb something so my friend and I did a sort of last minute trip to split mountain. We hiked in on friday 6/10 and were surprised to find another group of 4 at the trailhead heading in as well. If you don't know the hike into red lake, it is a major slog, no shade and up up and up a not well maintained trail. At the advice of our local friend in bishop we brought a rope and some climbing gear just in case, turned out we didn't need it and just added some extra pack weight. we only needed ax and crampons.
6/11 we got up at 3:30 am from our red lake cowboy camp under the stars (we did bring a tent as well) and we were on our way at 4:30 am to the coulior. Trip reports have said that this place is notorious for rock fall so we wanted an early start before the sun warmed things up. weather forecast was partly sunny and snow 40% after 11. We had one instance of small rockfall from above the col's outer walls, but no bowling alley stuff thankfully. The sun never really made an appearance, just for a short time then it started snowing at about 9:00am. There was a crevasse at the base of the couliour we had to climb over, some ice climbing further up, and then an area with some short 4th cllass climbing and a fall would not have been good with a ride down the col. I'd say the majority of the col was 45 degrees which is the steepest i have climbed, with some short sections over 45 probably up to 55 degrees. The snow was soft on top with a hard layer under, it was good for crampons but often it would take 3-4 tries to get the ice ax in for a good belay. I found myself using 2 hands on the ax climbing up on the steep stuff.
I topped out on the col first, snowing and 25 mph gusts west wind. I put on all my layers and hunkered down and waited 30 minutes for my buddy. of course when he gets up there the wind stops! now its just snowing and low visibility. I was looking forward to the view of the sierra but the snow added a nice touch. We sprang for the summit on slippery snow covered class 2, stayed for 10 minutes then descended back to the col to pick up our packs. 2 of the party of 4 made it up col when we got back, and they headed for the summit.
We decided to descend the class 2 route as the col would not be a safe option. The north slope was mostly clear of snow except for large patches. When we reached the descent down the north-eastern slope that was covered in snow and out came the ax and crampons. This was too steep for plunge stepping so we down climbed the route. I was wishing I had my splitboard for this part! We glissaded from the notch down lower to the open slope which was less steep and safer. From there was an easy hike back to camp. We packed up and hiked out the 5 mile slog in light rain. The other group of 4 stayed overnight. On my drive out of Bishop this morning the mountain all had new snow so im guessing they woke up to a nice wintery landscape.
iconic view of split mountain above red lake
up to the start of St Jean Coulior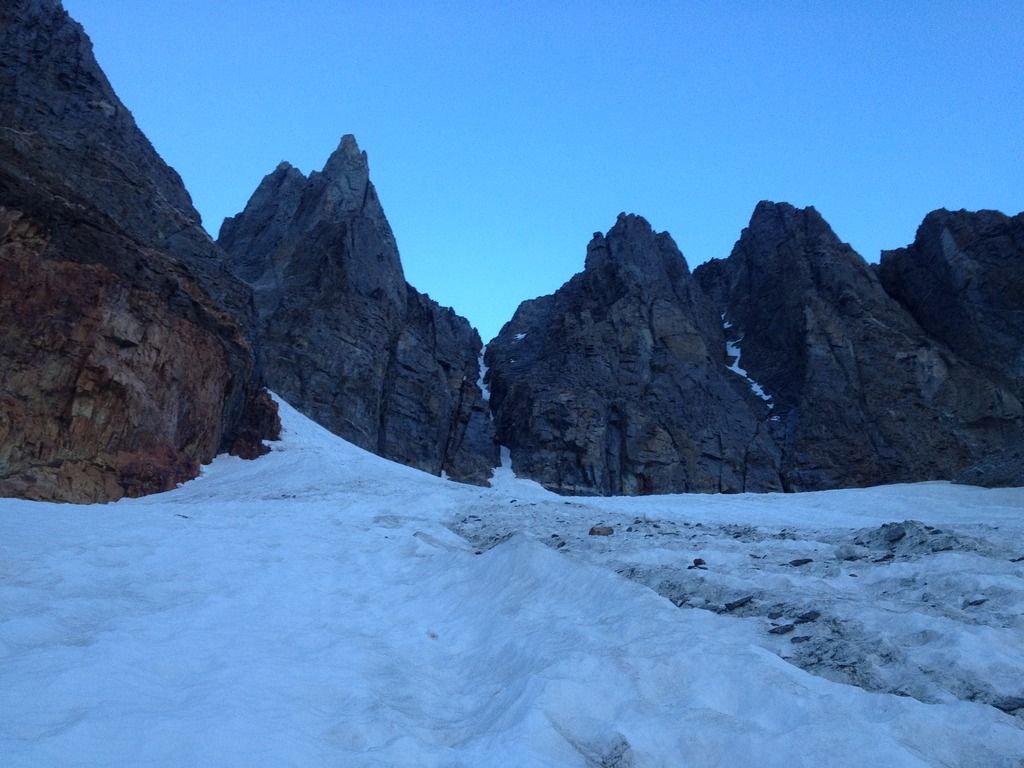 Ice with water flowing underneath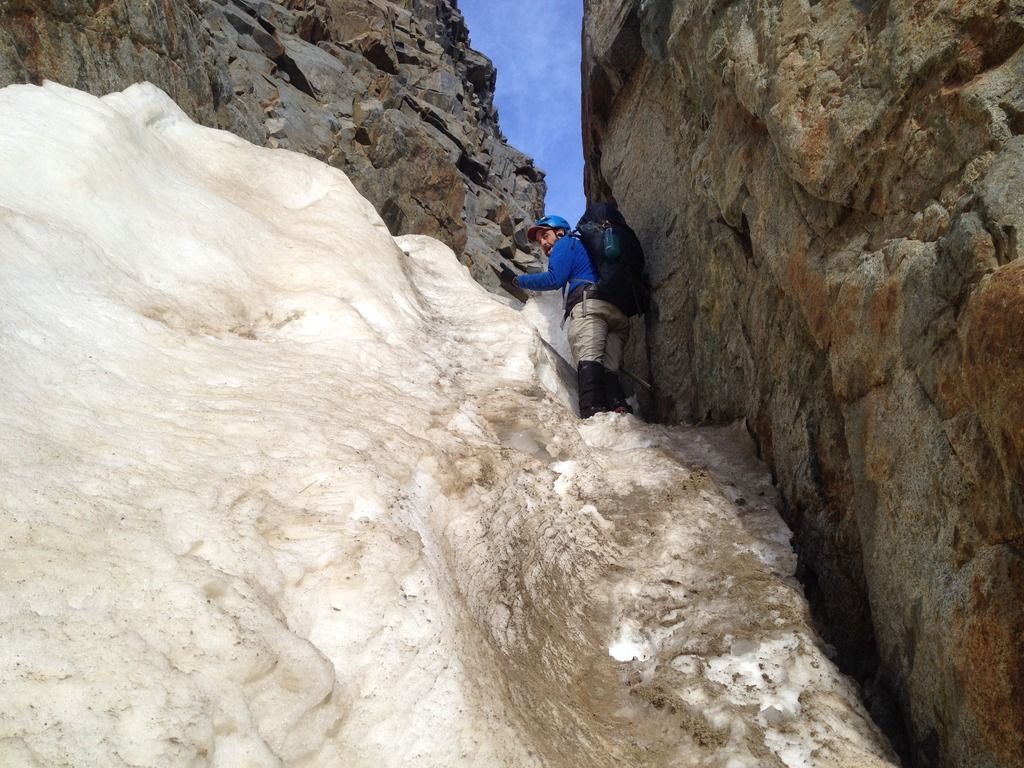 snowing in the cuoliour nearing the top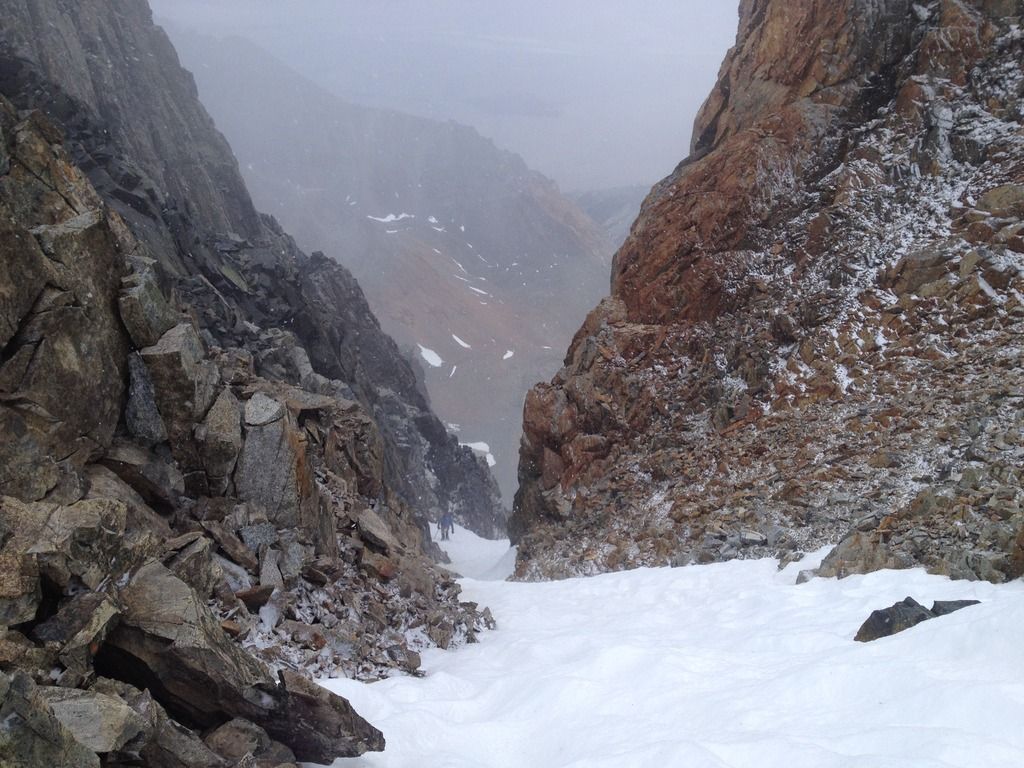 summit
large cornice overhangs near the class 2 steep north eastern slope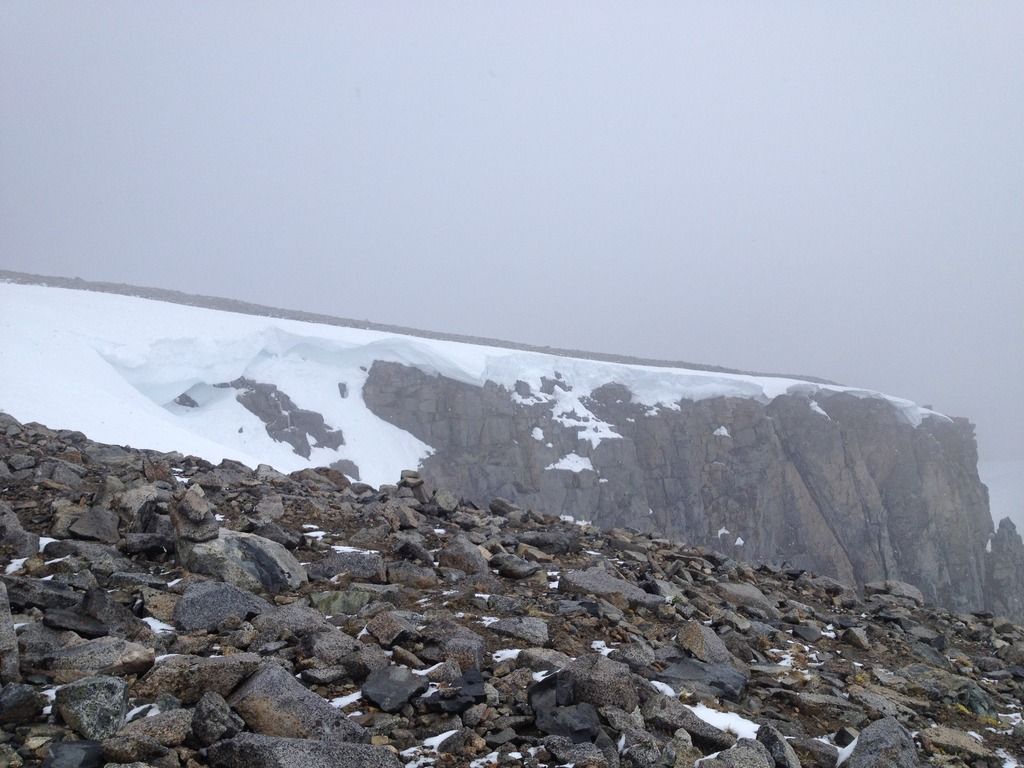 down climbing the steep class 2 NE slope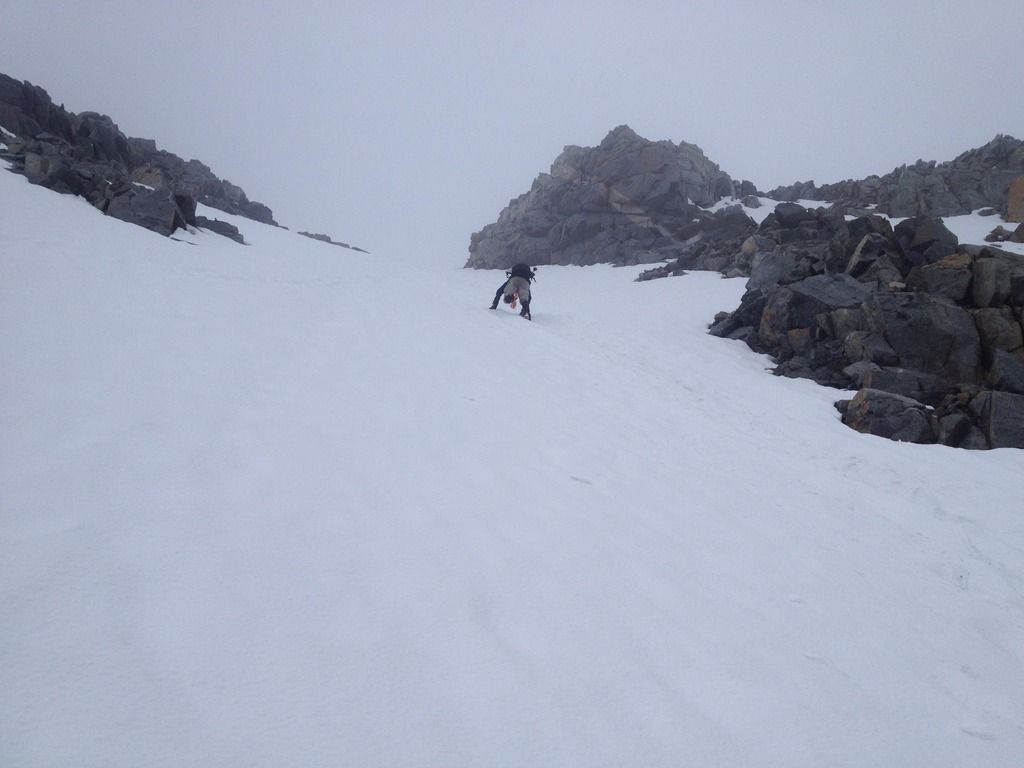 weeeeeeeeeeeee!
more photos
http://s1262.photobucket.com/user/beant ... t=3&page=1