Had a day off of work and a rainy forecast so I took off to bag one of the more isolated OGUL peaks - Mount Fillmore. Pretty straightforward directions from Yamagata's site, you'll want to note to park here:
You'll want to leave the trail at about a mile in where the 4WD road obviously turns into a single track trail. From here, head NNW cross-country up rather open, peaceful forest. Lots and lots of bear sign here including digging holes, scat, and a few scratch marks on the trees: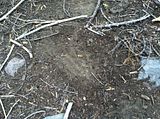 I scared something BIG off of the small meadow you reach right before the lava flow area. Never caught sight of it; probably just deer but lonely hiker minds drift to other possibilities

The summit is nothing to write home about, but a peaceful place with a beautiful view on a foggy day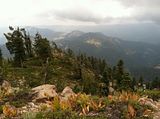 Feeling like I hadn't really had my fill yet, I decided to hoof it up nearby Mt. Etna:
Etna from Fillmore trail:
This turned out to be more of an adventure, bushwhacking over dense shrub and manzanita, but worth it! A very interesting peak with a fun scramble on the Northern end

The northern aspect:
Burd has of course visited: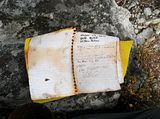 All in all made for a nice short day of peakbagging, can't ask for more than that!