I have to apologize for not getting this on the board sooner. Messing around with the photos is time consuming and frustrating.
I chose this trip because of photos I had seen of Deadman Canyon. The canyon was indeed spectacular, but also isolated. We only saw one person a day from Comanche Meadow till well over Elizabeth Pass.
DAY 1: LODGEPOLE TH TO TWIN LAKES
So we left the Lodgepole TH Saturday, July 27. We had some rain, which made us in no hurry to get on the trail. Here's a shot of the rather wet parking lot: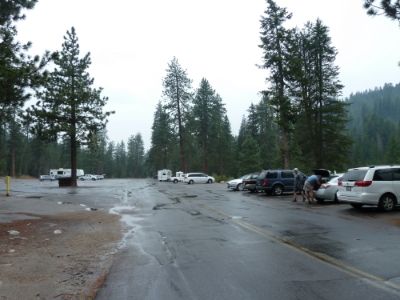 This had been the first significant rain in the mountains for a while and the trail had a small streamlet carved in the duff.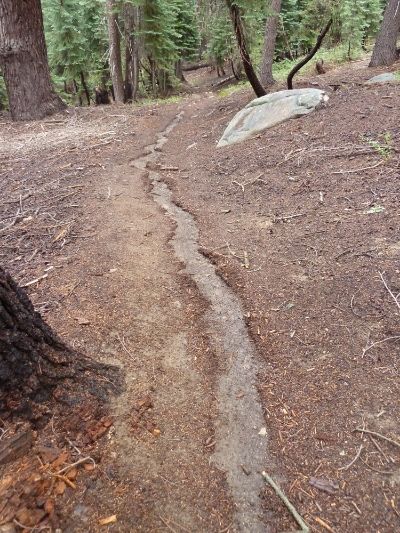 We headed north toward Twin Lakes, passing Cahoon Meadow and Gap on the way: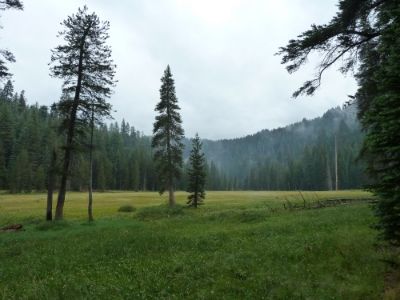 Saw a number of Grouse along the way:
There were a number of people at Twin Lakes, but that is to be expected so close to the TH.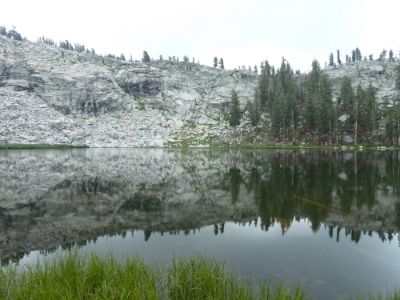 The lakes were pretty and the Brooks were small, but voracious. We were pretty hungry, so these stunted fish were quickly fried up and ate. Stunted Brooks were all too common on this trip.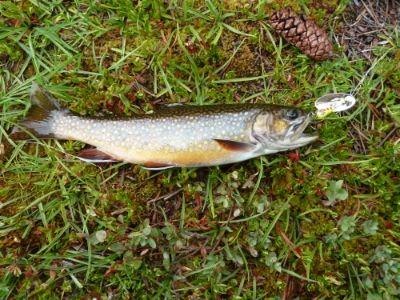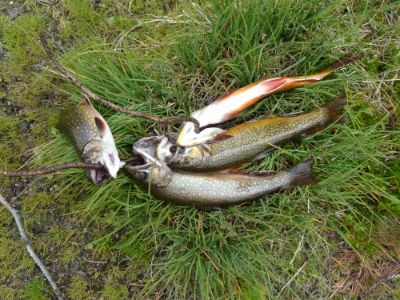 A look up toward Silliman Pass: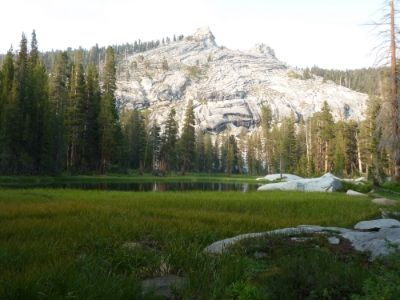 That evening, we climbed up the slabs to the west of Twin Lakes and looked out toward Mt. Silliman:
DAY 2: TWIN LAKES TO COMANCHE MEADOW
Up and out early, we jetted up to Silliman Pass, enjoying the view of area:
Ranger Lake was just spectacular that morning, but I didn't see any fish rising or lurking. Does it have fish?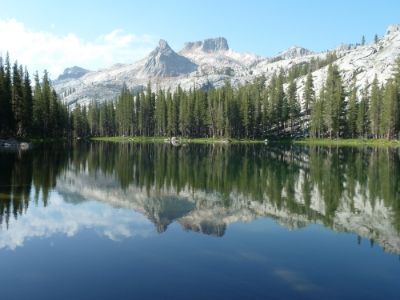 We camped at the bear box in Comanche Meadow. After setting up camp, I ventured down Sugarloaf Creek to a canyon with some nice pools. In addition to Brooks, I also found these little guys: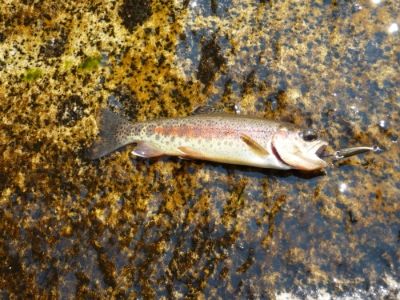 Looked like rainbows, with some golden mixed in. Tiny though. Was able to find one spot with a view near our camp: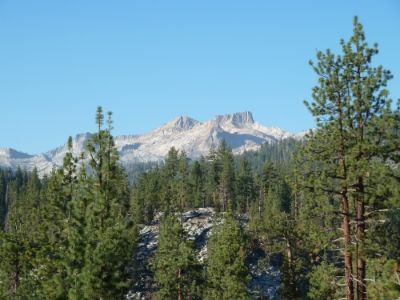 My brother and hiking partner, not burdened with the fishing bug (though he sure likes to eat them) managed to find a small grove of Sequoias a short distance up Crowley Canyon. As we settled down that night to sleep, we heard some trail runners go by. Strange so late and so far away from anything.
DAY 3: COMANCHE MEADOW TO LOWER RANGER MEADOW
Although the going through the Sugarloaf Valley was easy, it wasn't terribly interesting. We were glad to stride into Roaring River just after lunch. The ranch cabin there was cool: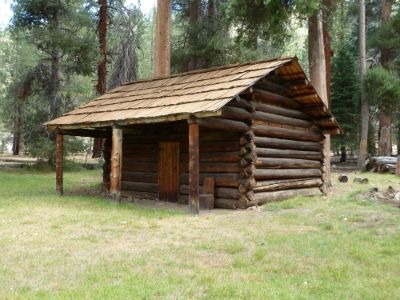 However, since we were eager to get into Deadman Canyon, we plowed on up the trail, finally getting to lower Ranger Meadow, just down the trail from the Deadman's grave.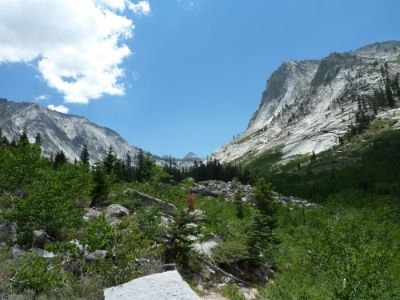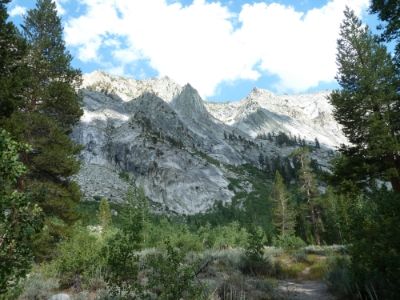 Ample evidence of bear around, and the Brooks were tiny. We skipped fish that night as well.
DAY 4: LOWER RANGER MEADOW TO UPPER RANGER MEADOW
After a quick mile or two, we were in the part of the Canyon that we wanted to be. Needless to say, it was awesome!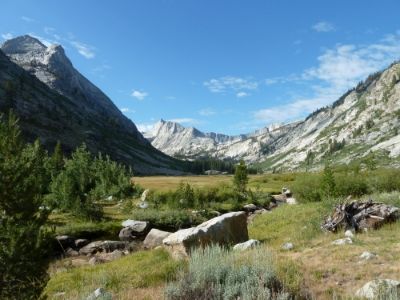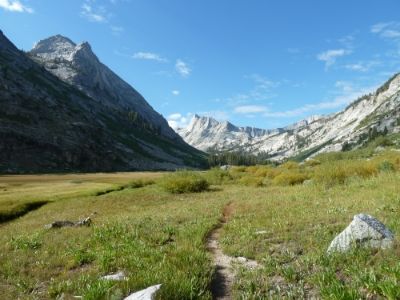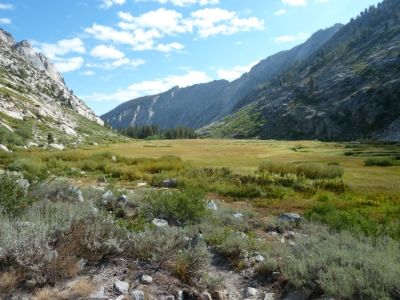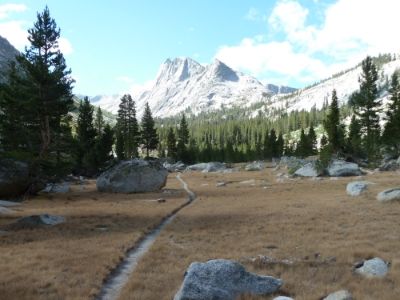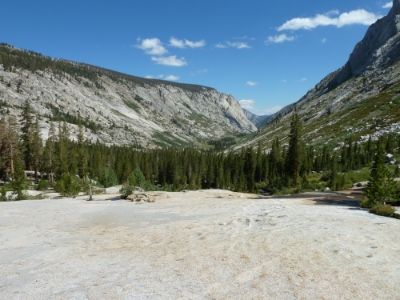 I really like this place! Since our day's hike was rather short, we set up camp at Upper Ranger Meadow, near where the stream from Big Bird Lake comes down, and hiked up to Big Bird Lake for the afternoon.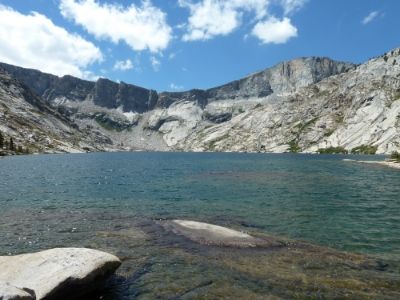 The Brookies here were bigger, and worth the effort:
After going back to camp, I still had some energy, so I continued up Deadman's Canyon, looking for the pass: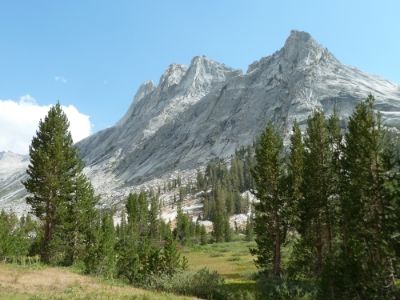 I ran into this immature Accipiter. I think it's a Coopers Hawk, but not entirely sure. It was very interested in the red camera case I had on my chest and I wondered it had been kept at some point.
DAY 5: UPPER RANGER MEADOW TO HAMILTON LAKE
We were up early, making for the pass and looking over our shoulders at Deadman: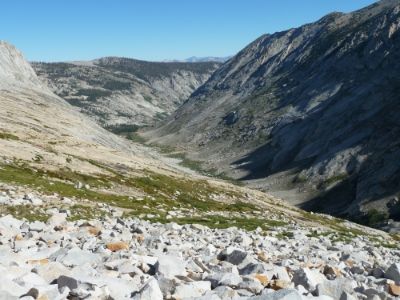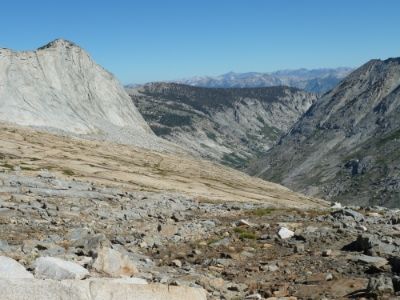 Here's a shot at Elizabeth Pass:
Looking back at the pass from the Lone Pine Creek side: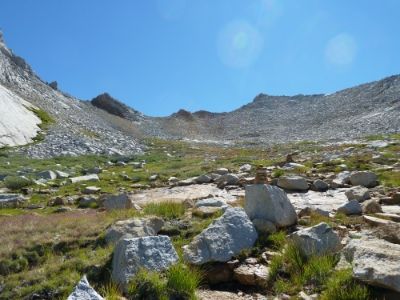 And down toward the Kaweah and the High Sierra Trail: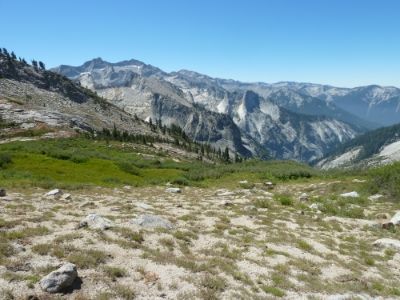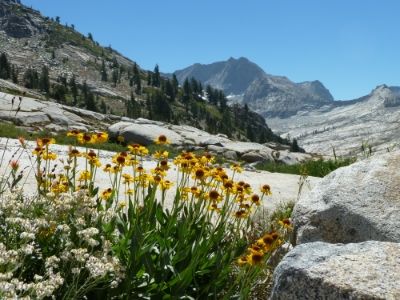 Coming down off of Elizabeth was tiring, though not as bad as going up the opposite direction. We briefly considered hiking up to Tamarack Lake, but after looking at the climb:
…decided that Hamilton Lake looked better. It turned out to be just fine, though with lots of people.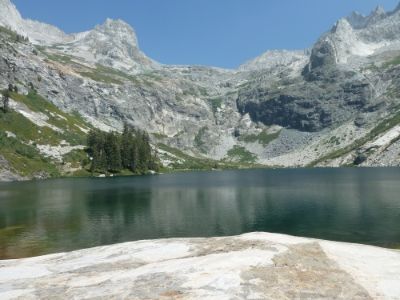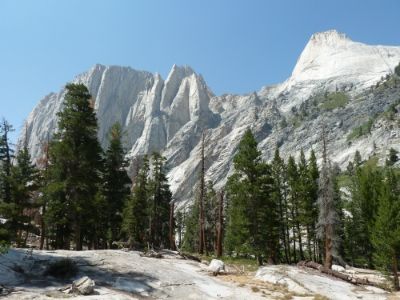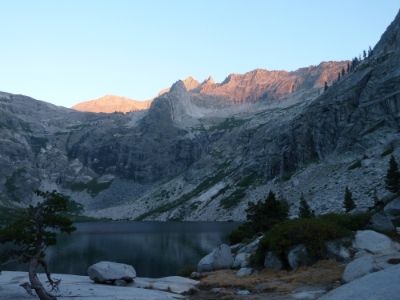 Alpenglow on our last night on the trail.
DAY 6: HAMILTON LAKE TO WOLVERTON TH
The next morning we rolled down the HST, not sure if we would go out today or stay another night. Peeking over the bridge over Lone Pine Creek, I noticed something interesting: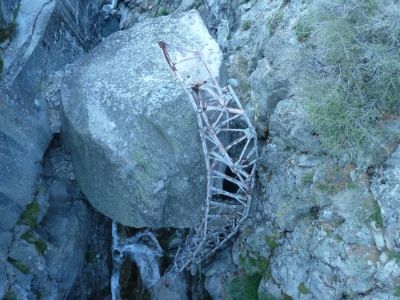 Consider the forces that knocked that bridge off its foundations!
On down a trail that had required more than its share of TNT: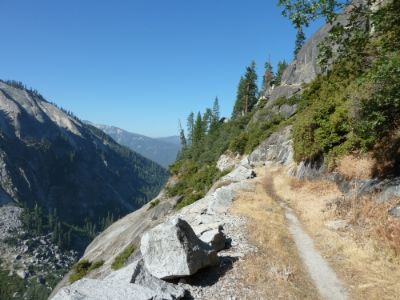 Last look from Panther Gap to the south:
We decided to go out, so down to the Wolverton Parking lot and what passes for civilization. 60 miles in 6 days.