This is a report on a spot that seems to be seldom visited. It was a family and dogs trip. We left my truck at the High Trail/Carson River TH the night before and got dropped off at the Corral Valley TH:
It is the TH to get to this (we did not go there however):
The first ¼ mile is up hill, and then before you start to descend you pass though this sagebrush and wild flower area: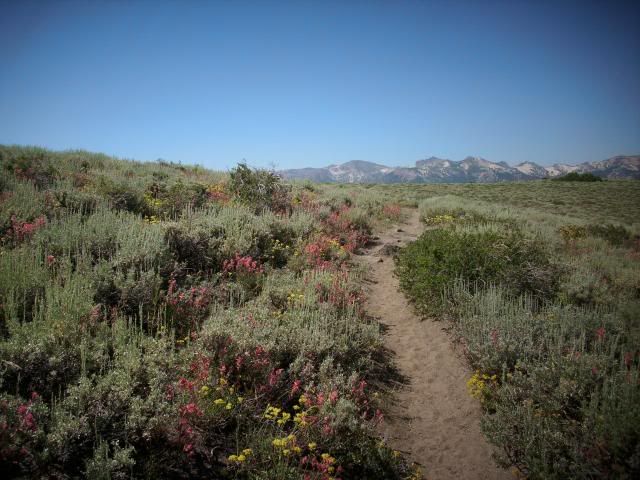 On the way down you go by this (Stone Boy, Human Boy and Canine Boy):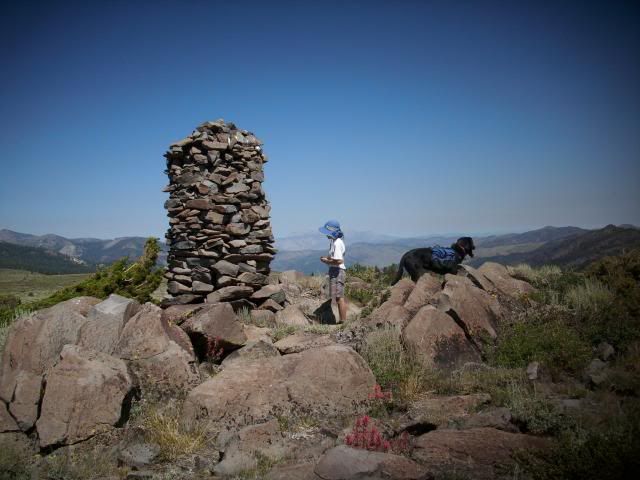 Crossing the Paiute stream we pass the last person we'll see for 2 days: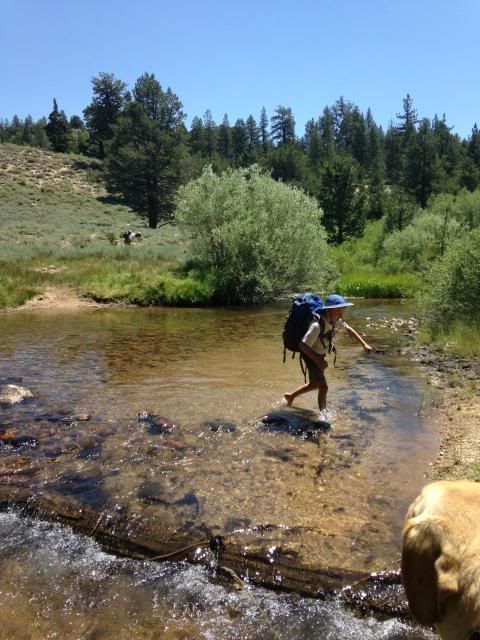 A little further is Poison Flat: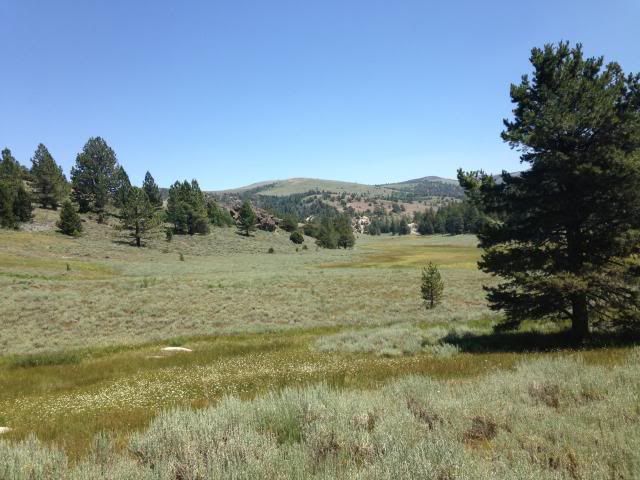 Then we got to Soda Cone: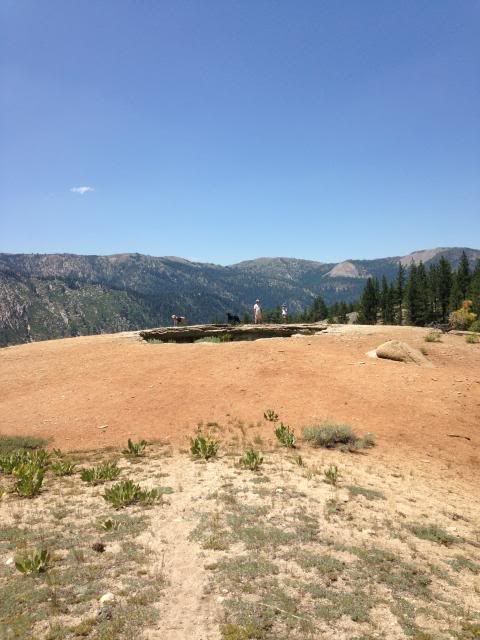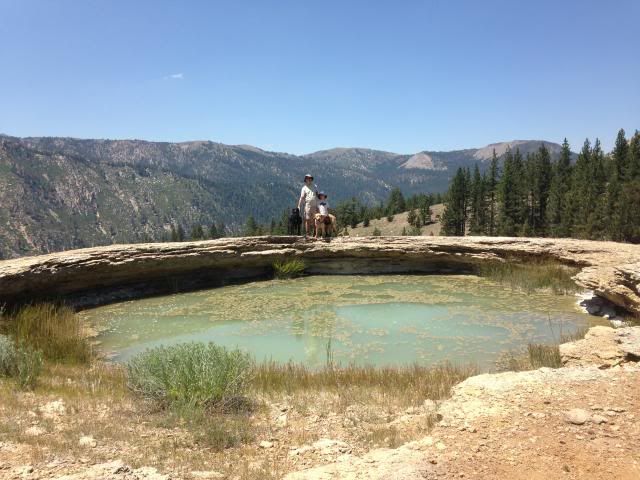 Looking back up at it from the base:
At the bottom of the hike in we hit the Guard Station: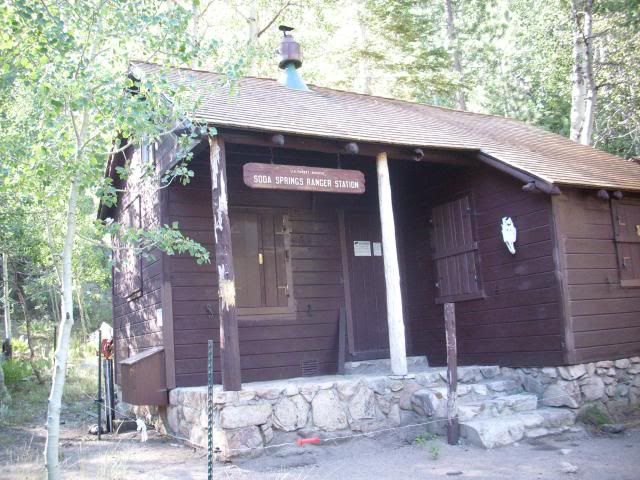 There is an electric fence to deter the bears from tearing the cabin apart surrounding it. I stepped over it; my wife did not and got zapped on her leg. Finn the black dog decided to sniff the electric fence and got zapped on his nose, OUCH=YELP! My son wisely stayed well away.
Here is a sign nearby on a giant pine with mileage to prominent downstream features:
We went about a mile or so upstream and set up camp (with Scout on guard):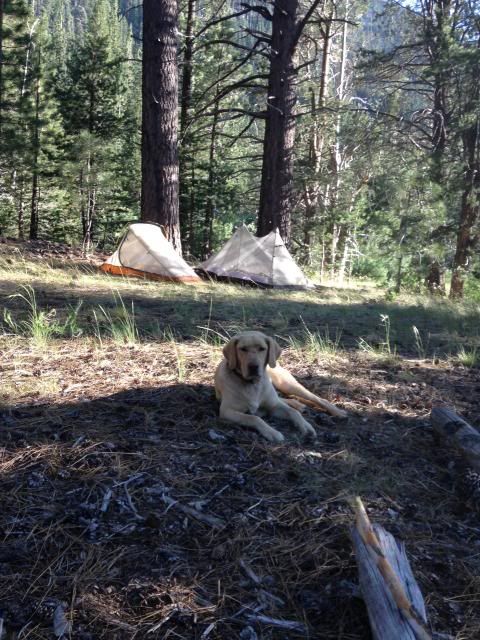 There were a bunch of Lodgepole pines around camp whose cones on the ground have very sharp spikes sticking out. Those of us with boots on did not realize this, but the dogs did. They stepped around pretty gingerly which we erroneously attributed to the 7 mile hike in. We won't be setting up camp in that type of area again. We had a hearty dinner of my home made and dehydrated split pea and lamb shank soup/stew and turned in early.
The next day we hiked up a couple of miles to Carson Falls:
Quite an effective fish barrier to protect the pure LCTs above: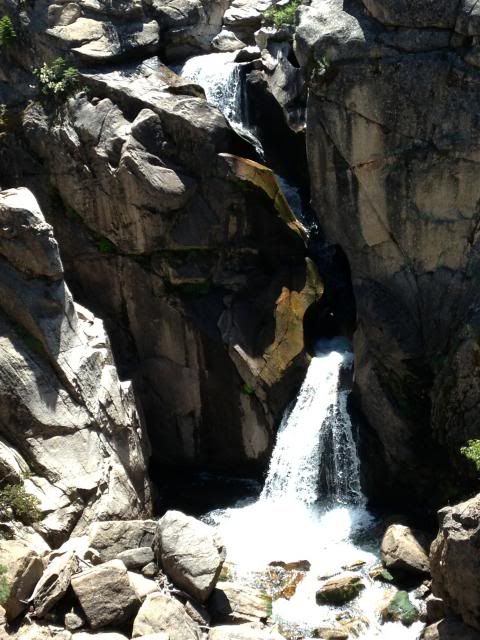 Some members of the party were a little burned out after the hike to the falls: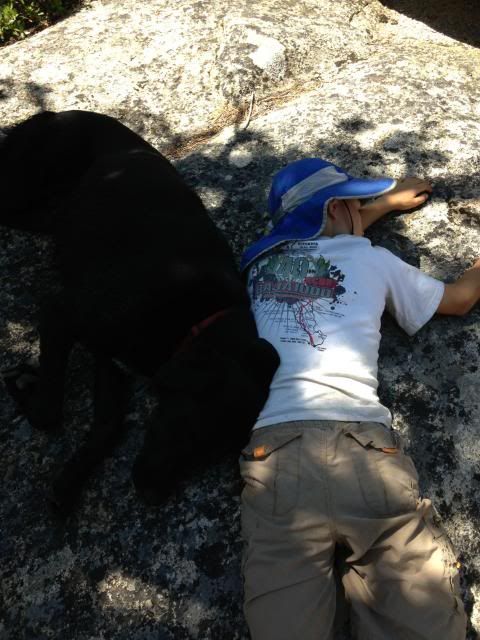 Back at camp my son got us a few small wild brookies for dinner to fry up in ghee (YUM):
We got up early the next day and started our arduous hike out. Here is a style of trail marker I haven't seen before. It's a 4"x4" metal post, which should last quite a long time:
After 4-5 hours of hiking we were West of Vaquero Camp, which is at the edge of the far meadow and foothills: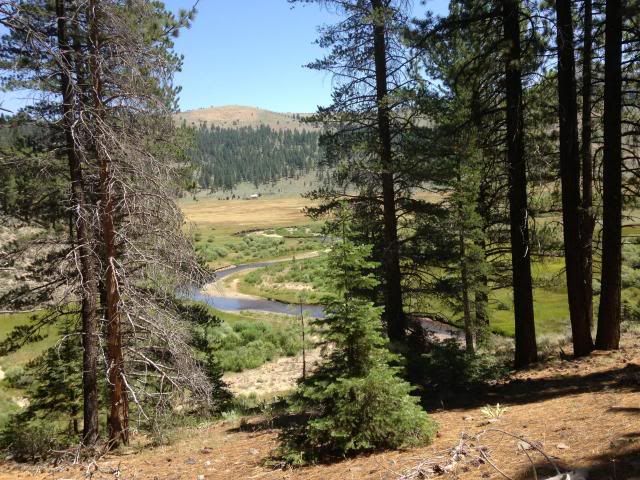 Previously, I had "sugar coated" the description of the hike out to my wife, saying it was all downhill and about 9 miles. In reality it was more like 11 miles plus, and the last stretch is a steep uphill climbing out of the river canyon to the TH. As others have noted, we are in a heat spell lately and we felt it big time hiking out. Here is Scout plopped down in a feeder creek soaking his hot/tired feet: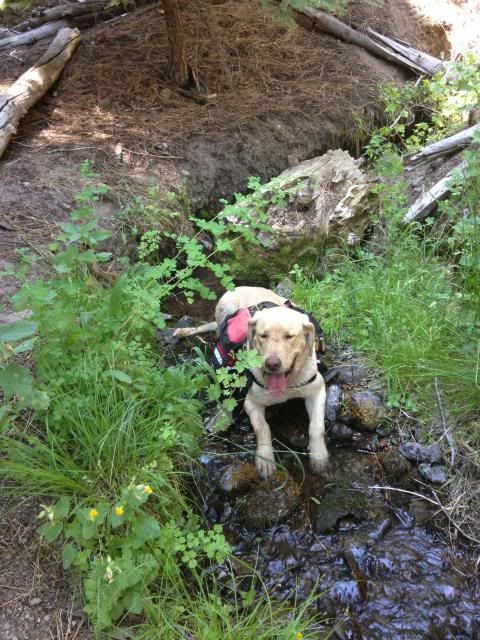 Almost at the end of our journey we pass the mud hole named Wolf Creek Lake: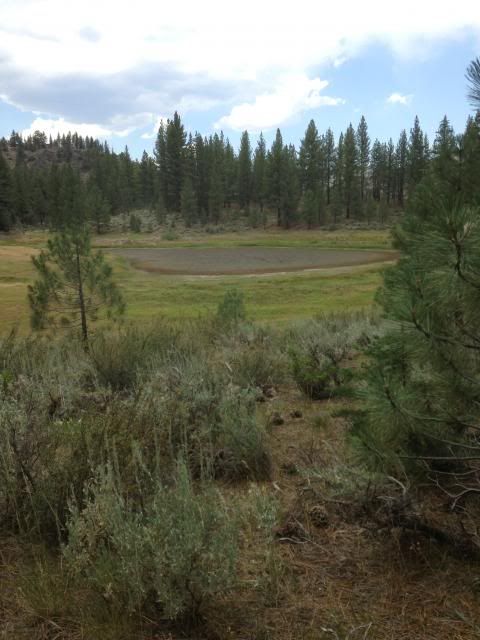 A mere hundred feet from my truck and the end of our hot dusty hike out; my son is all smiles:
As I said, we saw no people the whole time we were in the wilderness. There was no garbage to be seen, and there are very few established camp sites/fire rings. I would highly recommend this area to those looking for solitude and natural beauty!