My fist trail report for my first multi-night backpacking trip. Here goes...
Started from the Agnew Meadows trailhead on Sunday afternoon and took the High Trail (PCT) to 1000 Island Lake. I walked about a half mile along the lake to get away from the crowds and found a nice campsite. It was quite windy so I didn't bother trying to fish. I took a few pictures of the sunset but it was nothing spectacular. I woke up early to take pictures of the sunrise. It was still really windy so the reflections weren't great but it was still beautiful. The wind also seemed to keep the mosquitoes away and I hardly saw any at all.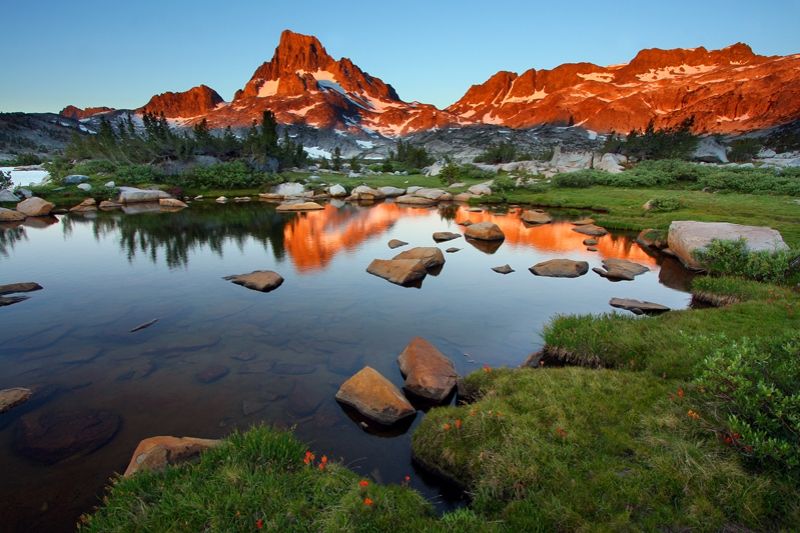 After a short nap I packed up and headed to Garnet Lake. After setting up camp I jumped in the water to rinse off and then did some fishing. I was able to wade out to a small rocky island where the fishing was great even though the wind made it difficult. I caught several good size brookies and rainbows on every dry fly I threw in the water (hopper, parachute adams, royal wulff, stimulator). This was the biggest rainbow, it put up quite a fight and it took me several minutes to land it (I was using 5x tippet).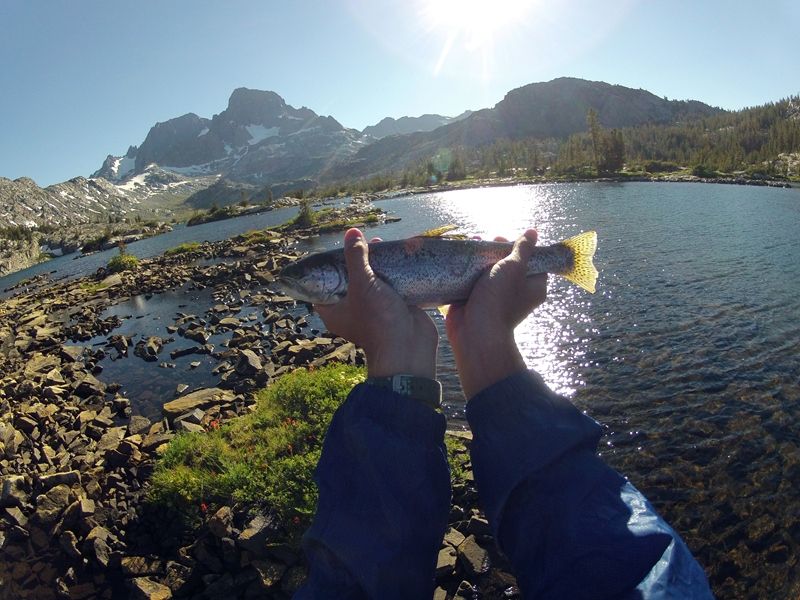 The water was so clear that I could see the fish coming up to hit the fly, and several times I pulled the fly out of the fish's mouth trying to set the hook before it even bit. I also broke off an even bigger looking fish by setting the hook too hard when it hit. Rookie mistakes

The wind died that evening and the mosquitoes came out in force, but I had on long sleeves and a head net and that kept them at bay. The next morning was calm and clear, and the mosquitoes were still gnarly. The sunrise was nice though.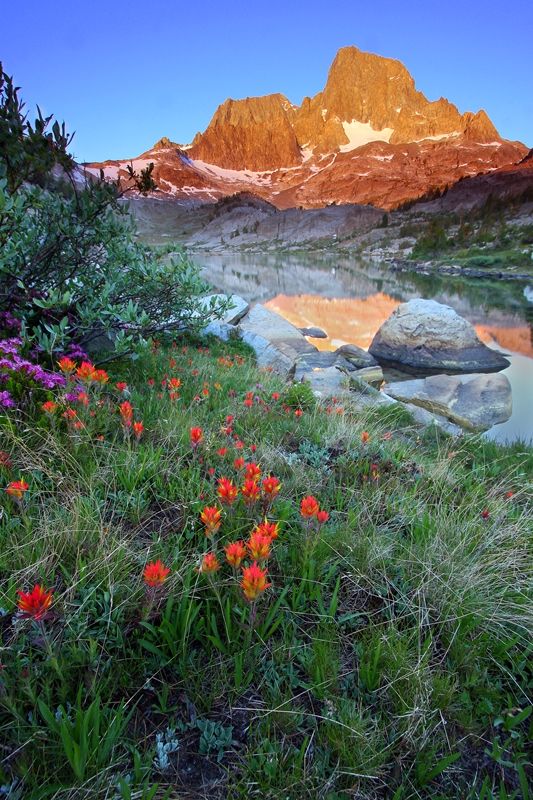 After another nap I packed up and moved on to Ediza Lake. When I got there I decided to change plans and head up to Iceberg Lake. I had wanted to shoot the sunrise at Iceberg anyway, and I didn't feel like walking all the way around Ediza to get to where I assumed the legal campsites were. The hike to Iceberg was short but steep. I saw a pair of 4 point bucks on the way which were the only deer I saw the whole trip, despite seeing a ton of deer footprints on the trail. There were only a handful of campsites at Iceberg but I was the only one there so I had my pick. The wind picked up again and there weren't many mosquitoes. I tried some fishing with no luck. I didn't see any fish cruising or surfacing any time that evening or the next morning. Does anyone know if Iceberg is fishless? It wasn't listed in the fishless lakes thread.
The next morning was another clear one but the sunrise was nice. It was an amazing place to be.
After taking sunrise pictures I ate breakfast then packed up and started heading back to Agnew Meadows. I stopped in a couple places along the trail to fish the stream coming from Ediza Lake. I caught a couple small brookies but paid the price with a ton of mosquito bites. While unhooking one I looked down to see a mosquito on each of my shoulders, biting through my longsleeve baselayer. I decided that was enough so from there I packed up my pole and hiked the rest of the way down.
Aside from the blisters on my feet and the mosquito bites it was a great trip. Caught some fish, got some photos, and got to experience some beautiful places. Doesn't get much better than that!