I've driven up the MK Road more times than I can count, mostly headed for destinations near the top of the road and beyond. Over the last few years, for a variety of reasons, I started exploring the lower sections of the road. Recently, armed with a two day work window and the threat of incoming weather, I drove up for a season-ending look-around.
The 25 mile long road to the MK Valley closes at the Sequoia Park boundary around Halloween every year. There are two locked gates— the Lower Gate at about road mile 10, and the Upper Gate at about mile 18. You can't drive through the Upper Gate after the closure unless you're a lucky MK cabin owner (but you can park there and hike/ski into the valley if desired). The Lower Gate (the "Marijuana Gate") was added fairly recently to help discourage renegade farmers, but you
can
get through that one, if you go to the Sequoia Visitor Center, show ID, fill out a form, and open up your vehicle to show the Ranger you aren't carrying any fertilizer or drip hose. (Just kidding about that last part…)
We're in!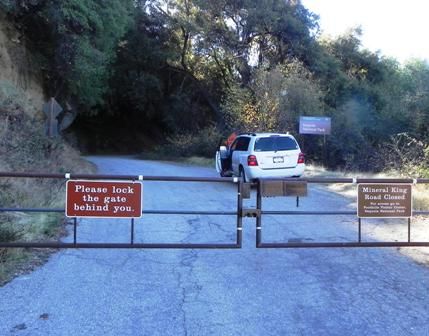 Why bother going up there if you can't get to the good stuff at the end of the road? Well, since even marginal fishing beats sitting at home,
why not
? I've hiked down to the East Fork from the road to fish in numerous places, and it's always a steep killer bushwack. With rare exceptions the fishing hasn't been worth the effort either, but maybe that's why I keep trying--because it just looks so fishy down there, and I know someday it'll pay off when I find the honey hole. Also, I love the lore of the old mining road itself, which was built in 1879(!), and every time I explore up there I find something new.
Something on Google Earth had caught my eye—a clearly visible trail or cut going straight down to the river through the chaparral, in a spot I hadn't explored yet but had fawned over from the road high above. An excellent place for today's first stop, complete with good ol' Sawtooth in the background.
There's the cleared stripe. The topo says it's about 1,100 feet down to the river. Well shoot, that doesn't look too bad…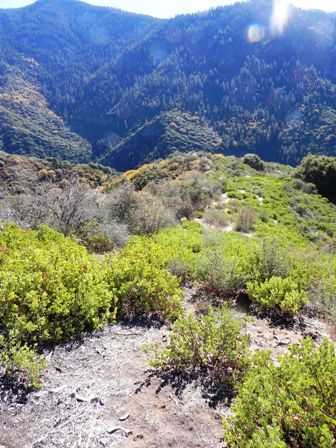 I followed the cut down. The Manzanita stumps looked old and the cleared area was slowly filling in with new vegetation, but it was reasonably clear. Just STEEP—and as I plowed down the thought of what a b**** the climb out was going to be hit me several times. But it didn't hit me hard enough to stop. A half hour later I got to the bottom and cliffed out, looking directly down into the river. That figures: a nice clear path right to a cliffout.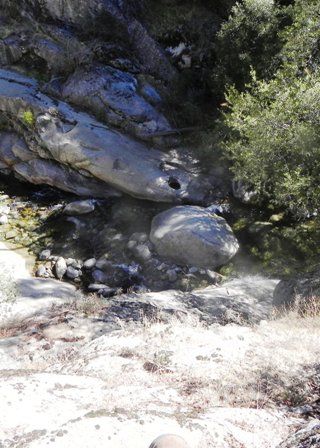 After some searching I found a seam in the cliff that looked steep, but not too steep, with some handholds and fortuitously placed roots and limbs. After a little deliberation, I committed and down I went.
My plan, as usual, had been to hike down and fish as much as I could up and downstream. But unfortunately, in this particular spot, that meant only about 100 yards of river. View downstream—I ain't going
that
way…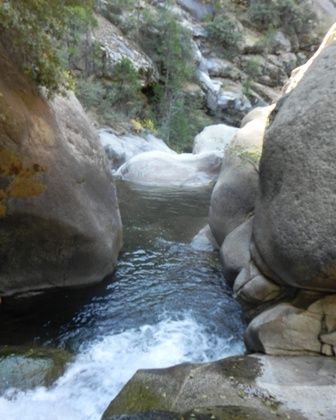 View upstream— hmm, maybe if I was 20 years younger and the water was 20 degrees warmer I could swim up there and try to find a handhold and—yeah, RIGHT!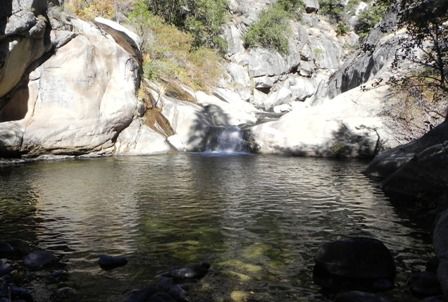 So I enjoyed the small beautiful stretch and tried not to think of the imminent climb out. The river was 47 degrees and slightly off-color. A sink tip line and a streamer would have been better ammo for the big deep pool, but I tried my best with the limited pocketwater setup I had brought (7' 4wt floating line and dries), getting rises from a couple dinks but landed nothing. After a peaceful but fruitless hour I climbed/hiked back out, inventing a couple new cusswords along the way.
I still had plenty of daylight left, so next I drove to a spot where I'd been before and wanted to explore further. As I mentioned, the MK road was built in 1879, but was tweaked and rerouted in the decades since. There are a few stretches of old abandoned roadbed that are fun to explore and hike if you can find them. This particular portion turned uphill, avoiding a deep creek chasm by switching back above it, and is amazingly steep when you consider it was travelled by horse-drawn wagons and early cars. The chasm was later filled in with the aid of more modern equipment (sometime in the 30s) and the road was eventually rerouted across it, but the old stretch above remains.
That V-shaped indentation in the modern road cut is the old road. It's really eroded away, but there it is, by golly! I drove past this dozens of times, never knowing it was there.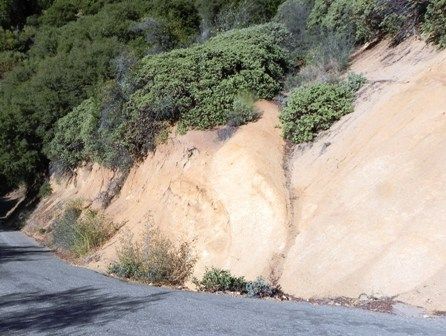 It's a steep scramble up but not too challenging. Here's looking back down on the road.
The old road bed is pretty overgrown at first…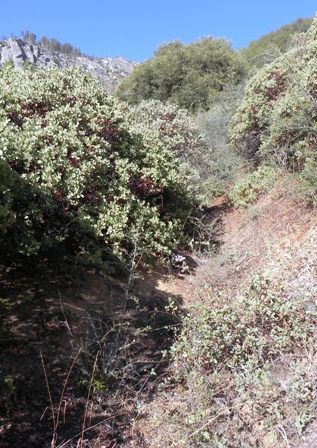 But eventually opens up and is surprisingly clear.
It's hard to describe the feeling, but for me exploring these old abandoned roads is a lot of fun. I try to picture the crews building it without the aid of modern tools, and try to imagine what an ordeal it must have been to travel it in the past. It's also a little "spooky", which makes it extra-cool in my book.

The smaller rocks and boulders were cleared away nicely by the road crews. The bigger ones they just worked around. This spot looked impassable to me until I realized that's an old retaining wall, and the gap between it and the boulders was once filled in but long ago eroded away.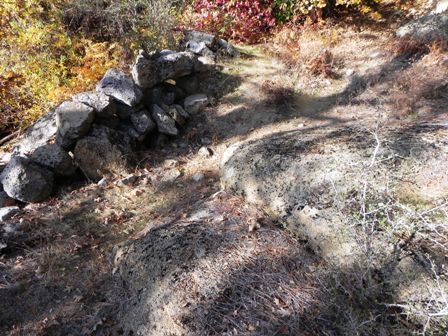 The old road climbs steeply out of the chaparral and enters the forest, getting progressively more overgrown. At one point it suddenly ends, but when you turn around—aha!-- you see the switchback, headed uphill to the right.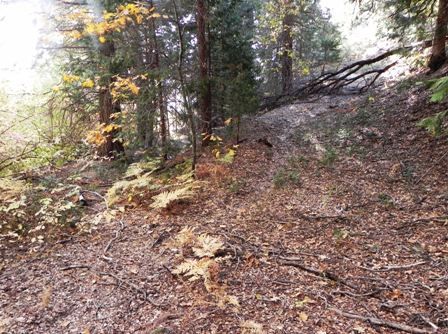 A stone fireplace next to the old road, now in the middle of a thicket. A remnant of an old homestead, or from a CCC camp that was located here in the 30s? I'm still trying to find out…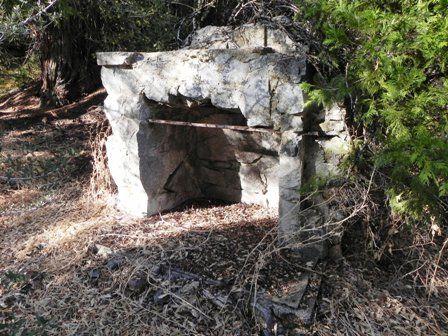 I tried to find the rest of this stretch of old road and follow it back down to where it rejoins the modern road, but it got progressively more overgrown, and I eventually gave up. I suppose I'll have to go back and look some more.

I drove back down and camped just inside the Sequoia entrance, grabbing the pole position site in a nearly empty campground. After eating dinner, I drank a couple too many beers next to the campfire and practiced
Stairway to Heaven
on my ukulele. Makes you glad you weren't there, right? I also stumbled across a neat trick—a paper towel roll makes an excellent electric lantern diffuser.
The next morning I drove back to one other spot on the MK Road before heading home. I had seen a "new trail down to the East Fork" mentioned on a kayaker's website and wanted to check it out. This trail to a kayak put-in was reportedly on public land even though it was located on the lower "private property" stretch of road. More importantly, it hit the river where a pristine (unexplored by me) stretch of the old abandoned road ran along the opposite bank. It was unclear to me whether fishing access up and downstream from the put-in was public too, or whether the old road was on private property. Of course, I carried my fly rod just in case. And an empty trash bag, so if I encountered a shotgun wielder I might be able to beg my way out by displaying all the trash I'd picked up.
The trail started out innocently enough, but got very steep very fast. On the way down I realized something about kayak trails—those guys only care about going DOWN to the river, not up.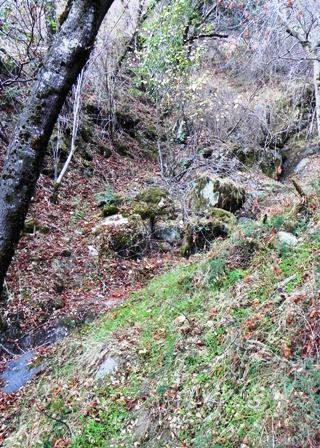 The website said there was a rope at the bottom for the final steep drop to the river. You can barely see the rope on the left, disappearing over the edge, right where they said it'd be. Yikes!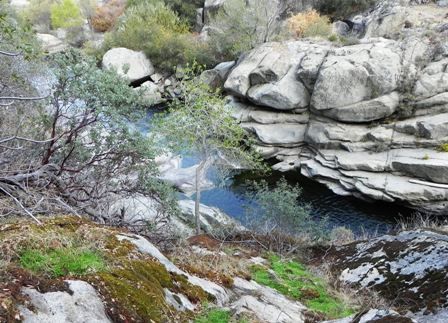 And lo and behold, there's the old road on the upper right, on the opposite bank, so close but oh so far away.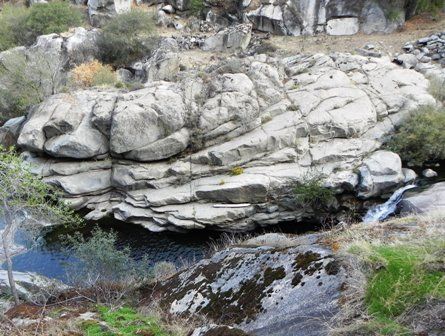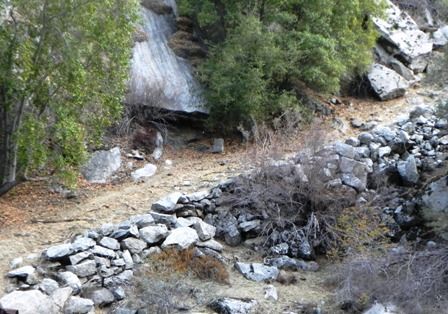 Unfortunately, this was as close as I got on this trip. I studied the rope and the steep slope, considered my lack of upper body strength, and decided I wouldn't risk failing to get back up the rope. It hurt to turn back, but I think I made the right decision. I couldn't have crossed the river there to check out the road anyway without getting wet, and probably would have been trespassing. It would have been nice to fish for a minute or two, though. I never did find any trash. I also lost the trail going back up and ended up on the road a quarter mile from where I'd parked. But the level walk back to the car was a relief for the barking quads.
A good season-ending trip—fun but incomplete, with plenty to think about for next season.