Left Wolverton TH about 3:00 PM heading towards Alta Peak. I was carrying 3.5 liters of water because I was unsure of water supply. It turns out I could have tanked up at any of the creeks before Panther gap but better safe than sorry. Made Panther Gap around 5:00 and decided to camp there.
It was a little hazy but still a beautiful campsite.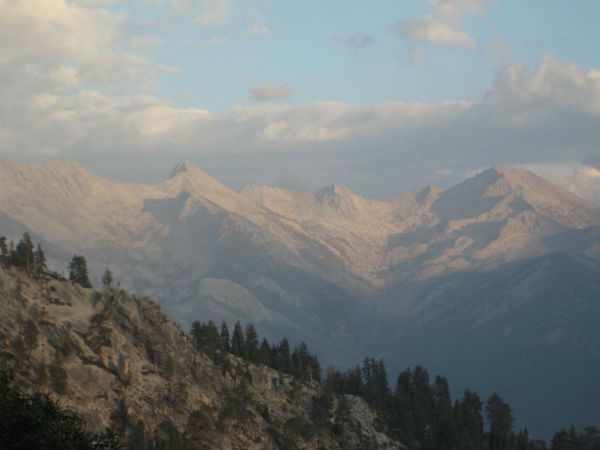 Next thing I did was go to gather some firewood. Found a lot of 1.5' to 2' limbs around so set about using a rock to break them into fire ring sized pieces. As I hit the second piece against the rock, something felt funny and I looked down to discover I had a inch and a quarter long cut on he back of my right hand.

On further inspection the cut is more than a quarter inch deep…OK, take a deep breath and assess the situation…I am alone, 2.9 miles from my car, with a cut that obviously needs stitches. Since return to the car is not going to happen. I get out my first aide kit (10 years of hiking and backpacking and it is the first time I ever used it). I also grabbed the toilet paper to help deal with the blood. Within a couple of minutes I have the bleeding stopped and the area cleaned with alcohol wipes, but the location of the cut (between the thumb and pointer finger) makes it hard to get the wound to close. I do the best I can with two bandaids (using my left hand) then add some duct tape and a fingerless wool glove to help keep things together. The amazing thing is that the cut never hurt and I have no idea what actually cut me.
So I finished getting the wood together and set up camp and then sat down to watch the sun set.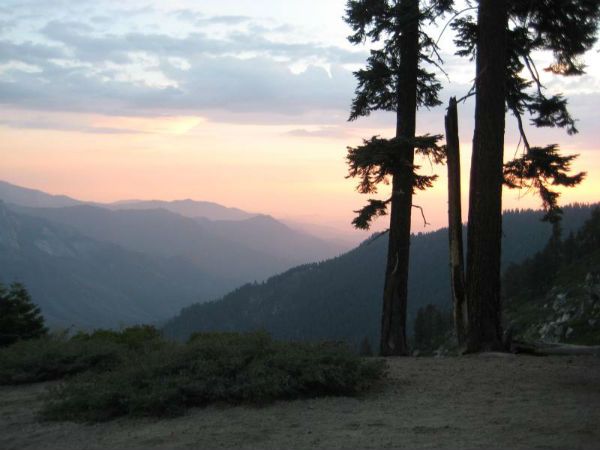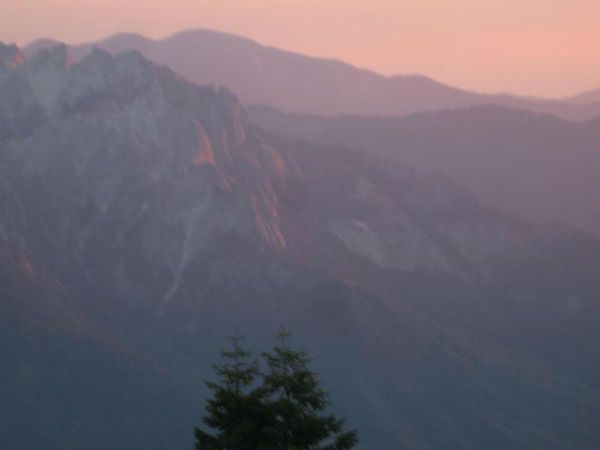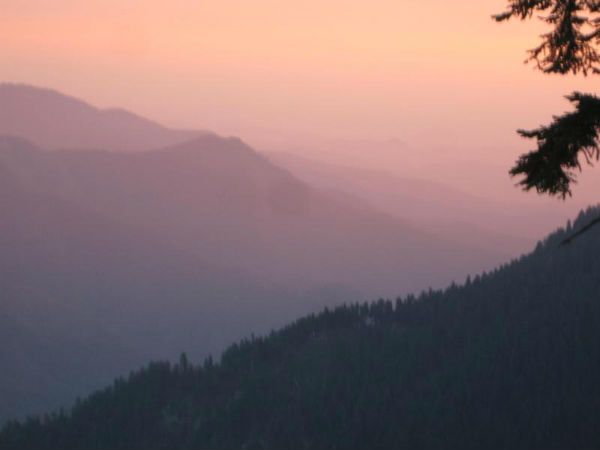 Then I made dinner and sat by the fruits of my dearly paid for labor.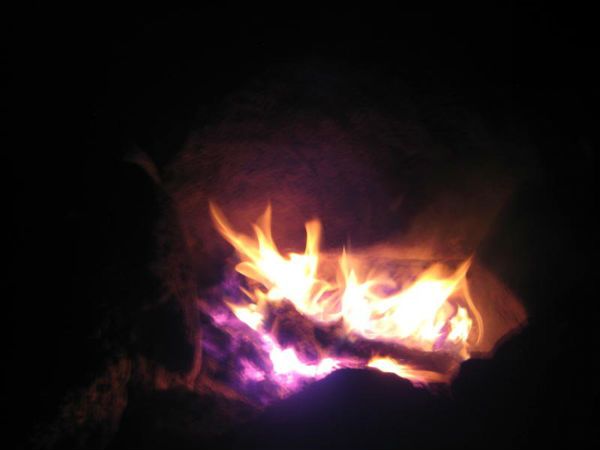 Hit the sack around 10:00 and had the worst nights sleep I have ever had in the back-country. I don't know if it was the low trail mileage that day, worrying about the cut, or all the animal activity (I think it was deer).
The next morning was clear and sunny.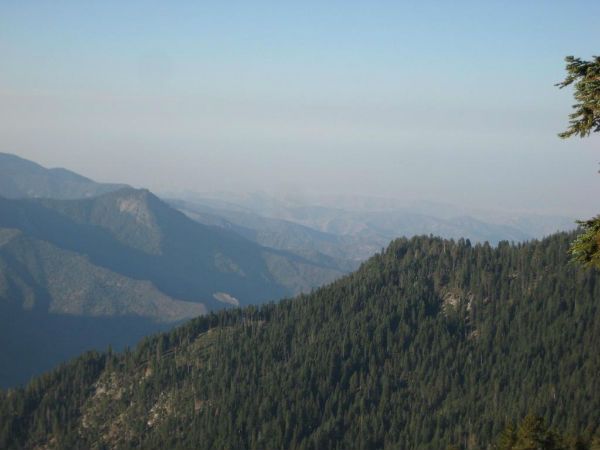 I pulled the bandages off to get a look at the cut in better light. It was deep, but it had not bled any more. I cleaned it again and then tried to figure out how to close the wound up. I considered stitching it up (I always carry needle and thread), But I didn't think I could pull it off left-handed. Then I remembered the mole skin. I cut a piece and put it on and it seemed to do the trick. I covered that with a large bandage and put the wool glove back on.
Now it is time to decide whether to bail or complete the trip. I decided that since I wasn't bleeding, and I would not be able to get into my doctor until Monday anyway, I might as well finish the trip.
I broke camp and headed on towards Alta peak without breakfast because I used up most of my water cleaning the cut. I had breakfast at the spring just before the junction to the HST. I was amazed that there was still some Indian paintbrush there.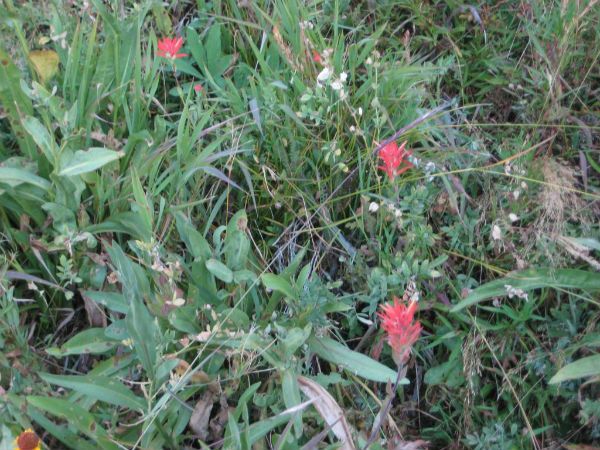 Then it was off to Alta Peak. I quickly realize that I am out of shape as I pass this ghoulish looking rock and think that I feel like it looks.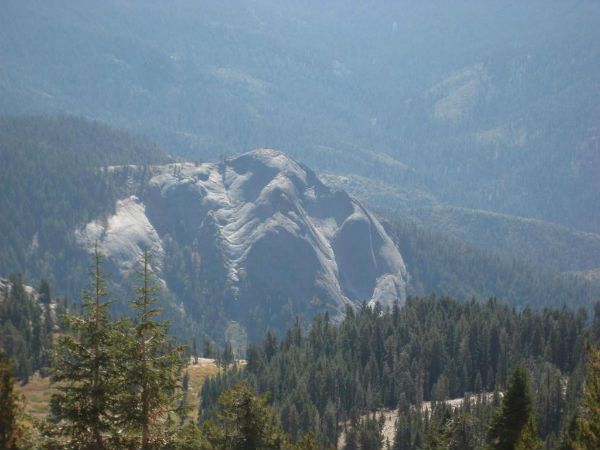 Then this little guy starts laughing at me.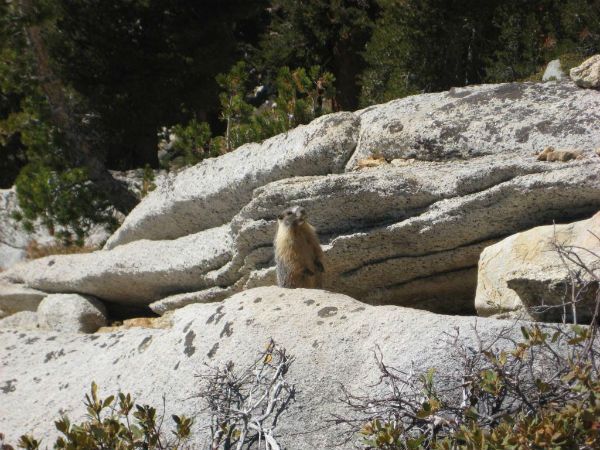 However, I do finally make it to the top where I stop for lunch and stare at what I think is the route down to Pear, visit with the day hikers that passed me on the way up, sign the register (couldn't find my other entry) and stare at what I think is the route down to Pear. For some reason I did not take many pictures this day. Finally, I take off (there was no way I was going to lug a 30 lb. pack up there twice without completing the loop). I go south of the rock pile and make my way up to the first chute, take a deep breath and go for it. It was pretty easy finding my way down to the slabs and even though Imknew I had to go around to the east I still ended up to low and cliffed out opposite of the meadows that I needed to follow up and over to the campsites. I had to backtrack about half a mile to get across that drainage but then it was pretty straight forward from there. I finally stopped to take a picture of the lake from the East side, before finding a campsite for the night.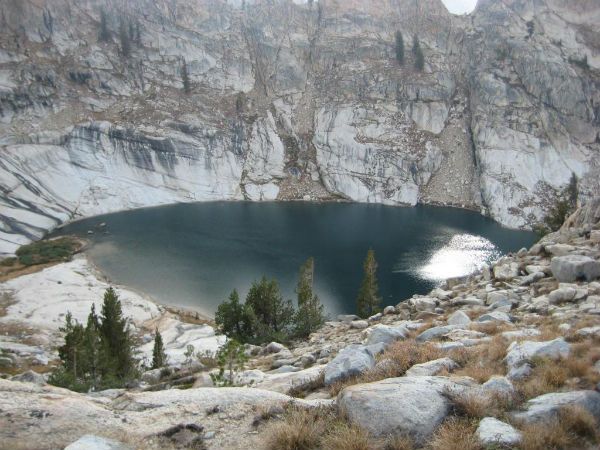 I took the last available site, way up on a ledge above the Lake.
That turned out to be a good deal as it put me far away from the group of guys with at least a half dozen half gallons of hard liquor.
I ate dinner and watched the alpenglow and then off to bed where I slept like a baby. 7-8 miles with 2684 ft. of gain and an off-trail descent of 1694 for a guy who had not been on the trail for two years will certainly help you sleep.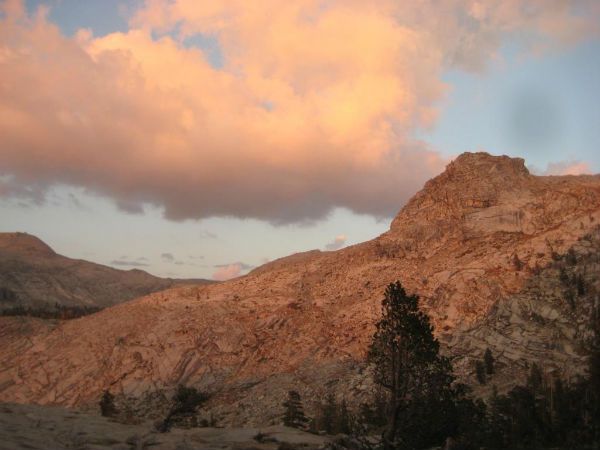 Got up the next morning and hit the trail, made it back to Wolverton a touch after noon via the Watchtower.
PS Monday I went to the doctor and although she could not stitch it up she was impressed with the way I kept the cut clean. There was no sign of infection so she put some butterfly type things on it and then splinted my thumb to the fist finger to keep it from pulling open again.
What I learned from this trip
1. I can handle it when things go sideways.
2. I can do off trail stuff that before scared the tar out of me.
3. I need to get and stay in better shape.
4. I need to take some leather gloves.
5. I need to add super glue to me kit.
You can see the rest of the pictures at
http://s1295.photobucket.com/albums/b64 ... op%202012/