It has taken a while to get around to writing this report so it is a couple weeks late. We started out on Saturday in Mammoth on the Duck Pass trail headed for Edison Lake on the west side. The first day we hike to Duck Lake and camped near the outlet.
I think this is Skelton Lake one of several lakes on the way up to the pass.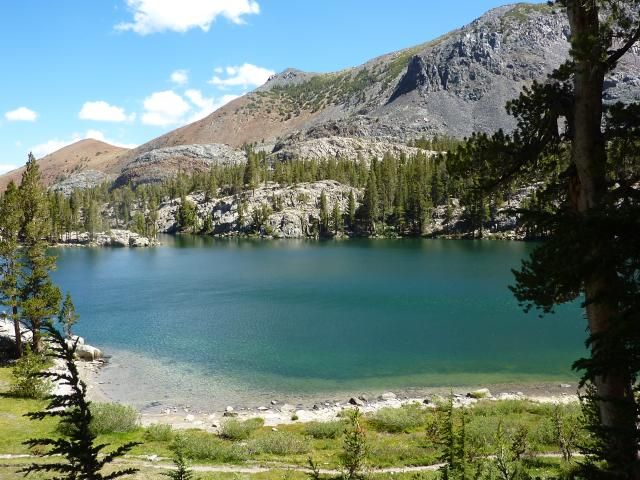 Duck Lake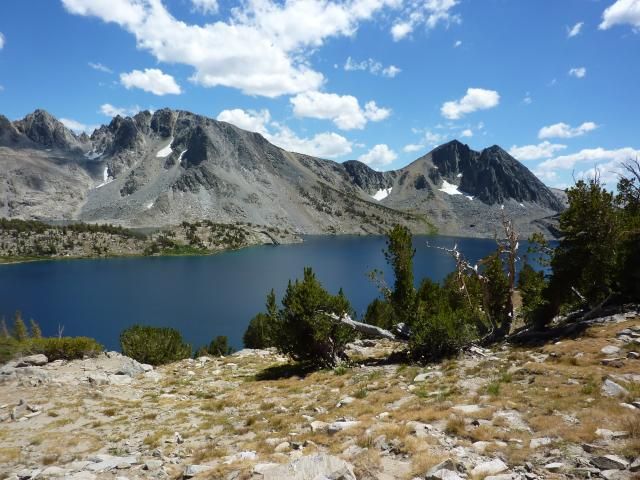 Our camp below the outlet of Duck Lake.
Lots of evidence of the glaciers around camp.
Sunday morning we broke camp and started for Purple Lake and then Lake Virginia to spend our second night. I didn't fish while we were at Duck Lake but I was really looking forward to some of the gloldens in Lake Virginia.
From the trail on the way to Purple Lake.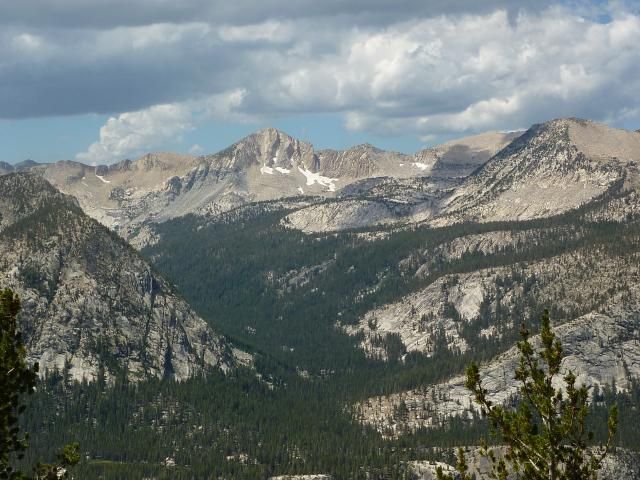 Some of the blowdown around Purple Lake. We met one of the trail crews working a buck saw. They said that all of the trees done in the wilderness were cut with hand saws.
We had our lunch here at Purple Lake.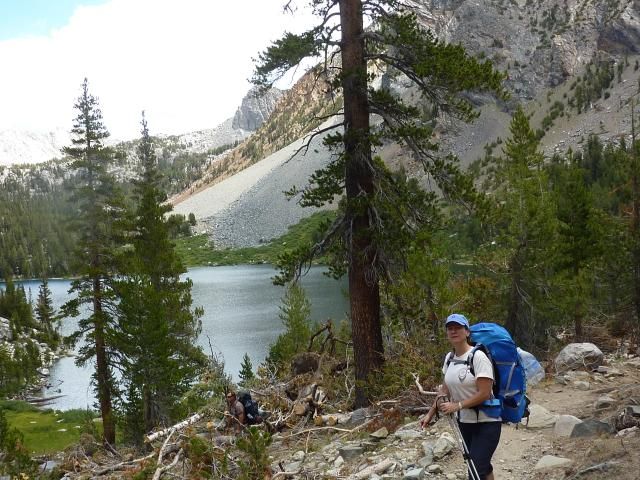 The overcast skies were making for great pictures but we finally paid the price when we got to Lake Virginia. Just as we reached the lake the clouds opened up and it started to pour down. About the time we all got under some trees it turned to great big hail that really stung when you got hit. It turned the ground white but I didn't take a picture until later after we got the tent set up and the hail had mostly melted.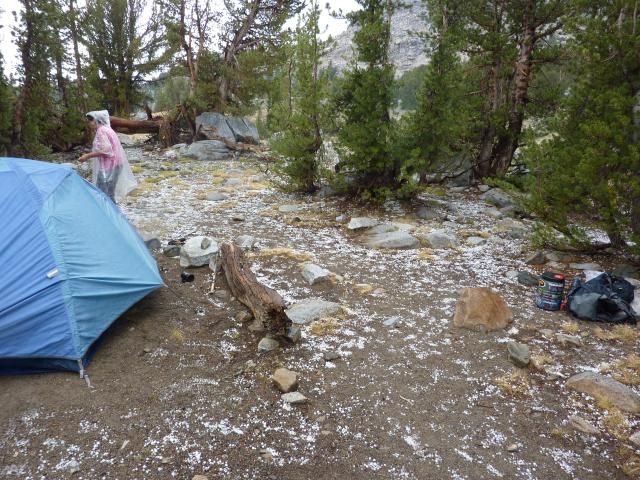 We caught plenty of nice golden hybrids at Lake Virginia.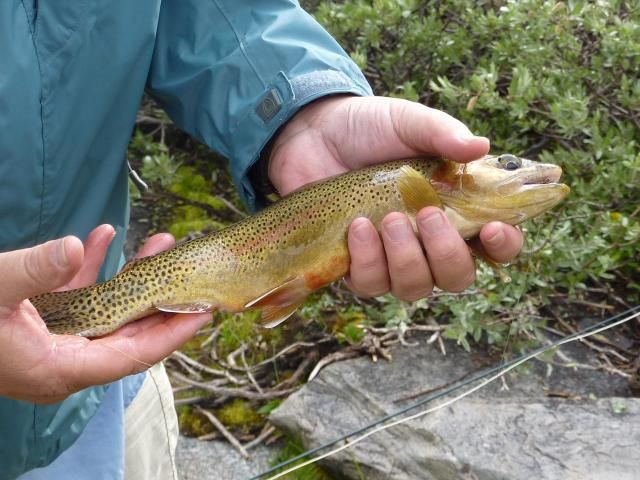 I also got some great pictures.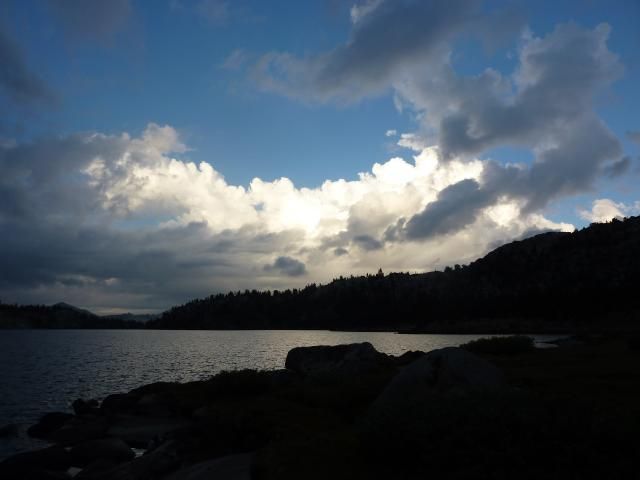 Monday the plan was to hike to Tully Hole for lunch and then up the mountain towards Silver Pass and camp at one of the Indian named lakes for the night. As it turned out we went over Silver Pass and camped at Silver Lake Monday night.
On the way to Tully Hole.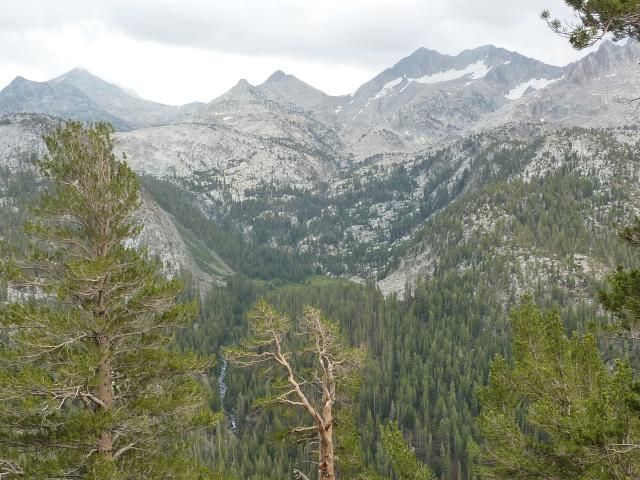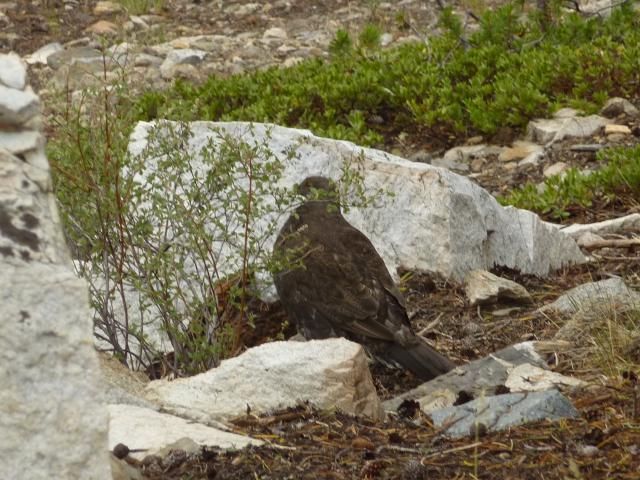 Tully Hole is the meadow and creek in the bottom of the canyon below Debbie.
Our group Vince, Tania, Marshal, Debbie, and I on the Tully Hole footbridge.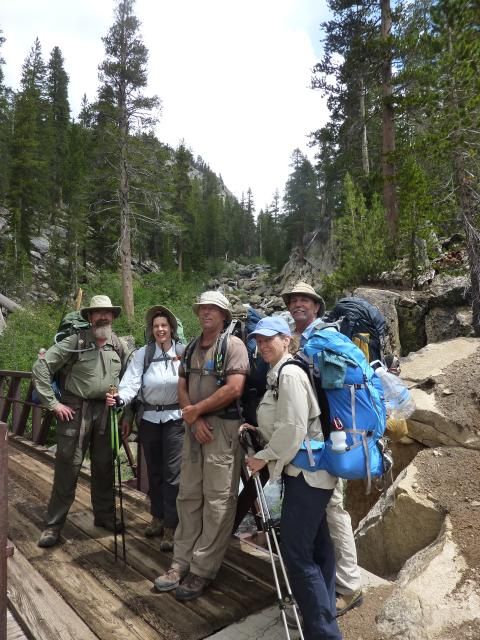 A couple of the lakes we walked by climbing to Silver Pass.
Squaw Lake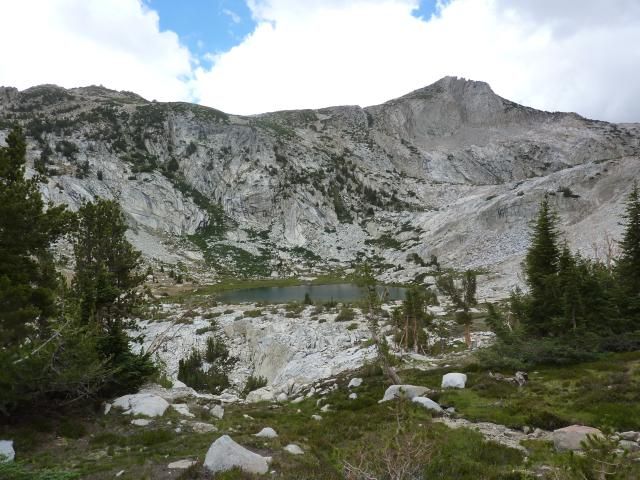 Chief Lake
Warrior Lake
Looking north from Silver Pass towards Mammoth.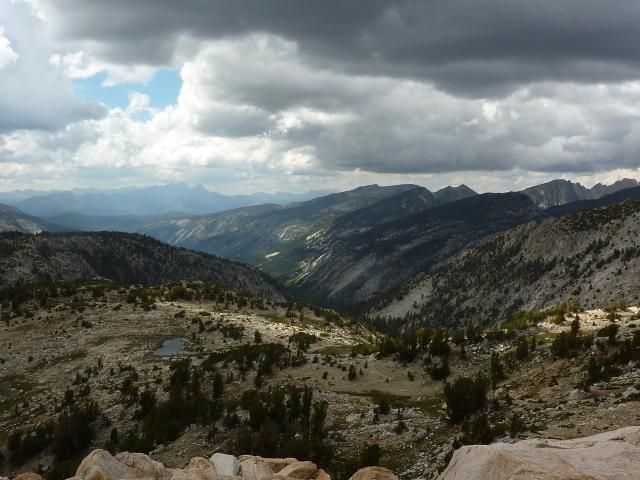 Looking south from Silver Pass.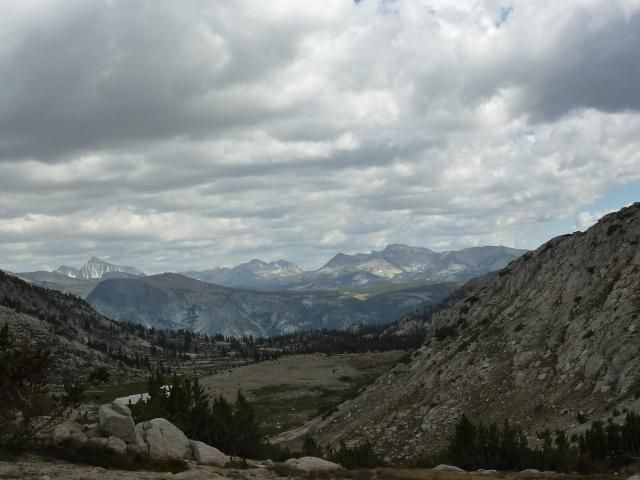 Our camp at Silver Lake and some pics from around camp. We fished evening and morning and never even saw a rise at Silver Pass Lake.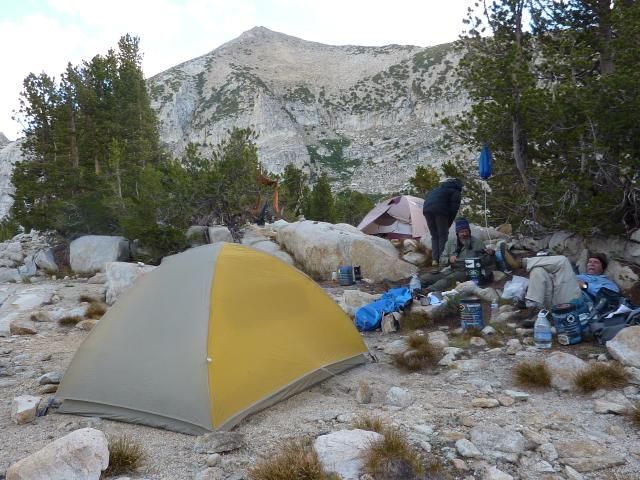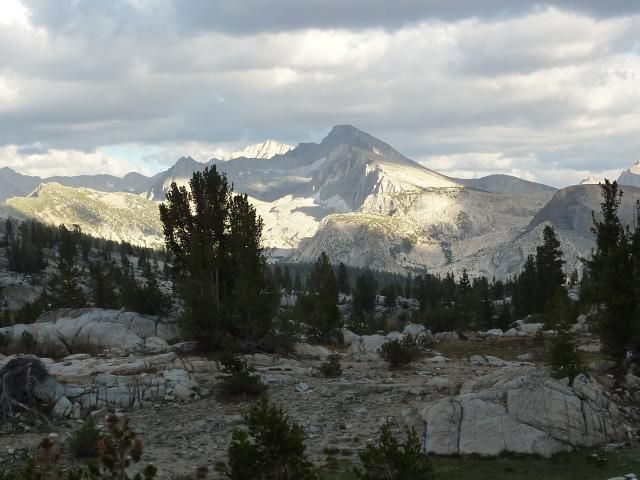 Tuesday we hiked down to Edison Lake and caught the ferry to Vermillion Valley Resort. It was great to take a shower, prime rib dinner, and chicken fried steak and eggs for breakfast. Wednesday morning the ferry took us back to the trail and we headed for the Mono Creek trail.
Another blow down along the trail.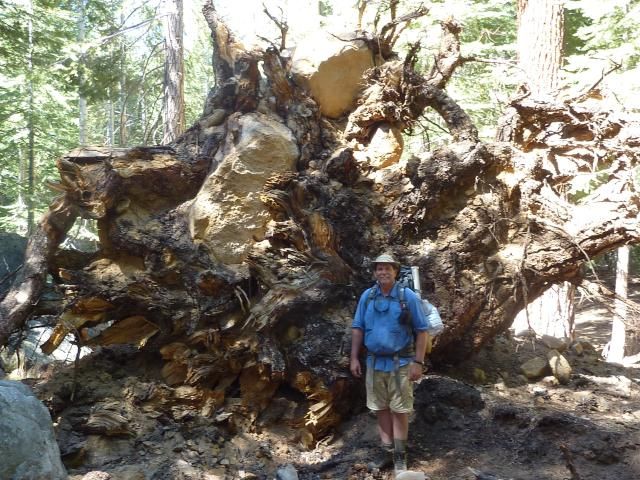 Wednesday night we camped at the trail junction for Second Recess. The fishing was completely off the chain for little brookies and golden Hybrids.
Thursday we hiked up the Mono Creek trail to Fourth Recess Lake and spent two nights resting up and enjoying life in general. Again the fishing was great for stunted little brookies and rainbows.
Not a bad view from Debbie and my tent.
Fourth Recess Lake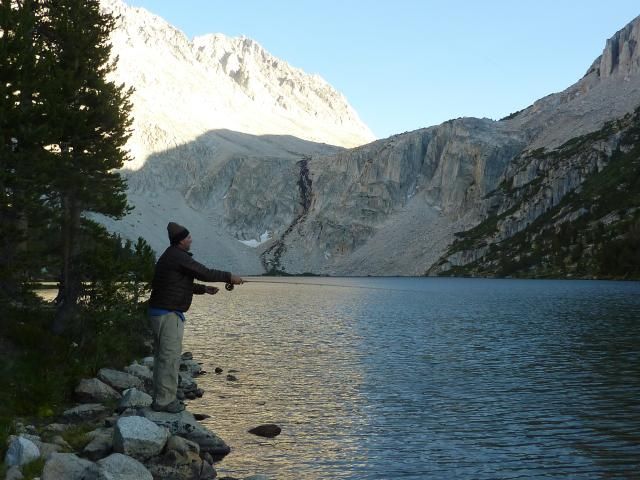 Saturday morning we packed up and started for Mono Pass earlier than usual hoping to beat the heat. A couple of hours later we were on top of Mono Pass, elevation 12,035ft.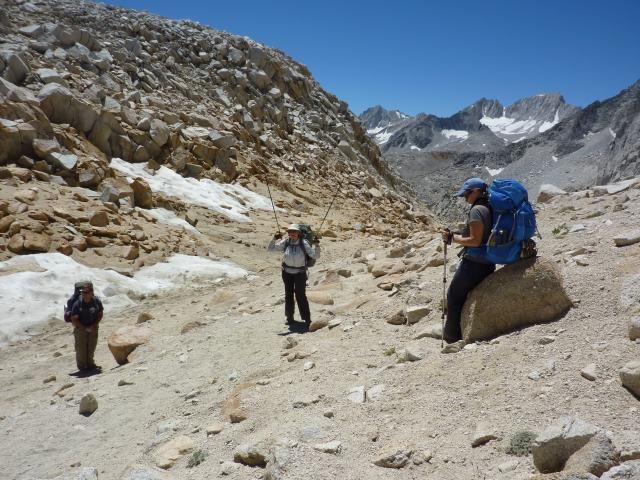 From the pass it was all downhill through the Little Lakes Valley to Mosquito Flats and the car we had placed there the week before. The girls and I took a nap while Vince and Marshal drove to Mammoth to P/U my Sequoia.
It was another great trip, 8 days, almost 50mls, with some great friends that I will never forget. We took it pretty easy but it still seemed to kick my butt. I was really out of shape for our trip this year. I'm going to have to do some exercising before we go next year.