School is starting soon and my family and I needed to get a backpacking trip in. We settled on a close spot and went in from Lilly Lake to Gilmore. Here is the crew minus me at the TH: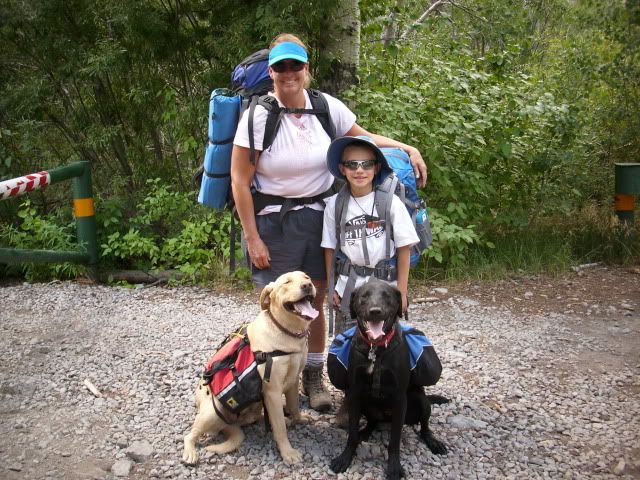 The forecast was 20% chance of isolated showers in the afternoon for the next few days and we got a little wet on the way up. The rain continued for a while once we got to Gilmore, but let up for a little fishing:
The "Rat Macks" were biting and after wetting his hands and an admonishment from me to "stay away form his gills" my son posed with his catch of a decent specimen:
Needless to say, GBs record at this lake is still safe!
We went to sleep that night with visions of peak bagging in our heads! The next morning a couple more macks were caught and breakfast was had, we made for Tallac. It only took about an hour to reach the summit. Here's my son goofing on me with Cascade, Emerald Bay and Tahoe in the background:
And looking West past Gilmore, Susie, a bit of Heather and Aloha to the Crystal Range and Pyramid: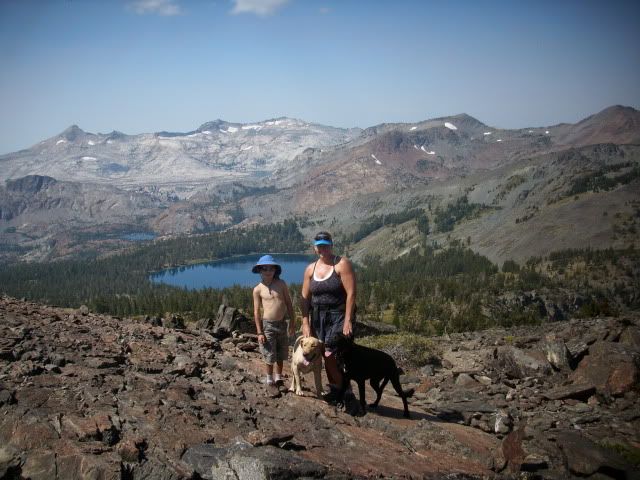 On the way back down, my son found a patch of Fire weed:
After we made it back to camp, a swim was in order. My wife headed out toward the middle of Gilmore and the dogs dutifully followed:
That afternoon the rain clouds built up as usual. We had lunch and as the rain started we got in to the tents to chill out. My wife was in a 1 man tent napping and my son and I were in a 2 man playing "go fish". The rain got progressively harder and after a half hour or so my son poked at the tent floor and said:"Dad, things are getting squishy!" Not long after that my wife yelled out from her tent: "I'm getting flooded!" We had set our tents up in a flat, very compacted low lying spot, not thinking about a heavy down pour. We looked outside and the tent and were in a puddle about 3 inches deep! Bailing out of the tents and throwing them under trees we surveyed the situation. The tents were pretty wet, the bags too, and my son didn't have a lot of dry clothes left. There was plenty of time 'till sunset, but it was still drizzling. If the clouds broke, we could dry out and stay. Alas it was not to be: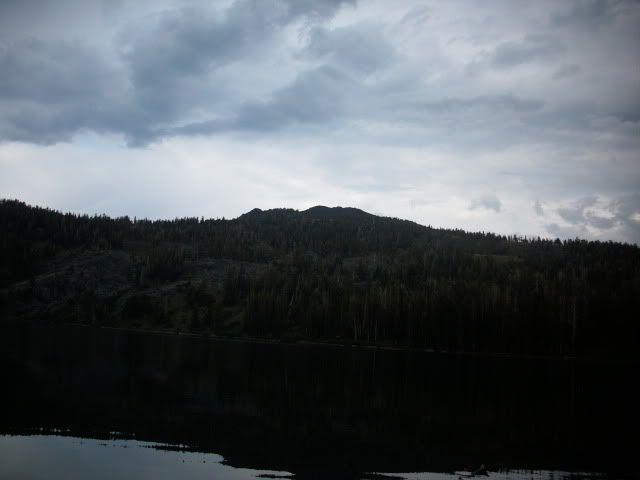 I figured a small let down and heading out was better than a long cold/wet night.
We had some hot grub and threw our wet gear in the packs for a somewhat dejected hike out. I had the crew pose for a shot before we left. You can see Scout, the yellow dog was ready to go. But Finn the black one was still ready for adventure!
Even though we ended up leaving early, I view the trip as a success, since we caught fish and climbed a mountain!