I made the trek to the east side for my first backpack on the east side in many years. With me were my son Josh and his friend Erik, both 22, very eager, and strong hikers. Josh has about a 16 decent trips under his belt and is a fine map reader, but this was only Erik's 2nd trip. We chose the Piute Pass/Humphreys Basin area for a number of reasons. First, its known for its abundance of Golden Trout Lakes; Second, a particular lake had been on my radar for nearly 30 years, plus a pic of a fish from that lake (on this site) had captivated my son with its color; Third, it is fairly easy to access via trails and fairly easy to do some cross country travel in; and Fourth, I had last been into the HB some 20 years earlier with Josh in tow. Well, as this pics shows, I wasn't towing him, but I did have a pretty big load as well

. In the HB in 1992.
Getting to return to this area with my son was something I was truly looking forward to. No trip of redemption or anything. Just nice to get into the high country with my son who now has the backpacking bug like I did at his age. We arrived in Bishop in the early afternoon on Wednesday and secured our permit. We then went up the hill to look for a campground for the night. I have to admit I was surprised when we found both North Lake and Sabrina Campgrounds full on a Wednesday!!!!! Luckily, we got one of two last spots at Bishop Park so we were not real far from the TH. We paid for our spot and then went to check out the area. We visited South Lake and fished Bishop Creek for a bit, before heading into town for dinner, a stop at the store for some needed items, and a visit to Keoughs Hot Springs for a soak.
Next morning, we arrived at the TH. I couldn't help but to think back to my previous five visits to the TH, the last being exactly 20 years prior.
We hit the trail just before 8:00 to really cloudy skies that had me a bit concerned, but the weather would hold off on day 1 and only spit at us a little. Actually, the cloud cover was appreciated by this old slow hiker. We typically hike in a group, but with the guys being such strong hikers I let em make their own pace. I would just point to a spot on the map (Piute Lake day 1) and say, meet me here. That said, Josh never got too far out in front of me, always stopping to check and make visual contact with me and to verify the old man was still moving forward. Here's a shot of Josh on the trail to Piute.
We stopped for a short while at Piute and Eric fished ', Josh scoured the map, and I ate and rested. Shortly thereafter we crossed the pass and made it to our day 1 destination, Muriel Lake a little after 1:00. We saw lots of hikers on the main trail, but we had Muriel to ourselves that night and following morning. We set camp behind a large rock on the eastern shore, which appeared pretty common for this lake. All the campsites had a big rock to hide from the wind, which was howling the whole time we were there. They guys were going to visit the nearby Goethes, but Eric had developed a blister on the arch of his foot and didn't want to go any further. I was already set on just fishing around the wind machine known as Muriel Lake for the afternoon. They guys decided to hang around Muriel as well and fish. They each scored a couple nice brookies we had with our dinner that night. Here's a couple shots around Muriel.
Somehow, you seem to be able to see this rock from almost anywhere in the Basin. It just never gets old gazing upon its slopes.
The next morning dawned cold and clear, but still windy. We packed up and headed into HB proper.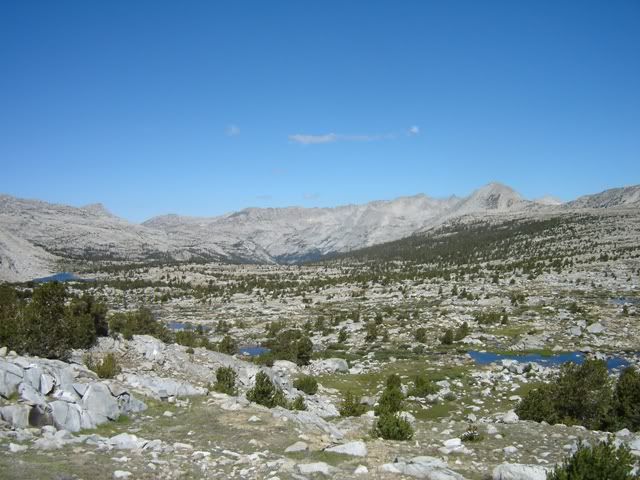 We worked our way down canyon seeing our first hikers since the afternoon before, stopping to fish the Golden Trout lakes at which we got skunked. We had lunch, and then headed further down canyon to a turnoff for some lakes on the north side of the Glacier Divide. We crossed the creek and found the frickin goat path they call a trail. It was steep, but short and we were at the lake in short order. Clouds were building and it looked like it might rain, but again it just spit a little.
The guys were on the lake in short order followed by the old geezer. The fish were small, but plentiful and just downright gorgeous.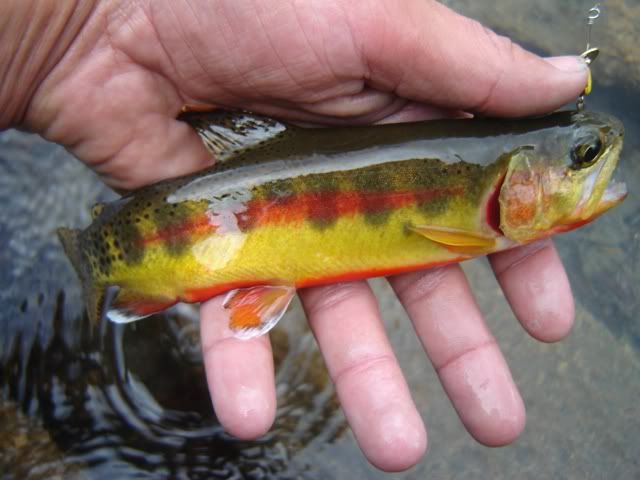 And somehow that rock always seemed to be on the sky line!!!!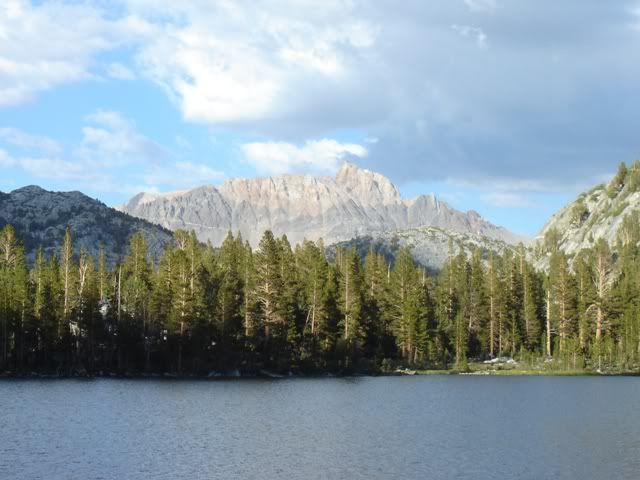 We decided to lay over on day 3 and do a little day hike to a nearby lake. The hike was absolutely gorgeous with flowers abundant in the turfy pockets.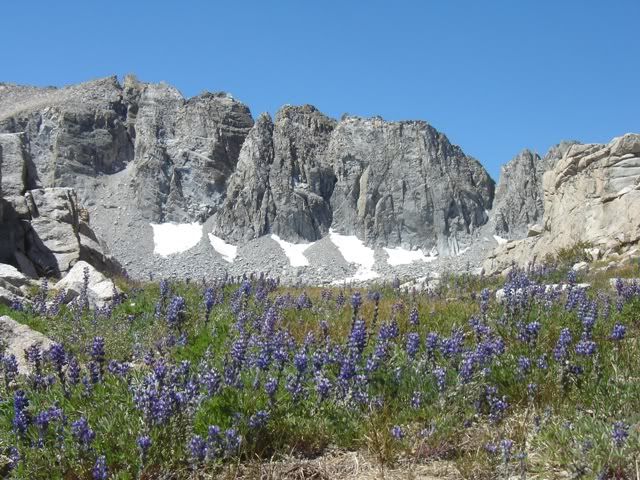 And heres one of Erik hiking well out in front of us, something that I kept telling him not to do and something that almost became a major issue later in the trip.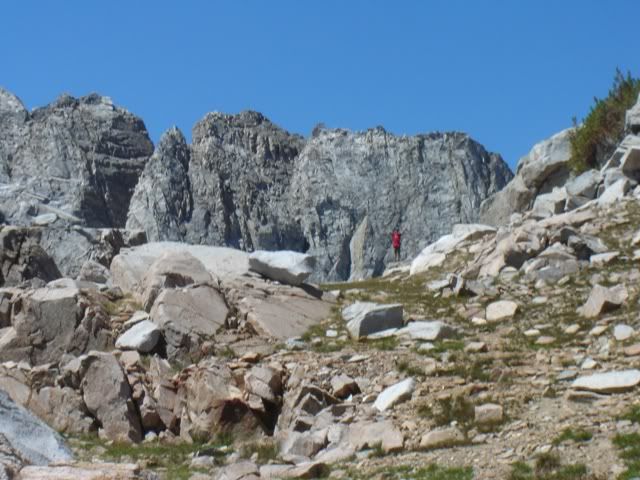 I had viewed this lake from afar some 20 years ago as well, had seen it on an old hand drawn map in a guide book from the 60's, and had always wanted to visit. It was a bucket list kinda thing. The lake was absolutely gorgeous and did not disappoint.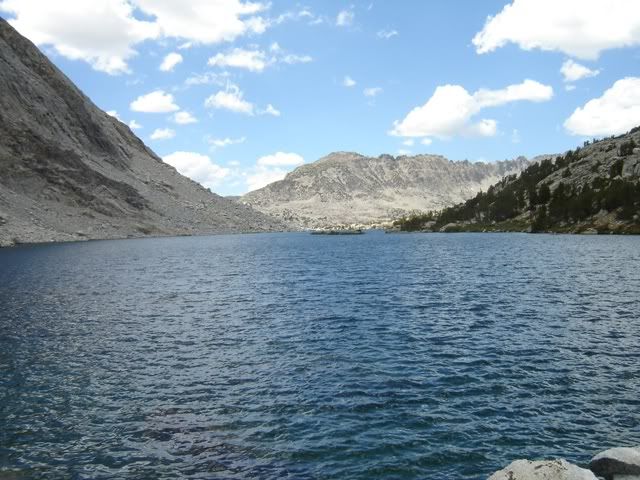 The fish were wary, but of a pretty good grade at this lake.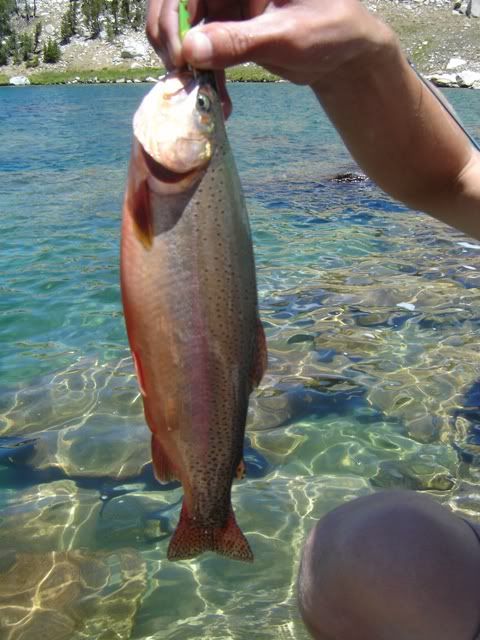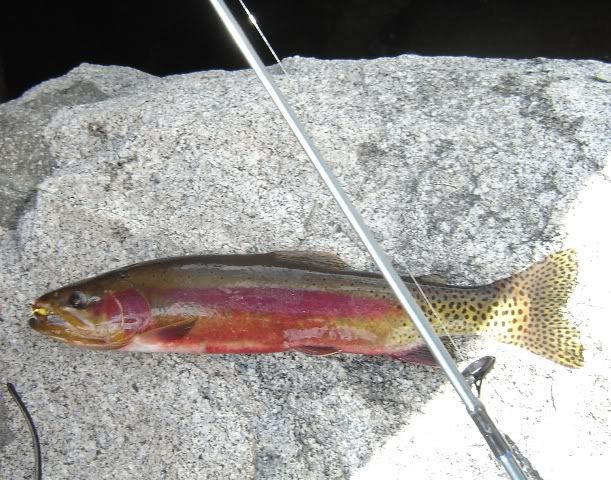 Over the ridge I could see some clouds forming and for the first time could hear some thunder in the distance. I suggested we head on back which we did. At the crest we could see the storm to the east along the Sierra crest. We watched numerous lighting strikes off in the distance. We had rain gear, but I was still concerned we would get caught in the storm making hiking the steep slopes back to camp more difficult. However, luck was again with us and the storm stayed to the east of us with us not getting any rain that night at all.
Our plan for day 4 was to move across canyon and check out lakes like Tomahawk, Mesa, and the Desolations.
Day 4 dawned with clouds already building. We got going a bit late and the old guy didn't pull into our planned meeting spot until about 1:30. The guys were just sitting there as the storm bore down on us. I suggested they/we find tent spots ASAP as we were directly in the path of some ugly black clouds coming over the glacier divide with a lot of noise. We just got set up when the storm hit, and we spent the next 4 hours pretty much in our tents hiding from the hail and rain.
My earlier comment about Erik hiking out in front of Josh hit home on this portion of the hike. Erik had a much lighter pack than Josh and when they would hike out in front of me, Erik would do the same with Josh. I had counseled him numerous times that he should stay within eye sight so they wouldn't get separated, but it didn't seem to matter once the two of them moved away from me. I would find out later that Josh was also telling him to keep closer to him as well. On this day, his eagerness almost got the best of him.
I had talked to both about how our maps didn't show the true location of the new trail. Our maps showed the old trails closer to the Golden Trout Lakes, but from 20 years ago I knew the trail was on the bench above. I also had confirmed this at the Bishop FS office when we got our permit. I pointed out the proximity of where the trail actually would cross and told Josh to always take the trail to the left if in question. After leaving me in their dust, Erik got out in front of Josh and when he came to the first trail fork, he went right. Josh came to the fork and went left as directed. Erik soon realized something was wrong as Josh wouldn't show up when he stopped. Thankfully, he had the whereabouts to back track and he ran into the trail junction, looked left and saw me about 100 yards up the trail. I'm hiking along when I hear him call from behind me. WTF!! His first words were "have you seen Josh." I was quite alarmed, but quickly figured out what had happened. I chewed Erik out a bit and pointed out he had no map or tent and his actions had got him separated from Josh with a storm bearing down on us. I told him to double time it and catch up to Josh who I knew was in front of me as I could see his boot tracks.
My concern now was Josh would get to the planned stopping point, not find Erik and keep going. Fortunately, Josh followed the game plan and was at the spot we set. He was just finishing up letting Erik know his displeasure when I arrived. Erik stuck pretty close to Josh from that point on and I don't think it will be an issue in the future. Please don't get me wrong. He's not a bad kid, just new to hiking and head strong.
The storm killed all hopes of getting to Tomahawk, but we did get up to Lower Deso, which was very low with little water flowing out of it. My camera had died and Joshs got a bit wet which made for some funky shots. This one of the sunset over the HB is grainy with lines, but still a good shot of our last evening.
and I'm not sure what happened to this one or where the pink hues came from. It reminds me of the album cover for Led Zeps Houses of the Holy. OK, I know I'm dating myself with that one (what's an album cover dad?), but that's what it looks like to me.
It rained off and on in the night, but cleared long enough at about 7:00 for us to pack our gear (wet) and head out. It rained a bit on the way back, but never enough that we had to cover up. The trip turned out great and my son is already planning his return. Something about a packer telling him there's a lake nearby that you need a net to handle the fish in it (sound familiar Russ?). I'm doubting it will take another twenty years for me to return as well.
Thanks for the vine folks and get out an go hiking/fishing/climbing/etc/etc!!!!