Some friends at work and I managed to snag the group camp at Saddlebag Lake to use as a base camp for exploring Yosemite. Later, a friend asked to come along on some sort of backpacking trip that didn't go too far but yet provided a good view of what to expect in the Sierras. Combining the two, I decided to backpack through Lundy Canyon over Lundy Pass to Saddlebag where I would meet the rest of the group. It turned out to be an interesting trip, though I suspect that not too many people go completely over the pass. It seems easier to see the 20 Lakes Basin from the Saddlebag Lake side. Given the poor shape of the trail over the pass, I thought it also gave my friend a good look at what a difficult day in the Sierras would be like. Even though it's a short trip, I thought the HST group would enjoy it.
Thursday, September 8, We hit the trail around 11:00 and soon had a good view up the canyon.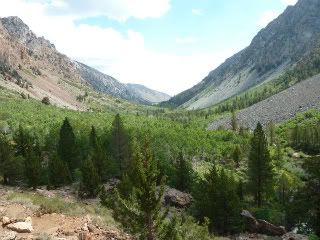 The falls were pretty good….
…and my friend liked the meadows..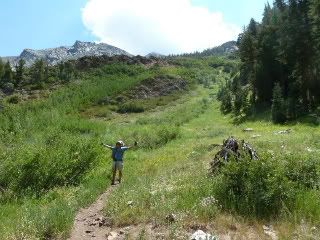 However, once we began climbing the pass proper, the trail began to fade;
I read afterward that the original trail was fading due to the unstable nature of the scree slope that had been built by the miners. This was apparent.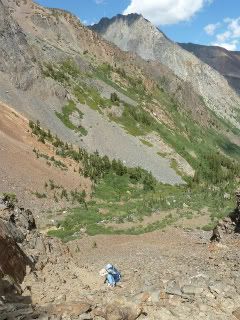 With these conditions, I suspected that the full extent of the trail was not being used. People were getting to the scree, looking at the conditions, and turning around. We saw several groups that did this as we ascended the slope.
The trail finally got off the scree and ascended up a solid rock hogback along these falls.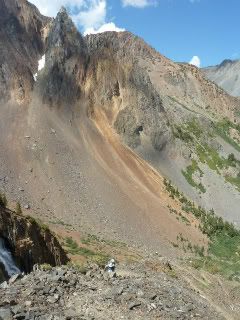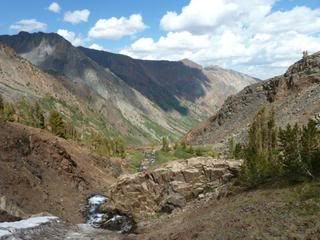 We finally came out near the top.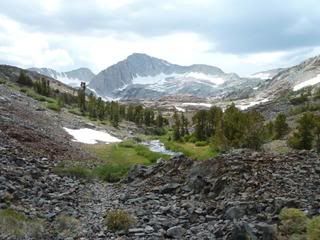 We had a good view over Helen Lake toward Mt. Conness.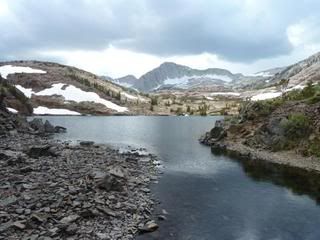 Then we passed Odell Lake.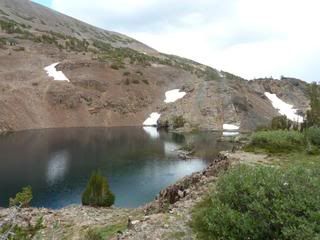 Just as Saddlebag Lake came into view, the hail started, and we hustled down to the lakeshore just as the water taxi came in. Here's a view through the storm.
After some wandering around, I found the group camp and settled down for a well-deserved rest.