Made a short trek into the Dinkey WIlderness with my daughter Rachael and we had a blast!!!
Got acclimated by spending 3 nights at Mono Hot Springs with Rachael and my wife Deb. Very relaxing and not a bad way (lazing around and soaking in hot tubs) to acclimate for a back pack

. On Wednesday Aug 17, we drove over to the main TH and got a mid day (1:30) start. This was only Rachaels secong overnight back pack and her first since 2006, but she is fit and more than willing. We made good time (for an old codger like me

) and were at Second Dinkey by early evening. Heres Rach at our rest stop at Mystery Lake.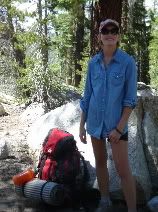 No fish in Second Dinkey (but it is on the recent DFG fingerling plant list), but the sunset looking over South and First Dinkey more than made up for it (the shots dont do it justice)
The next day we headed over to pretty Rock Lake.
The fish were actively rising, and heres Rach trying for her first back country brookie!!!
Success!!!!
We had a bit of a food snafu (dont use organic bagels, they dont last as long as the ones full of preservatives

), so we changed up from heading over to Cliff Lake and opted for a nearby lake full of these little beautys.
Most were cookie cutter 7 - 8 inch fish, but we did manage a couple nicer fish like this one.
We day hiked over to a little lake nearby and had a blast on 7 to 8" bows with some 10" brookies mixed in for good measure!! We both really loved the remote smaller nature of this lake
and heres Rachael working a spinner at the outlet.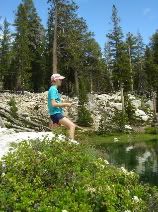 We enjoyed a fire (legal) back at camp
The mosquitoes were getting Rach a bit more than we (she) liked, so we opted out the next morning. That said, we both had a blast and we are planning a longer trip for next summer!!! Hopefully one with less winged demons!!