This is kind of a late report and I almost forgot to put it up here completely. I posted it on another forum earlier so I just copied and pasted again. We started our trip on Friday July 23.
Plan "A" was in the making for months. The plan was to spend 4 days hiking from the Duck Creek Trail near Mammoth to Edison Lake on the west side of the Sierra. Spend a day/night at Vermillion Valley Resort to shower, eat, and resupply. Then we would take 3 days hiking up Mono Creek, over Mono Pass, and exit at Mosquito Flats. Not only would it be our first eastside to westside crossing but we would also do it in reverse on the same trip. Thanks to all the snow and high water crossings this year it just wasn't worth it, time for a new plan. Since we had already sent our resupply buckets to VVR and none of us had hiked the westside we decided that is what we would do.
Plan "B"
Drive to Huntington Lake to camp for the night and in the morning walk into the permit office and just ask what was available. We got lucky and permits were available for Dinkey Lakes. We bought a TOPO map and headed for the trailhead. We were told and found it to be true that there was a tree across the road about a mile before the trailhead so we had to hike the extra distance. The trail was not in the best of shape with trees down and some stretches of snow but we made it to Mystery Lake and set up camp.
Cool rock formation on the hike in.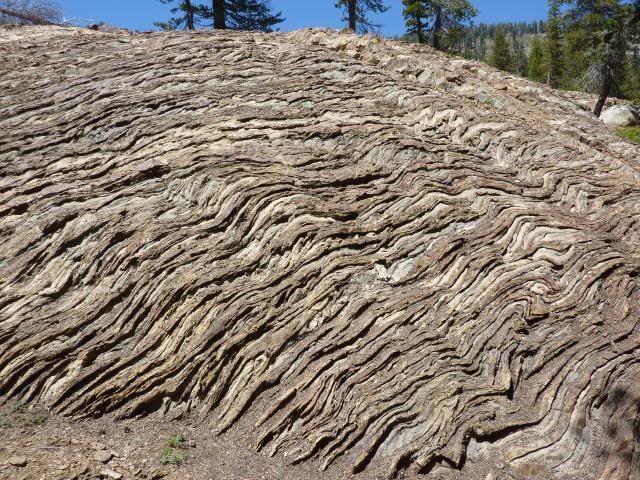 Waterfall we passed on the way.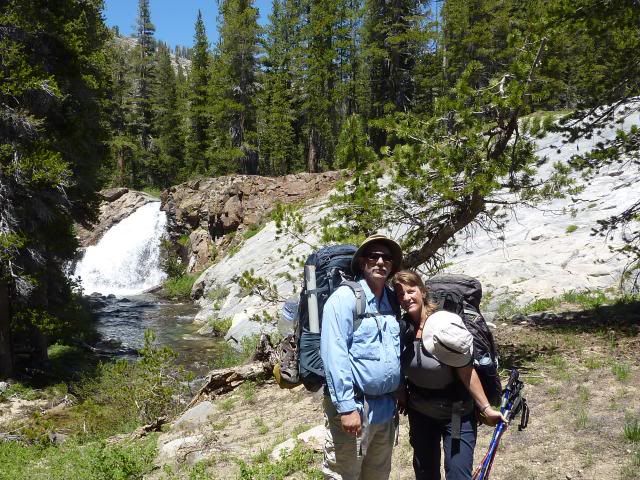 We decided to camp at Mystery Lake and dayhike to some of the other lakes. As soon as camp was set up the boys got there rods and headed for the lake. Everyone caught a few brookies but it was kind of slow and we were ready to go back and eat dinner next to the campfire.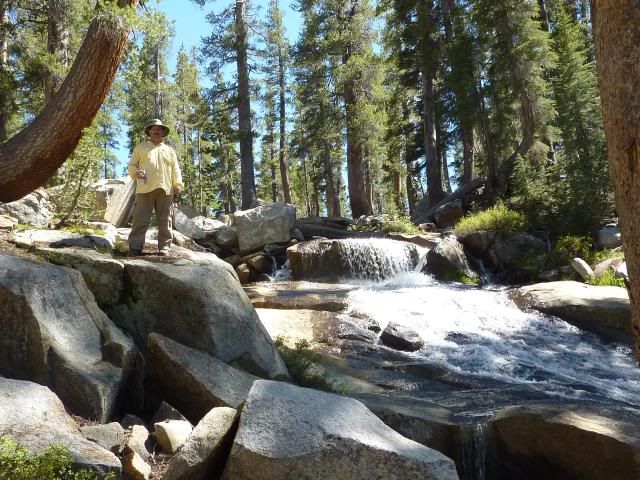 Deb and I next to Mystery Lake.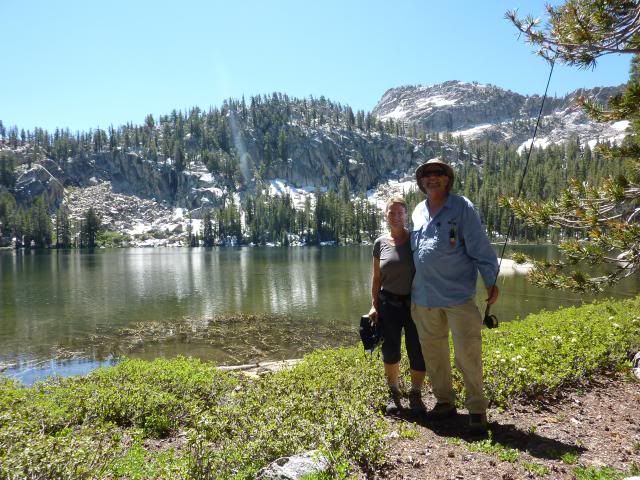 Sunday morning we dayhiked up to two of the upper lakes, Swede Lake and South Lake. The trail between the lakes was steep but short and the fishing was good in them both. I did manage to catch a nice bow about 13" at Swede Lake but Debbie was somewhere else with the camera. That seemed to be the theme of the trip. Everytime I caught a really nice fish she had the camera. Thats my story and I'm sticking with it!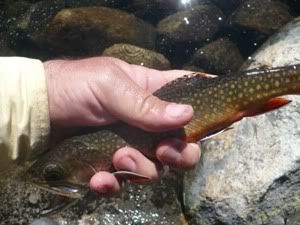 Monday Mark and I fished Mystery Lake while Vince, Tania, and Marshal dayhiked the loop. All afternoon on Monday we had a visitor around camp. This cute little doe hung out at camp with us and kept circling the camp just as tame as she pleased.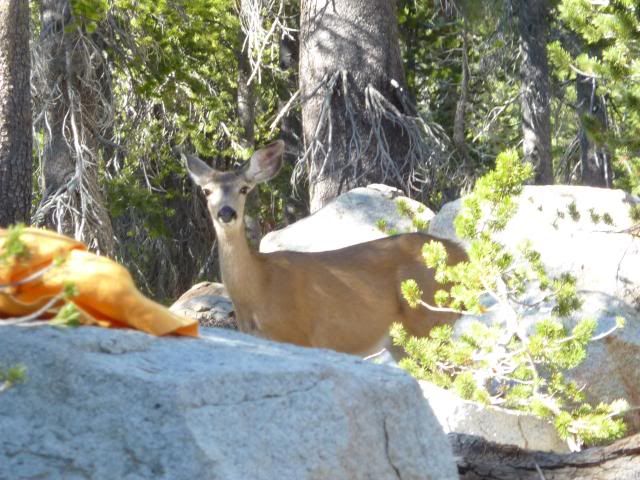 We also did our laundry.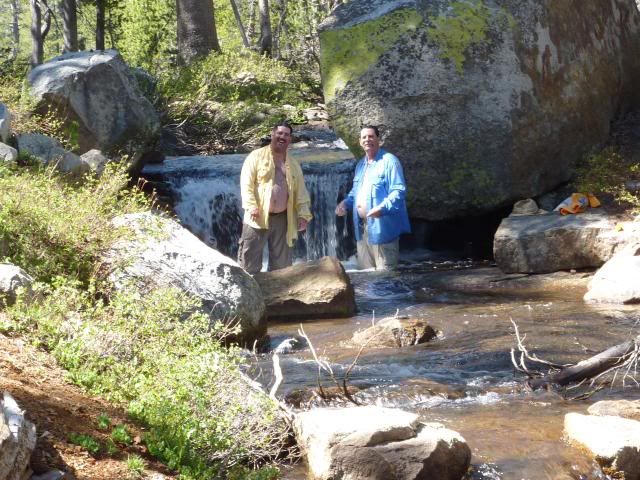 Tuesday it was time to put plan "C" into action. We hike out to the truck then drove back to the permit office and got a permit for the Devils Bathtub Lake. The trailhead for Devils Bathtub is near VVR where we needed to P/U our supply buckets. The road to Edison Lake is just like everyone says, 21mls of one lane paved mountain road and I loved it. Beautiful country and felt like we were headed deep into the wilderness, which we were. Edison is a very big lake and I thought that VVR was just awesome. A small little mountain store, restaurant, and showers for $6. The guy told us we could camp in the backpackers camp for free and after our showers I had the best steak dinner that I can remember. The next morning we hit the trail early for Devils Bathtub. The first half was really pleasant but the last half seemed to go straight up the steep mountainside.
Devils Bathtub Lake
Again we set up camp and grabbed our rods. As soon as I walked up to the bank I see a nice 13-14" rainbow and cast to him. He took it in a flash and wrapped me around a rock, snap! We caught a ton of brookies but no more bows that afternoon. Wednsday Marshal, Debbie, Vince, and Tania climbed to the tallest peak near the lake, something like 11,500ft while Mark and I walked around to the inlet. My first cast and it was fish on for little brookies. We caught fish after fish for the next hour. Often we both had fish on at the same time. Mark had his first double. The bite turned off and we fished our way back to camp catching lots of fish. I finally caught another nice bow about 13".
Mark with one of the cookie cutter brookies.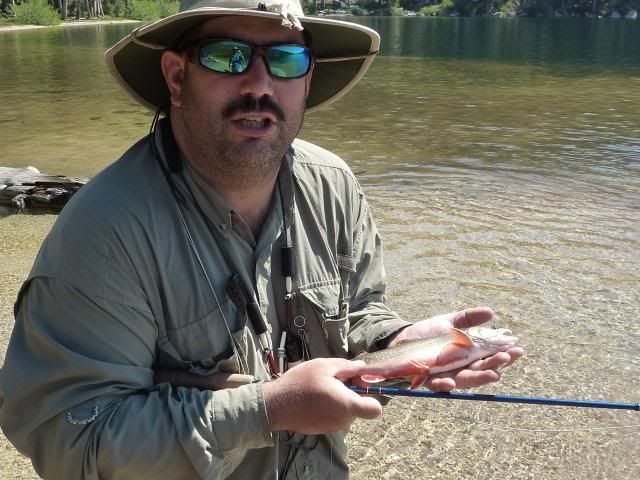 One of the 2 sets of doubles I caught.
By the time we left I think everyone had managed a couple of the nicer rainbows but this one of Marks is the only picture I have.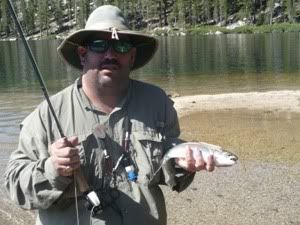 Friday afternoon the clouds moved in and the rain and hail came down for a couple hours. Mark, Vince, and I stayed out in it while the others hid in the tents. The rain wasn't very hard and the hail was great to watch.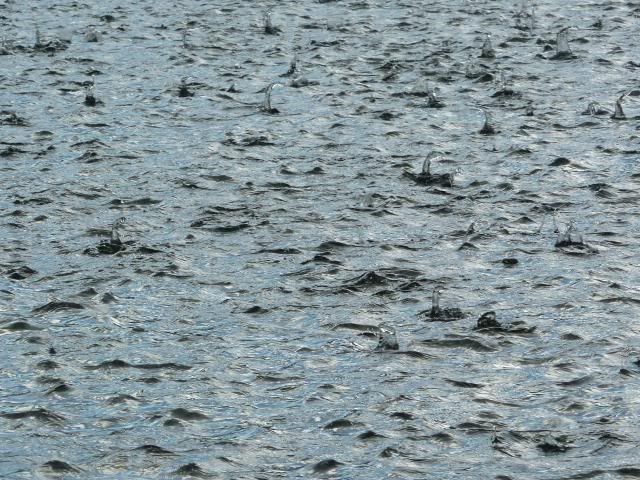 Saturday it was back to the real world and work.