August 27, 2010
Another beautiful dawn . . .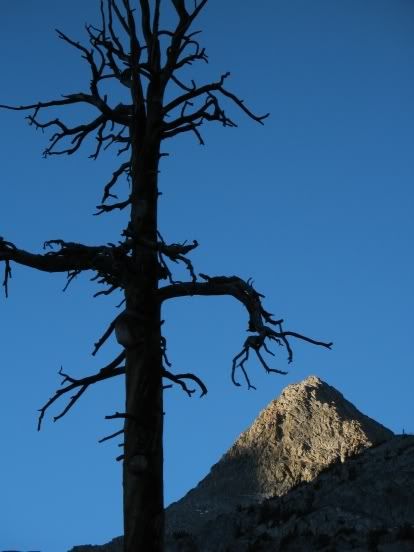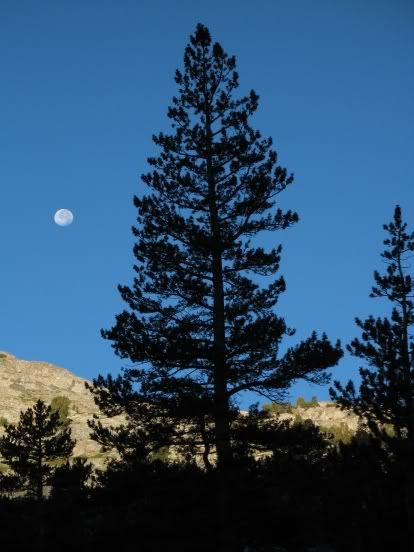 We left camp at about 8:30, following the use trail up the canyon towards Martha Lake. Our packs felt so light! Andrew shot ahead, with instructions to wait for us (in a prominent place so we could see him!) at Martha Lake. The trail soon became faint, then disappeared. All three of us took different routes. Forgetting the route we took a few years ago, when we came down from Confusion Pass, I stayed to the right of the outlet stream and tried to guess where the use trail would be. It would have been quicker and more direct to move to the left of the outlet drainage, but no matter -- I worked my way around the lake and easily spotted Andrew sitting on a boulder reading his Tolkein, buffeted by a stiff wind. Van soon joined us and we traversed past the lake and up to the interesting area at the mouth of Goddard Pass, which is full of unusual, geologically interesting rock.
Martha Lake
Van considers another trophy for his rock collection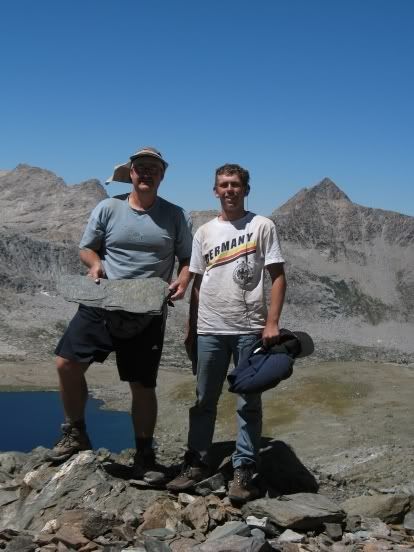 We worked our way up to the little lake just below the col and were surprised to see so little snow there -- last time we were here, about the same time of year, the snowfield was twice as big.
We did get this shot:
By 2:30 we were on top of the pass, enjoying one of my favorite vistas in the Sierras.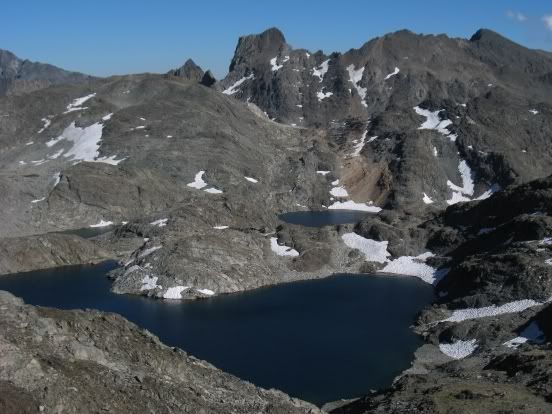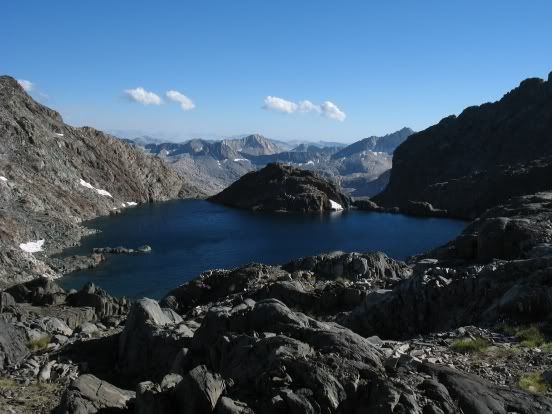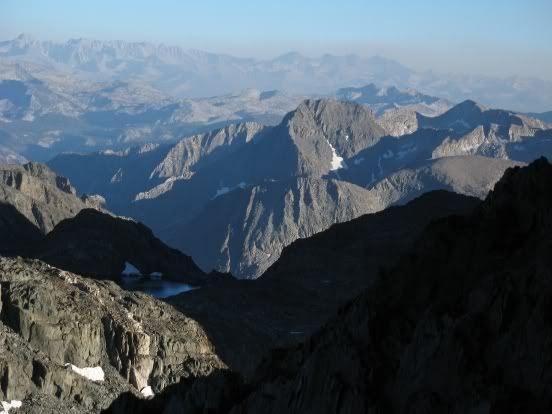 We found a decent place to camp just above the high lake directly below and SW of Mt. Goddard (elevation approx. 12,320). It was windy, but the site offered some shelter.
Here's a picture of Mt. Goddard, with our camp in the distance (to the left of the isthmus and above the snowfield.)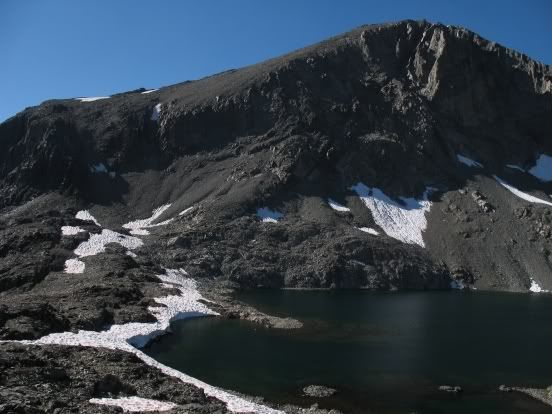 Looking NE from our camp: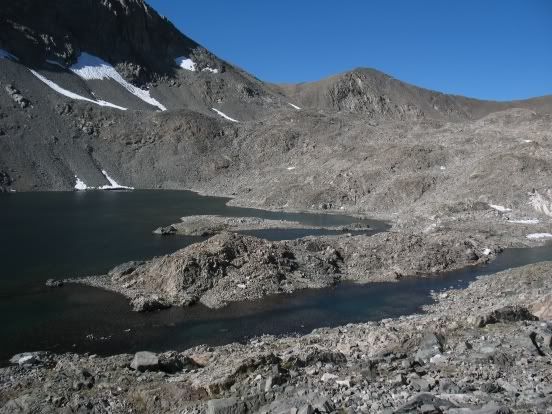 I spent two days here in 1975, on my first ever cross-country trip, and have fond memories of this place.
Spectacular sunset views: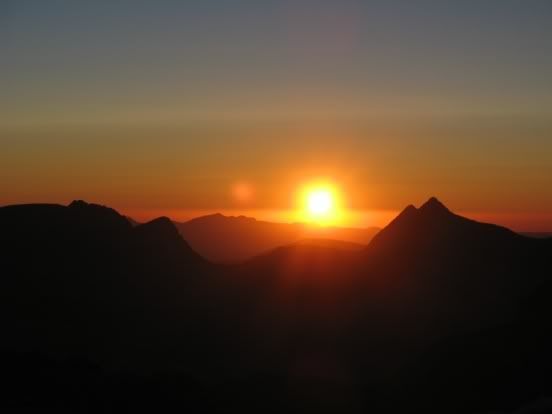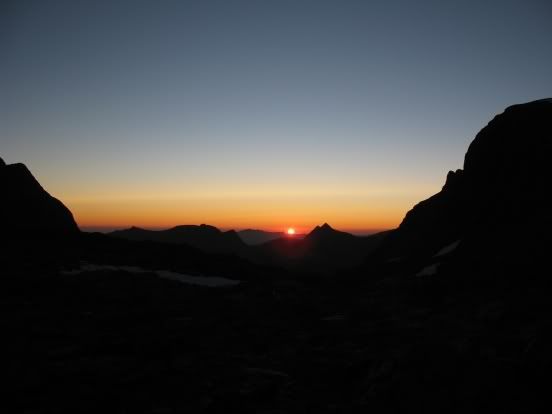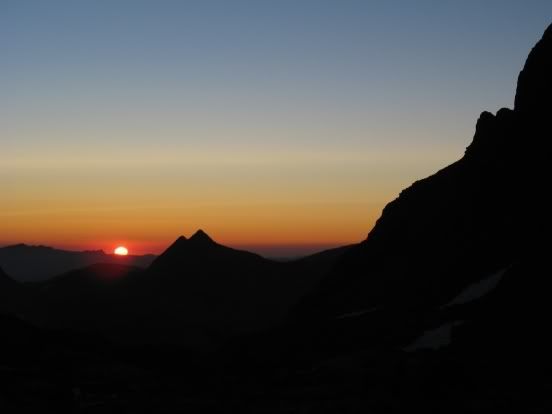 August 28 (Day 11)
Our morning goal: Mt. Goddard via the SE chute and south ridge. The "x" marks our campsite and the yellow line shows our approximate route. (I had climbed Goddard via the NW shoulder years earlier, but Van assured me this was the easier route. He forgot about the short section of class 3 scrambling that separates the south summit from the higher north summit.)
You can tell this is a popular route -- enough climbers have used the route to create a trail of sorts in the steep and loose chute. You can also make out faint traces of a path as you make your way up the Goddard shoulder. We were on the south summit in 90 minutes. Van scrambled over to the slightly higher north summit and signed the register. Andrew and I were content to forego the exposed class 3 scramble. We kicked back and enjoyed the awesome view.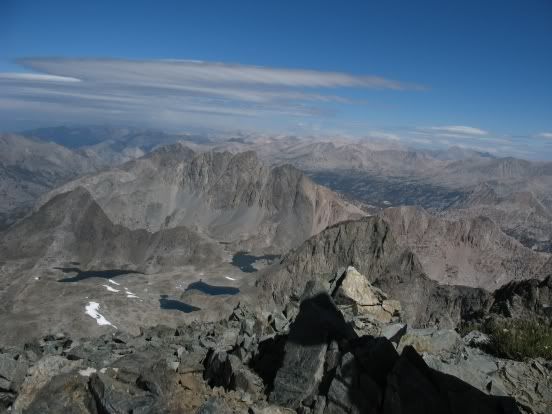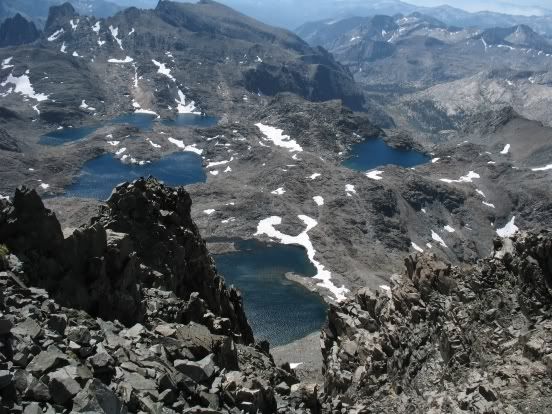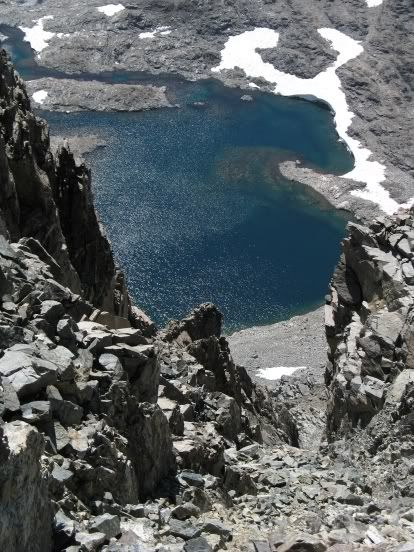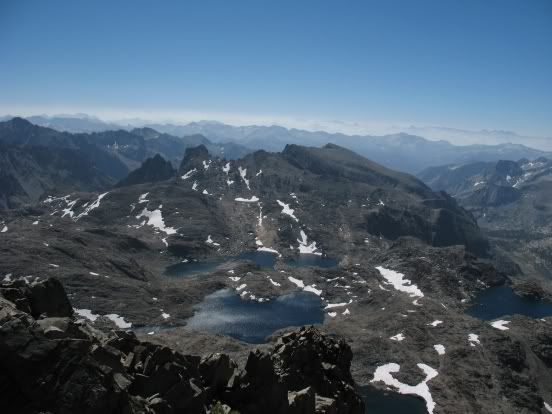 That's Mt. Humphreys in the distance:
Then we headed back to camp, packed up, and were on our way down Ionian Basin to our next camp, Lake 11,592, the lake just below Solomon's Pass. Under increasing cloud cover we made quick progress down to the largest of the Ionian Basin lakes (approximate elevation 11,920), then worked our way up to the northern end of Lake 11,824. It took us almost an hour to pick our way around this lake and down to Lake 11,592. Under a threatening sky, we found a sheltered site near the east end of the lake. All three of us set up our tents (we improvised for Andrew, making a serviceable tarp tent out of Van's 1/2 tube tent, which he had been using as a ground cloth, and cutting Andrew's damaged tube tent into separate, smaller ground cloths). The clouds remained all night, but rain eluded us.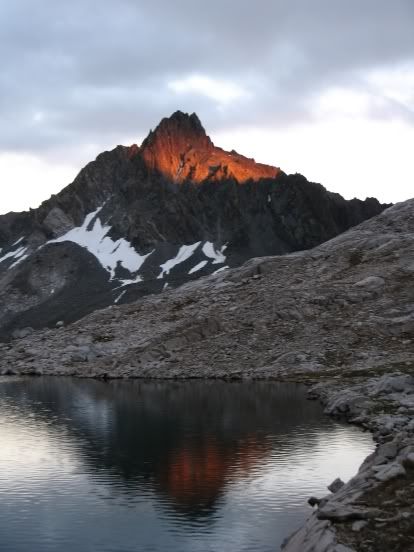 Our campsite at dusk ("x" makes the spot):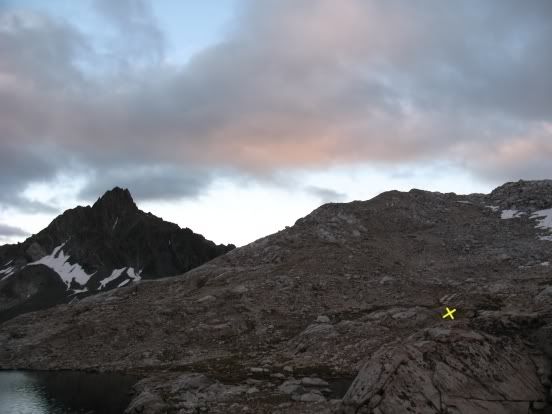 August 29
Clouds still filled the sky when we woke up the next morning, always an ominous weather sign in the Sierras.
Filtered sunlight caused mist to rise up from the lake:
Under increasing cloud cover, we hiked down the steep drainage to Chasm Lake . . .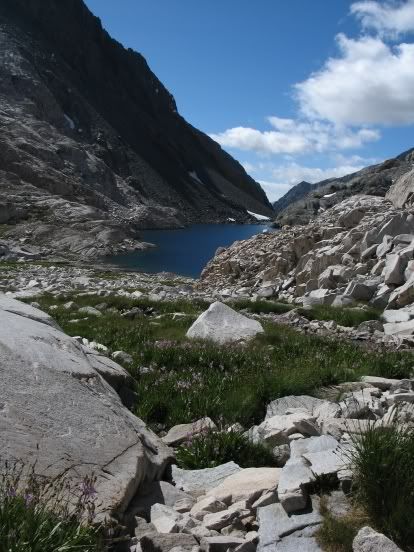 . . . then up to Black Giant Pass.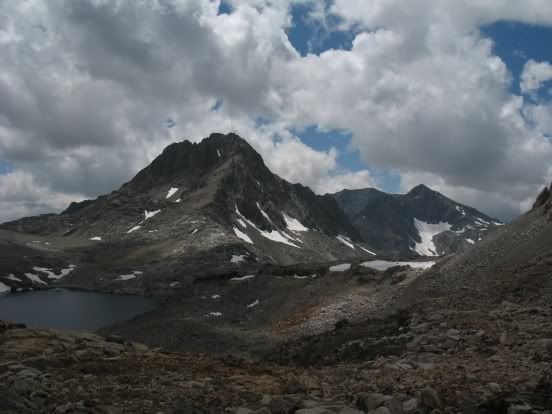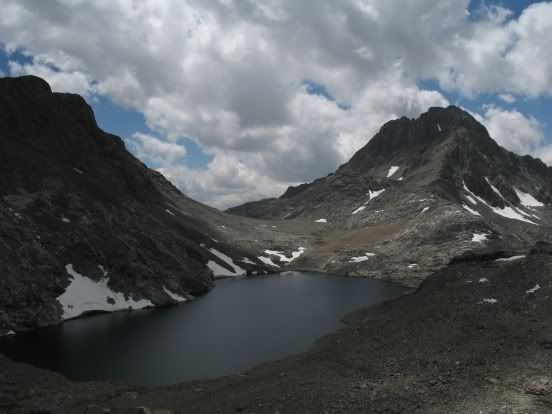 Andrew and Van were chomping at the bits to make time down to Le Conte Canyon. After a trailside rendezvous below Helen Lake, they literally began running down the trail, happy to be unfettered from their slow dad/brother. Corny snow began to fall. I plodded on, stopping at the lake below Echo Col to put my poncho on. Hours later, I finally rejoined Andrew and Van in Little Pete Meadow, only a half mile from the Dusy Basin junction. It continued to sprinkle (some snow, some rain), so we all put our tents up.
August 30 (Day 13)
We woke up to a clear sky and condensation in all our tents.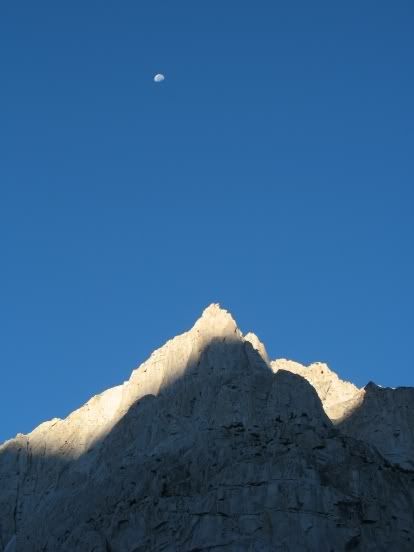 It was cold enough for the water bottles to freeze, even at this low elevation.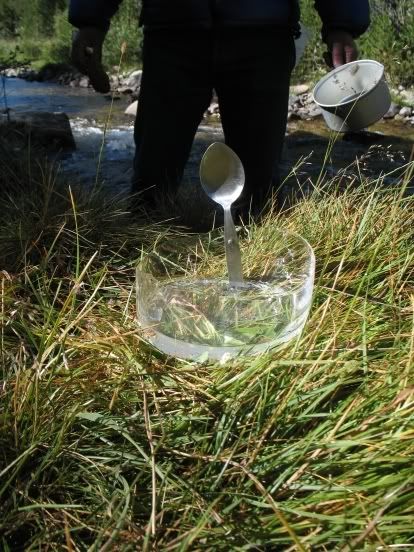 Down in the canyon where we were, the warm sun didn't reach us until 8:45. Once the sun worked its magic, we broke camp and were on our way up to Dusy Basin.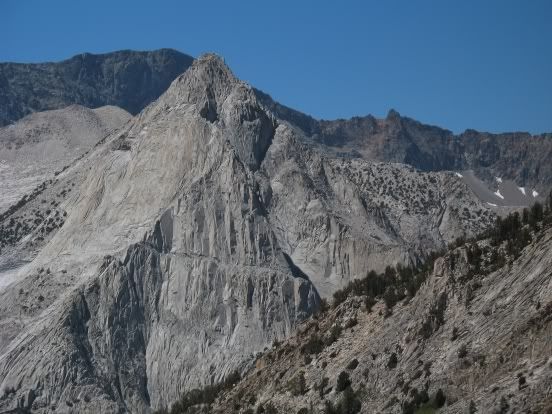 We camped next to a stream not far from one of the high lakes below Isosceles Peak.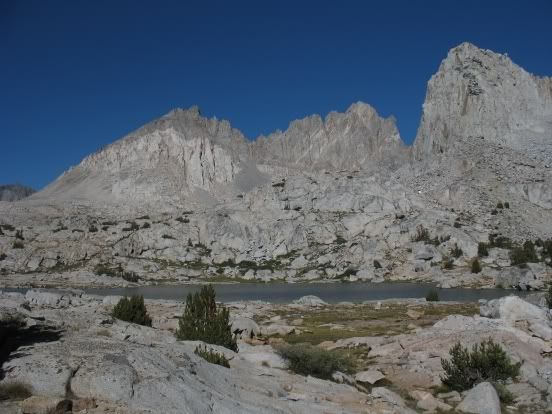 Dusy Basin, so close to a major trailhead and so overused, is stunningly beautiful, a fitting place to spend our last night in the backcountry this year.
Van went up to the high lakes after dinner and got some great shots: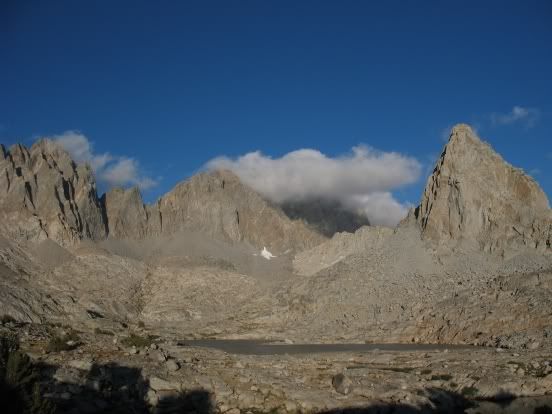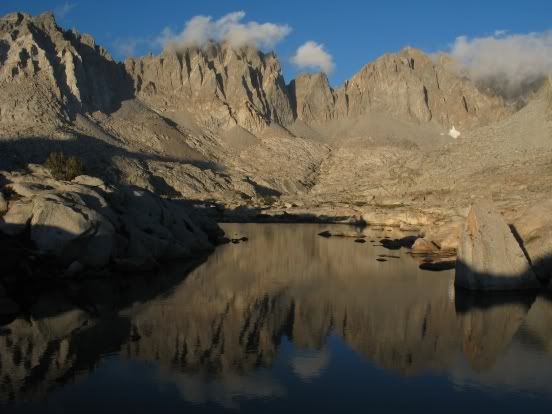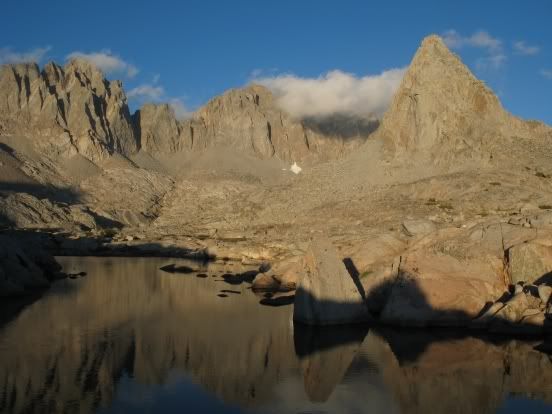 August 31 (Day 14)
We were out of camp by 8:30, on the pass in 90 minutes, and at South Lake before 2:00.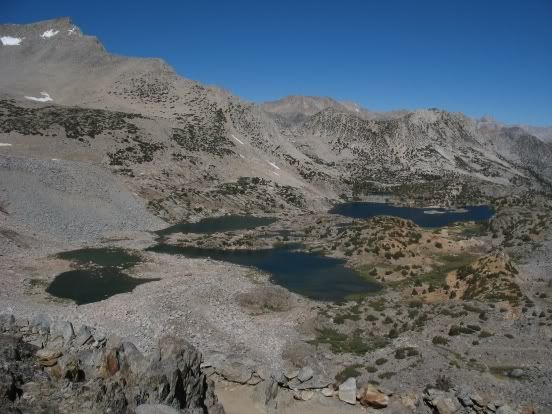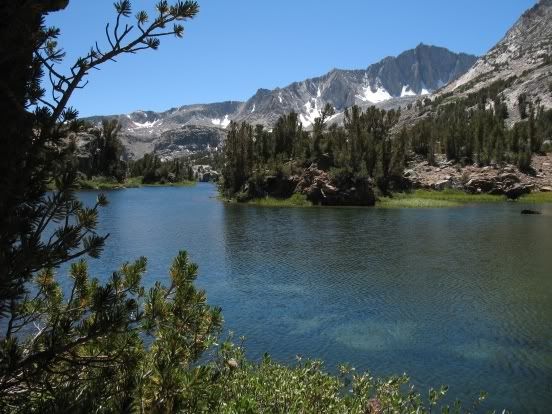 Then, after a quick hitch back to North Lake to get the car, it was back to civilization -- a savory special of grilled steak and a Dos Equis at the little Mexican restaurant next to the Subway in the strip mall just north of town -- and a long, long drive home.
Can't wait to get back up there next year!