August 24 (Tuesday)
Yet another splendid sunrise on this seventh day of our hike.
We broke camp a little after 9:00 and were on our way back up the basin, reaching Ursa Lake by about 10:00. Surprisingly to us, we came across yet another pair of hikers at Bearpaw Lake. Where were all the people coming from?? We stopped at Bearpaw for water and photos, then continued up the drainage to Feather Pass.
En route to the upper basin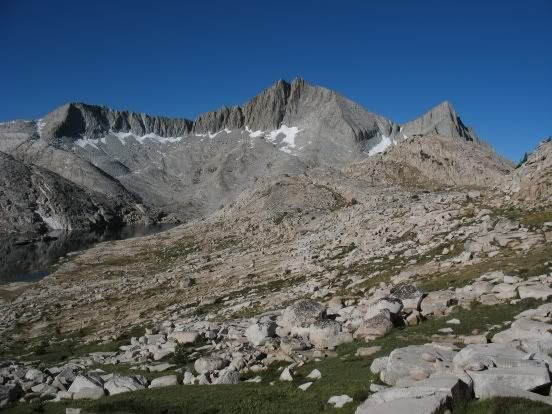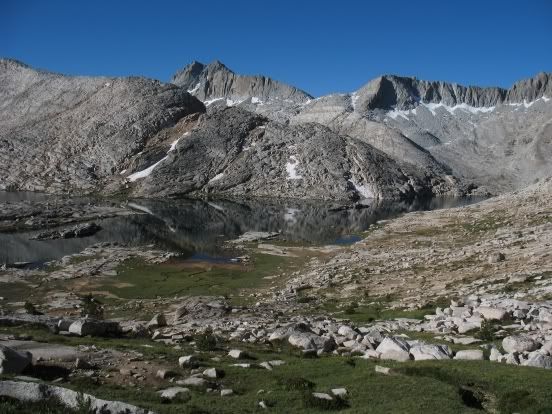 Bearpaw Lake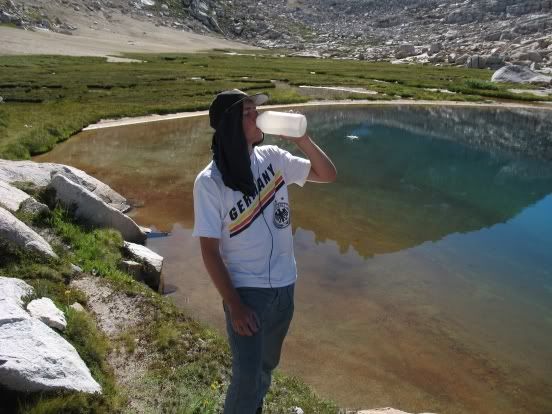 Lots of boulder hopping; only the last 100 feet was steep and this was moderate class two. We avoided a snow field and found a system of ledges. By 12:30 we were on top of the pass.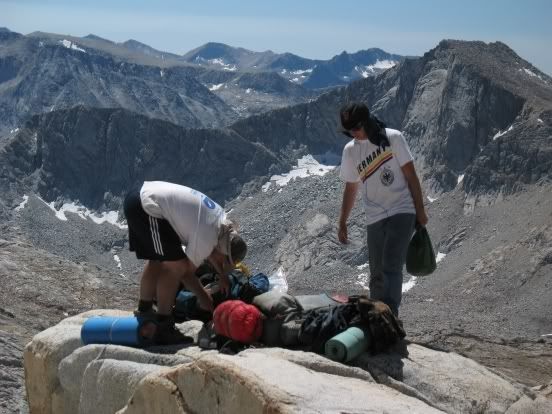 The view down to La Salle and Merriam lakes:
But we were not alone for long. A group of five or six women, one man, and two adorable dogs soon joined us, coming up from La Salle. We took a few group photos for them and they returned the favor. One dog, an young and friendly Husky, decided to cool down in the snowfield. Awwww!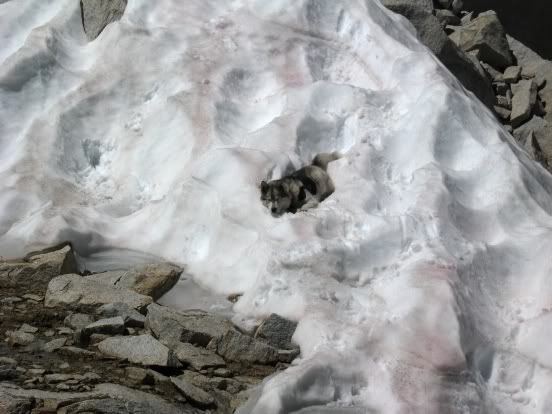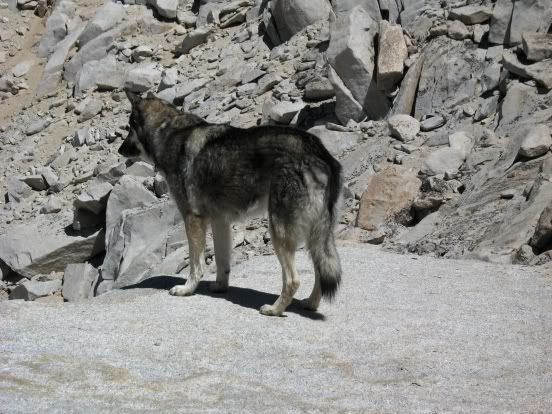 Soon we were heading down to La Salle. Van and Andrew were moving much more quickly than me and we chose different routes down. I followed the drainage stream that leads all the way to LaSalle Lake, sometimes walking in the stream bed itself. (The going was easy). No sign of Andrew and Van here, so I walked the length of the lake, then continued down the drainage, finally cutting across the easy terrain that leads to the last little lake above Merriam Lake. Still no sign of Van and Andrew. I worked my way to the ridge that overlooks Merriam Lake, then to the stream that flows steeply down to Merriam, but no Van and Andrew.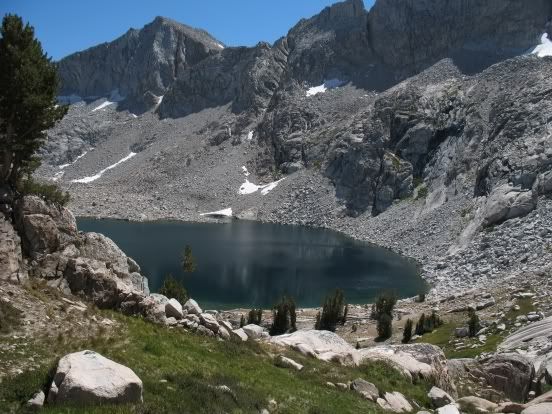 I located the steep use trail that leads down to Merriam and followed that to the lake, expecting to find Van and Andrew waiting for me there. Could they have gone ahead?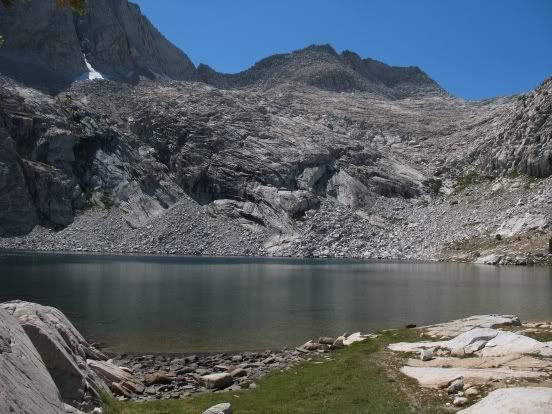 I shouted for them, but got no response. So I continued down the faint use trail, finally dropping my pack about a quarter of a mile SE of Merriam Lake. I looked around, hoping to run across the others. Then I heard a shout, or so I thought. I shouted in turn (but got no response) and made my way back towards Merriam Lake (without my pack). Finally, back at the lake, I came across Andrew. With the wind and all, they had not heard me. They had been waiting for me up at La Salle Lake and were worried that I had fallen. They even went up to search for me, finally giving up and coming down to Merriam Lake. They had not heard my shouts. Now they called me Mr. Magoo. But that works both ways, right?
Reunited, we followed the outlet stream to the meadow above the switchbacks, which our old 15 minute map showed was on the left (SE) side of the creek. Sure enough, at the far end of the meadow we picked up a nice use trail, faint at first but soon very clearly defined. In a matter of just a few hundred yards, this trail changed character, becoming a series of steep, well defined switchbacks that took us quickly all the way down to French Canyon. Then suddenly the trail disappeared. It was the weirdest thing. We walked blindly towards where we thought the main French Canyon trail would be, and there it was, only a hundred yards from where the Merriam Lake trail had disappeared. We couldn't figure out why our trail wasn't marked -- there was no sign at all where we intersected the French Canyon trail, not even a cairn.
Tired and eager to find a camp in Hutchinson Meadow, we hurried down the trail. Soon we figured out the mystery of why our Merriam Lake trail wasn't signed. We crossed the Merriam Lake outlet stream and not far on the other side of this stream is a nice sign indicating the trail up to Merriam -- rerouted to the west side of the stream. It's probably been like this for decades, but my old map (surveyed in 1953) didn't know any better, nor did the abandoned trail, still in darn good shape!
We found what we thought was a secluded camp site off the trail, about 1/2 mile below the junction with the Piute Pass trail, on a granite bench above the creek. It is a pretty spot, with granite ledges we used for chairs and a counter for cooking.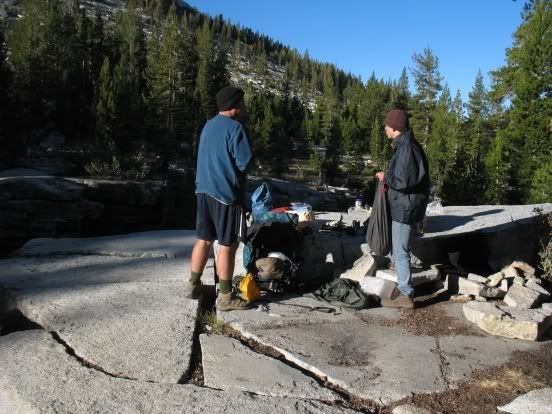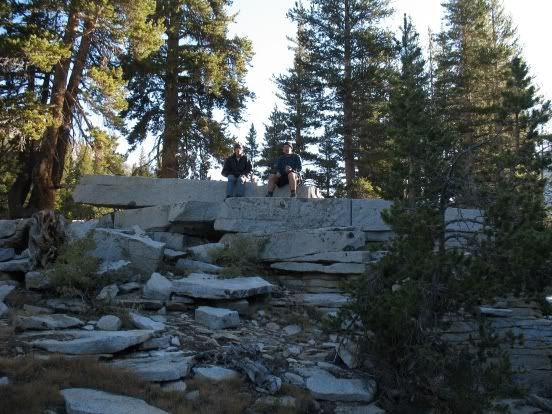 Just before dinner, a group of two young men and their father walked by and set up camp not more than a hundred yards from us. In less than a minute the dad was over at our camp telling us about a dead horse just down the trail (what are the chances of two dead beasts of burden in one hiking trip??). Yuck. An hour later he was back, wanting to know if we could spare some white gas and a little food. They were short. But we had no white gas (we have MSR PocketRockets that use isopropane canisters) and we still had seven days to go, so could not spare any food. Trail bums or just poor planners, we couldn't tell. The dad told us a story about how another hiker had let them raid his secret backcountry cache of food just a few days before. All this left us a bit uneasy and we kept a watchful eye on our gear. But all was well in the end -- they were tired after the hot hike up Piute Creek and turned in early and we didn't see them again.
There was indeed a dead horse on the trail, with a big chunk of his side and thigh munched on. Van wondered if it was the work of a mountain lion.
August 25 (Wednesday)
Half way through our hike, Day 8 was a transition day for us, an easy downhill hike to the junction of Piute Creek and the John Muir Trail, setting us up for our next cross country route in the Goddard area. This is normally a hot hike but an early cloud build up kept the temperature moderate. Andrew raced down the trail, with instructions to park himself at the bridge across Piute Creek, then we would claim a campsite near the creek, do some laundry, and bathe. But when I got to the bridge at noon, there was no sign of Andrew or Van. I loitered a few minutes on the bridge, then made my way to the campsite Van and I had agreed to camp at. I tied a nylon cord to one end of my jeans and the other end to a tree and threw the jeans in the turbulent water (my personal method of doing laundry) and did the same for my nasty t-shirt. While this laundry was running, I sat down for a bite to eat. Then Andrew showed up, wondering where I had been. He claims he was at the bridge, performing his role as sentry, but I think in fact he must have curled up with his book in the shade under the bridge, well hidden from any passers by. He says he saw me and waved, but kept on reading. Van had gone out to scout the area, finding another campsite he liked better. Another Mr. Magoo moment for all of us.
Reunited, we sat down to munch a lunch and rehydrate. Andrew put his clothes in the laundry too. We all took a dip in a granite pool. It was nice change of pace to be at low elevation again. Cloud cover continued to build. I set up a clothes line and we removed our clothes from nature's washing machine, wrung them out, and let them dry on the line. Despite the increasing cloud cover, the air was warm and we still had plenty of sun. It felt so nice to be clean again!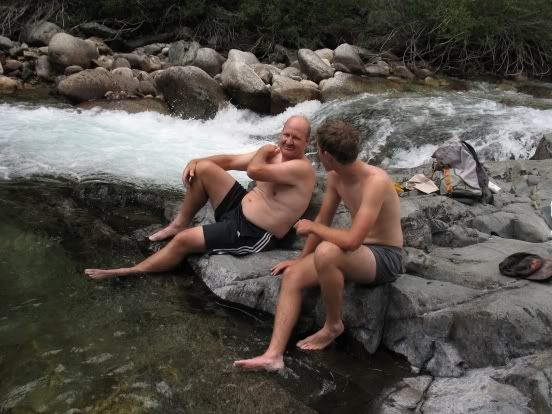 Towards dinner time, we moved to a more secluded camp on the uphill side of the trail. A few drops of rain fell, but the weather held off and we were treated to another glorious light show.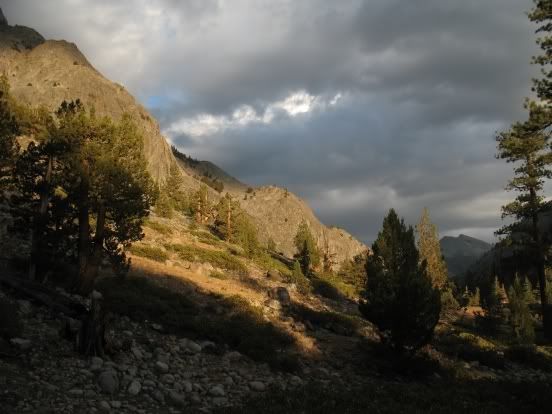 August 26 (Day 9)
We left camp at 8:00 for this day of trail hiking. By 9:45 we were at the JMT/Goddard creek junction.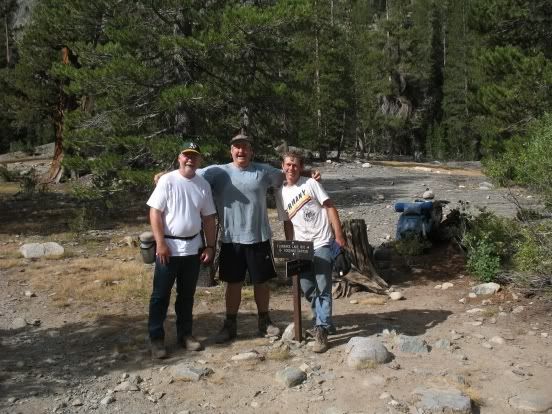 We continued up the Goddard Creek trail, one of the more under-appreciated routes in the Sierras, full of canyons and waterfalls and impressive granite walls. We stopped for photos at the first of several waterfalls: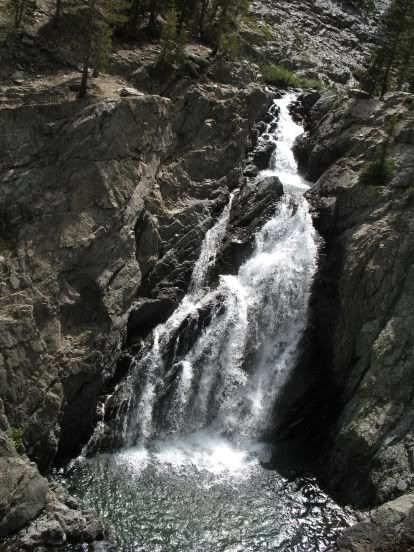 A mile or so further up the trail, we came to another: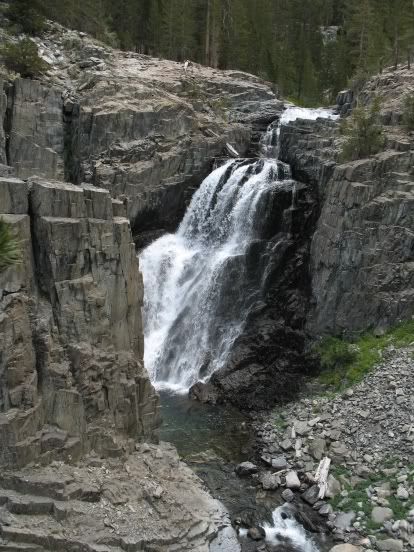 We camped at the head of yet another waterfall, this one a little upstream from the Hell-for-Sure Pass turnoff. This was a splendid waterfall, easily missed by most hikers working their way up the canyon. It made a great campsite.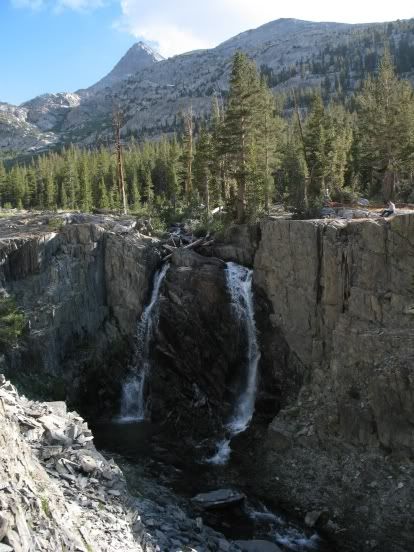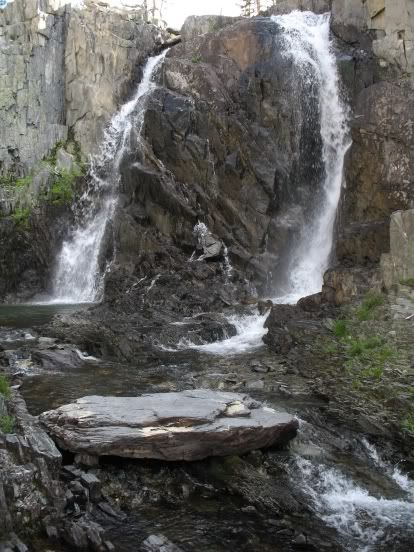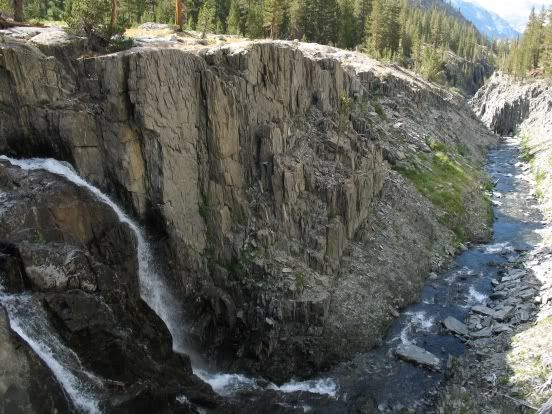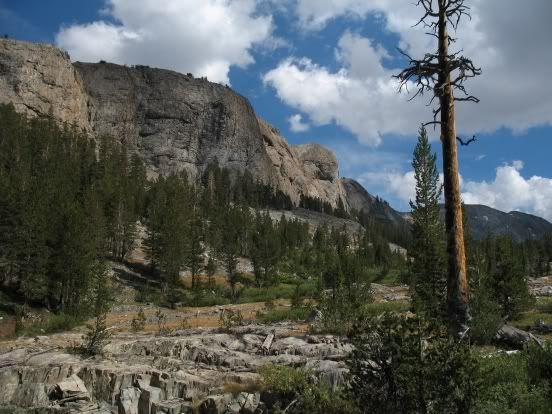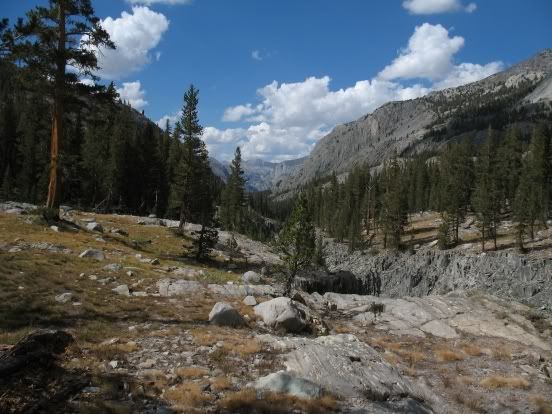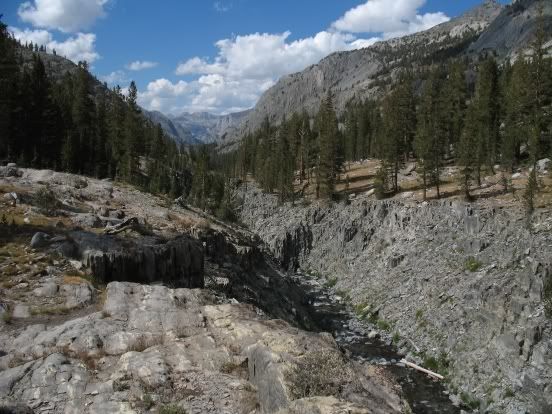 (to be continued)