August 22, 2010
We woke up early to a colorful sunrise and the promise of a nicer day.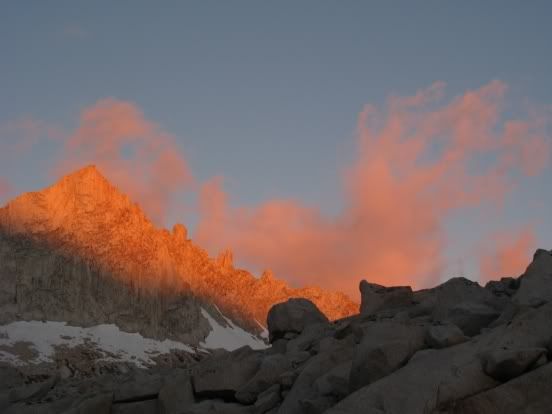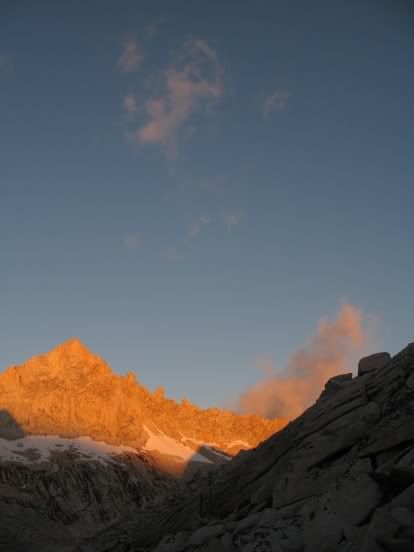 It was still breezy, but the wind was not nearly as harsh as it had been during the night. We surveyed the damage done to Andrew's tent, ate a quick breakfast, swiftly packed up, and were on our way to the upper lake by 8:30. It was so nice to see a bright blue sky again!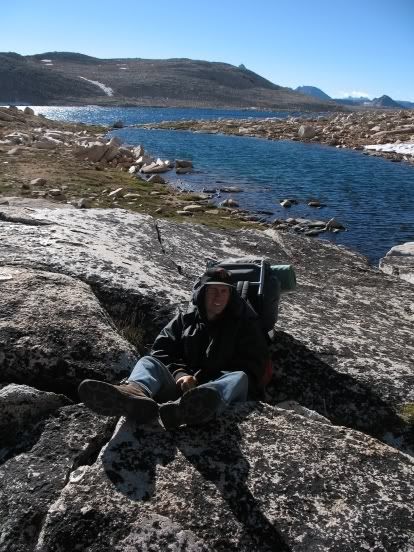 By 9:30 we were on top of the unnamed pass, looking down a gentle snow-filled chute leading into Granite Basin.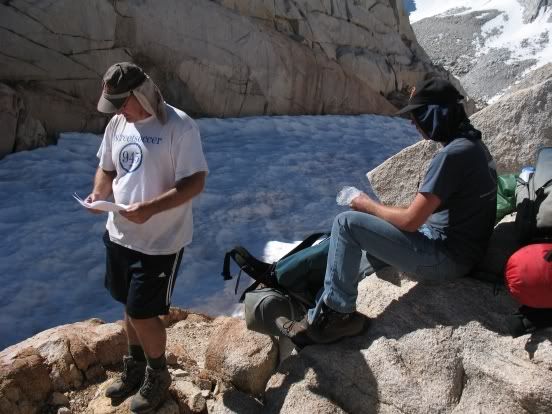 Rather than travel through the chute, which was hard and slippery at this early hour, we walked beside it (on the left side) for a ways, then walked down a sidewalk of granite slabs to the lake below.
We intersected the Italy Pass trail just NE of this lake, then headed up to the pass. This portion of the trail is very scenic, but we saw several groups of hikers, which surprised me.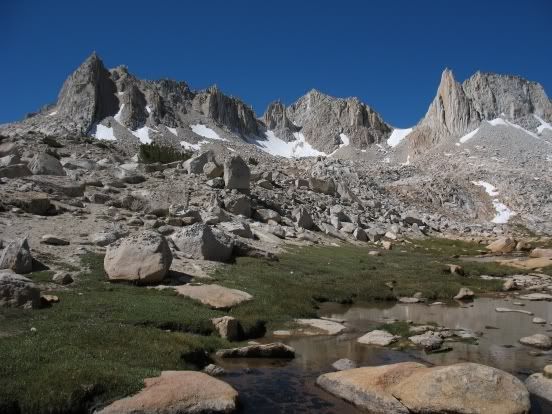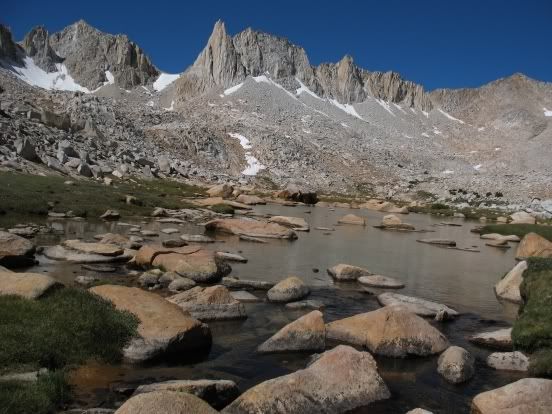 The trail soon disappears, but the general route up to the pass is easy to make out.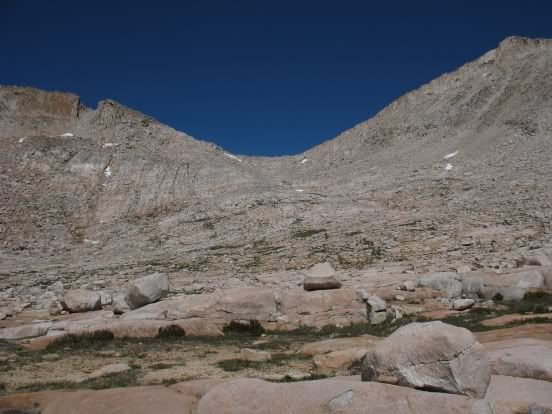 It was windy up top, but the sky was cloudless. We saw two climbers up on Mt. Julius Caesar.
From the pass, there is a good view of Jumble Lake and, across the Lake Italy basin, Mt. Hilgard.
Our next objective, White Bear Pass, can be seen here in the distance: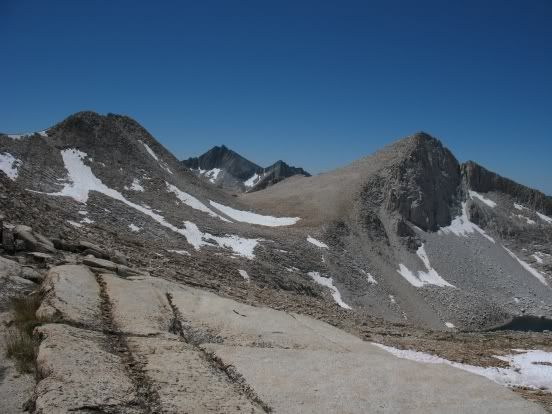 From Italy Pass, we traversed over to White Bear Pass and were at the overlook just above White Bear Lake by 2:30.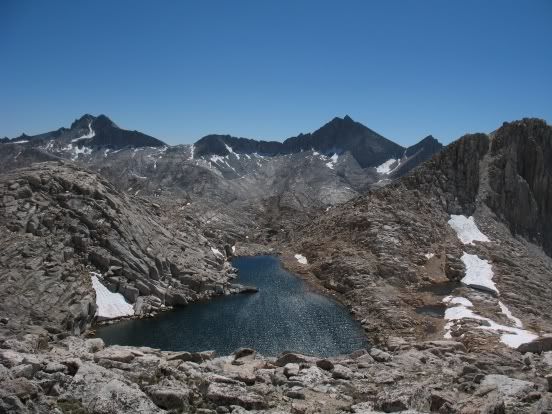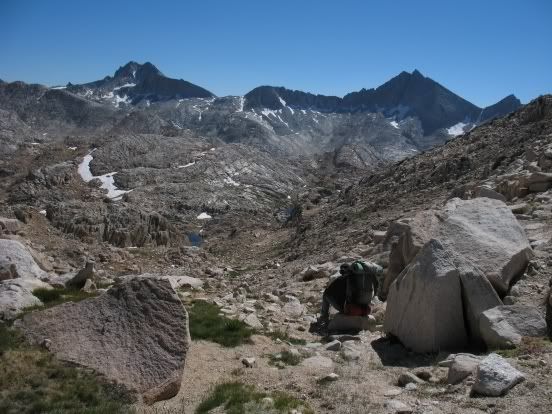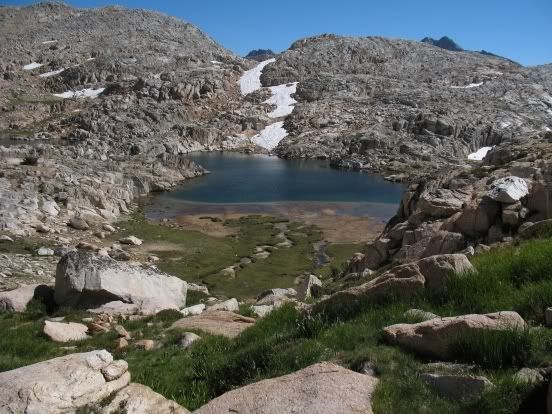 Cross country travel is easy in this photogenic, intimate basin of high lakes. We scurried down the steep scree slope to White Bear Lake, then began looking for a campsite I like at a small tarn in the area (the campsite offers a magnificent view). By the time we got to Big Bear Lake, I remembered that this was the wrong way to the tarn, which is reached from White Bear Pass via a grassy chute to the left of the steep scree slope leading down to White Bear Lake. Oh well, the best laid plans . . . .
Too tired to reverse our course, we headed down to Little Bear Lake and found a sheltered campsite there.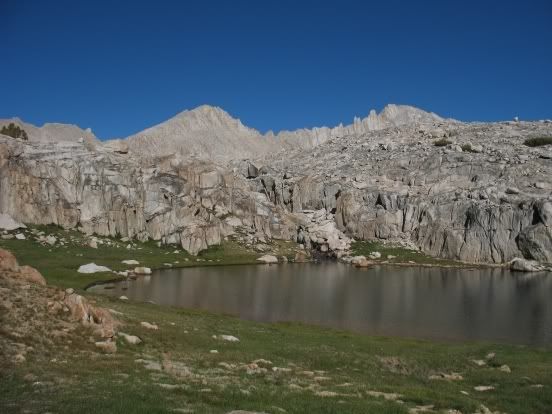 Van took off with my camera during the "golden hour," exploring the area and finding some lovely sunset views.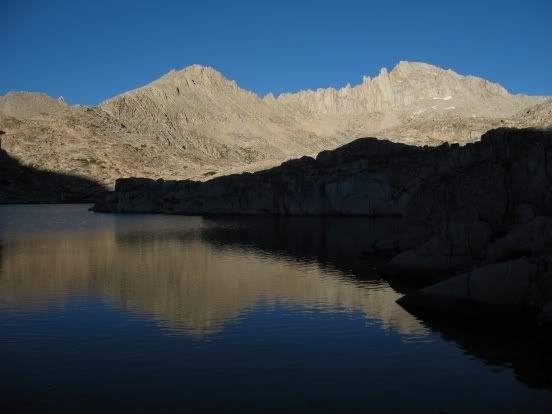 We enjoyed a wind-free night of restful sleep.
August 23, 2010 (Monday)
Another exquisite morning sky: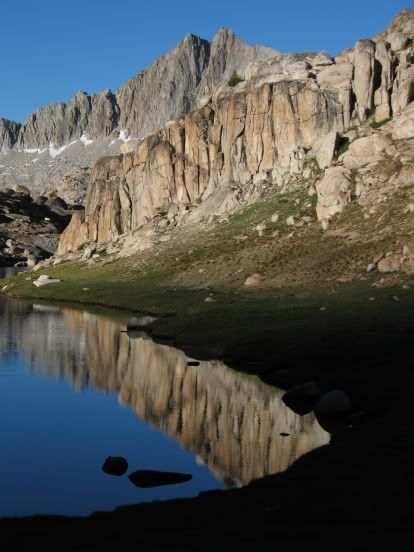 We moved camp this day to Vee Lake, less than an hour's hike from Little Bear Lake. As we were breakfasting, two women hikers walked into our camp, on their way to scout out a route up Seven Gables. This was "calipidder" (of High Sierra Topix fame) and her climbing partner, who we had seen the day before climbing Julius Caesar. We chatted a few minutes before they left for Vee Lake.
The hike down to Vee Lake is easy and offers terrific views of the Lake and Seven Gables.
We found a nice spot to camp above the lake toward the outlet, with great views of the lake and surrounding peaks.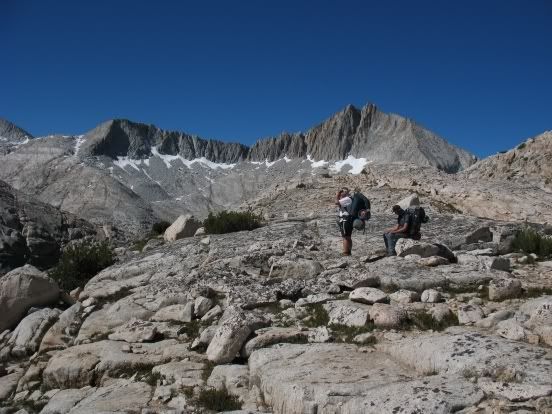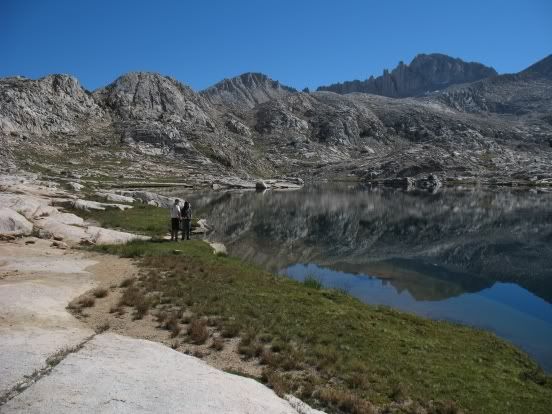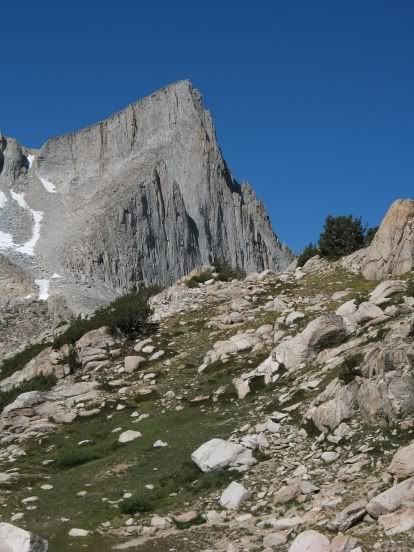 The chute you see in the middle of this picture is the route up to the summit of Seven Gables. We met an older man here (in his 70s) hiking on his own. He was camped on the Vee Lake peninsula. He told us this was one of his favorite places and he was determined to see it one last time this year, before he hung up his hiking boots for good. His knees were creaky and sore (he said), but we were impressed -- he was doing an ambitious cross country route. He assured us the chute up to Seven Gables was easier than it looked.
This day was sunny and hot, with very little air movement. Andrew and Van enjoyed a swim while I found a shady spot for me and my second book (
Serena
by Ron Rash).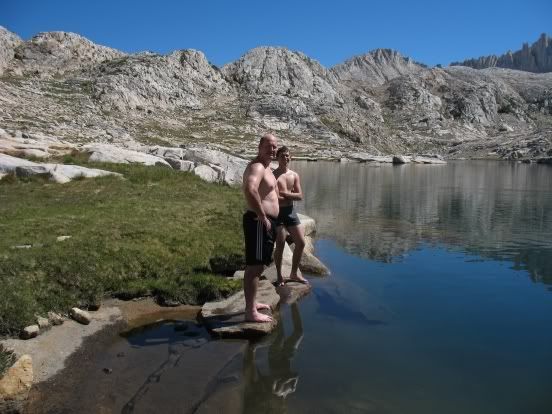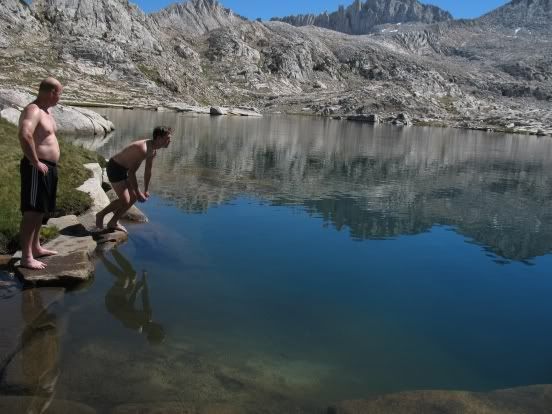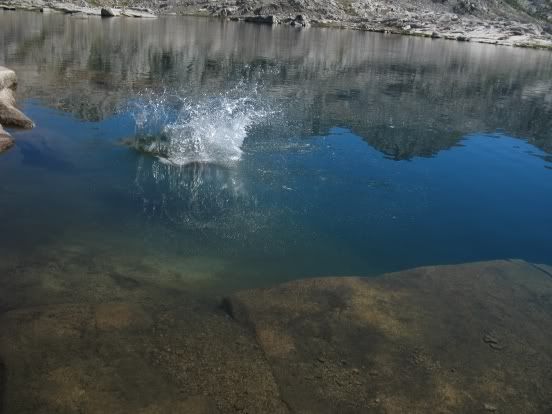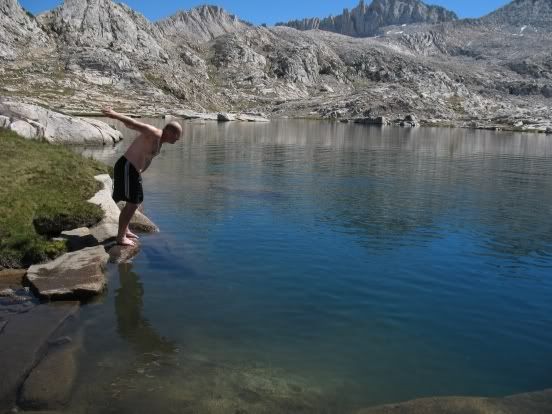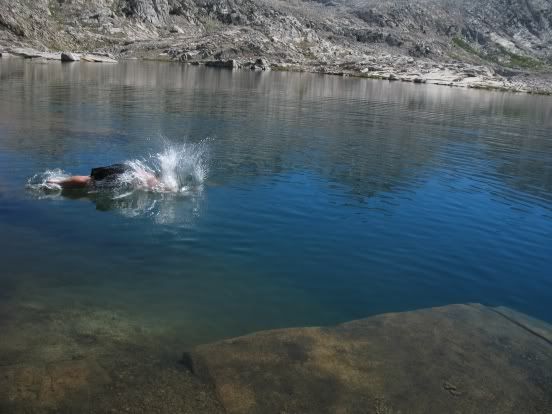 While Andrew and Van were swimming, "callipider" and her friend came by again; we eyeballed Seven Gables together, but couldn't convince them to share a swim. They continued their exploration up the basin. A few hours later Gordon, also of High Sierra Topix fame, came by, looking for "callipider" and her friend -- all three were hoping to climb Seven Gables together the next day. All this activity at Vee Lake, where I expected to see nary a soul!
Once again, Van stole away with my camera in anticipation of the "golden hour" and headed into the basin above Vee Lake. Here are two nice captures looking back at Vee Lake: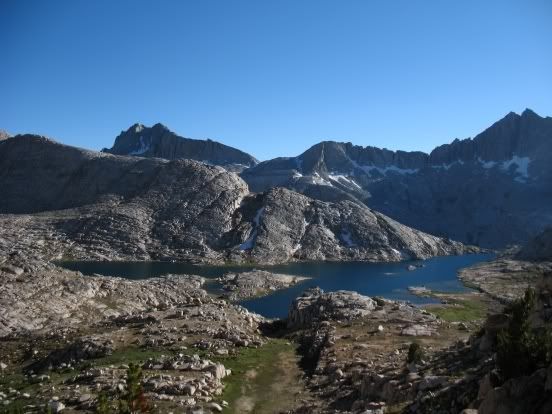 And then the usual sunset display: