My son Andrew and brother Van joined me for this year's annual two-week Sierra adventure. Our route was centered on two distinct cross-country adventures, one north of Piute Pass and the other in the Mt. Goddard area. This was our route:
8/18 Piute Lake
8/19 Desolation Lake via Piute Pass
8/20 "L" Lake via Puppet Pass
8/21 Royce Lakes Basin
8/22 Little Bear Lake via unnamed col in upper Royce basin, Italy Pass and White Bear Pass
8/23 Vee Lake
8/24 Hutchinson Meadow via Feather Pass and Merriam lake
8/25 JMT/Piute Creek junction
8/26 Goddard Canyon (at falls south of Hell-for Sure Pass trail spur)
8/27 Ionian Basin via Goddard Pass
8/28 Ionian Basin (lake below Solomons Pass)
8/29 Little Pete Meadow via Black Giant Pass
8/30 Dusy Basin
8/31 South Lake via Bishop Pass
On Monday the 16th, Van flew into Sacramento from his home in Charlotte, did his food shopping, and managed to pack at our parents house despite being descended upon by scores of relatives and friends (only a slight exaggeration). Meanwhile, Andrew and I started our long drive from Portland on the 16th as well. We picked Van up Tuesday morning at my parent's house, pausing only long enough to load up Van's gear, pack the cooler with beer and ice, and take a quick family snapshot in front of the home I grew up in many, many years ago. By 10:30 we were on the road again, headed to Bishop via Highway 99 and the Highway 120 route through Yosemite. We chose this route thinking it would be a little shorter (and quicker) than I-80 to Reno, but it took about the same time (five hours) and we only narrowly avoided a nasty accident when, outside the park, a foolish driver stopped cold on the highway, trying to turn left into a scenic turnout without using his turn signal. Multiple cars screeched to a halt, miraculously avoiding each other and the oblivious offending driver. Lucky there was no semi behind us.
We rolled into Bishop at 3:30 and stopped immediately at the ranger station to pick up our permit. Their web-based permit system was off line, and the uncooperative ranger was not willing to write us a permit manually. Instead, we waiting for over an hour and it wasn't until closing time approached that he, with the aid of a supervisor, thought to have the main office generate a permit and fax it to us. We were chomping at the bit, to say the least, eager to get up to the North Lake campground and claim a site before nightfall. 90 minutes to get a permit!
After a quick stop at Subway, we motored up to North Lake and found a nice site right next to the trail head.
Wednesday, August 18
We were up early and on the trail by 9:00, with Piute Pass our modest goal this "break-in" day. Our packs were heavy with 14 days food, so we needed this easy day.
It always amazes me how gorgeous this country is. Not more than two miles from the trailhead, you see this:
We hiked for just a couple of hours and found a nice camp site above Piute Lake, with a view of the lake and the stone snow survey cabin in the distance.
Andrew made himself comfortable . . .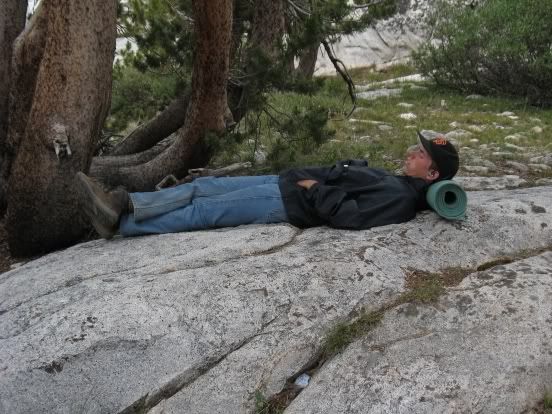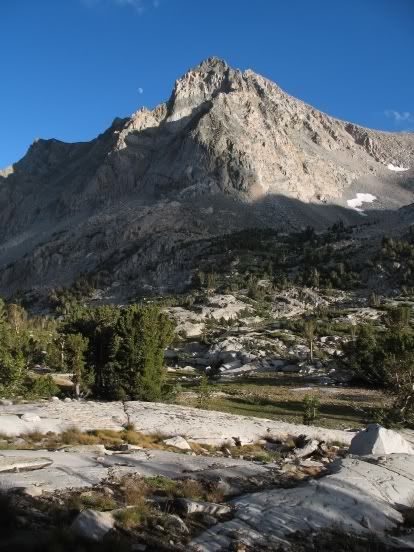 Thursday, August 19
We were on the pass by 9:30 on this bright and beautiful day.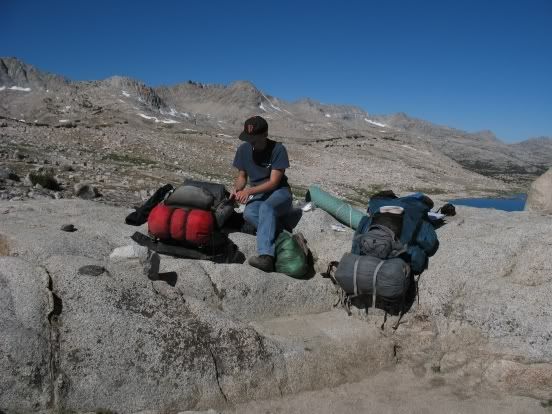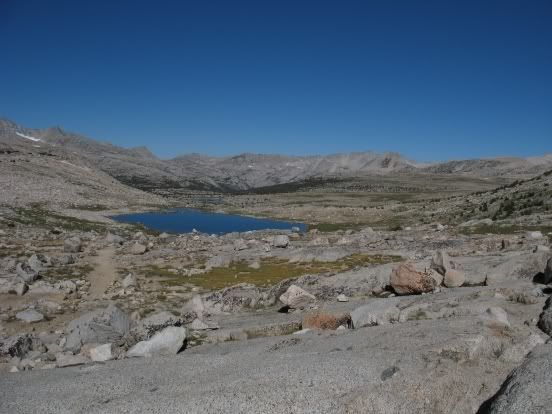 We followed the trail down past Summit Lake and then picked up the Desolation Lake use trail near (after) the first good water after below Summit Lake.
This trail is well defined and took us right to Desolation Lake via Lower Desolation Lake (where we ran into a group of climbers planning to climb Mt. Humphreys the next day). We found a nice sandy area to camp on, near the west end of the lake.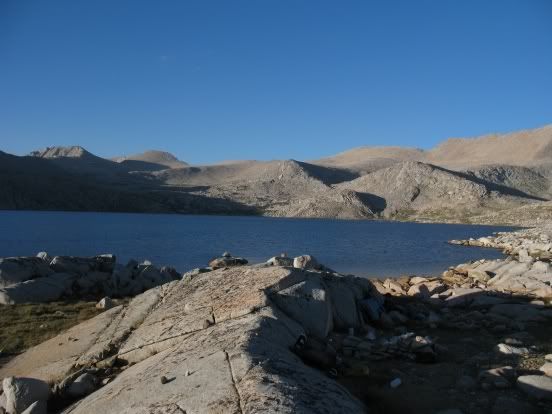 Great views of Mt. Humphreys from here.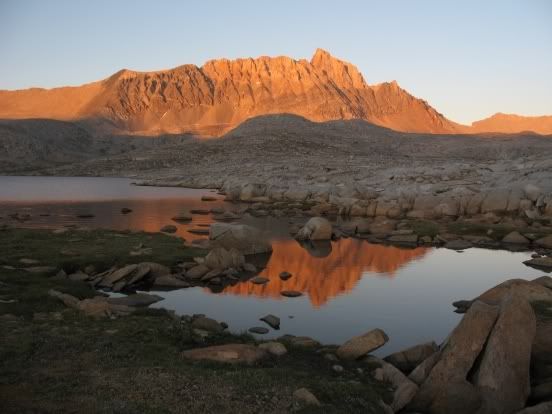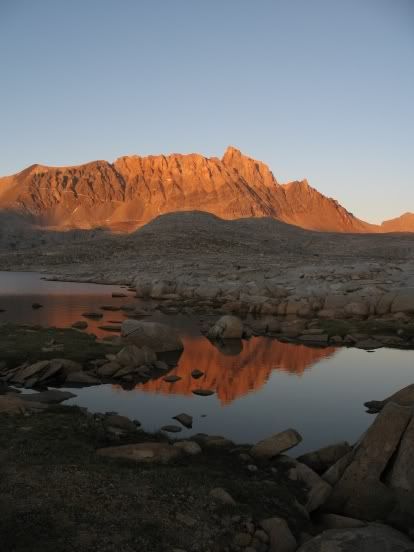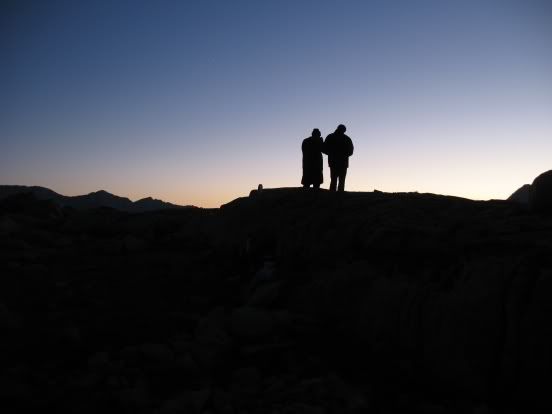 Friday, August 20
Morning light on the Glacial Divide: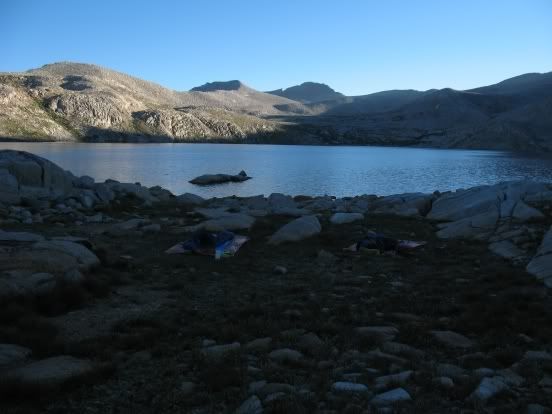 Breakfast: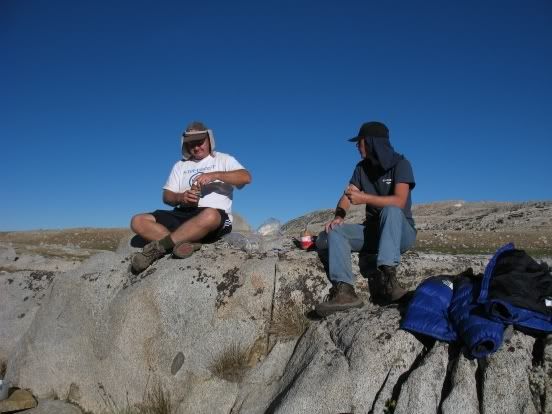 Tragedy struck this morning. Van's Nikon digital SLR suffered a mirror lock up and nothing he could do could bring it back to life. (Van is a photographer by vocation and this was a heavy blow to him -- but he took the equipment failure in stride and didn't pout over it.) For the rest of the trip, we shared my trusty Canon point and shoot (an A620), taking more than 4,000 photos between the two of us.
We broke camp at about 9:00 and headed up to Mesa Lake . . .
Above Mesa lake, there is a great view looking back at Mt. Humphreys: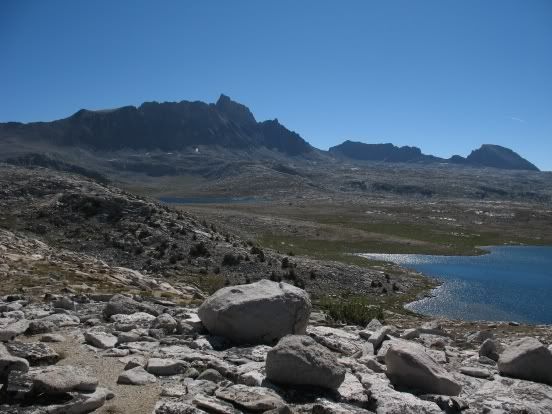 We worked our way up the drainage below Puppet Pass and were surprised to find this lovely meadow just below (south) of the pass.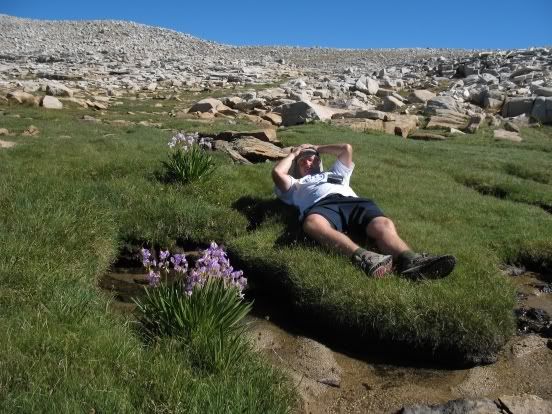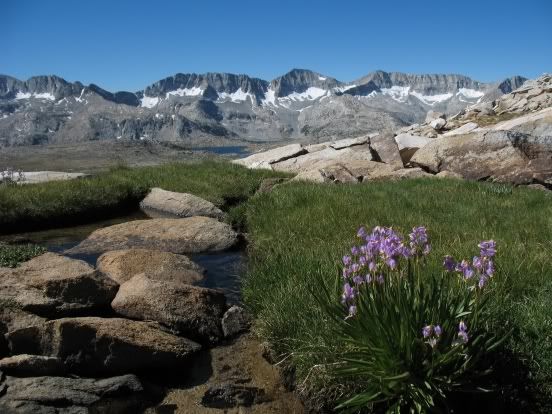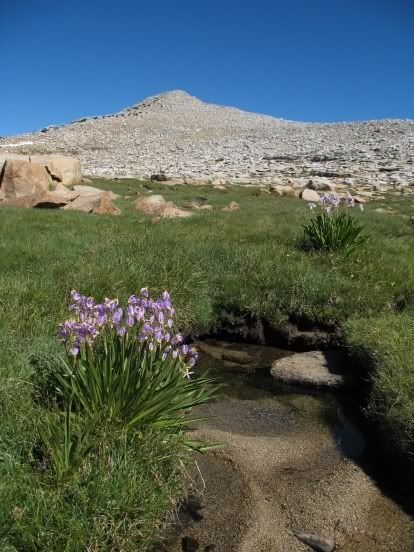 Note the improvised headgear (gym shorts under baseball cap), protection against the blazing sun.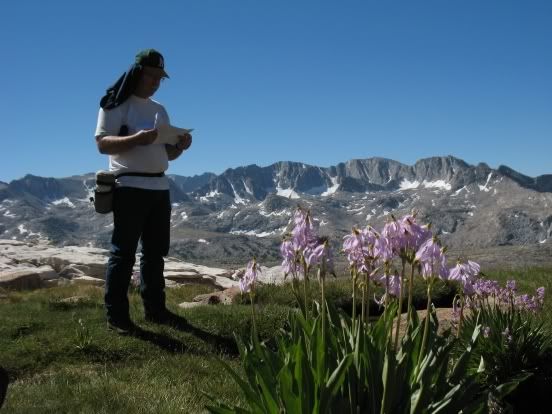 To be continued . . .