. . . the journey continues.
On the 25th, we watched the sun rise over Picket Guard Lake.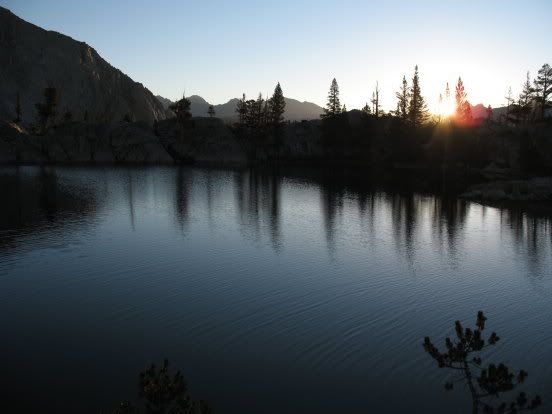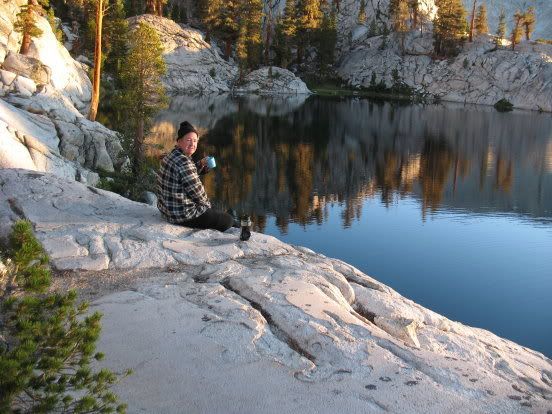 Here's a photo of the deluxe campsite at Picket Guard Lake
We packed up and headed over the ridge separating Picket Guard Creek from Kaweah Basin.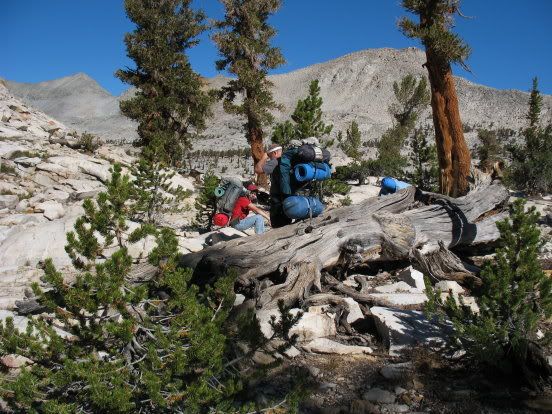 Then headed down to the lakes in the lower Kaweah Basin.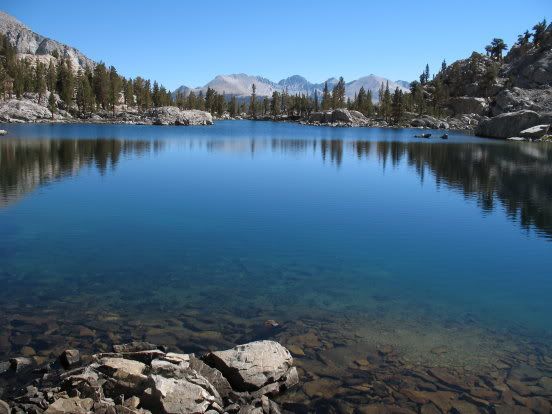 It is a very short hike. We found an OK place to camp and kicked back. Andrew and Van had a swim while I took pictures and read my book.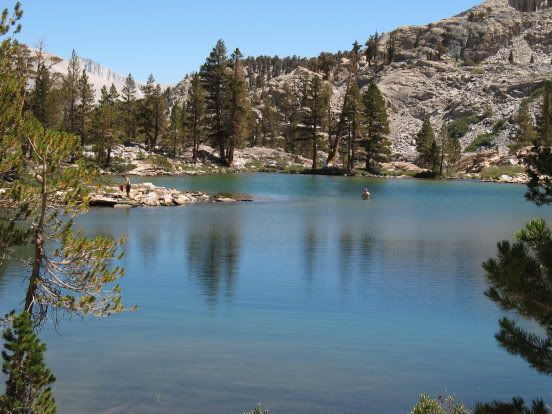 Van took off to explore the upper basin. Here are a few photos from his exploration (they have a yellowish cast to them because of a filter he was using):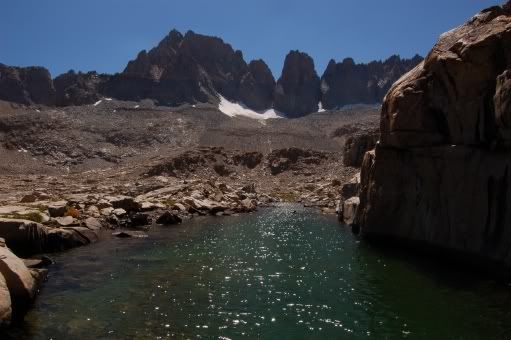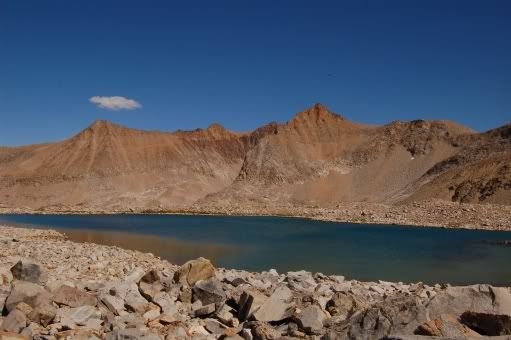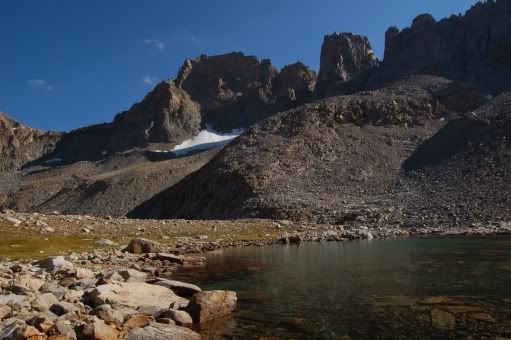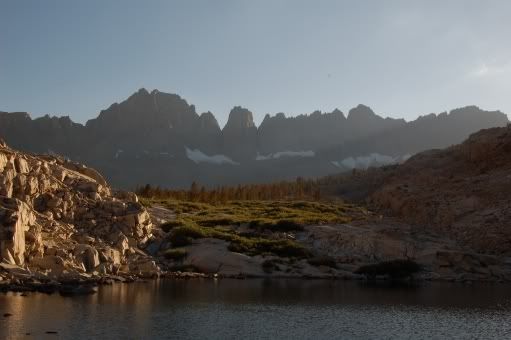 It was an awesome day -- virtually cloud free and not another person in sight. Despite a lack of clouds, we had some nice alpenglow that evening.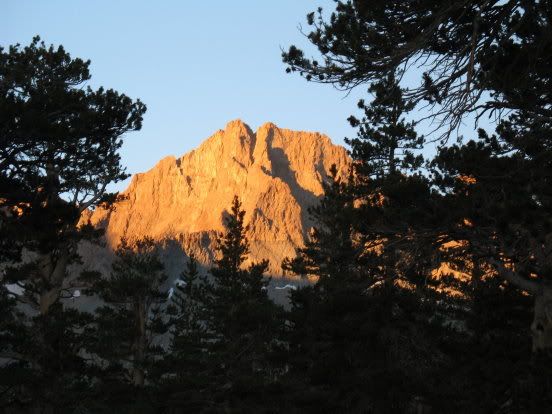 We woke early to another splendid light show.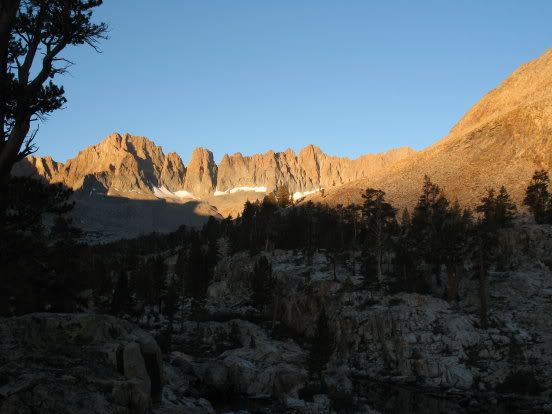 Our packs were getting lighter on this, our 8th day of the hike. We backtracked to Picket Guard Creek and passed by Picket Guard Lake once again.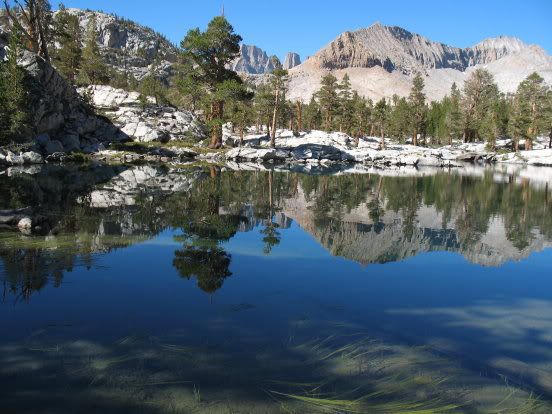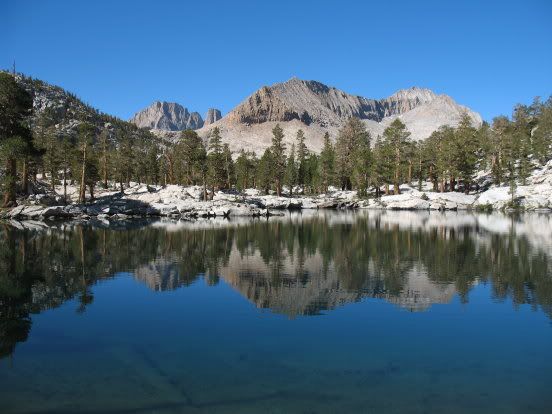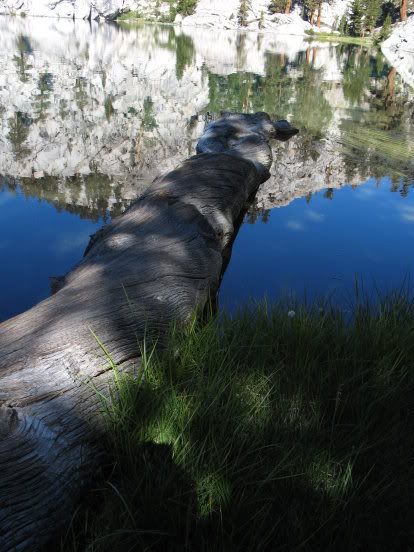 We ran into a couple of old guys (even older than me!) from Ridgecrest who were headed down the Picket Guard drainage, the first people we had seen in days. We continued working our way down the shoulder of Picket Guard Peak.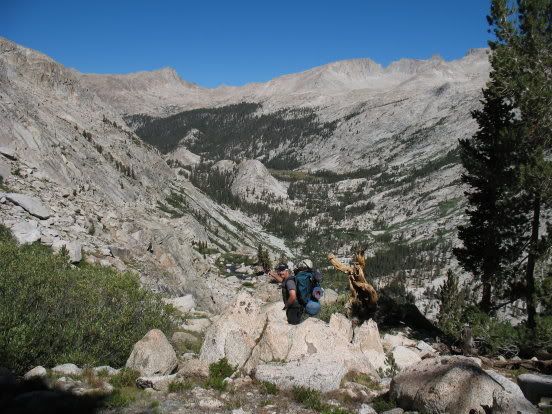 As we approached the Kern-Kaweah, making our way through a field of big granite slabs, I wrenched my knee. By the time we reached the creek, my knee was feeling really uncomfortable. We decided to cut the day's hike short and look for the first nice place to camp. We found a great secluded spot a little ways below Gallats Lake and spent the afternoon soaking in the creek. I even washed my hair. Here's a photo of our kitchen area at the camp site: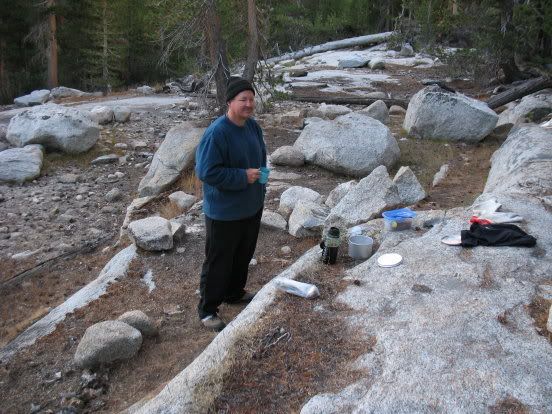 Cutting the day's hike short jeopardized our schedule, as we had hoped to hike over Colby Pass on the 26th. We decided to play it by ear and see how I felt in the morning.
Unfortunately, I woke the next morning with an extremely sore back -- a pinched nerve, I think. I could barely stand at first, it was that painful. But it loosened up as the day progressed. The knee was sore, but stressed rather then hurt. I put on a knee brace and gingerly headed up the trail.
We took a break at Gallats "Lake" -- it's really a meadow and a gorgeous one at that.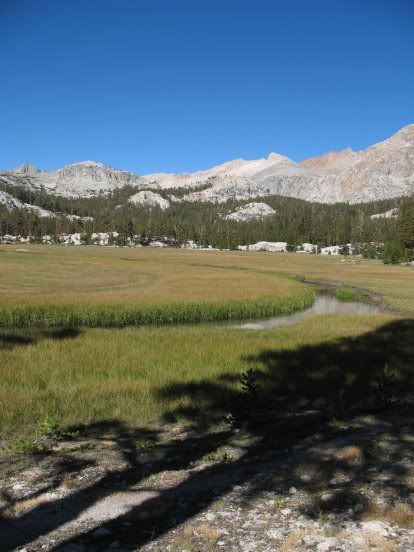 Look at the fish!
Then we headed up to Colby Pass. Here we are taking a water break, with the pass in the background.
Here are Van and Andrew at the pass:
The view down to Colby lake: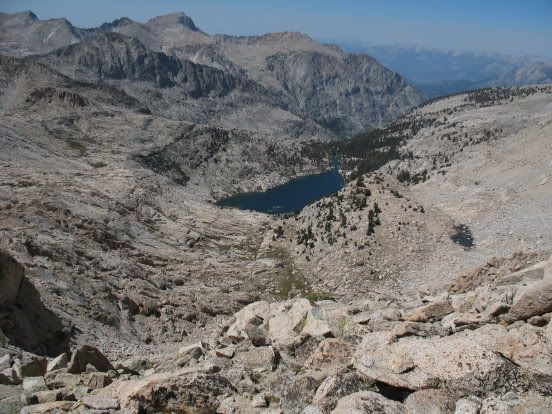 An the view back to the Kaweahs: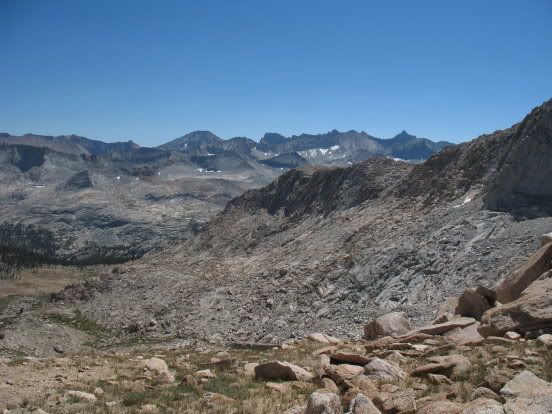 The trail down from Colby Pass is in much better shape than we were led to believe. It was a little rough in places, but always easy to follow. In a short time, we were down to the edge of the lake basin.
Colby Lake is stunningly beautiful: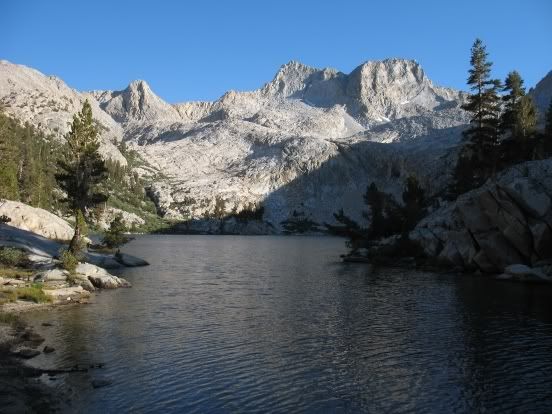 Brother Van is painfully thrifty. He bought his old Kelty Super Tioga off of Craig's list for a song. He can't bear to bring himself to pay for a decent pair of boots, shopping instead for comfort at prestigious stores of the south such as WalMart. In 2006 his disposable pair of boots wore out in a week. This year, they lasted three days before the WalMart duct tape was needed. Every day on the trail, the boots got more and more comfortable as Van's fat toes and then the entire side of each of his feet worked free of the cheap Chinese stitches.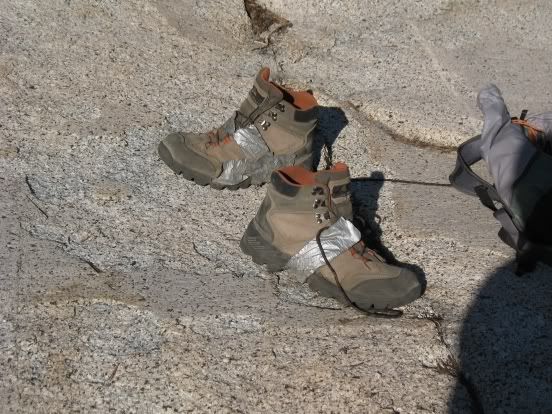 Nevertheless, I was the one limping around with a sore knee and a bum back. Go figure!
Part 3 to follow . . .