I had an opportunity to get out and spend a few nights in the sticks last weekend, thanks to my wife hosting a Bachelorette Party for her best friend.
So, we planned for the 4 of us: Myself, Spenser, my Brother-in law Robert, and Justin.

Plans Change.
Justin Busted his ankle and had to back out of the trip. I know he wanted to go super bad, Sorry Man!
And then there were 3 of us. The plan was to hike over Piute pass to Muriel Lake, and fish the lakes and connecting streams in the area for Golden and Brook Trout.
And off we started. It didn't take long, and we started seeing snow. Big, fat, snow. This was at one of the ponds between Loch Leven and Piute Lake. (Before the Pass... about 600 feet below our intended elevation)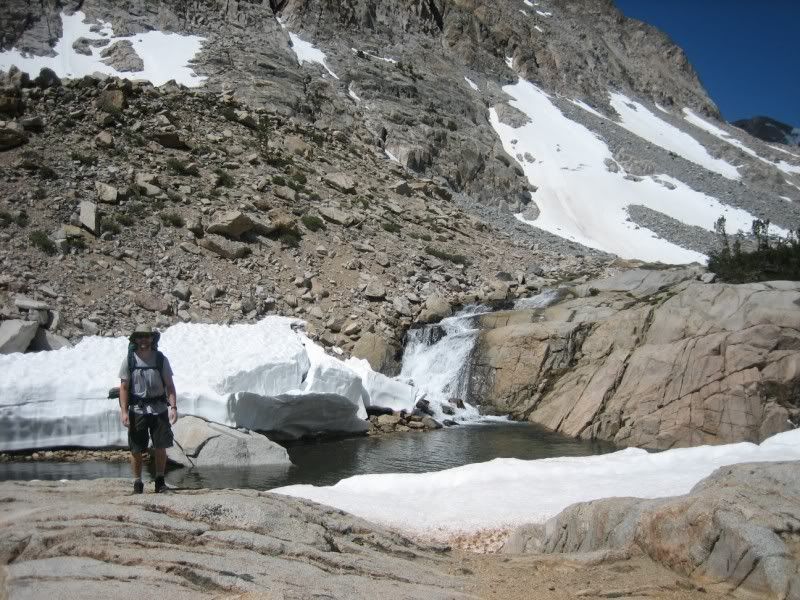 Piute Lake, However, was clear of ice, and we could see brookies cruising the shallows. A good sign.
we made good time, and it wasn't long before we were at the pass looking back down the trail we'd just ascended... it looks like a lot of elevation gain (about 2000 feet) from North lake to Piute pass, but it goes by quick and is relatively easy (as easy as 5 miles, +2000ft elevation gain can be, anyway).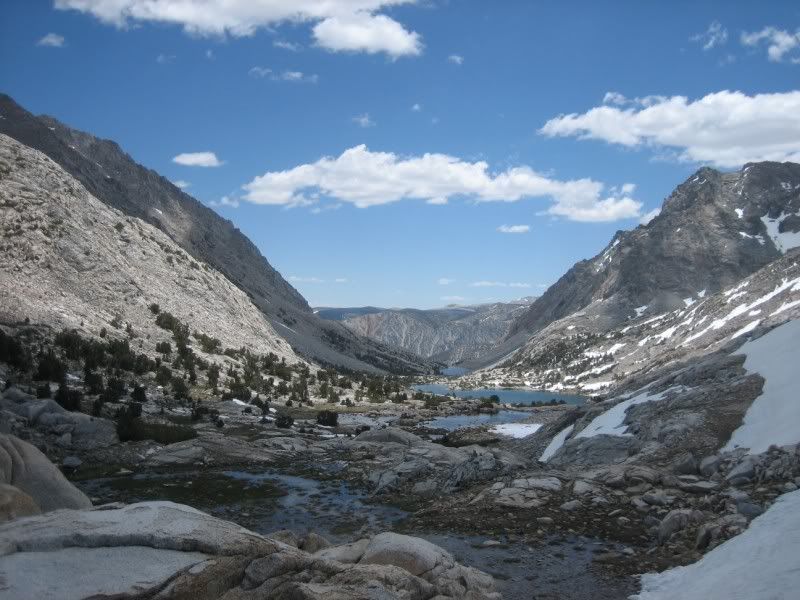 Looking West over the pass, however, told a different story. Summit lake (one of the lakes we'd planned to dayhike), was about 90% frozen over.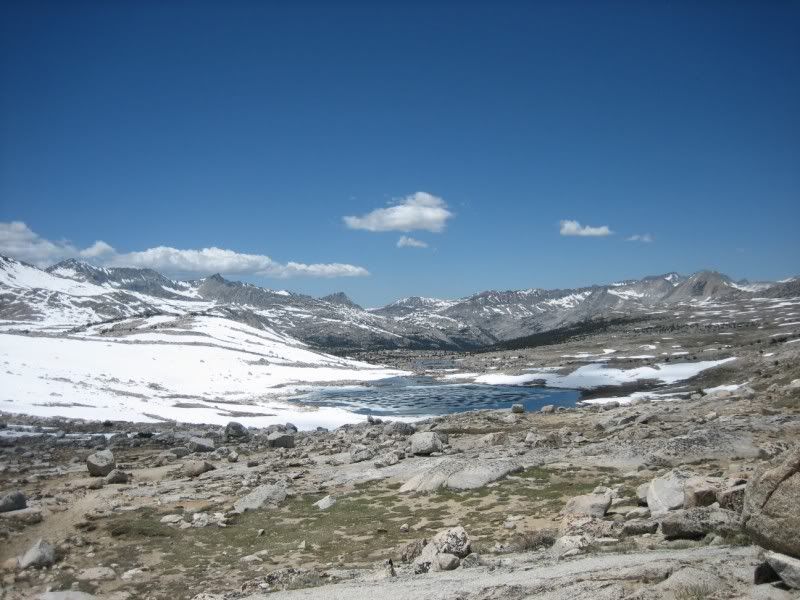 Our intended home for the trip, Muriel Lie up, and south of there... a path covered in snowfields.
Upon arrival, it too was mostly frozen, though tired from the days hiking (and no longer in the mood for more marching though the sun-cupped snowfields), we made camp - Basically a small patch of somewhat flat dirt and rocks on the side of a hill along the outlet stream.... the only piece of snowless, flat, ground we could find. It turned out to be a neat campsite though, and had great views. (the wind at night was a bit unsettling)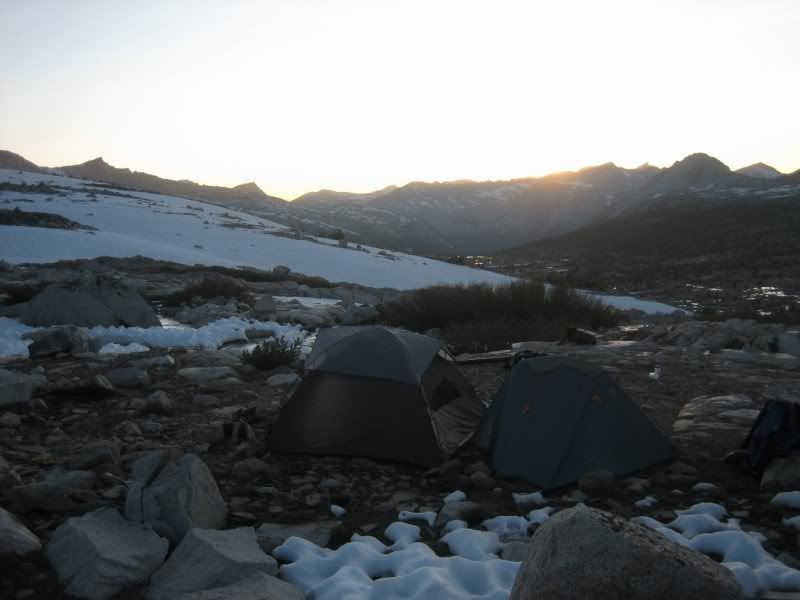 While spenser took an afternoon nap, Robert and I headed out to fish the small patch of unfrozen water at the outlet stream.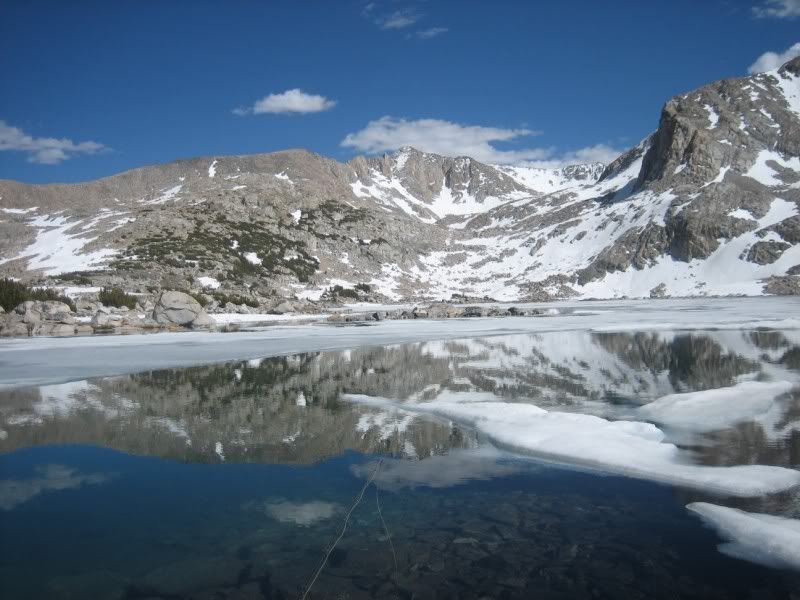 I managed 2 decent brookies.... though they looked like they have been a bit hungry over the winter. Robert got the ole skunk. (But, HEY! it was his first time fly fishing EVER, and his casting technique really developed well.)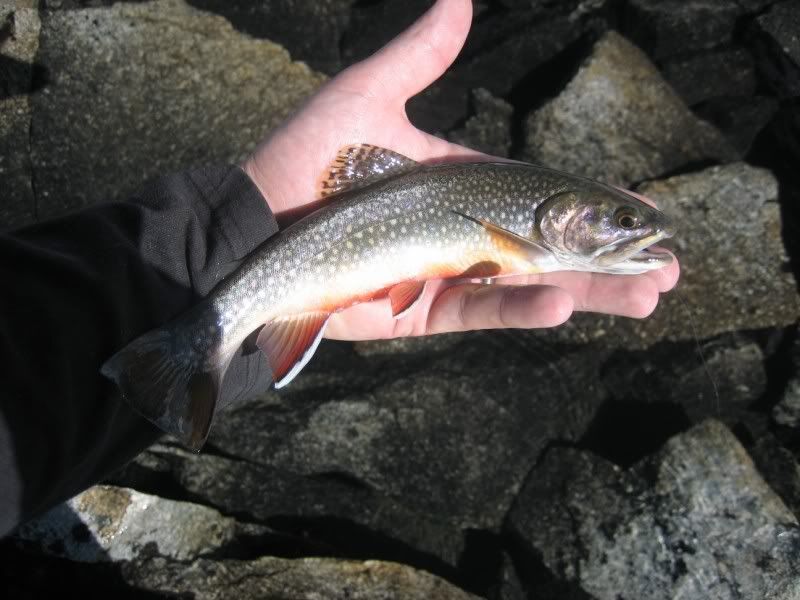 the next morning, seeking better fishing (read, WATER, not ice), we Hiked down the snow patches to arrive at the Golden Trout Lakes... when we saw a HUGE group of about 15 backpackers nearby, we decided to continue down the canyon to fish the stream. the crossing of the inlet creek to Lower Golden Trout was required, and it was damn cold. I headed across first, so I could throw my camp shoes to Robert (who brought flip flops instead) to wade the stream in.
About 1/2 way across, the pain from the cold was INTENSE. I couldn't get the shoes off fast enough. But I smiled, and encouraged my friends to follow.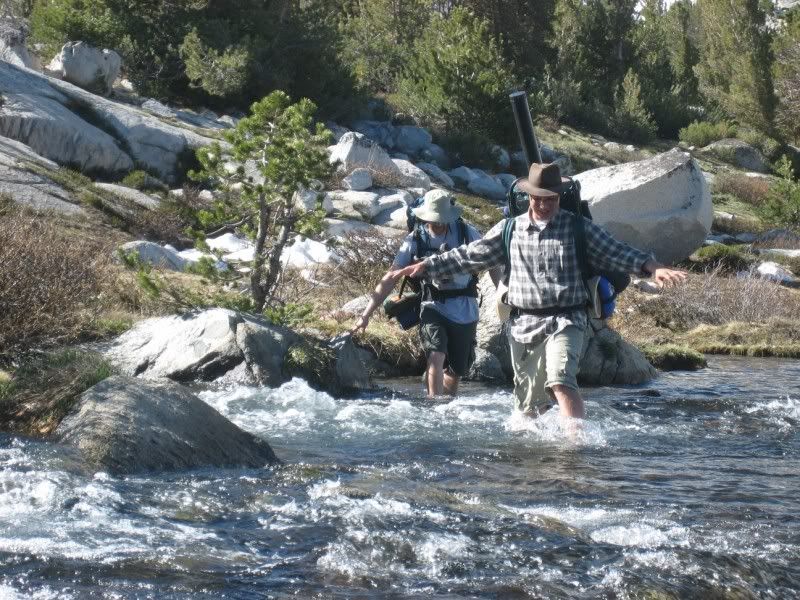 We stopped to fish a bit at lower Golden Trout, and while I LDR'd one golden, it was pretty uneventful... except for Spenser Breaking his rod. (He's made a rod inoperable 3 of the last 4 times he's fished... not good track record.)
We eventually made our way to the Piute Trail (which we had abandoned to go to muriel lake), and began trucking down the canyon towards hutchinson meadow.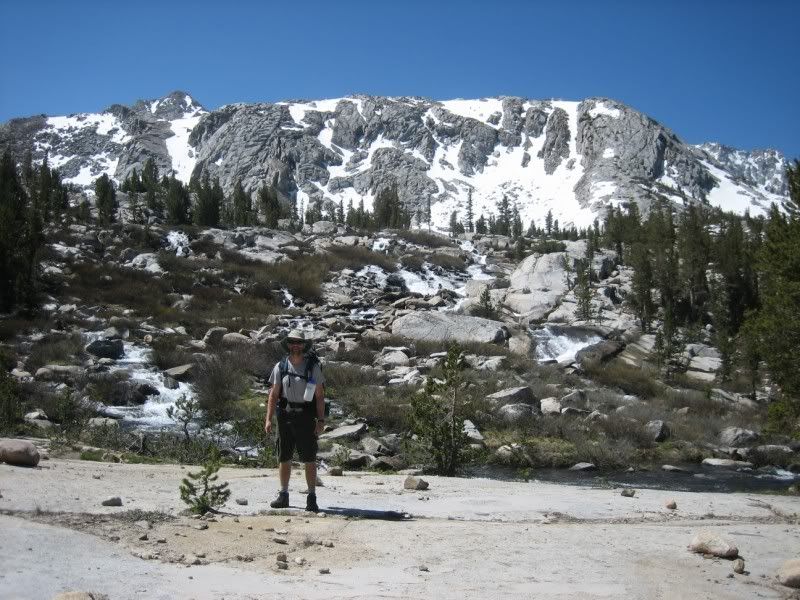 We followed the trail along the snowmelt gorged Piute creek, until we arrived at what must be one of the most perfect pieces of Trout water I have ever laid eyes on. with that, we dropped our packs, and Robert and I started fishing while Spenser made his rod fishable again, with the help of a swiss army knife and a couple bandaids. It cast like a broomstick after that, but he made it work.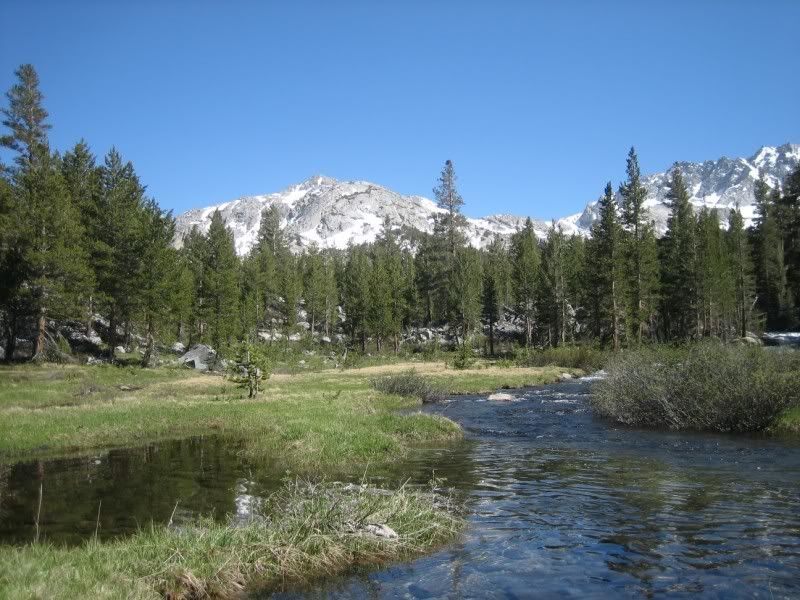 I quickly confirmed it was fishy water, with my first 2009 Golden Trout.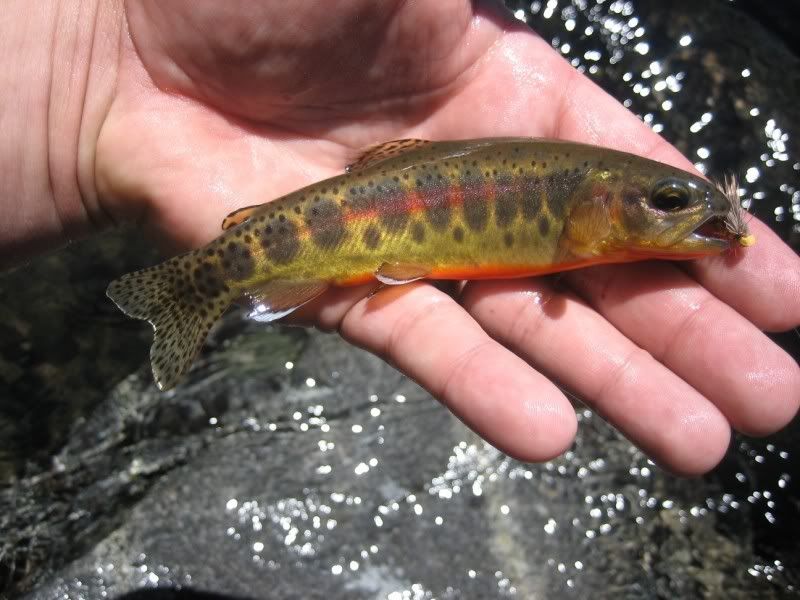 Robert also hooked up with his first ever fly caught fish, his first ever Backcountry fish, and his first ever Golden Trout.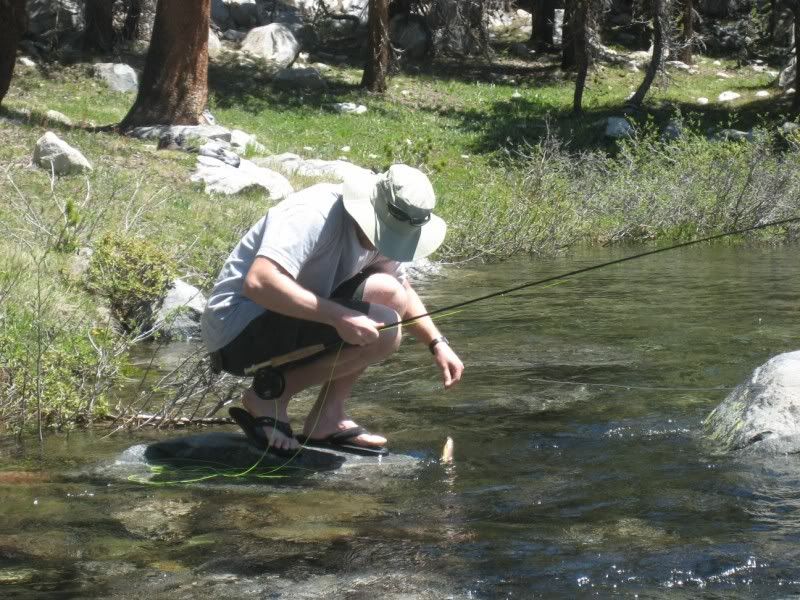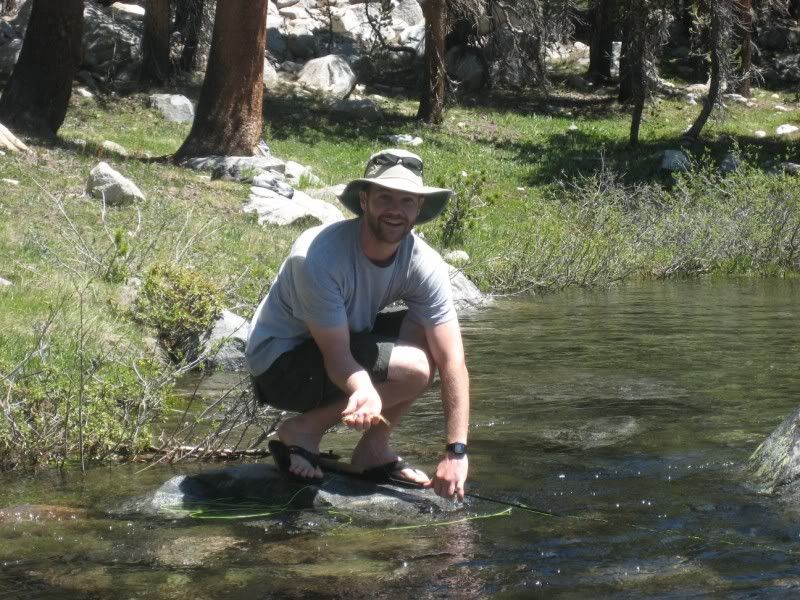 Spenser joined the fray and we all had great fun tossing dries to the little goldens. They were a dime a dozen, and we got a couple dollars worth, what great fun, in an amazing setting, and to see Rob really get into the fray, what a treat!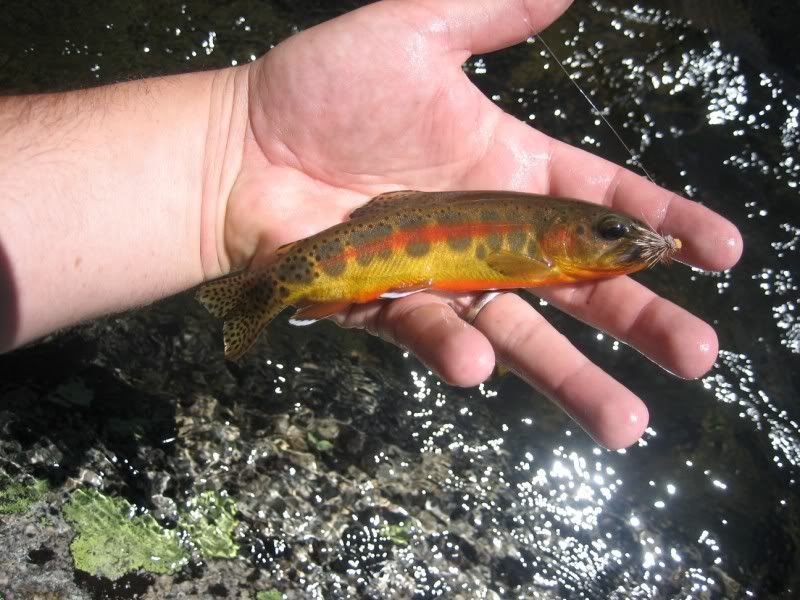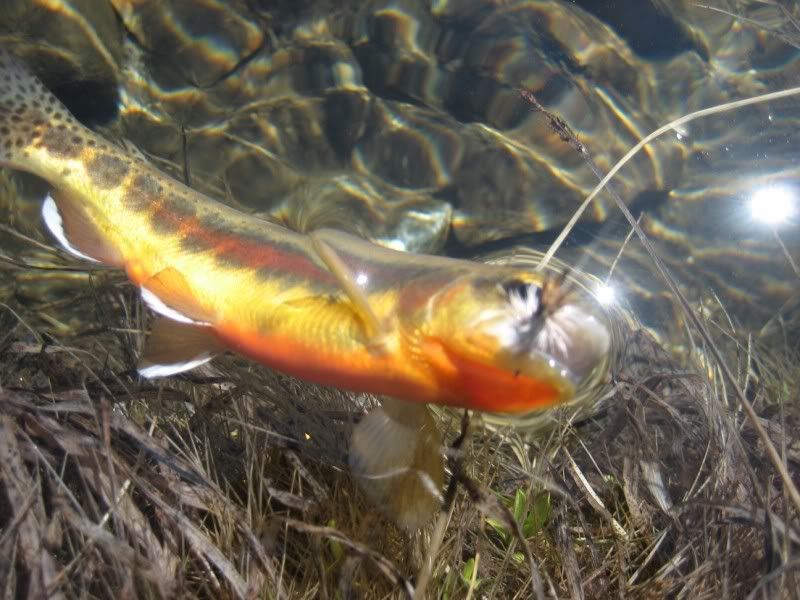 i even found one lone brookie lurking in a side channel with all the goldens.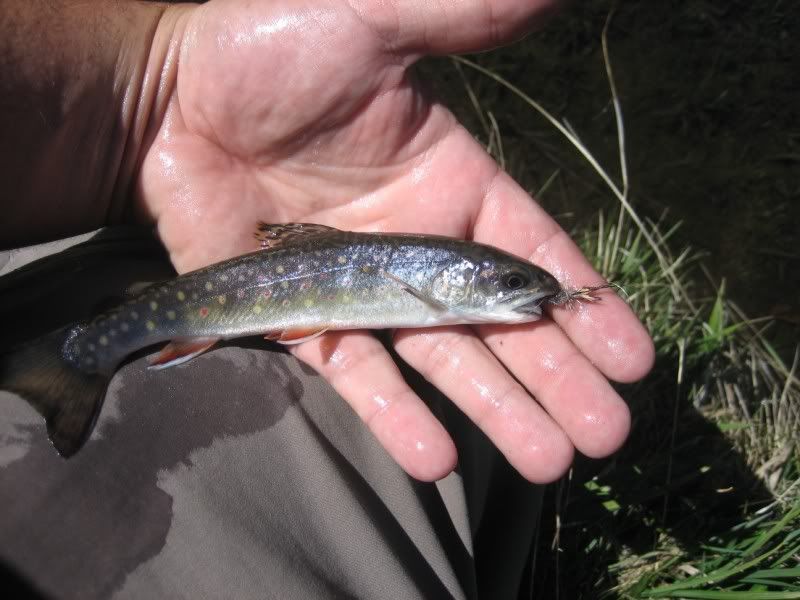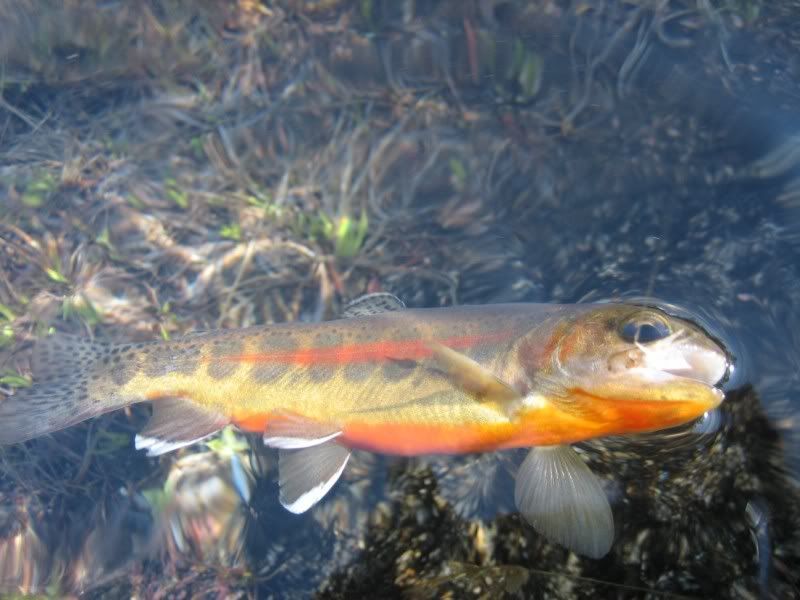 Knowing that we had what we were after in the canyon, we saw an awesome campsite and made it ours.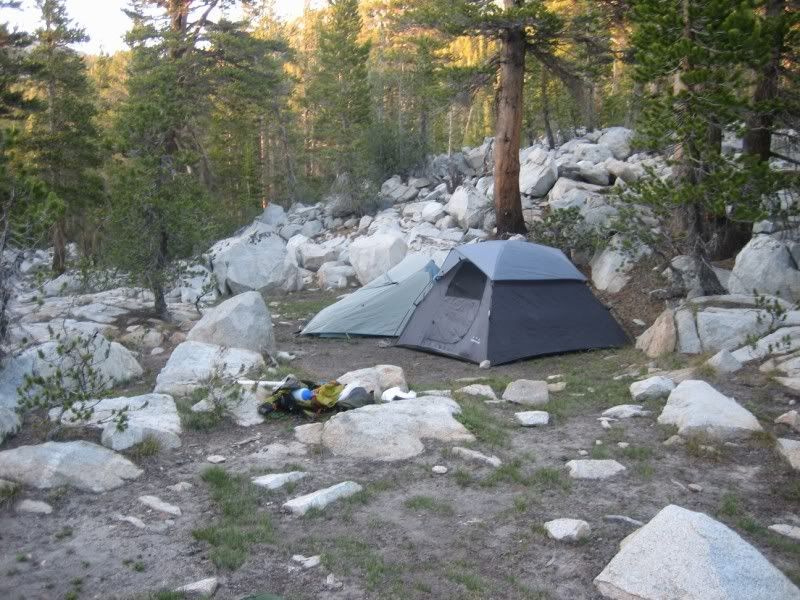 That allowed the fishing to continue until dusk.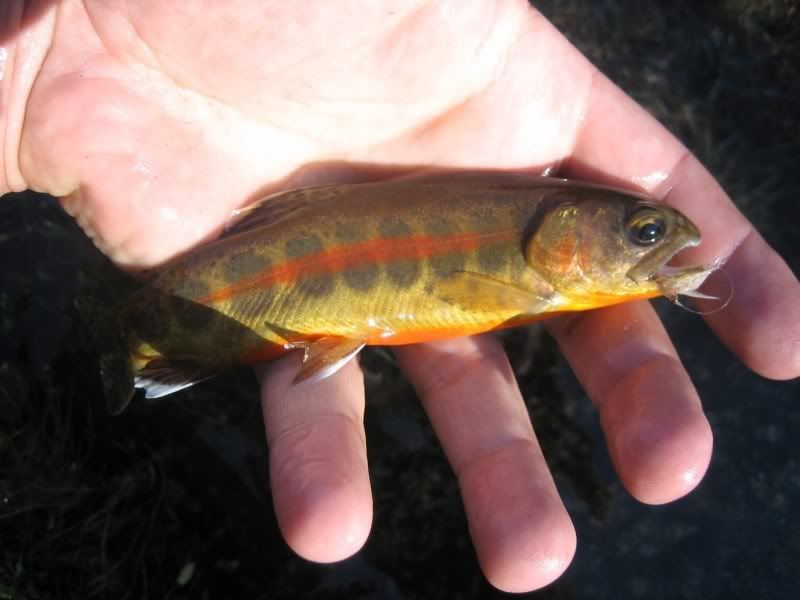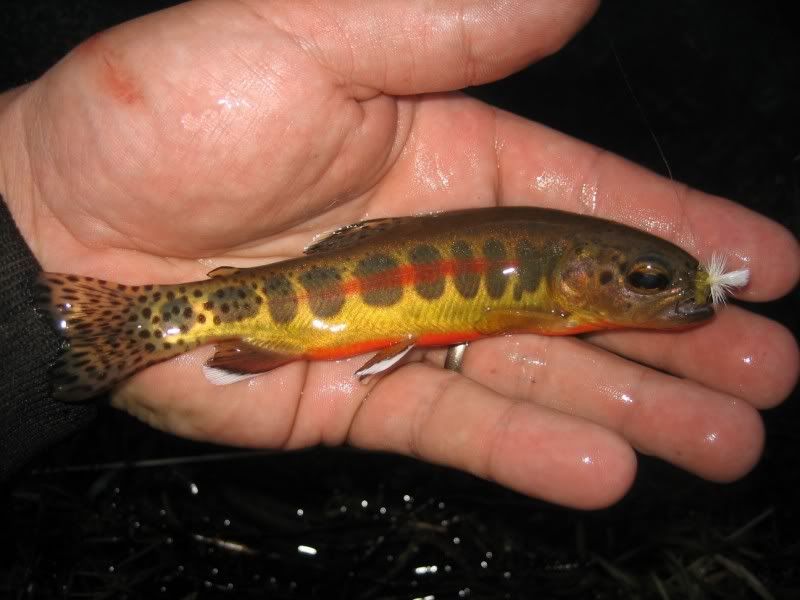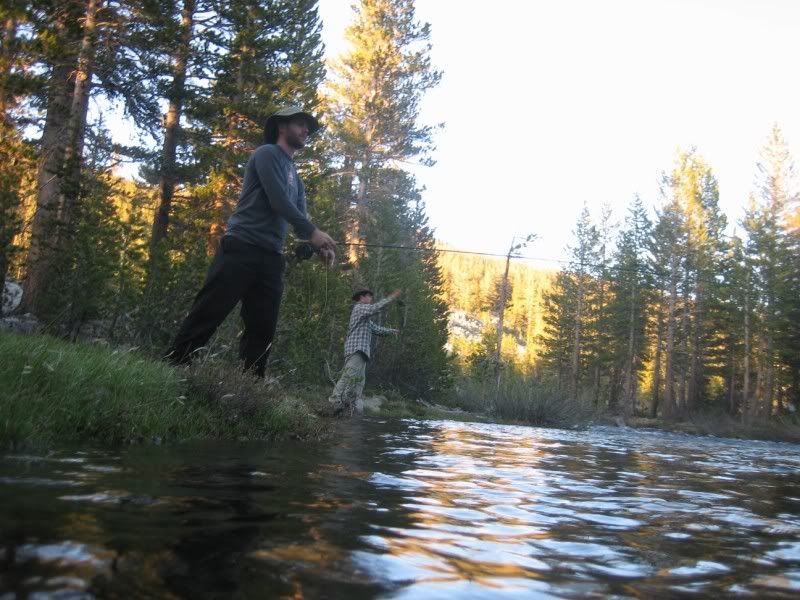 Spenser shows off his "New and Improved" rod:
The next morning we fished the area a bit before packing up camp and heading back up the hill. This place will be a hard one to forget. Has to be the best campsite I've ever had, just an amazing setting, great views, and fun fishing.
Panoramic:
We were quickly back above the treeline and making good time up towards Piute pass.
We stopped for lunch at a small, unnamed lake, and proceeded to fish it and the stream system its connected to for a few hours, catching dozens of brookies and a few goldens in the mix.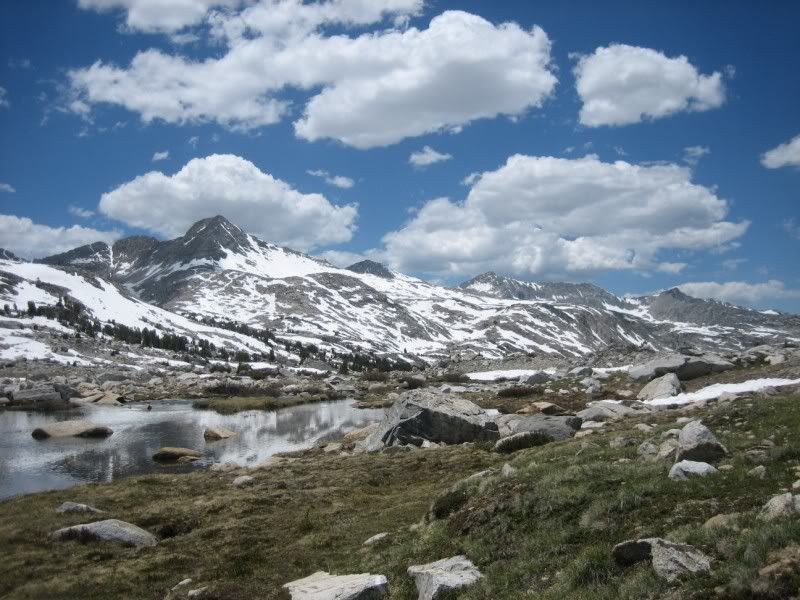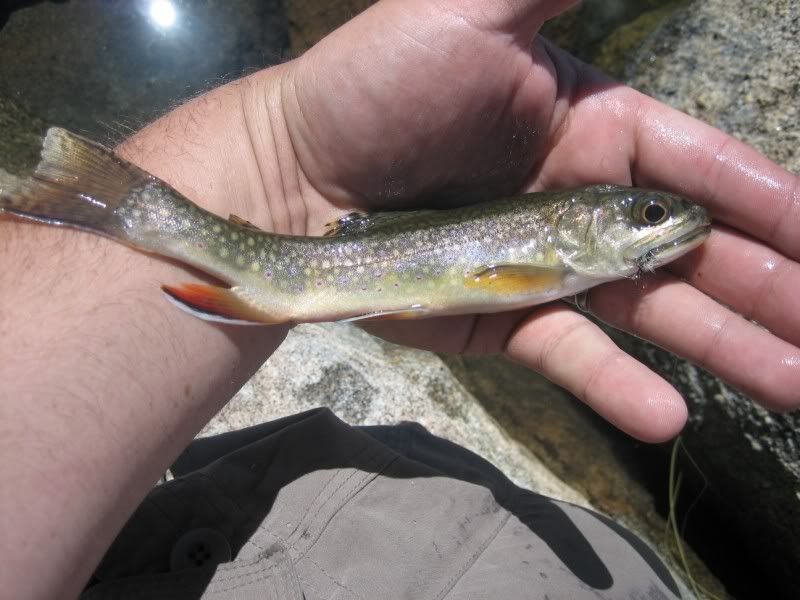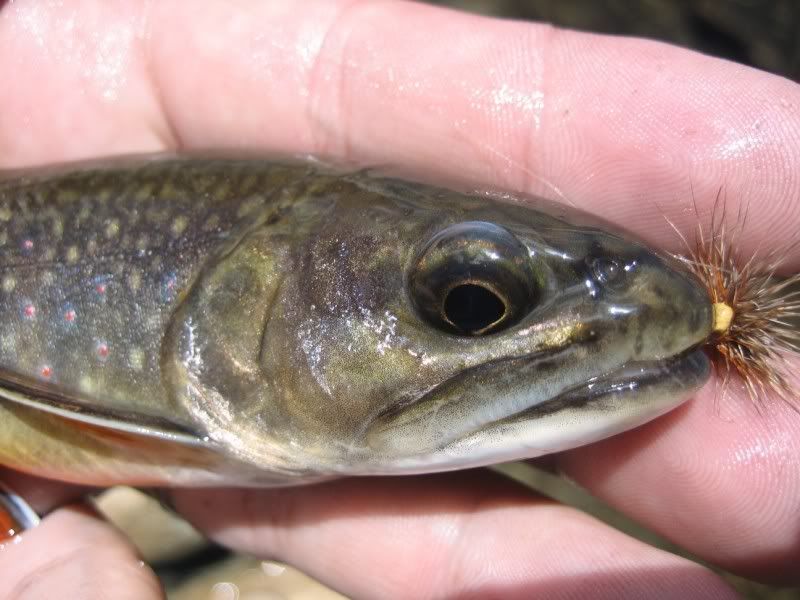 Rob picked up his first brookie, and first fly fishing success in a lake: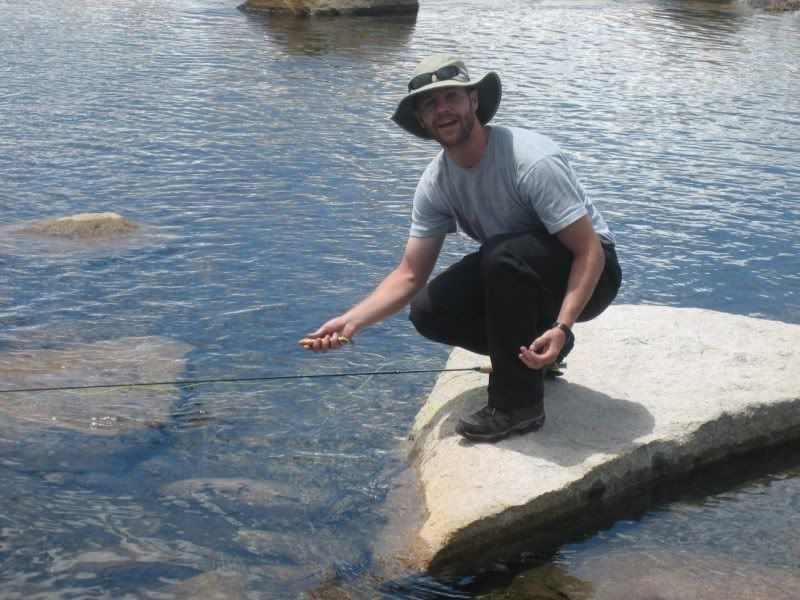 With that, we headed up to the pass, content to make the long hike (10+ miles total for the day), and come out of the wilderness Sunday Night, rather than monday morning (it didn't hurt that our permit was TECHNICALLY to come out sunday anyway, and we'd seen a ranger on the way in...)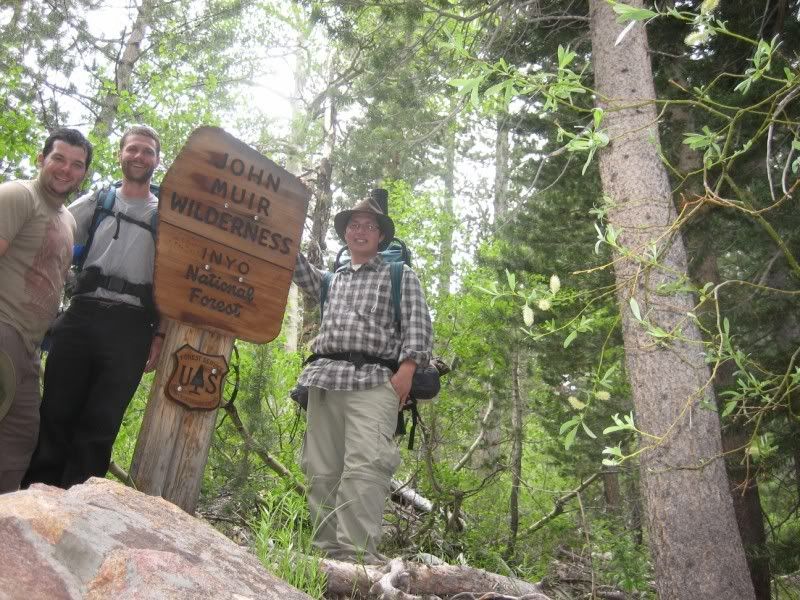 All in all, it was an amazing trip. It wasn't the trip I had planned, but I wouldn't trade it for the world. It was awesome to see my Brother in Law Rob really take a liking to the backcountry and fly fishing. I can't wait to do it again!