It's early in the season and I'm yearning for the high country. I won't be able to get up there this year until August, so I find myself daydreaming about last year's 14 day hike. It was my son Andrew's first real backpacking experience. We were hiking with my brother Van, who flew into Reno from North Carolina. Andrew and I drove down from Portland, picked Van up at the Reno airport on August 17, then high-tailed it to Bishop to pick up our wilderness permit. We camped that night at the trailhead. Our plan was to hike in from Horseshoe Meadow, over New Army Pass, down to Rock Creek, up Miter Basin and over Crabtree Pass, then loop around into Kaweah Basin, over Colby Pass, over Longley Pass, over Harrison Pass, down to Tyndall Creek, up to Wallace Lakes, then out via Russell-Carillon Col and Whitney Portal. I favor long, "immersive" backpacking trips, which give me time to get rid of the city crud and savor the wilderness.
With 14 days of food on our backs, we took it easy the first few days. I wanted to make sure Andrew had a great experience, and we went to great lengths to keep his pack weight down to less than 30 pounds. He was carrying my antique North Face external frame pack, a veteran of many, many expeditions. Brother Van, as always, carried lots of camera gear and a bounty of delicious meals, which translated into a very heavy pack -- close to 70 lbs. My food and gear was much more spartan, weighing in at less than 50 pounds.
Here we are at the trailhead: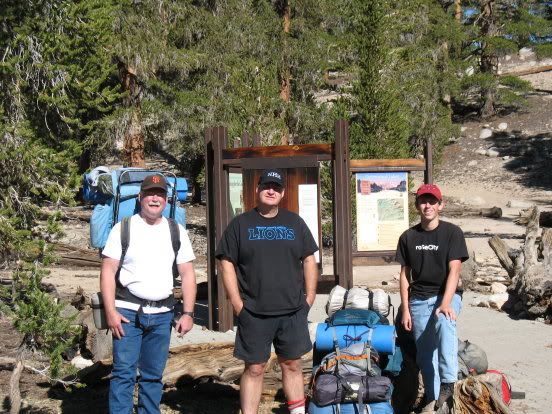 On the 19th we hiked into Cottonwood Lakes and found the place to ourselves. Here are some photos of the area: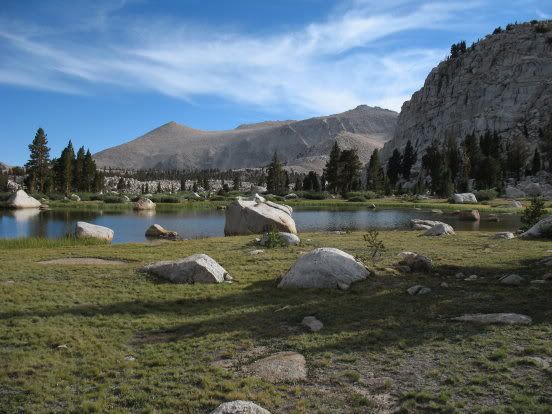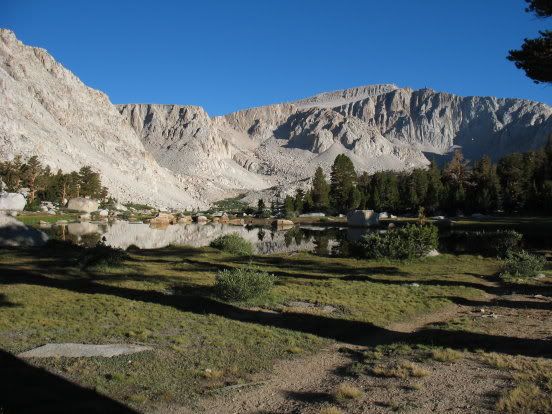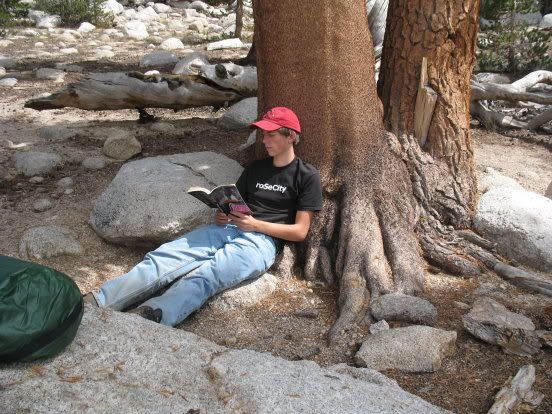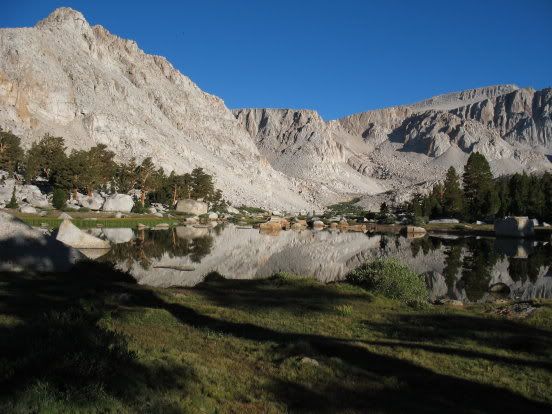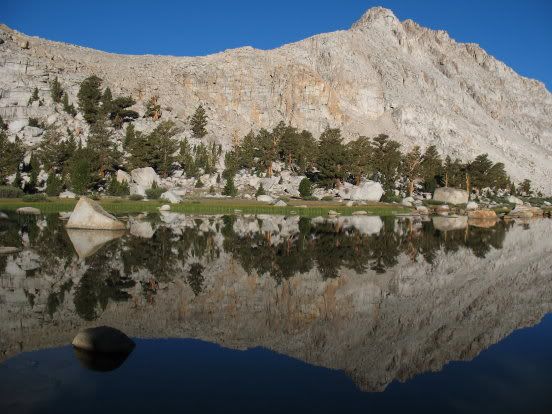 On the 20th, we hiked over New Army Pass and then down to Soldier Lakes. The weather was perfect. This was Andrew's first High Sierra Pass.
Soldier Lake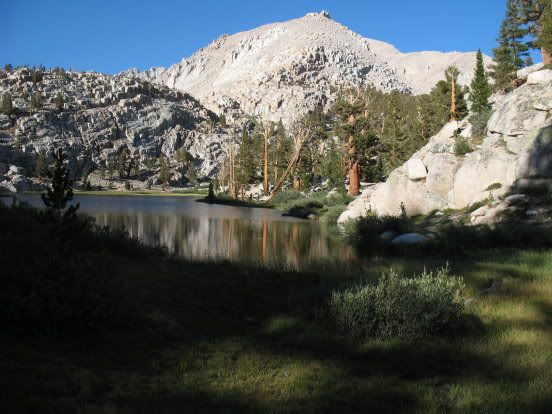 The next day we hiked over the ridge separating Soldier Lake from Rock Creek, then headed up to Miter Basin. This is one of my favorite spots in the Sierras.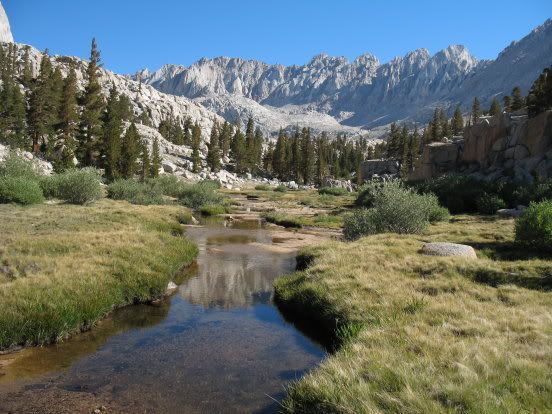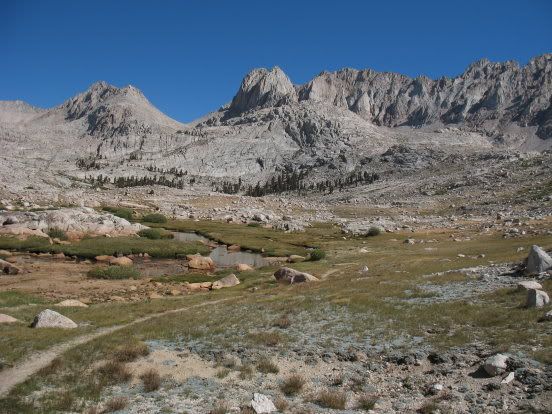 We camped at Sky Blue Lake.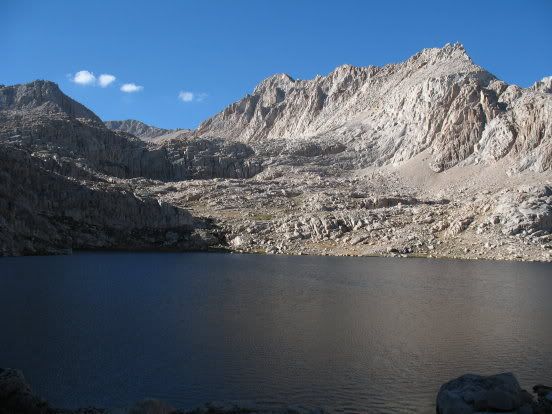 After dark, we watched a group of hikers making there way down from Crabtree Pass, their headlamps showing their progress. They got stuck briefly in the cliffs above Sky Blue Lake, but eventually made it down to the side of the lake opposite us, and made their camp there.
The next morning, the 22nd, we headed up to Crabtree Pass. It was another crystal clear morning and we felt like a million dollars.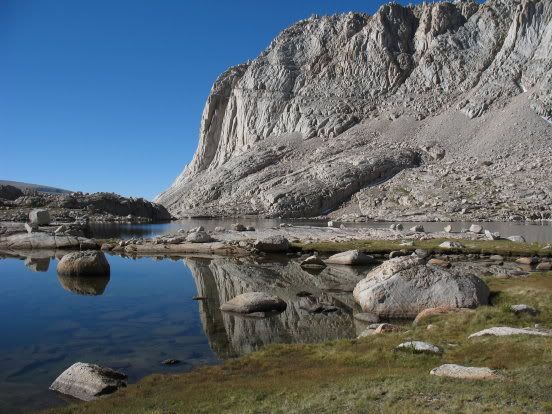 A water break on the way up, looking back at Sky Blue Lake: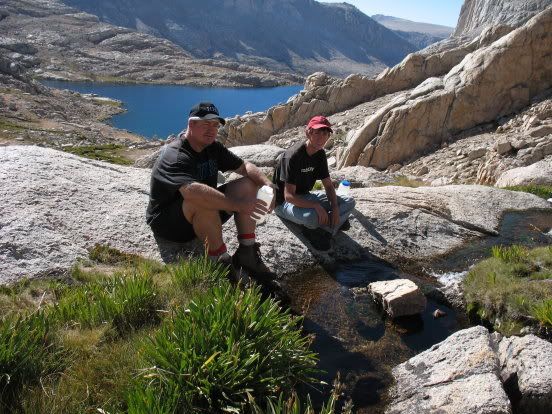 Working our way up to Crabtree Pass: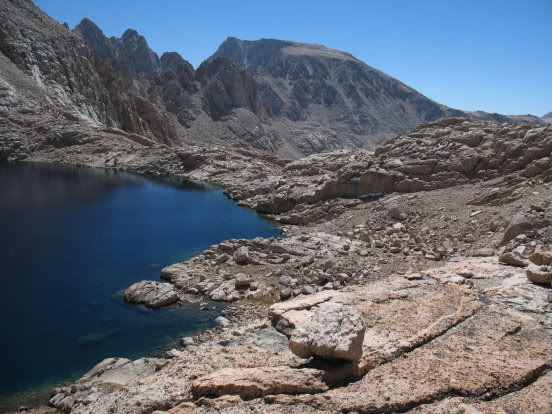 . . . and finally, on top of the pass.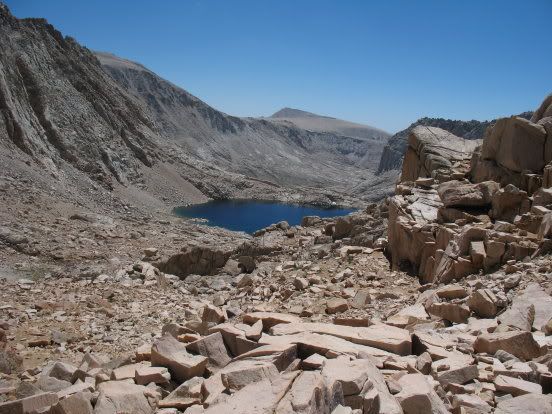 The northern side of the pass is steep and loose, but hikers over the years have established what amounts to a series of loosely connected switchbacks, making the way down fairly easy.
Here is what the pass looks like from the highest of the Crabtree Lakes, with the yellow line pointing to the pass itself: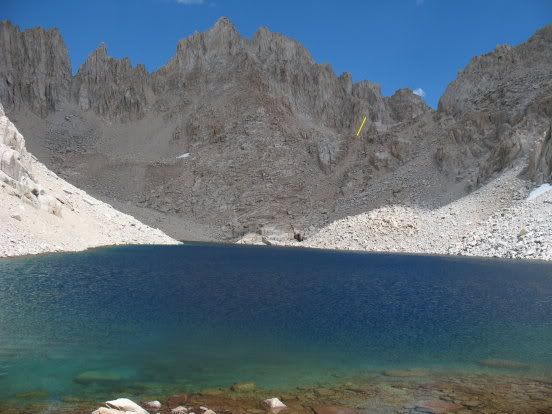 We camped just above the middle Crabtree Lake. A thunderstorm was brewing, but we only got a few sprinkles and then a beautiful light show.
The clouds lifted, and like always, we slept out in the open and woke up to an exquisite morning.
Saturday the 23rd was a long day by our standards, as we headed down to Crabtree Meadow, hooking up with the John Muir Trail and making our way to the Wallace Creek junction, then down to Junction Meadow. By days end, we were pooped and our knees were sore.
Whitney junction: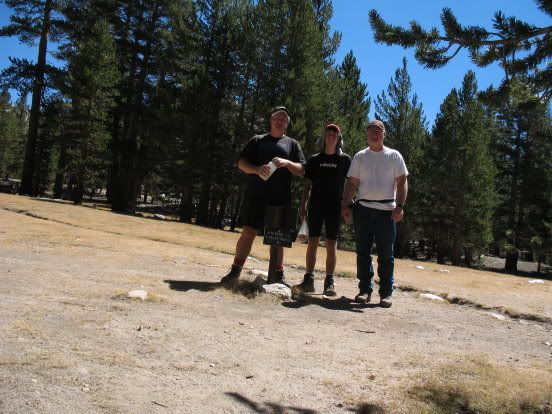 Looking across the Kern trench to the Kaweahs: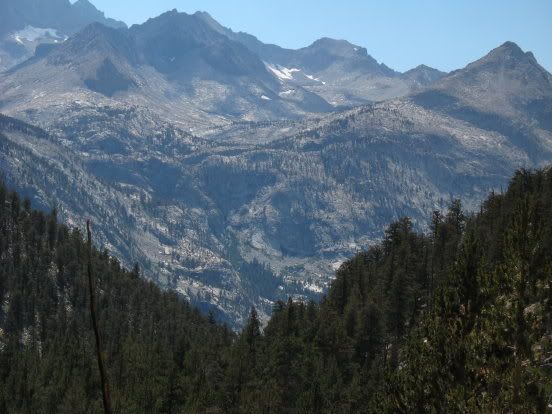 Tomorrow's destination:
On Sunday the 24th, we crossed the river (water was low and the crossing was easy) and headed up the Colby Pass Trail.
We walked a little ways beyond Rockslide Lake, then crossed the creek and worked our way up the steep shoulder of Picket Guard Peak.
Finally, we reached the bench overlooking Picket Guard lake: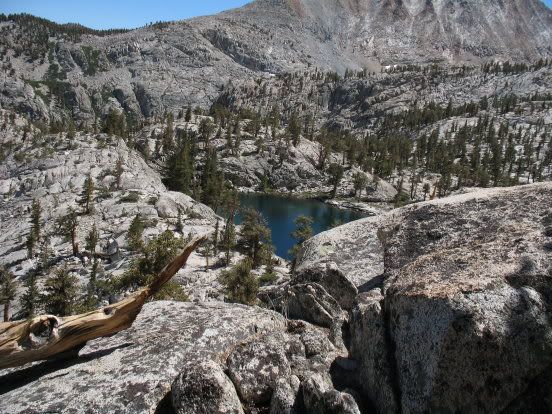 This lake has a terrific campsite and is very photogenic.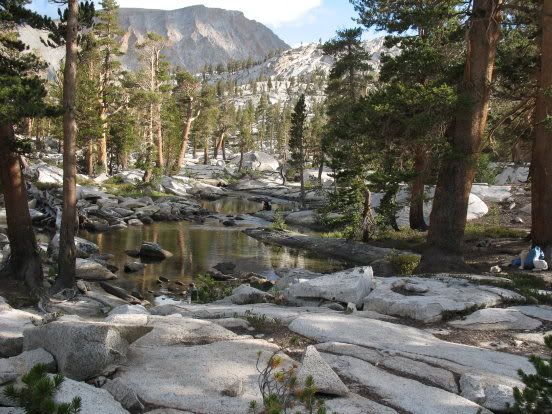 Time for a swim!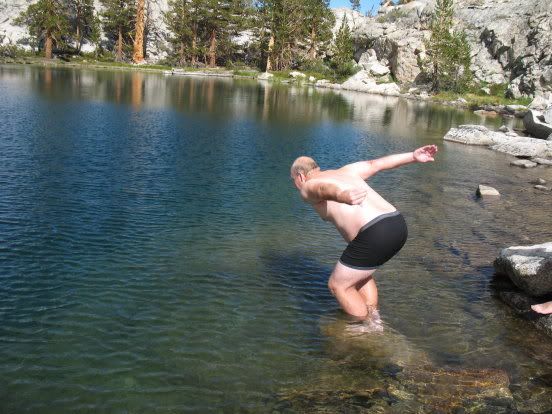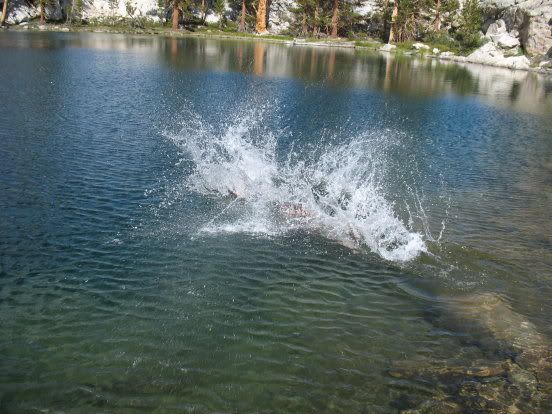 Then a storm brewed up . . .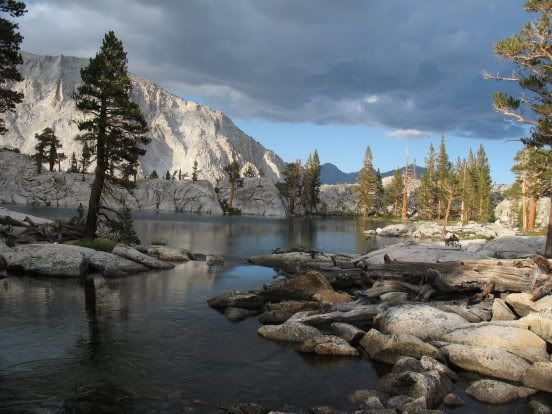 Followed by some alpenglow . . .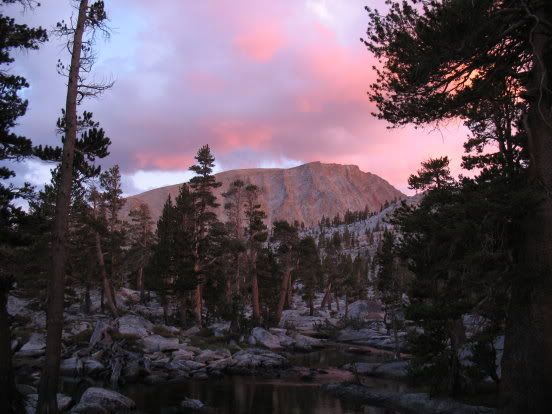 Part Two to follow -- into Kaweah Basin