Topix Newbie
Posts: 1
Joined: Sat Sep 01, 2007 2:39 pm
Experience: N/A
Location: San Francisco
I am looking for a short hike, 3-5 miles one way to a pristine lake in the Sierra Nevada's. My wife has finally consented to do some camping with me and I need a relatively easy hike and HOT spot to camp for the night so she will want to go again in the future. Does anyone have any suggestions for me? We live in San Francisco and wanted something no more than 4hours drive to the trail head.
---
Topix Regular
Posts: 145
Joined: Tue May 23, 2006 11:12 am
Experience: N/A
Location: Paso Robles
---
Topix Expert
Posts: 746
Joined: Mon Jun 26, 2006 3:22 pm
Experience: N/A
Seville Lake in Kings Canyon National Park is 6 miles from the Sunset Meadow aka Rowell Meadow trailhead. Fairly easy hike and very beautiful and spectacular-will make an impression that's for sure. Get your permit at either Grant Grove or Lodgepole visitor center. Probably 6 or 7 hours drive from the Bay Area but worth it-especially if you stay in the park at John Muir or Wuksachi lodges before and/or afterward.

Another choice but significantly less spectacular is Showers Lake which is 5 miles from the Carson Pass trailhead on Highway 88. Definitely no more than 4 hours drive from the Bay Area. Also pretty easy. Don't know if you need a wilderness permit. I would check before going.

Best of luck.
---
Founding Member & Forums Administrator

Posts: 2408
Joined: Fri Oct 28, 2005 5:41 pm
Experience: Level 4 Explorer
Location: Mammoth Lakes and Tuolumne Meadows
Desolation Wilderness area…to Ralston Lake
http://www.topozone.com/map.asp?lat=38. ... &layer=DRG
This might just fit the bill, only a few hours driving from San Francisco. To start, grab the ferry at Lower Echo Lakes…just off highway 50 before going over the summit at Tahoe…Maybe only a few easy miles but definitely scenic. You can bag Ralston Peak, and / or do some fishing too. My wife agrees!
Mountainman who swims with trout
---
Topix Expert
Posts: 746
Joined: Mon Jun 26, 2006 3:22 pm
Experience: N/A
.
Last edited by
rightstar76
on Wed Apr 15, 2020 4:06 am, edited 1 time in total.
---
Founding Member & Forums Moderator

Posts: 3104
Joined: Wed Dec 28, 2005 10:22 am
Experience: N/A
Location: Fresno
Contact:
Four hours from SF is a bit limiting. This eliminates anything south of Highway 108/120 (anything from Yosemite southward).

From north to south, here are some options (this is just a sampling):
1. Saxonia Lake, Sierra Buttes area. There is an unofficial trail going to this lake of about 1 mi. in length that heads southward from the road to Packer L., but it is hard to find, and this may end up being a bit of off trail. You need to hunt around a bit for a campsite (I saw one or two viable spots on my two dayhikes here), but it is worth it at this gorgeous lake below the spectacular Sierra Buttes. In any case, the willingness (and route finding skill) to do some fairly easy off trail hiking is necessary here, but it pays off, given that this lake sees far fewer visitors as a result. This is probably about a 4 hour drive from SF. No wilderness permit required.


2. Penner Lake, Grouse Ridge area,north of Lake Spaulding off of I-80. This is about 3 hrs from SF (my Bay Area driving times are calibrated to Hayward, given that I lived there for many years-an I-80 escape is the same for SF as for Hayward). This is a beautiful region and this lake is the best of the bunch. There are a number of other gems in this area. No wilderness permit required.

3. Fisher Lake. If you are capable of easy off trail travel, this is another great one in the I-80 country. You can take one of two trails to the Loch Leven Lakes (there is the "normal way" from I-80 and there is the easier and shorter way via a road that leads past Lake Valley Res.). Even by the longer route the total walk to Fisher is about 4 mi with the last mile or less being off trail. If you don't want to go all the way to Fisher any of the Loch Levens are pretty nice, with the uppermost one (High Loch Leven) seeing the fewest people. No wilderness permit required.

4. Any of several lakes accessible from the Wrights Lake trailhead (western Desolation Wilderness accessed from US 50). My personal favorite here is Tyler L., about 4 mi from the trailhead. Most popular are the Twin Lakes and environs. All of these lakes are quite nice. You'll need a wilderness permit for this one.

5. I agree that Ralston Lake is a particularly nice target in Desolation Wilderness out of Echo Lake. With the aid of the ferry (let's hope it can still make it all the way to the head of the upper lake with the low water) this hike is short (2 mi or a bit less) and easy. For some reason most pass up this lake. Those wanting the very short hike seem to congregate around nearby Tamarack and those going further go to Lake of the Woods (about 3.5 to 4 mi from the trailhead). Ralston is off in its own gorgeous cul de sac. Wilderness permit needed.

6. Winnemucca Lake and vicinity, Carson Pass area. The trailhead is about 4 hrs from SF. Yes this is popular, but if you walk the 2 mi from Carson Pass into this area you'll see why. It is totally gorgeous. There are camping restrictions at Winnemucca (must camp in designated campsites). Round Top Lake requires a mile more of hiking, but sees fewer folks. Wilderness permit required.

7. Upper and Lower Kinney Lakes, Ebbetts Pass area. These require only a bit more than 1 mi of hiking northward along the PCT from Ebbetts Pass--a very pleasant hike. The topography in this region has an interesting "moonscape" character owing to all of the volcanic rocks in the area. Driving time is about 4 hrs from SF. I suspect a wilderness permit is required giving that this is Mokelumne Wilderness.

8. Waterhouse L., Emigrant Wilderness, S. of 108 just east of Pinecrest. This kickoff is about 3.5 hrs from SF (maybe less?, it was under 3 hrs from Hayward). The hike is via an unmaintained trail and it becomes somewhat "cross country" in places, but it's only about 1.5 to 2 mi (net downhill going in, actually). This is a nice little hideaway and an Emigrant Wilderness location one doesn't often hear about. Wilderness permit required.

9. Kibbie Lake NW Yosemite. This should be about 4 hrs from SF to the Shingle Springs trailhead (3.5 or less from Hayward) and 4-4.5 mi from there to the lake. The scenery here is sort of like Waterhouse: conifers and granite slabs but on a somewhat grander scale. This place can be moderately popular but this is a big lake with room to get a place with some privacy. Note that sometime in Sept. (late Sept.?) they close down the road at the Cherry Lake dam, making this hike 3.5 miles longer--yuck. Wilderness permit required.
---
Founding Member
Posts: 655
Joined: Sun Nov 20, 2005 8:35 pm
Experience: N/A
This little gem is about 4.5 miles in, mostly flat with two short, uphill stints. Probably more than 4 hours from the Bay Area though. My 75 year old dad is the one in the picture.
---
Topix Acquainted
Posts: 46
Joined: Fri Sep 08, 2006 6:30 am
Experience: N/A
Location: Chehalis WA
When I was a kid (late 60's, early 70's) I lived in Santa Clara and went to the Sierras (mostly Yosemite NP) many times. 4 hours is an unrealistic target. Traffic's a lot worse now. There's more rigamarole with getting your permits if you're going into a regulated area.
What do you mean by a HOT place? Are you using the term figuratively?
If you've finally talked her into this, I'm assuming it's gotta be all trails? Off-trail opens up some secret spots but we probly gotta be realistic here...

Pretty much any direction out of Tuolomne Meadows would be pretty, but there are restrictions in place, such as you have to move at least 4 miles from trailheads before you can camp. Some of the Park regulations seem onerous but I can see their point on this one - there'd be squatters visible from the road setting up tents right out in the Meadows if they weren't forced back into the woods.
---
Founding Member
Posts: 452
Joined: Mon Oct 31, 2005 1:38 pm
Experience: N/A
Location: Lincoln, CA (Sacramento area)
Contact:
Hey Mountaineer... that looks like the Devil's Bathtub. It's one of my favorite "intro" lakes for backpacking with first-timers. Gorgeous setting, relatively easy hike, and great fishing for too-easy-to-catch-mini-brookies. That's the first overnight backpacking trip I took with my fiance (now my wife), as well as my nephews and nieces and my brother. Lots of skeeters in early/mid season (that's never 'bugged' me though), and wonderful in the fall. The far side has a fantastic beach strip along the shore. It can be popular in season, but it's a big lake and there's plenty of places to camp.
---
Founding Member
Posts: 655
Joined: Sun Nov 20, 2005 8:35 pm
Experience: N/A
Hi Buck...definitely a nice place considering the easy hike in. Not sure where the fish were when I was there a couple of weeks ago...probably taking their mid-season hiatus. Here is another shot...I sure need a new scanner, these things don't look as good as they should. Oh well.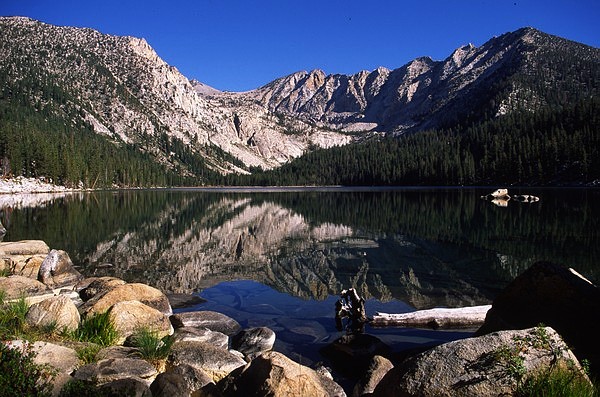 ---