My wife and I section-hiked the Pacific Crest Trail from Horseshoe Meadows to Kennedy Meadows via Trail Pass over six days. We hiked it back in late June 2020, so my apologies for the lateness of this trip report. I'm also not entirely sure that it belongs here on this forum as it wasn't technically in the "High Sierra" at all. More like the South Sierra. Anyway, I've got three more "proper" High Sierra TR's to post from last Summer, if I ever manage get around to writing them, so let's get this one over with and move on.
The two of us have hiked over 20% of the PCT by now, and at this point we're always looking for new sections to check out. We're also a bit lazy, so we often start a section at the higher end, rather than hike strictly northbound or southbound (NOBO and SOBO). And that's why we started at Horseshoe Meadows. 10,000 vs 6,000 feet elevation? It's a no-brainer. Why suffer?
Anyway, 2020 was an interesting year, as the PCT Association took the Covid advice to heart and asked ALL the through-hikers to cancel their trips, even though they'd already been issued permits. They called this NOGO. But there was still a hardened core of rebels (like us) who wanted to Socially Distance ourselves out in the wilderness. The rebels were shamed by many of the usual PC-Correctness Cancel-Culture Lamers on Facebook and thetrek.com, but they hiked on anyway, and made their own 2020 PCT groups. Good for them! And it turned out to be a much less crowded year on the trail, which was fine by us.
The hike was roughly 43 miles long, with 7,000 feet of gain and 11,000 feet of loss. We decided to do it over the span of six days, mainly because we're wimpy hikers. Why kill yourself hiking twenty mile days when you can spend a longer time in the mountains? Another no-brainer.
We decided to take two cars, and dropped one off at the trailhead in the Kennedy Meadows Campground. We both got in the other car and drove to Horseshoe Meadows, which, unfortunately, had yet to be fully opened by the Inyo National Forest. But that didn't stop us! And it didn't stop all the other people parked along the roadway. Rebels, all of them!
The NFS still had the gate locked on Horseshoe Meadows Road a half mile below the parking area
Vicki and I stayed one night in the back of the Rav4 (9800 feet elevation) in order to acclimate
Day 1: Horseshoe Meadows to Diaz Creek via Trail Pass
This would be a mellow, seven mile day.
Vicki at the Golden Trout Wilderness sign as we head for Trail Pass
Panorama view of Horseshoe Meadows with Trail Peak (left) and Trailmaster Peak (far right). Trail Pass is on the far left.
The Trail Pass Trail heads uphill about 500 feet to the pass through a pine forest
We took a break partway up, and while we were sitting down, the 5.8 Owens Valley Earthquake of June 24th 2020 struck! The whole world rumbled and shook, and numerous small, dead branches fell down from the trees all around us. The trees didn't sway much; they mostly just trembled. While we sat there, we felt a couple of smaller aftershocks. We wondered if all of civilization had crumbled, somewhere out there, but we decided that there was nothing we could do to help, so we hiked on.
Trail sign at Trail Pass - we would be taking the PCT southbound from here
Looking west over Mulkey Meadow, with Kern Peak (11510 ft elev) on the left
Zoomed-in view south to Olancha Peak (12133 ft elev) which is the highest peak in the Southern Sierra
We would be hiking up and over Olancha Peak's west ridge in a few more days.
Panorama view of Muah Mountain as we continued south along this mellow part of the Sierra Crest
Diaz Creek was flowing well in a deep channel - I had to climb down there to collect two gallons of water
Our campsite at Diaz Creek at PCT mile 742, with Muah Mountain to the southeast
Day 2: Diaz Creek to Ash Meadow
This day was only 6 miles, but it was mostly uphill, with a 700 foot gain. Along the way, we met NOBO hikers who already had news that Horseshoe Meadows Road had been closed due to a rockslide from the earthquake! News travels fast on the trail. We hoped that our car didn't get damaged, but we couldn't do anything about it now, so we decided to worry about it later. Maybe the road would be open in five more days.
We woke at first light and got hiking early, while it was still cool, as we had a lot of climbing to do that day
Zoomed-in view of Kern Peak from the PCT near Ash Meadow
A lush meadow at PCT mile 738.3 near the Public Corral - the stream leads down into Ash Meadow
Another view south from the PCT with Olancha Peak on the left
We set up camp early at PCT mile 736.3 on the south side of Ash Meadow - we put up the tent fast in case it rained. And it did!
Vicki's toes in her Injinji Socks as we hunkered down in the tent while it rained and hailed outside.
It didn't last very long. Still, it was cozy. It's a good feeling to be dry and warm inside your tent when it rains.
Afterward, we purified two gallons of water from a spring to the east, and got our first taste of Late-June Mosquitoes. They were quite voracious! But they didn't stray very far from the water, so we left them alone as soon as possible. There was a nice breeze up on the saddle where we camped, and we weren't bothered at all by bugs.
Day 3: Ash Meadow to Bell Camp Meadow
This was set to be one of our longest days, at 8.5 miles. The beginning was uphill, as we gained the Sierra Crest and a view of Owens Valley to the east, but the rest was miles of downhill cruising, 1800 feet on a long ridge with plenty of views to the west. It was a good day.
We left camp early as we had a bit of climbing to do that morning, and we wanted to finish before the sun hit us
The view east over Owens Valley
There were standing piles of granite blocks along the PCT in this area
Panorama view west over the big valley that drains into the South Fork Kern River
Cumulus clouds over Olancha Peak, with Strawberry Meadow down in the valley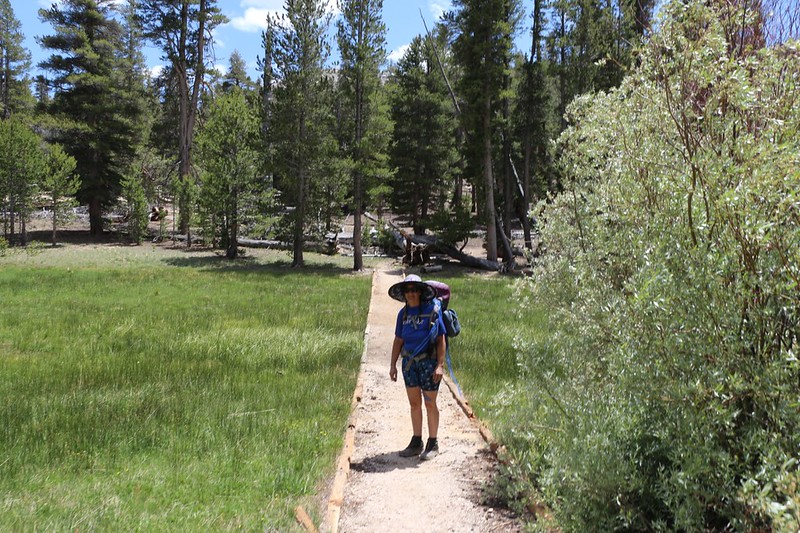 There was a raised platform at Gomez Meadow, which was interesting in that it was directly on the crest and drained both east and west
The clear water where we filled our gallon jugs on Long Stringer
We went to bed early that night, as the next day would be a 1500 foot climb up and over the western ridge of Olancha Peak, our biggest climbing day of the week. Four miles up, and four miles down.
Day 4: Bell Camp Meadow to Olancha Pass
We had a long climb ahead of us so we woke up at 4am and packed our gear before dawn
Templeton Mountain (9960+ ft elev) in the foreground to the left and Mount Kaweah in the distance to the right
Zoomed-in view of one of many mosquitoes that were unable to bite me through my pants.
There were several meadows on Long Stringer, which paralleled the trail for a mile or more, and in the early morning hours the mosquitoes were out in force. We had to apply DEET, which stopped them from landing, but it didn't do anything to keep them from following us, trailing behind us in our slipstreams, and then swarming our faces whenever we stopped for a break. Annoying! They went away after we climbed higher and it got warmer.
Zoomed-in view north to Pickering, Newcomb, Whitney, Cirque, Russell, and Langley. This is why we climb up high!
Vicki decided to celebrate our long ascent of Olancha Peak by cooking up some ramen noodles for lunch on the ridgetop
Zoomed-in view of the talus-covered summit of Olancha Peak - that's a trail runner we met while we ate down below
Panorama view over Brush Meadow on the southwest slope of Olancha Peak
The PCT headed down upper Cow Canyon on its way to Olancha Pass - Easy downhill hiking
We took yet another break in the shade on our way down to Olancha Pass - it was quite peaceful there
At Olancha Pass, we set up the tent in the shade and relaxed inside a bug-free environment and read our books in peace
(Technically, this wasn't Olancha Pass; it was where the PCT intersects the Olancha Pass Trail)
Day 5: Olancha Pass to Beck Meadow
This was yet another eight mile day, with most of it downhill, as we made our way to a bridge over the South Fork Kern River in Monache Meadow, then climbed up and over the north ridge of Deer Mountain to one of the only spots with reliable water in Beck Meadow.
Vicki posing next to the trail sign at Olancha Pass
We saw a herd of cows passing by just behind us - they were on their way from Summit Meadow to Monache Meadow
They were only on the PCT for a half mile; they turned off on the Monache Meadow Trail, thank goodness. And there didn't seem to be any humans involved; the cows simply felt like walking that way. Maybe the grass was greener in Monache Meadow. Just the same, we were glad to be in front of them, so we didn't have to smell any ultra-fresh cow manure! Phew!
We crossed Cow Creek and continued down Cow Canyon - and now we knew how it got that name!
The South Fork Kern River meanders down in the bottom of Monache Meadow, with Deer Mountain on the left
Vicki crossing the metal bridge over the South Fork Kern River on the PCT - another hiker was below it getting water
There were hundreds of swallows flying into the wind under the bridge - like salmon swimming upstream
It was quite mesmerizing to watch the birds flying upwind and expertly ducking into their nests, which were made of mud and filled every cranny on the underside of the bridge
The South Fork Kern River with Cow Canyon on the right
We stopped on the breezy ridge above Beck Meadow and ate some lunch - that's Crag Peak and Finger Rock in the distance
Panorama view north looking down Beck Meadow toward where it enters Monache Meadow
Our campsite at PCT mile 713 was quite nice, and had plenty of shade under the pines, and much less wind
Day 6: Beck Meadow to Kennedy Meadows
This was our final day, nine miles of downhill hiking. We would drop from 8000 feet to 6000 feet by the time we reached Kennedy Meadows. And even though the day started out icy cold, with both of us wearing extra layers, including gloves and jackets, hats and hoods, it ended in the mid-eighties with us wearing shorts by noon.
Beck Meadow in the early morning light - there was frost on the ground out there
The big winds of the previous day had knocked down several already-dead pine trees directly across the trail at Crag Pass
This is a lower section of Clover Meadow with a nice campsite down below at mile 710
Below Clover Meadow the plants are more like chapparal, with low bushes and fewer pines - Crag Creek is on the right
We decided to take a long break and eat some lunch in the shade at the big bridge over the South Fork Kern River
Vicki wore her crocs and cooled her hot feet in the river - it felt great!
We met some nice folks and one of them was a photographer who took our photo on the bridge - Thanks!
The Pacific Crest Trail trailhead sign and register box at Kennedy Meadows Campground, PCT mile 705
The hike was over. We got to the car and changed into some clean clothes and fresh shoes. Our bodies still stunk, but at least we looked presentable. Then we headed off in search of civilization.
We had a burger at the Kennedy Meadows General Store Grill - it's always great to eat real food after a week on the trail
We drove the two hours back to our other car up on Horseshoe Meadows Road. We tried to check whether the road was still closed using our phones, but it was hopeless. There were plenty of news articles about the road closing due to the earthquake, but apparently it wasn't newsworthy enough to let anyone know that it had been reopened. So we had to find out the old-fashioned way - by checking it out in person. And it was fine. There was no trace of the rockslide remaining.
We decided not to drive all the way back to San Diego after hiking all day, so we spent another night in the car.
It was over 100 degrees down in Lone Pine, but it was a comfy 70 up at altitude, and it got nice and cool that night, so we could stay warm under our goose down. That's the way camping is supposed to be!
Dawn was breaking over the Owens Valley from high up on Horseshoe Meadows Road
Time for these two rebels to head back home!
Map and GPS Tracks from our hike on my
CalTopo Page
Lots more photos and videos on my
Flickr Page
.