Last year I ran North Lake - Lamarck Col - Evolution Basin - Le Conte Canyon - Dusy Basin - Bishop Pass - South Lake (
trip report
). I wanted to get back in there, but didn't want to do the same thing. I also didn't want to hitchhike. So I figured I'd start at Lake Sabrina, go over Echo Col, and see if I had time to climb anything.
Here's what I ended up doing (clockwise). In short, Lake Sabrina - Echo Col - Black Giant - Evolution Basin - Lamarck Col.
(The first Lamarck Col is Echo Col. Muir Pass is Wanda Pass. The real Muir Pass is the rise to the left of that. Sorry!)
After a light breakfast, I got started from the Lake Sabrina trailhead at about 5:15am. The temperature was in in the high 40s. I used a flashlight for the first mile or two before dawn. I did a little jogging, but didn't worry about my pace; miles before sunrise don't count. The trail was easy to follow, and went by a number of pretty, small lakes and a few creek crossings.
Looking back at Lake Sabrina
Blue Lake
Picture Peak over Sailor Lake
There were a lot of people camped at Sailor Lake. One man with his son hailed me. I said I was going over Echo Col. He said they'd just climbed it the day before, and warned me that there were "very slippery rocks." Had I looked up information on the col? I always appreciate getting beta, but this worried me as I continued on.
From Sailor Lake there are off-and-on use trails up to Echo Lake.
Echo Lake is just above the central rise
S from Echo Lake
Me, looking SW from Echo Lake toward Wallace Col
View toward the col
There were dozens of birds looking for bugs on this snowfield beneath the col
Closer view; from the left end of the snowfield (center) I went up and to the right until arriving beneath the col (rightmost notch), then up
The last bit
Near the top, I tested the name. "Echo" indeed.
Looking N from Echo Col. Rubble.
There was no reason to worry! The rock was completely solid, nothing slippery. Although the top part is a (very easy) class 3, the pass was much easier than some of the class 2 passes I've climbed (e.g., University Pass after a rainstorm). Not to say that the group at Sailor Lake was wrong, climbing is generally much easier without a pack.
My route over the col, from Echo Lake at the north side
Looking S from the col

S side of the col

The col is to the left of the dark rock in the middle

From the col, the descent to Lake 11428 is very easy. I followed slabs toward the left. When they looked to be turning cliffy, I jogged right. Indeed, there are cliffs, but from below it looks like there are always spaces between them so it is probably hard to get stuck.
Black Giant over Lake 11428




Backpackers headed up to the col


Leaving Lake 11428 at an obvious dip maybe 100 yards west of the lake's outlet, it is an easy descent to the JMT. Back to civilization!
Black Giant over the JMT
JMT going up
I left the trail just before it started switchbacking after Helen Lake, at 11:20am.
My route up Black Giant, then down to Muir Pass (refilling water on the way)
Lake 11939, and looking north into Evolution Basin. Center right is Wanda Lake. Looking closely you can see the Muir Hut silhouetted on the lake, from Muir Pass. Mt Solomons is the peak on the left (west) side of the pass.
Same, but here you can see Helen Lake at the right, and Mt Warlow above it
Charybdis peaking out over Muir Pass, above Lake 11939
Climbing Black Giant was harder than I had expected. The main problem was finding it! There are two obvious prominences along the ridge line. Which was the mountain? Answer: The summit is directly between them, hidden behind two horizon lines.
I didn't reach the summit until almost 1pm. The summit register had entries going back to ~2006.
I chilled out, had lunch, took many pictures. I even tried a Google Cardboard photo. I'd never tried it before, but it works really well! It gives a 360 degree view with stereo, so it feels like you are there! The depth makes it much more immersive than a flat panorama. (On my phone in Google Cardboard the quality isn't great, but maybe it would be better with a higher-resolution screen.) They are also easier to capture. You can stand in one spot and turn, without worrying about parallax error; the parallax error is how they compute the depth.
Great views into Le Conte Canyon!
View back toward Echo Col
View into Evolution Basin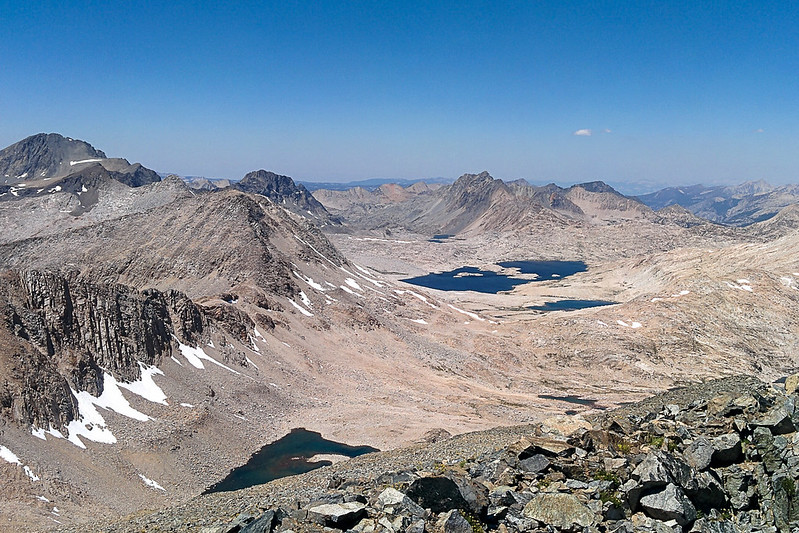 View into Ionian Basin
Le Conte Canyon 1
Le Conte Canyon 2
Le Conte Canyon 3
Le Conte Canyon 4 (notice Dusy Basin on the right)
Me
Panoramas
Panorama into Ionian and Evolution Basins

Muir Pass, Mt Warlow to the right
I descended from Black Giant, and continued north over Muir Pass.
Black Giant from Muir Pass; you can see how it flattens out slightly near the peak, blocking it from view as you ascend
Black Giant over Muir Pass, from Wanda Lake
Reaching the end of Wanda Lake, I decided to take a quick detour to Wanda Pass (maybe .5 miles away, 200' elevation). Even though I didn't go over the pass, this at least gave me a view toward Davis Lake and Mt McGee, which I hadn't seen before.
Wanda Pass (left), above Wanda Lake
Panorama from Wanda Pass; the leftmost peak is Goddard, and McGee is above Lake Davis (on the right)
Mt Huxley
Descent to Sapphire Lake
Mt Huxley over Sapphire Lake
Mt Spencer
Evolution Lake
Mt Huxley over Evolution Lake
Back on the JMT, I wasn't sure what I was going to do. I had wanted to climb over Alpine Col (which I haven't done before), and then over Piute Pass down to Norht Lake. But reading people's descriptions of the col on my phone made me worry that I would spend too much time on talus. So I took the safer option of Lamarck Col, which I had climbed over last year, north to south. Lamarck Col is 400' higher than Alpine Col, but is also ~4 miles shorter. The problem, of course, is that it is difficult to find from the south side.
There is a very clear trail up to Darwin Bench, that leaves the JMT exactly where it makes its first switchback down to the left after Evolution Lake. Hard to miss. The trail up through Darwin Bench is easy to lose track of. I thought it climbed farther than it did, so actually overshot Darwin Lake #1
Very pretty trail (The Hermit in the background). Drier than last year
Darwin Lakes
A White-lined Sphinx moth I found
Alpine Columbine below Lamarck Col
Darwin Lakes #1-4
Last view of the Darwin basin (Darwin Lake #5)
I started climbing from just between the last two lakes. While I did find some cairns, I then lost them. In retrospect, I guess they were going a little bit farther to the east (toward Darwin #5). Not knowing where the pass was slowed me down. I didn't want to climb to the wrong notch. At the end, I could go left or right. After a few steps to the left I reconsidered and went right, which seemed to be a lower notch. Good decision!
I went through the notch at far right here (viewed from the north side). The official col is in the middle, but this worked just as well, and I didn't have to cross any snow
Descending from Lamarck as the sun sets; North Lake is at the very far right, Lower Lamarck Lake is toward the middle
I did perhaps make one mistake going down. There is a point where the trail continues descending (to the northeast), but an old trail comes in from the left. Even though it was obviously wrong, I took the old trail past a small pot lake. This is the trail I'd taken last year going in the other direction, and I didn't feel like experimenting as the light faded. But in retrospect, looking at my GPS track on a map, the newer trail would have worked fine.
I lost the light going down and used my flashlight.
It is 2.6 miles from the North Lake trailhead down to the Lake Sabrina trailhead. Fortunately, it is very fast. I turned my flashlight off and ran by moonlight.