i picked up a copy of the SHR by Steve Roper a month ago and read through it, I'm more interested in cross country routes now, and bag some peaks along the way. I had 4 days to get out so I planned this, for 2 reasons, hoping snow wouldn't be a nuisance, and I needed a ride back so I was able to use the Yarts. I didn't have time for a loop trip and this was a last minute trip. I plan to section hike the SHR this season, if I had enough time i would do it all at once.
6/30 I drove up to June and got a day of walk in permit for Rush creek trail head, not wanting to bother with the Reds shuttle and I've been there plenty of times before. I hiked in at 4pm and set up camp at 7pm at summit lake on a bluff overlooking the minarets.
7/1 I was up and hiking by 630am, headed for northern glacier pass. Skeeters were out at camp and all the way thru to 1000 island lake and they disappeared on the way up to the pass. Snow halfway up the pass made travel easier avoiding talus hoping. I went up the snow chute to bag banner peak which wasn't so bad. Soft firm snow on the way up and mush on the way down. Last year I did Mt Ritter and went to do Banner the next day and got turned around by T-storms so I had unfinished business. Actually I did part of the SHR last year and didn't even know it. I went to Nancy Pass, Iceberg and Cecil, Mt Ritter....
Anyways after banner I skirted around lake Catherine which was partially frozen and snow around the lake, traveled down the slabs, found the waterfall which dropped into a melting blue lake. Went up and over the slabs down the class 3 ledges. I made my way to the 9900 ft elevation on the north fork where the white pine trees are scattered and set up a cowboy camp on a bluff around 4:00pm. no skeeters out and the stars were burning that night.
glacier pass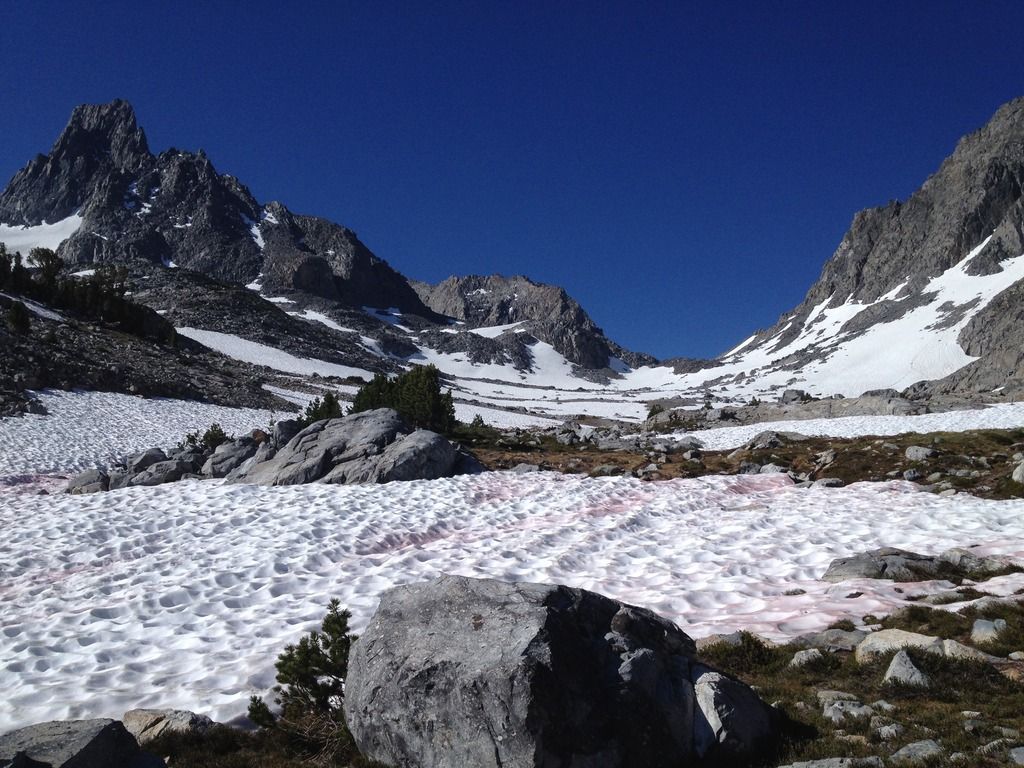 view from banner

waterfall into snowmelt
7/2 I was up and hiking at 7:00 am went down the steep chute and over to the granite slab corridors to make my way to twin island lakes. I found the creek crossing which was waist deep, but it was no big deal. the current was so slow i didn't feel anything. Afterwards I hiked up the grassy corridor and made the traverse around and the only mistake i made was i didn't gain enough elevation. My altimeter was off a few hundred feet and i was too low, couldn't find the lake. stay high above and out of the valley and go up high. I ended up climbing up and wandering around i found the lake at 10,200. I left the lake went up the grassy slope, stayed level with the peak to the ridge and traversed across at 10,200~10,300 feet ending on top of the black bluff. From there the drop down into bench canyon is straight forward. Bench canyon is amazing, I went for a swim, wandered thru the canyon and found my way up to blue lakes. Views toward the minerets were amazing. I was at Blue lakes around 1:00 pm. From the north end of the high blue lake eyed a ramp up, climbed up some steep granite slab, then traversed up a snow field to the pass. Views were awesome from up there. I left the pass about 230. The hike across the plateau to the isberg pass trail was straightforward and pleasant, patches of snow and clear flowing snow melt streams. I made it to the Lyell crossing, which was raging. Had to go up river to find a safe place to cross. Set up camp around 6:oopm on the other side when 10 backpackers trampled thru my camp. ughhh back on the trail......
twin lakes crossing
southern twin lake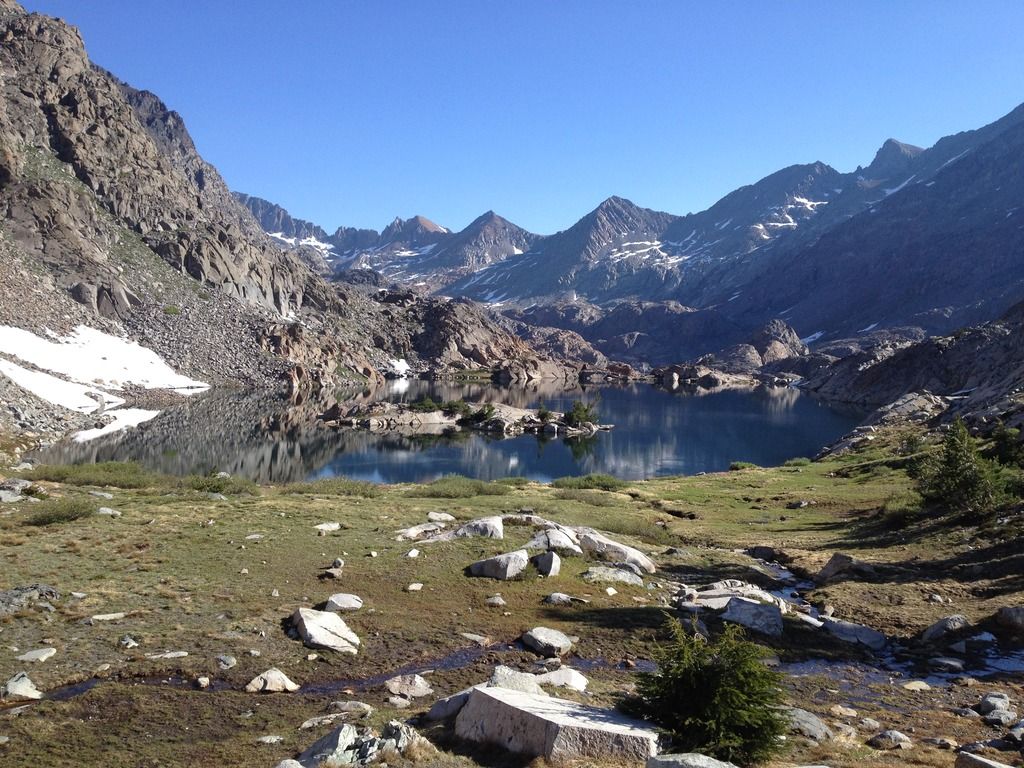 10,200 lake
bench canyon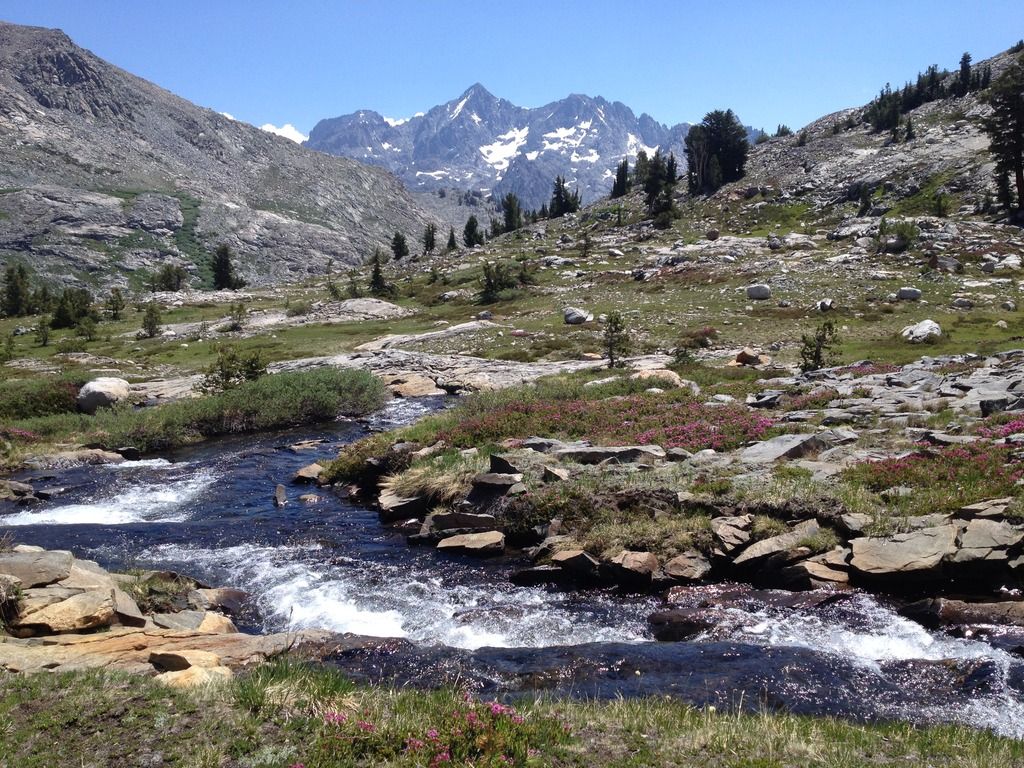 blue lakes
other side of blue lake pass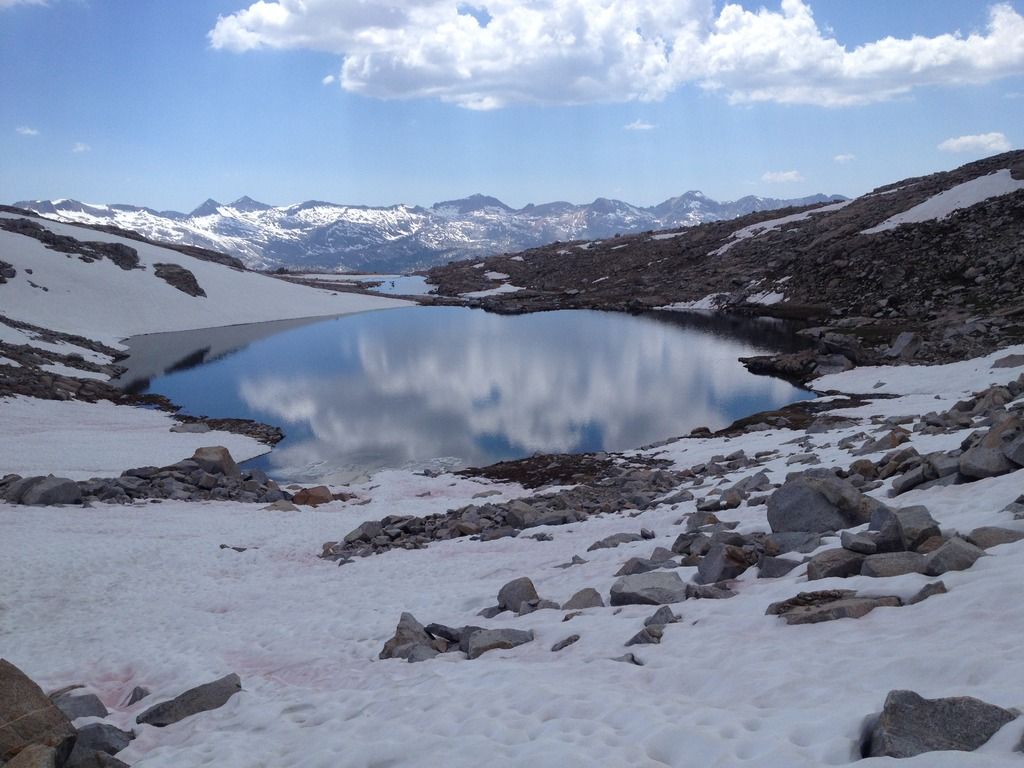 7/3 I hiked out to Toulumne meadows and got there at 2:00, bought some beers and chips and sat on the river drinking mammoth beer and then grabbed the shuttle back to Rush creek. Not much to say about the hike out, i really don't want to hike trails anymore and the hike out confirmed it. I'm really looking forward to doing another segment and longer.
I only used the guide book, map, compass, and altimeter to navigate. The book gives you just enough info to find your way. I didn't want to research step by step instruction, whats the fun of that. I did load some waypoints of certain spots into my I phone nav app but I never used it. I didn't think the route finding was difficult at all.
lots more pictures:
http://s1262.photobucket.com/user/beant ... t=3&page=1