While I try to get out for at least a 4 day weekend every summer month, I always look forward to my annual week long trip with my brother. This year he brought along his 13 year old daughter. We always try and find some where we haven't been before, so this year it was Mineral King. By HST standards my hikes are very easy with 7 to 10 miles daily depending on the amount of elevation. I am not apposed to taking naps and fishing the afternoons away. We decided on a loop up to Bearpaw since my niece had her heart set on seeing the Giant Sequoias.
On day one we made it to Three Rivers around 11 AM and ordered up some fantastic sandwiches at Sierra Subs. We had planned on getting one for lunch, but decided to get a second for dinner that night. We made the trail head by 1, and were eating our first sandwich at timber gap by 2:30 and made camp at Cliff Creek around 4.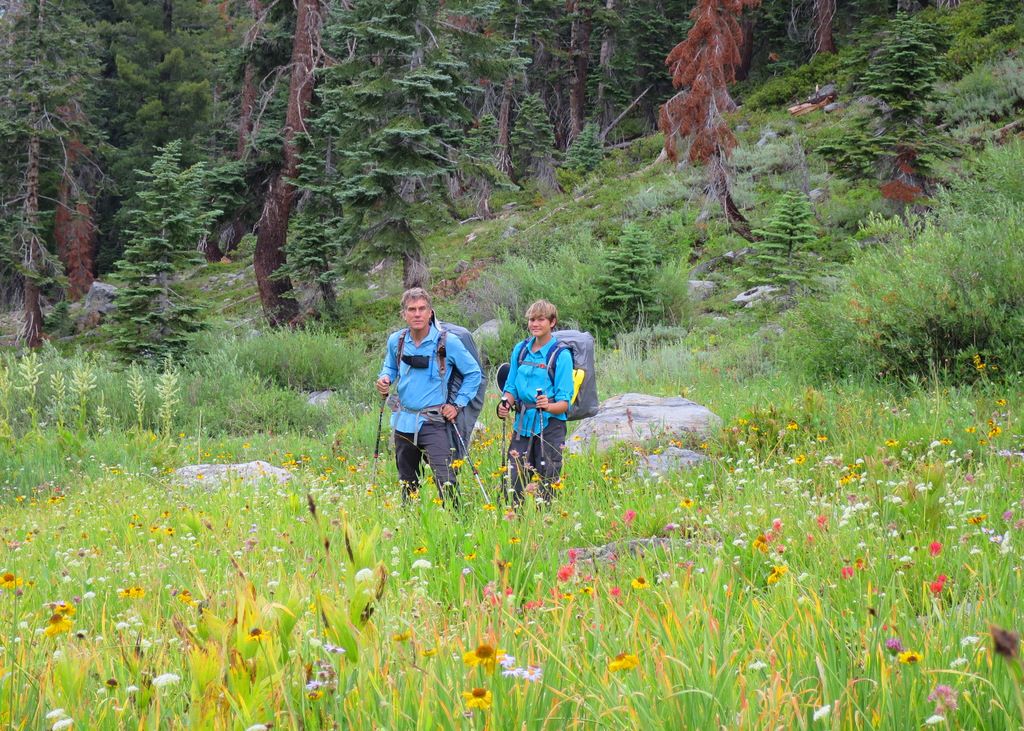 The flowers were in full bloom down Tmber Creek due to the rain prior to our trip
My niece got her Sequoias
Day 2 - Had us strolling through Redwood Meadow and then up to Bear paw. Luckily, I had called the week before to check if anything was available and was surprised to find out that a cabin was available that night. In retrospect it was a very good thing since the campsites at BearPaw Meadow were horrible. They were overused and packed together, no water accept for one spicket at a campsite, but mostly because it was crowded. The HSC was pretty nice with hot showers, flush toilet and gourmet cooking all while overlooking the Great Western Divide.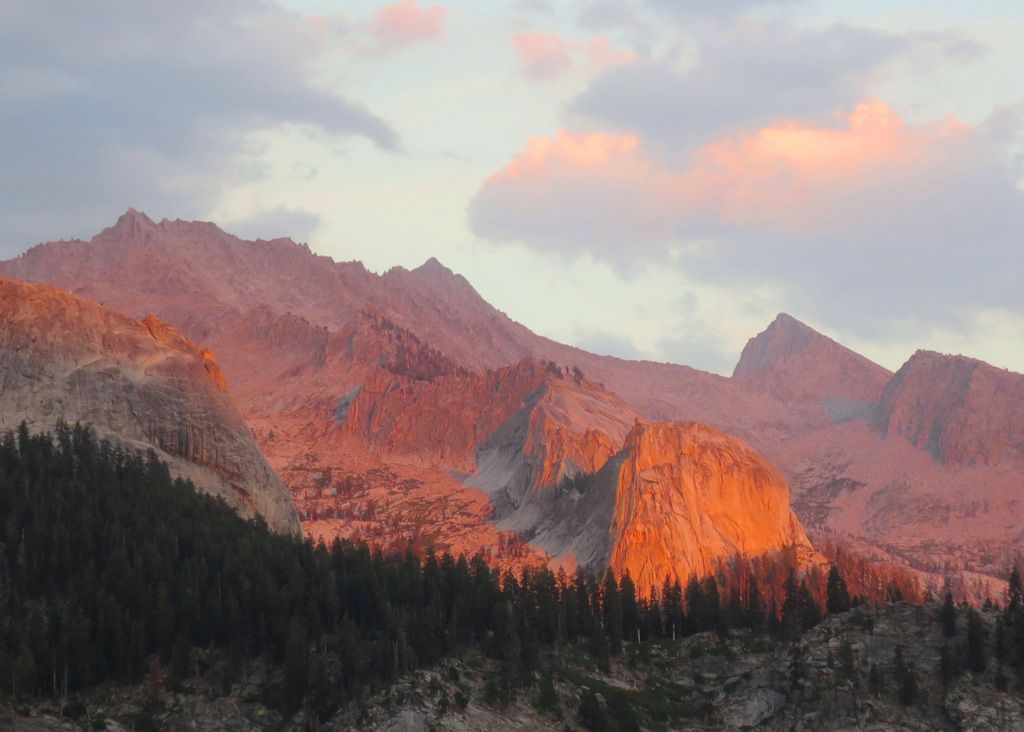 The view from our cabin
Day 3- We pushed on to Precipice Lake and found it to be beautiful with its multi colored walls and crystal clear water. Being that it was on the HST, we were surprised to arrive there and have it all to ourselves. Later that day, the masses started arriving.. We had originally set up camp along the trail to the north but as the HST travelers started arriving and space got tight, instead of looking some where else or moving along to the Big Arroyo, they just flopped down right next to us. By right next to us I mean 10 to 15 feet in two separate directions. As they started setting up camp, they assured us the 8 of them were very quiet. My brother an I had no interest in a crowd, so we decided to look around for an alternate site. Not far off the trail on the south side of the lake we found a great site and literally shoved every thing from our campsite back into our packs and lifted our tent above our heads and moved camp. To add insult to injury, the groups that had stayed there had used so much soap that there was foam a foot high by 2 feet wide at the inlet. It was so large that my niece and I originally thought a large chunk of ice had dislodged and was floating at the inlet. By this time I was so upset that I didn't confront them since i was sure I wouldn't be able to control my anger. The thought of this traveling circus going across the Sierra to Whitney still angers me!
Precipice in the AM
our new campsite
Days 4 though 6 consisted of getting back to Beauty and solitude at Big 5 lakes and Columbine lake and the crowds of the HST became a memory. We had originally planned to stay at Little 5 Lakes but when we got there we saw a group camped there and decided to move on. Upper Big 5 Lake was beautiful and loaded with fish and solitude.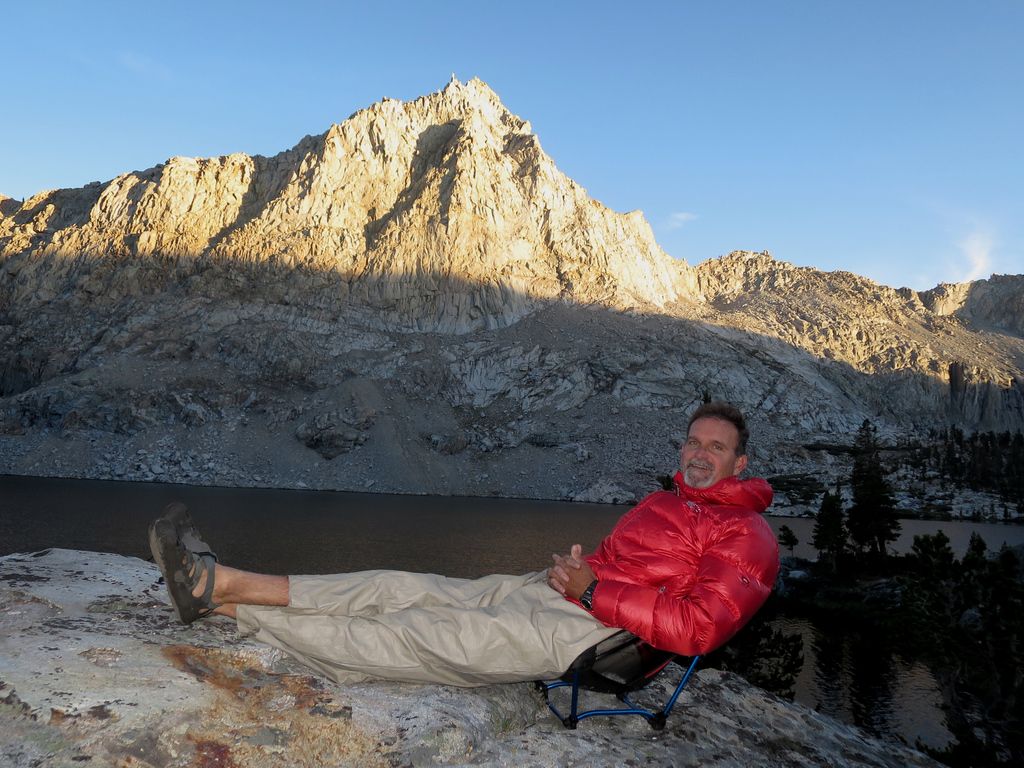 Our campsite at Big 5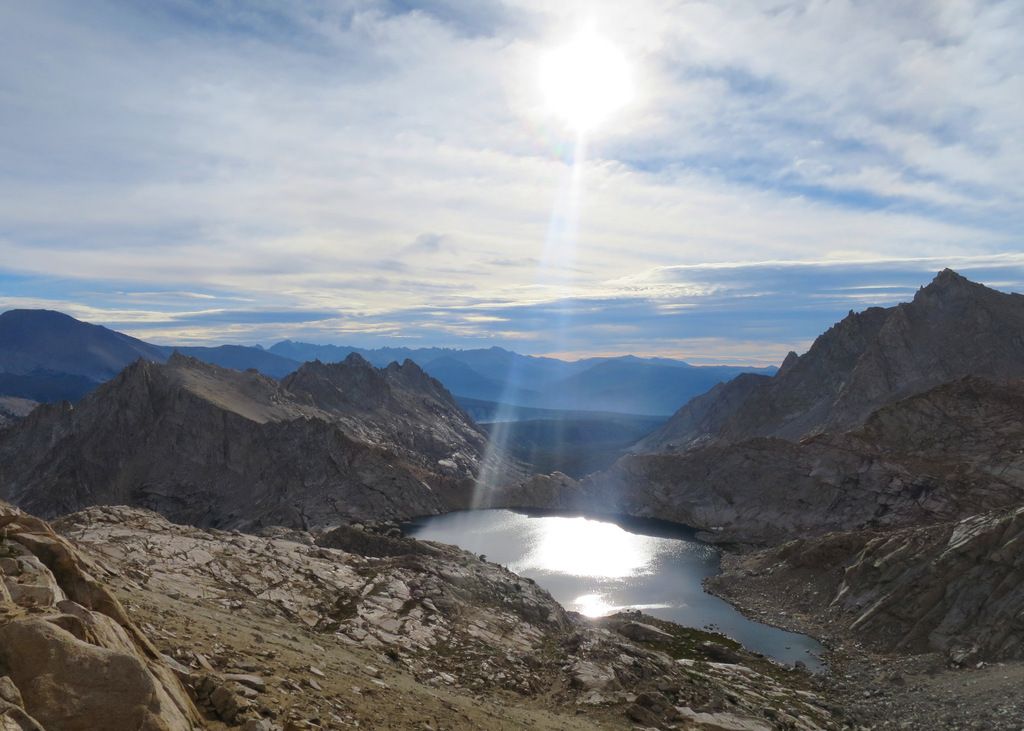 Looking down on Columbine from sawtooth in the AM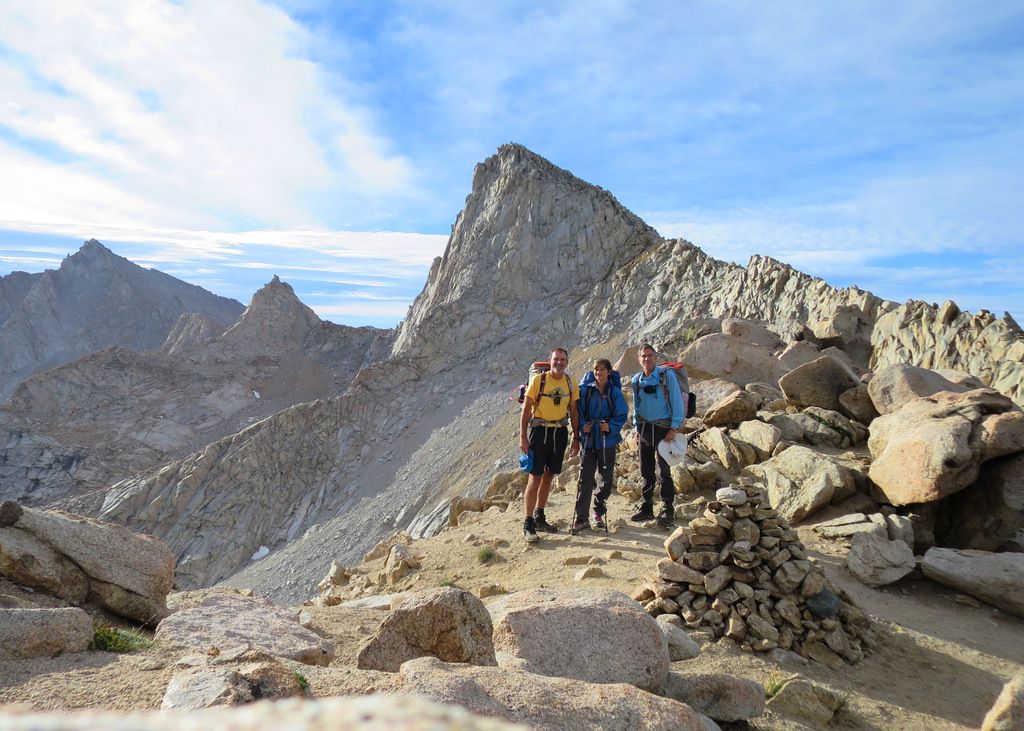 Us at Sawtooth Pass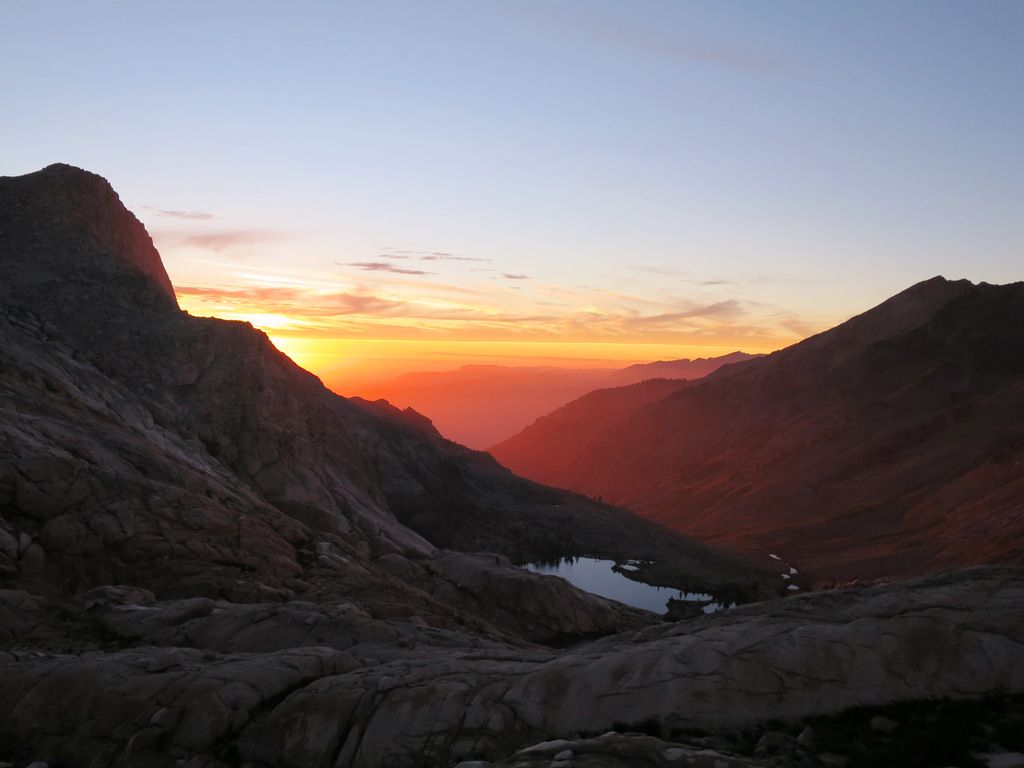 Sunset from Columbine
We had a great trip and my niece is already asking about next years trip.
Thanks again to every one that helped me with this trip.