Day One,
Finally got the chance to get out on this trip. My plan was to take my trusty '69 VW camper up to Sonora Pass on Monday to acclimate but stuff happened and I didn't get that done. Instead I had a fitful night of sleep at home and got up at 5:00 in hopes of being on the trail by 8:00 A M. I actually made it to the trailhead by 8:00 but I spent about a half an hour talking with the guys that operate
Sonora Peak Resupply
Great guys filling a little niche in the PCT market. Their prices were somewhere between Wallyworld and the local Sonora outdoor shop.
After shooting the breeze for a while I put the boots on, tossed the pack on my back, and was happy as a lamb being on the trail for the first night in the backcountry for the year. Took the road from Sonora Pass to St. Mary's pass TH figuring that walking down a paved road would be a better beginning that an ending.
It didn't take long before today's lunch stop came into view.
I could really feel the lack of acclimation as I headed up the trail.
But as I only have 5 miles to do this day and it was still very early, I took my time. Passing some magnificent rock formations. I was surprised to see snow on the South side of the ridge.
I slowly make my way up 1000 ft. in 1.3 miles to St. Mary's Pass. This is the view looking back to the south towards Leavitt Peak.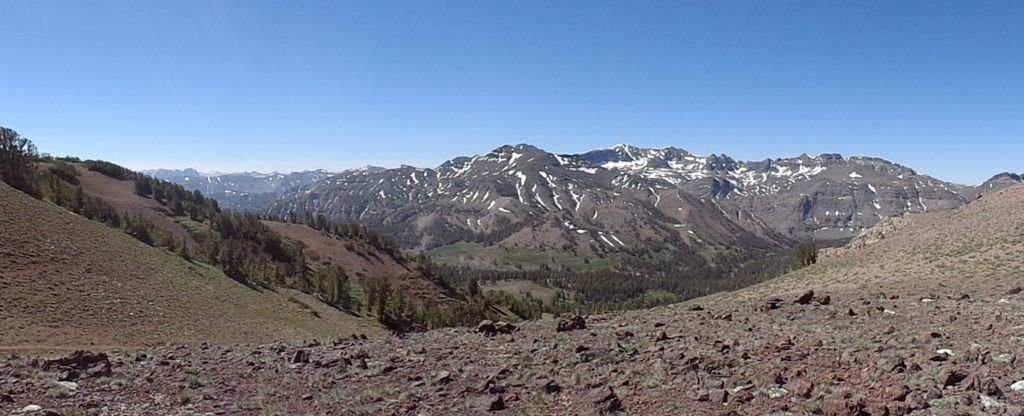 And this is looking north into Clark Forks Meadows.
I can't do one of those cool 360* pics but here is a video.