Hey everyone! This is my first post and I'd like to start by thanking everyone on this forum for your love and dedication to the Sierra and to one another. I grew up in Solano County and now I live on the Central Coast but the Sierra is on my mind every day. I am stoked to have found this little corner of the internet to share stories and info with others who share my obsession. Wahoo!

Now down to business! I'm graduating with my masters degree this June and aside from job hunting, I'm going to take some time for fun as well. I have maps pinned to my walls, littered on the floor and loaded on my computer. I've spent way too much time lately with Google Earth and Caltopo and I've created a route that I'd like your insights on. In terms of my skills, I'm 26, in good health, I'm "level 3/4" according to the forum guide, comfortable with Class 2 terrain and off trail navigation. Some of the trips I've been on include a cross country loop of Humphries Basin including Pilot Knob, Wahoo Lakes, etc, I've been through Royce Lakes and explored Bear Lakes Basin and done North Lake to Lamark Col and out over Bishop Pass to South Lake among others.
I created this trip based upon a few criteria. I wanted some combination of on-trail and off-trail travel, avoiding people wherever possible, and I was trying to explore places I've never been, including a few on my hit list- Lakes Basin, Sixty Lake Basin and Lake Reflection. I know I'll see a lot of people on the JMT section but that seemed like the quickest option between Lakes Basin and Sixty Lakes Basin unless I'm missing something. I have 2-3 weeks and I want to take my time, maybe with a resupply halfway through either from Taboose or Charlotte Lake possibly. Those of you who have had some experience in any section of this route, does this seem like a reasonable/logical path? Is there anything I might be missing along the way?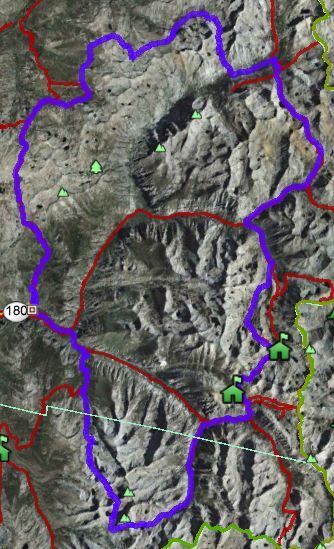 Start Roads End
Copper Creek Trail
Granite Pass
Horseshoe Lakes
White Pass/ Windy Ridge
Marion Lake
Lakes Basin
Cartridge Pass
JMT
Sixty Lakes Basin
Lake Reflection via East Lake Trail
Longley Pass
South Guard Lake
Brewer Basin
Sphinx Basin
Trail, back to Roads End