Thinkin about a little overnighter this weekend. Its gonna be a super last minute decision if I go or not (ah, the joys of solo trips / being single

)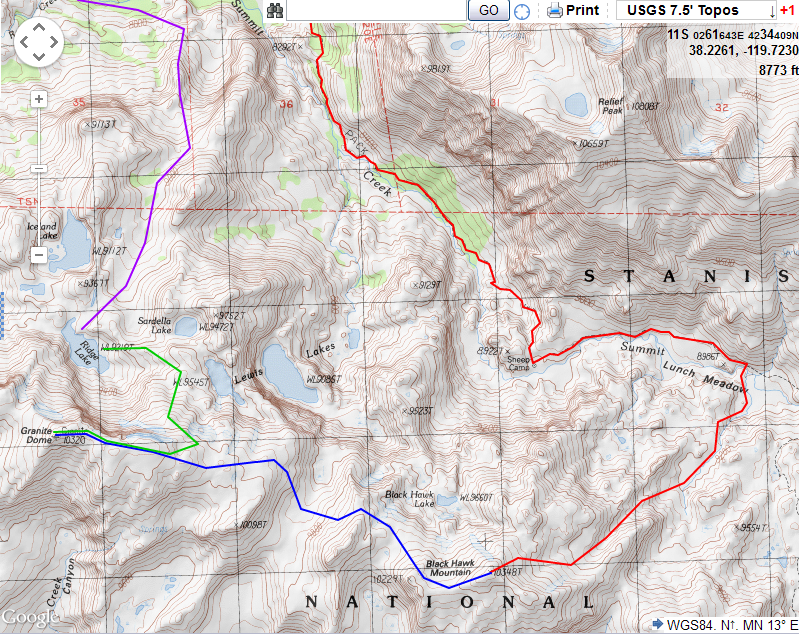 I know that usually you are "suppose" to go off trail from the tarn a little ways down Mosquito Pass but I heard of some info that I could save myself a couple miles by going up through Lunch Meadow. (the red line)
Q1: Anyone been through there?? Topo looks nice and easy. Was gonna go from Kennedy Meadows to Lunch Meadow, up Blackhawk Mountain, onto Granite Dome, and down to Ridge or Iceland Lakes (goldens?!) for the night. Nice and easy back out on Sunday.
Q2: Whats the parking situation at Kennedy Meadows? I tried calling, cant seem to get a hold of them, maybe their busy. I was probably gonna roll in real late at night or real early outside of their business hours. I believe you're suppose to pay for parking?? Does anyone know if theres a drop slot or something?
A: nice lady on the phone said to just leave a note sayin that I'll pay on the way out if I get in after they close. Also free parking a little ways up at a campground.
Trip Report will follow If i feel like not being a lazy sack this weekend. Thanks