I wrote a blog post about this trip over on
Here is my trip report from a backpacking trip I took earlier this week and posted on my blog:
Are you the sort of person who looks at valet parking at the mall and wonders what went wrong with humanity? Are you tired of hearing people say they went "hiking" at Runyon Canyon? Do you dream of a place that is 110% real? Do you crave the real thing, not the almost-sort-of thing? There is such a place out there: where the attraction is not separated from the viewer by a rope, where you don't need an admission ticket, where there is no gift shop, where there are no overpriced refreshments being forced on you… What you need is a grand American road trip into the wilderness as God intended it.
The searing 105 degree heat in the Owens Valley melts away the artifice. With a little inspiration from Edward Abbey to give voice to the thoughts that were already boiling up from within, my 7-year-old companion and I sped off into the Sierras. Like all great adventures, this one was less than a week in the planning. In a way, I had been planning it all my life, ever since the 10-year-old me read Thomas Winnet's "Backpacking Basics" from cover to cover a dozen times in a row. As a young boy, I yearned to be one of those weather-beaten enlightened spirits who came down from the mountains with heavy packs on their backs, but contentment beaming from their faces.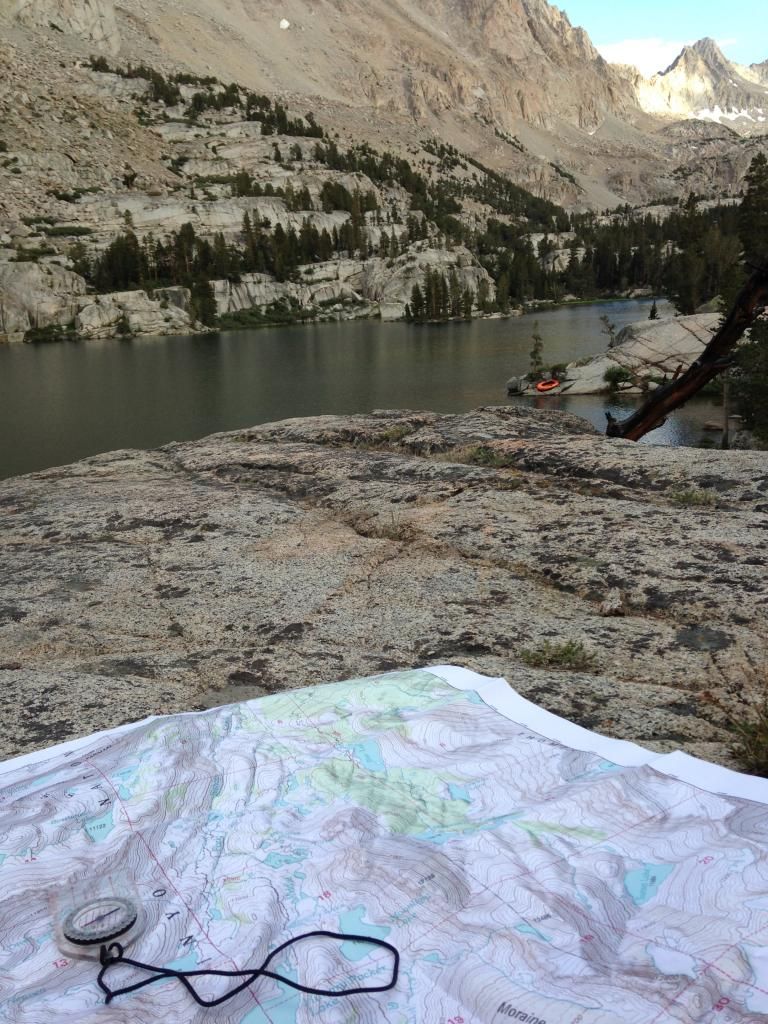 map & compass
An excellent 7.5 minute topographical map from mytopo.com
The people you encounter on the trail are reminder that this is no ordinary day. On our way up the mountain, we met a couple of aging flower children full of cheer. I ended our small talk by remarking that they were heading back to reality. They responded, "This is reality," that everything else was an illusion. At the highest point in our journey, while relaxing on a boulder, I spotted three spry old ladies gingerly clambering down from a summit. Each of these women were easily fitter than the average twenty-five year old. They huddled around my topographical map debating the best way to bushwack toward their destination while most of their contemporaries were at home watching "Jeopardy."
A trip of this nature with young children is not without its challenges. No two are alike in attitude and ability. I can only tell you what works for me and what doesn't. For starters, young kids can't carry very much weight. Mine has a small daypack containing his Camelbak, a few items of clothing, and a foam mattress lashed to the back. It's important that they carry something, so that they can feel like part of the team. I must confess that at times I ended up carrying his pack as well. Bear in mind that as an adult, you will end up carrying significantly more if you are taking a young child with you. They can't be expected to lug heavy items like bear canisters and other camping equipment. Everything in life is full of trade-offs. For me I'd happily trade in comfort and add an extra 15 pounds to my pack for the pleasure of creating memories that last a lifetime.
Don't bite off more than you can chew. Be flexible with distances and destinations. I intentionally chose a route with multiple lakes, each a mile or so apart. That way no matter when my sidekick had enough, we would be within striking distance of a prime camp site. If this trip had been a solo or adults-only trip, it could easily have been an overnighter or a day hike for that matter. With the extra cushion of two nights, there was never any need to rush. With children, you never know when they will have had enough or when they will have enough energy to push on to a destination. I made sure to leave a time cushion on any travel days to allow fishing breaks along the way. Bear in mind that your child may not want to do what you want to do all of the time. This area is perfect for travel with children because it lends itself to non-linear travelling. You don't have to be goal-oriented because anywhere you end up will be as beautiful as any intended destination.
That's where that time cushion comes in handy. There will be those times where your kid is just not in the mood for whatever you had in mind. With the extra time, he will be free to have a cow, take a nap or otherwise act like a child. Having the freedom to "waste" time is something that we rarely experience. Every minute of every day is scheduled and calendared. We rush to work and appointments. Being disconnected from our electronic bubble allows us to just be. It doesn't matter what time you start dangling your feet in a pond and what time you stop.
This hike begins at Sabrina Lake in the Inyo National Forest above Bishop California. One of the first things you will notice is the altitude: 9128 feet. For Angelenos just stretching their legs after a half-day drive from sea level, this can be a bit of a shock. Do not be deterred. What follows is a wonderland on par with the scenery from Lord of the Rings. After a short but steep ascent from the trailhead, you will find yourself in a land of crystal clear Alpine lakes surrounded by 13,000 foot mountains and meadows abloom with wildflowers. The lakes have whimsical names that will have your friends thinking you made them up – Dingleberry Lake, Baboon Lake, Donkey Lake, Hungry Packer Lake.
I selected this hike from Sierra South. My criteria were the following: shortest possible drive from Los Angeles that still allows access to the Sierras. The way to do this is to select an area that does not require a long drive up a windy mountain road, like the drive up to Sequoia National Park. This trip is just 20 miles up a hill from the town of Bishop. I also wanted a trail that was not too challenging and most importantly lots of water! I wanted to guarantee my boy a fish. My large custom topographical map from MyTopo.Com makes it clear that you are entering a lakeapalooza. It is as if someone took a sack full of lakes and streams and just dumped them all out in one spot. To readers from somewhere other than Southern California – This might not seem like a big deal to you, but us Angelenos live in a region that only had 8 inches of rain for the past two years. Seeing this much water everywhere is the equivalent of space travel for us.
My boy loves fishing! An activity like this can make or break a trip for children. I didn't grow up fishing and barely knew which end of the rod to point towards the water. I have made it my business to get up to speed. Now before any real anglers jump in, yes, yes I know – fishing is an art form with many sub-specialties. If you can help your child to catch a fish, you will bring a smile a mile wide to his or her face. For whatever reason, the pleasure of catching is a timeless joy.
Backpacking is an pastime that brings you some of the simplest and most profound pleasures in the world. For starters, your cell phone won't work if you go anywhere worth visiting. You won't have to compulsively check your Facebook, texts etc. It's just you and whoever your company happens to be. If you're lucky, you will find a spot with no one else around. The landscape will be your TV. Take a dip in an ice cold mountain lake. You will feel as awake as the moment you emerged from the womb. When you sleep on the ground, the Earth is the firmest, most embracing mattress in the world. This is what people mean when they say they feel "grounded."
Don't be intimidated. First of all, your children will appreciate it. Even if they don't immediately, the experience will be implanted deep in their soul, guiding them wherever they go in life. If you are thinking, "I couldn't do that with my Dennis the Menace. What am I going to do with him when he decides to have a meltdown at 11,000 feet?" What's the difference between a kid being a kid at home and a kid being a kid in the wilderness? Just like adults, bad moods pass and soon enough they are back to exploring the idyllic surroundings.
For kids, every mundane chore of daily living becomes an "activity" full of entertainment. Taking a dump in the woods is a project. Making a meal without your kitchen is a source of entertainment. Setting up your tarp or tent is a construction project. Navigating your way to your destination is a geography lesson and treasure hunt. All around you are clues and signs of life. Look up above – birds are quarreling over a nesting spot. Look at the ground beneath you – who else has covered this same territory, a bear!
Formalities: – Wilderness Permit – Bear canister – learn or know what you are doing. Backpacking is a complex subject and there is quite a lot of information to absorb in order to it safely and responsibly. Start with a good organization a good book.
Continued in Part 2