Every year my brother and I take a couple of week long trips into various wildernesses on the west coast. He is in Seattle. I am in the Bay Area. Emigrant Wilderness was this year's first trip, and the earliest we have ever taken. This TR tells of the trip and includes a bit of gratuitous fish ****.
Day 1: Kennedy Meadows TH to Saucer Meadows (June 7)
We drove up early and were on the trail around 9:00. It was clear and warm. Here's a parting shot of Relief Reservoir as we left the flies, dust, and planted trout of Kennedy Meadows behind:
We could see some snow on the mountains, but none on the trail as of yet.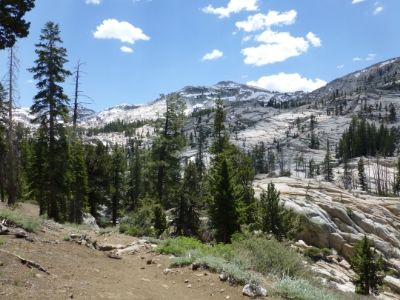 We camped above Saucer Meadow. I spent the afternoon prowling Summit Creek. The brooks were chunkier than expected and made for a tasty dinner: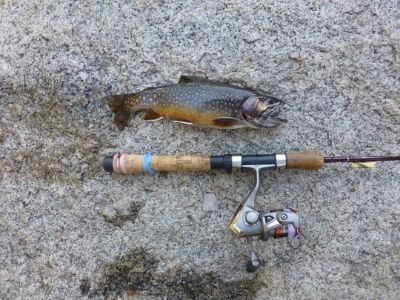 .
Day 2: Saucer Meadows to Snow Lake (June 8)
Next morning we began our ascent toward Brown Bear Pass. The meadows were just beginning to bloom: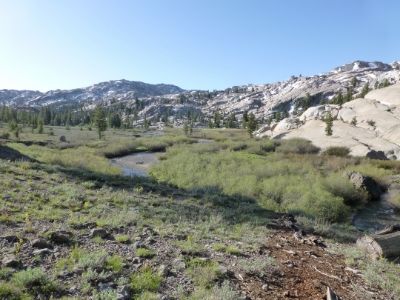 Here is Brown Bear Pass in the distance: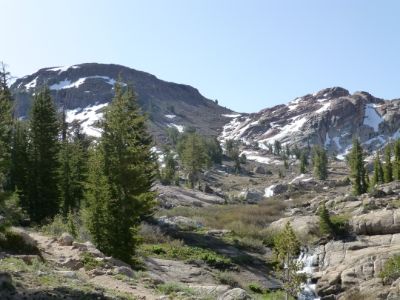 Closer:
Closer still: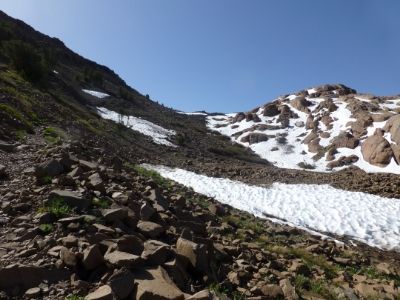 Once over the pass, we looked down upon Emigrant Meadows Lake and its surroundings:
The Rainbows were spawning in the inlet stream here:
The willows were just coming out: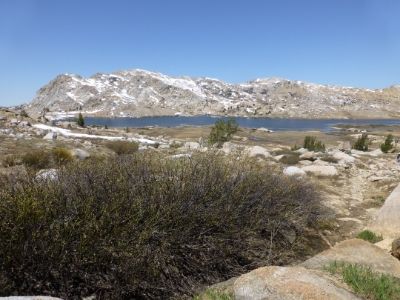 We climbed up over ridge near Emigrant Pass and found ourselves in Grizzly Meadows. Here is Grizzly Peak:
After some up and down, we came to Summit Meadows: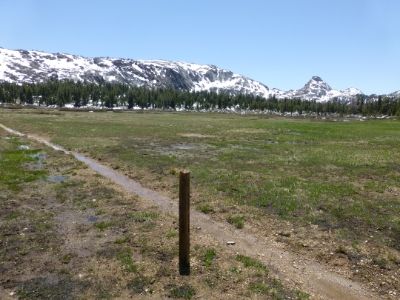 And then Snow Lake, our camp for the night: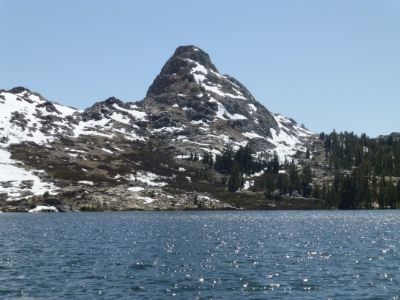 I was unable to catch any fish in Snow Lake, though I thought I saw one jump. There were tiny brooks in the outlet stream below the dam, but seemingly nothing in the lake. Perhaps killed off by winter conditions.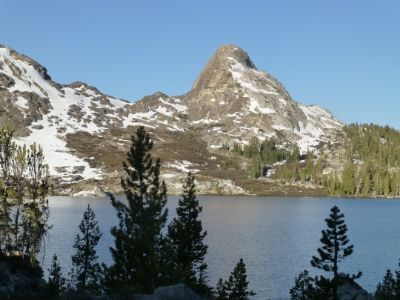 Day 3: Snow Lake to Huckleberry Lake(June 9)
The next morning we hiked down from Snow Lake to Horse Meadows: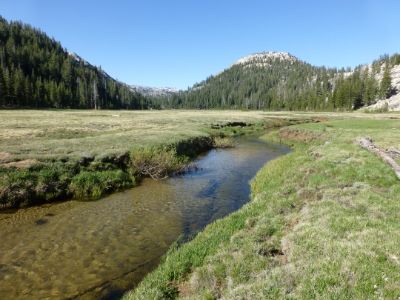 The old mining road in some areas was just a stumblefest of slippery round rocks: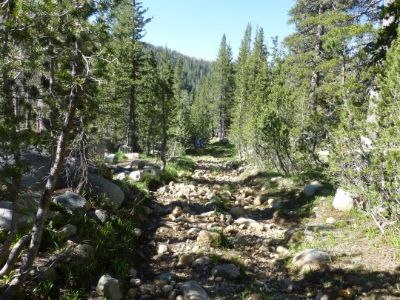 We explored the Cherry Creek Mine, which had been thoroughly trashed by a few avalanches:
….and fought the mosquitos all the way down to Huckleberry Lake, which had enough fetch for the wind to blow them away:
Fishing was good, with both fair sized bows and brooks responding nicely to Panther Martins and similar lures: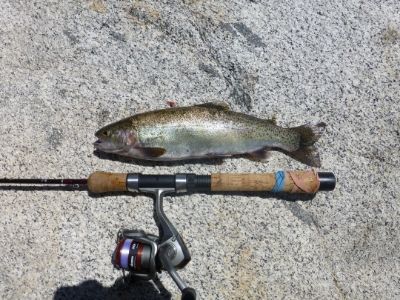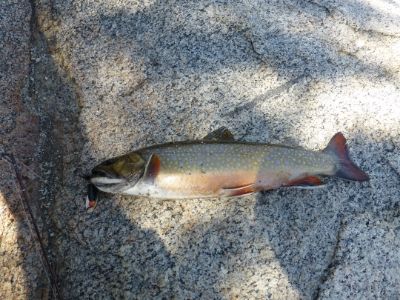 Day 4: Huckleberry Lake to Upper Buck Lake (June 10)
Next morning dawned calmer and the skeeters were back: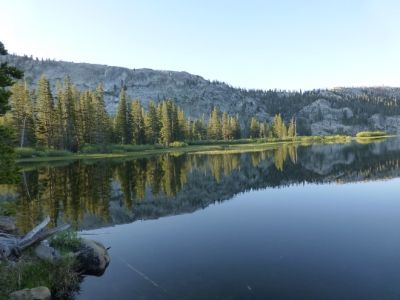 We passed by Letora Lake, which was striking: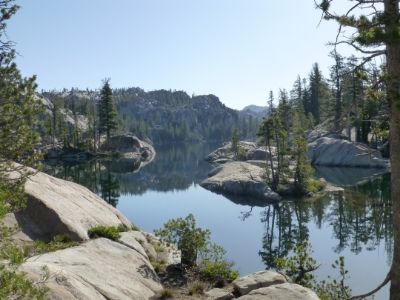 We then passed an extremely mosquito ridden Cow Meadow Lake: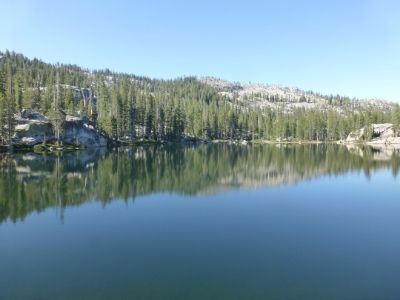 And climbed up to Upper Buck Lake, our camp:
Thunderstorms threatened, but fishing was not too bad for bows here: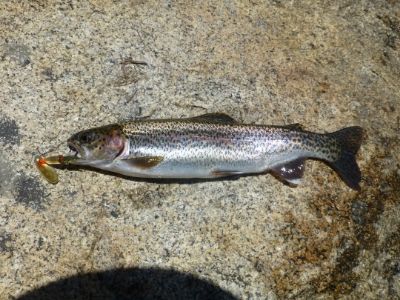 Day 5: Upper Buck Lake to Emigrant Lake (June 11)
Next morning we continued on to Emigrant Lake, which, until the wind came up, was also bug ridden: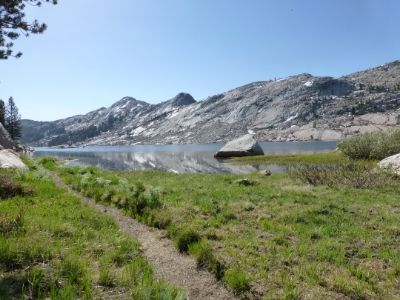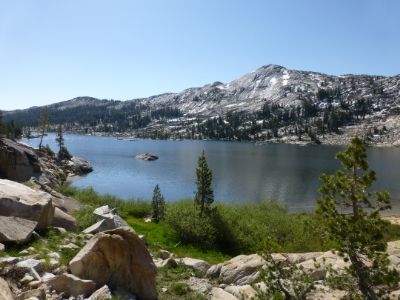 Here we also found the rainbows spawning in the inlet stream: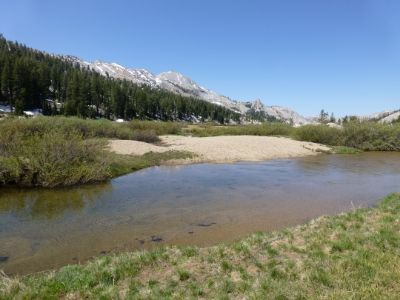 With the bows all lovey-dovey, I was left to pursue brooks, which ran up to 13 inches and were rather hefty: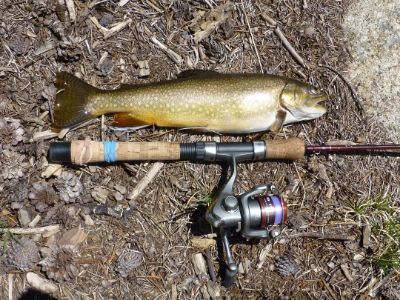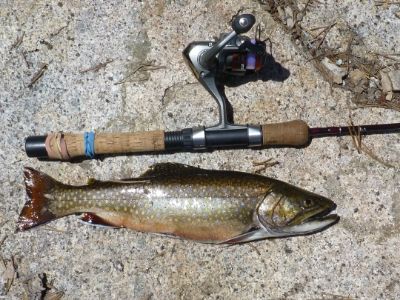 Day 6: Emigrant Lake to Middle Emigrant Lake (June 12)
Today we hiked the short trail to Middle Emigrant Lake:
Having some time on our hands after the short hike, we then day hiked up to Emigrant Meadows Lake…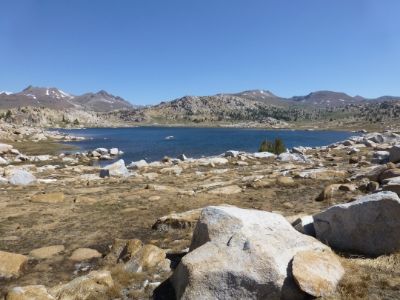 And then on to Emigrant Pass and High Emigrant Lake: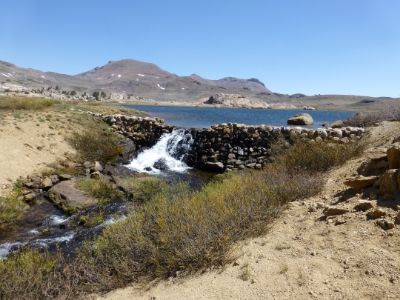 I was able to coax a 9" brook out of High Emigrant, which was a surprise, considering it's 9700 foot elevation: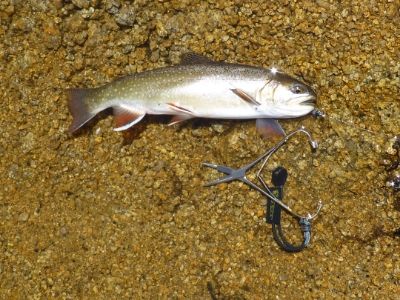 We hiked back down to Emigrant Meadows Lake, and left via the outlet: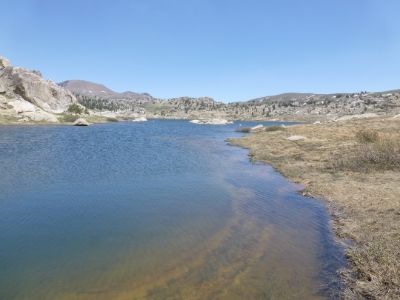 Back at our camp at Middle Emigrant Lake, I was able to finally catch a single brook: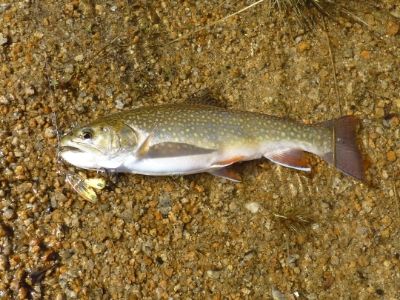 The wind blew from late morning through the night, keeping the bugs away, but also keeping things rather cool. I climbed a small knob and could see Emigrant Lake in the distance:
Day 7: Middle Emigrant Lake to Upper Relief Reservoir (June 13)
After a restless night tormented by the wind, we hiked back down to Emigrant Lake and then up to Mosquito Pass. Here is looking north toward the pass:
Looking south, down toward Emigrant Lake from the Mosquito Pass:
Looking north, back into the Summit Creek Valley:
We hiked down the valley and decided to stay overnight at the upper end of Relief Reservoir before heading out. Our camp had a nice view: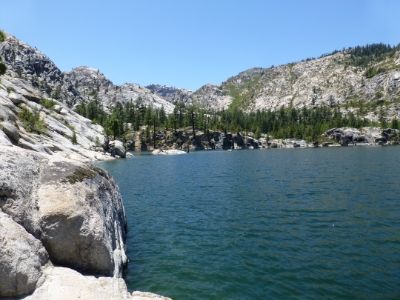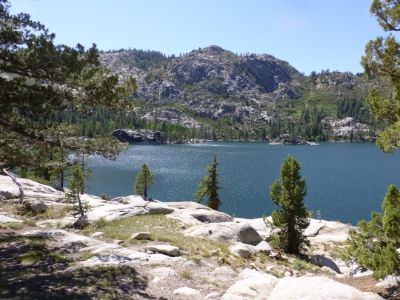 And I was able to catch a few more rainbows. This one ran 12 inches: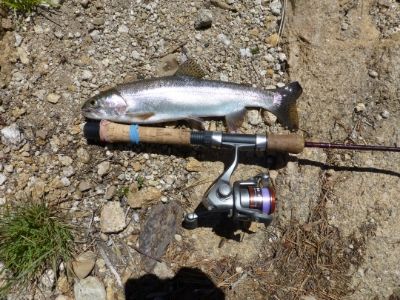 Day 8: Upper Relief Reservoir to Kennedy Meadows TH (June 14)
I got up early and was able to catch the full moon going down over this red volcanic peak: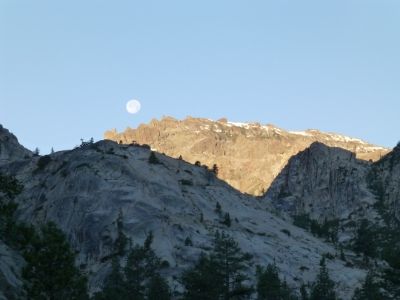 And then said goodbye to the mountains as we headed out to the trailhead: